For this post, I have put together a collection of the best baby sunglasses currently available. For more top picks and buying guides, see my list of newborn baby essentials.
Keep little ones eyes well-protected against harmful UV rays. Baby sunglasses are essential for protecting babies eyes from the damaging effects from the sun.
Show Today's Top Deals
These are today's top deals and bestsellers for baby sunglasses.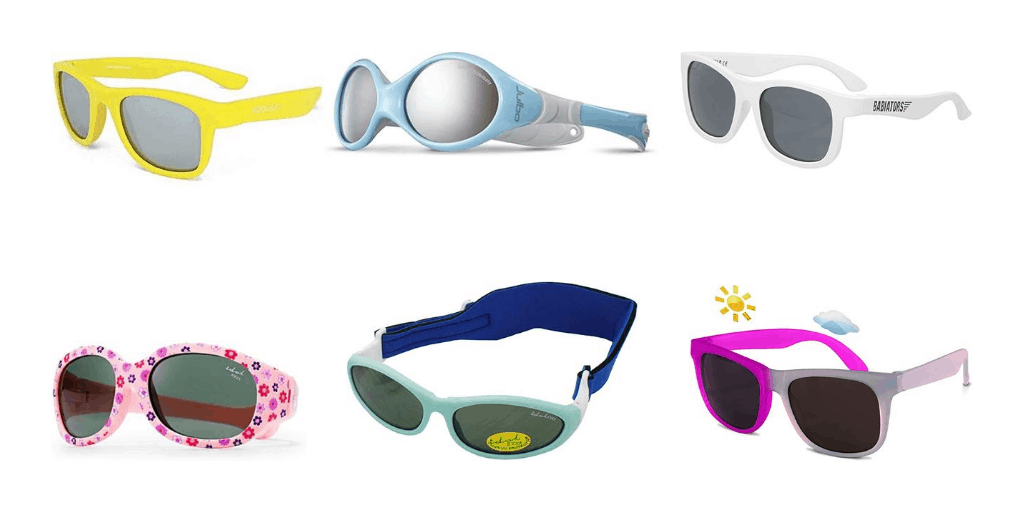 Sunglasses for babies should meet the highest category 4, which offers virtually 100% UVA protection and conforms to European safety standards.
We have scoured the market to find some of the best baby sunglasses around.
Let's get going!
Baby Wrapz Sunglasses
Discount - Save £2.00
Baby sunglasses with soft rubber frames are both comfortable and unbreakable and the headband keeps them in place even with little ones.
The lens colour has been specially chosen for its clarity and lack of distortion.
They provide 100% UV protection.
Suitable from birth to around 5 years.
Babiators Unisex Baby Original Sunglasses
Cool sunglasses made out of soft, flexible material that is comfortable, lightweight, and doesn't pinch the ear or nose when wearing.
Frames are virtually indestructible and won't break when you bend or twist them!
Junior Babiators sunglasses fit most children ages 0-2 years and Classic Babiators sunglasses fit most children ages 3 – 5+ years.
Julbo Kids' Looping Sunglasses
The looping frames can be turned any way your child chooses.
The wraparound, ergonomic profile guarantees optimal coverage and comfort for the heads of little ones.
With curved temples and a flat elastic strap, they also offer perfect grip.
Unbreakable Polycarbonate sunglass lens, blocking 95% of the visible light.
Maximum sun protection UPF50+.
Idol Eyes Baby Sunglasses
With soft rubber frame which is both comfortable and unbreakable and headband keeps them in place even with tiny ones.
The lens colour has been specially chosen for its clarity and lack of distortion.
They provide 100% UV protection and have a three year guarantee.
Suitable from birth up to approximately 2 years of age.
Roshambo Toddler Shades
Polarised and made from ultra-durable, flexible, lightweight material that is for safe and soft for baby to chew on!
Flexible, lightweight arms bend gently inward to help keep the shades on baby's head while remaining ultra-comfortable
Arms can be bent to fit your child's head as necessary.
Prescription-ready. Take them to any optometrist and get your prescription filled.
Beaba Baby Sunglasses
Sunglasses for children aged 9 months +.
Category 3 UV protection.
Dark unbreakable lenses for strong exposure making them suitable for the beach and the mountains.
Featuring an enveloping frame which stay in place and provide a better fit and comfort.
The two-tone material frame is supple on the inside of the arms and the bridge area to ensure a good fit.
The short arms guarantee a perfect fit on the face and a good positioning of the bridge on the nose when the child is sitting or inclined in a stroller or car seat.
Includes soft pouch and cleaning cloth.
Bubzee Sunglasses
Funky design.
100% UV Protection Sunglasses.
Adjustable neoprene headband.
Silicone nose and brow piece for a comfortable fit.
Tuga Baby/Toddler UV 400 Sunglasses
FDA approved for blocking harmful UVA + UVB rays.
Shatterproof polycarbonate lenses block out 100% of both UVA and UVB rays.
The soft adjustable neoprene strap keeps the sunglasses in place and makes them easy, comfortable and fun to wear.
The neoprene bands are equipped with a re-attachable safety release.
KOOLSUN – Wave – Kids Sunglasses
The frames are made from the highest quality, durable 100% type
The lenses are made from top of the range unbreakable polycarbonate lenses.
Uv 400, Cat. 3, impact resistant, silver mirror lenses.
Real Kids Shades Unisex Kid's Switch Uv Sunglasses
Quirky sunglasses which change colour as UV radiation gets stronger!
The glasses block all UVA and UVB rays.
Made of shatterproof polycarbonate.
Today's Top Deals & Bestsellers
Baby Products – Buyer Guides
Sleeping & Nursery
Feeding
Toiletries & Nappy Changing
Clothing
Travel
Playtime
Baby Extras