For this post, I have put together a collection of the best sleep bras currently available. For all my recommended newborn products see baby essentials list.
Our Top Pick
My top pick is the Lemef 3-Pack Seamless Sports Bra Wirefree Yoga Bra with Removable Pads for Women as it is also perfect for sports, yoga and dance as well as sleeping. The seamless bra is made of soft and comfortable material and comes in a variety of colours.
Show Today's Top Deals
These are today's top deals and bestsellers for sleep bras.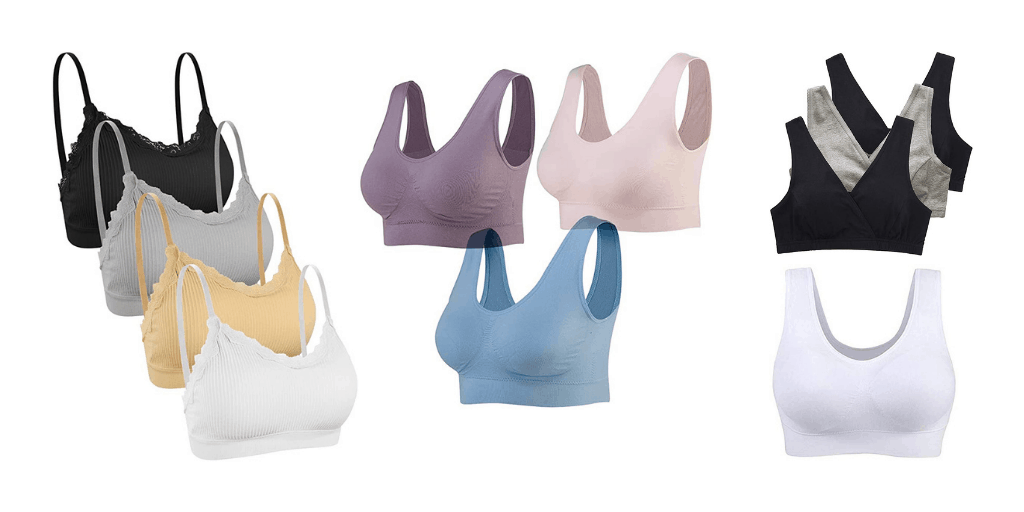 ---
A Sleep Bra is a non-wired bra that is super comfortable to sleep in! They are ideal for women who want that extra support at night or for daytime lounging and comfort. Some sleep bras are also made for nursing as they are easily accessible for breastfeeding at night.
We've put together our top 8 picks of the best sleep bras on the market, which all have excellent customer reviews.
Also see my top nursing bras and guide to the best nipple cream.
Mums-to-be or new parents will also find our guide to the Top 100 Baby Products super useful.
So here is my list of the the best sleep bras.
Best Plus Size Sleep Bra
Delimira Women's Plus Size Soft Cup Comfort Sleep Bra
Best Sleep Bra for Large Bust
Lemef 3-Pack Seamless Sports Bra Wirefree Yoga Bra with Removable Pads for Women
Discount - Save £2.70
Best Pregnancy Sleep Bra
KUCI Nursing Tank Sleep Bra
Best Supportive Sleep Bra
Boolavard New Seamless Sports Style Bra
Nightwear Heaven Front Fastening Bra
Best Sleep Bra for Lounging
UMIPUBO 4 Pieces V Neck Tube Top
Discount - Save £2.00
Sloggi Women Double Comfort Top Everyday Bra
Best Nursing Sleep Bra
Medela Sleep Bra
Today's Top Deals & Bestsellers
Should you sleep in a bra?
It is really down to personal preference! If you have a fuller bust you may find that wearing a sleep bra offers more support and comfort as well as keeping you 'in place'.
Sleep bras are also a great option for pregnancy and nursing as breasts can feel sore and tender so some gentle support can help, plus the design of some sleep bras provide easy accessibility for breastfeeding.
We do recommend you choose a lightweight bra without underwire for sleeping in.
I hope this list of the best sleep bras was helpful.
If you think I left any out that should be included or have a suggestion for a future article, let me know in the comments below.
Nicola
Maternity Clothing Buying Guide
---
Baby Products – Buyer Guides
Sleeping & Nursery
Feeding
Toiletries & Nappy Changing
Clothing
Travel
Playtime
Baby Extras