For this page, I have put together a collection of must-have pram accessories. For more top picks and best buys see my baby essentials checklist.
Our Top Picks
Show Today's Top Deals
These are today's top deals and bestsellers for pram accessories.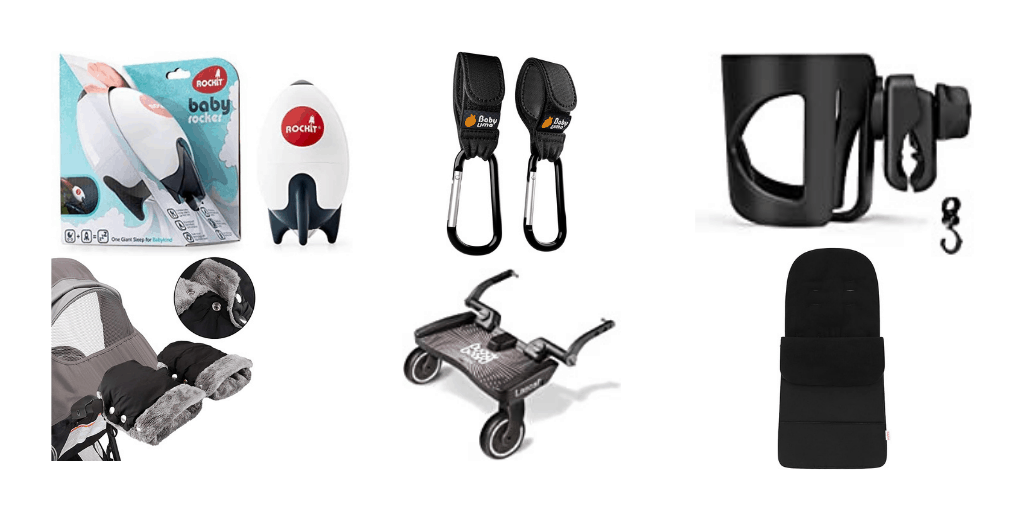 You can buy all sorts of add-on products for your pram or buggy, but we've whittled it down to our top 10 must-have pram accessories.
All of our recommended products have excellent buyers reviews and 4-5/5 star ratings.
Also see my top picks for the best pram toys and buggy boards to make your on-the-go days run even more smoothly.
Let's get started!
Buggy Clips by Baby Uma
Such a simple idea, but so practical. These buggy clips just hook onto your pram and can hold all those extra bags to save you carrying them.
They can hold your supermarket shopping, change bag, kids' school bags, lunch bags, coats, toys and more.
They're also ideal if your buggy basket is small.
Basically like having an extra pair of hands.
2 Pack.
Excellent reviews. From 4,442 ratings 79% of buyers gave this 5/5 stars.
---
Pram Organiser (Homlynn Store)
Discount - Save £1.00
This pram organiser is such a neat idea. It allows you to be hands-free and keep all your essentials like phone, bottle, dummy, keys etc. within easy reach.
The universal fit means you can clip it onto all buggy handlebars.
It also comes with a carry strap if you want to carry it like a handbag.
Very good reviews. From 1,130 ratings 76% of buyers gave this 5/5 stars.
---
Lamaze Flannery The Fox Clip On Pram Toy
A soft pram toy with bright colours, black and white high contrast patterns, squeaker, crinkles and other features.
Clip this toy to a buggy, pram, or car seat.
The soft velour body and multiple textures will help keep baby engaged.
Ideal for keeping your little one busy in her pram.
Fantastic reviews. From 10,482 ratings 88% of buyers gave this 5/5 stars.
---
Universal Rain Cover (Bemece)
This handy rain cover fits most strollers, pushchairs and prams. 
 It can protect child from rain, wind, snow, cold and dust so perfect for our temperamental climate.
The large see-through window means that you can keep an eye on baby and baby can see you.
There are air holes on both sides of the rain cover.
Dimensions: 94 x 94 x 55.9 centimetres.
Great reviews. From 3,936 ratings 80% of buyers gave this 5/5 stars.
---
Babycurls Fleece Lined Snuggly Cosytoes/ Footmuff
This soft, fleecy snuggly footmuff is compatible with most brands of pushchairs and strollers with the standard 5 point or 3 point harness fitting.
It will ensure your little one keeps warm and snug on cold days.
It includes 2 non-slip grips which prevents the footmuff from sliding down when being used.
Available with black or cream lining.
Excellent reviews. From 1,742 ratings 85% of buyers gave this 5/5 stars.
---
Lascal BuggyBoard Maxi
Travelling with two or more children is easy with this buggy board.
It's compatible with most pushchairs.
It's suitable from the age of 2 to 6 years old – maximum 20 kg (44 lbs).
Made to travel up and over kerbs, around corners and through narrow spaces with ease.
Easy to fit and hooks up when not in use.
Available in black, red, blue and world map print.
Good reviews. From 2,155 ratings 71% of buyers gave this 5/5 stars.
---
Rockit Portable Baby Rocker
If your little one wakes up as soon as the buggy stops moving this product could be for you.
It keeps rocking the pram so you don't have to.
You just attach it to your pram or stroller, push the button and adjust the speed to gently rock your baby, just like you would.
It is great for if you are out somewhere like a restaurant or park and your baby is napping.
Although on the pricey side, buyers like that it does the job.
Good reviews. From 1,278 ratings 78% of buyers gave this 4-5 stars.
---
Infreecs Stroller Fleece Hand Muff
These buggy gloves or hand muffs protect your hands from wind and rain when pushing your buggy.
Thanks to the super thick wool inside, they will keep hands warm even at freezing temperatures.
They easily and quickly attach to the buggy handle.
Fab reviews. From 741 ratings 80% of buyers gave this 5/5 stars.
---
Pram Cup Holder (Jooheli)
Discount - Save £1.00
This cup holder can be clipped to the buggy handlebar.
Perfect for holding your drink or baby bottle and having it to hand.
An extra clip on it can hold your bag.
Flexible and fits most types of poles, such as cross bar, oblique bar or vertical bar.
Very good reviews. From 730 ratings 83% of buyers gave this 5/5 stars.
---
SnoozeShade Original
This clever shade creates the perfect cosy environment for naps on-the-go.
It works like a blackout blind.
It has a handy zip which allows parents to check on baby without letting in lots of light.
It also blocks 99% of the sun's UV rays and is a lot more user friendly than a parasol.
Excellent reviews. From 2,867 ratings 78% of buyers gave this 5/5 stars.
---
Today's Top Deals & Bestsellers
Baby Products – Buyer Guides
Sleeping & Nursery
Feeding
Toiletries & Nappy Changing
Clothing
Travel
Playtime
Baby Extras