For this page, I have recommended the best baby and child sun creams. For more great baby products see my list of newborn essentials.
Our Top Picks
Show Today's Top Deals
These are today's top deals and bestsellers for baby sun cream.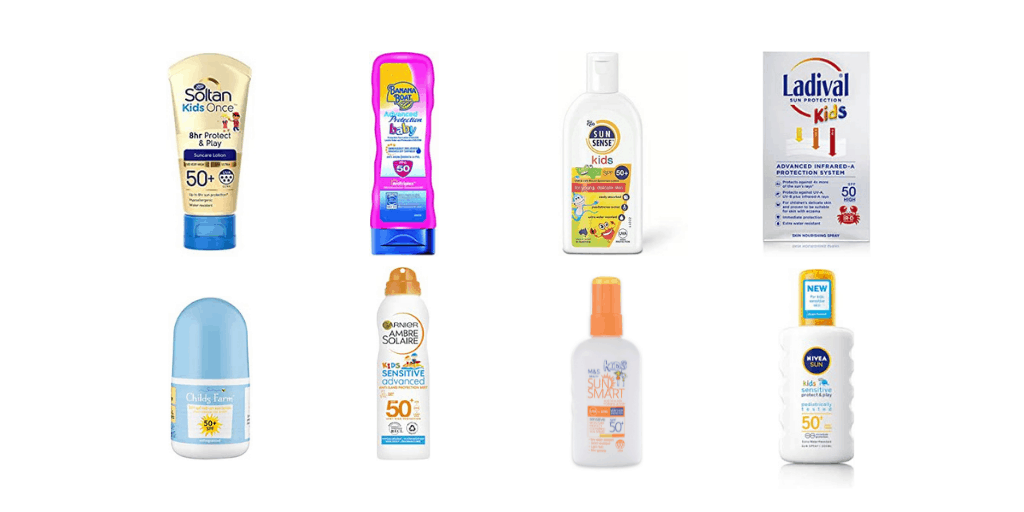 ---
Babies have delicate, sensitive skin which needs to be protected from the sun as it's much more prone to damage than adult skin.
The NHS recommends keeping newborns under 6 months out of direct strong sunlight.
For babies and children over 6 months of age, when out in the sun they always need to be protected with a good sun cream, spend time in the shade and cover up with suitable clothing. There are plenty of sun creams on the market but we've listed the best for kids, all of which have a SPF 50+ and excellent feedback from buyer's.
Related articles: Keep little ones eyes and face protected from the sun with our guide to the best baby sunglasses and baby sun hats.
Let's get going!
Best Baby Sun Screen
Banana Boat Advanced Baby Sun Protection Lotion
SPF 50
UVA Star Rating 5*
Dermatologically tested? Yes
UVA & UVB protection.
This sun cream is enriched with aloe Vera and Vitamin E and relieves dryness.
Water resistant.
Hypoallergenic and fragrance-free so suitable for your little ones delicate skin.
Great reviews. From 477 ratings 82% of buyers gave this 5/5 stars.
---
Boots Soltan Kids Once 8hr Protect & Play Lotion
SPF 50+
UVA Star Rating 5*
Dermatologically tested? Yes
This sun cream can provide up to 8 hours protection (always follow instructions).
Specially formulated for your child's delicate skin.
Water resistant. If your child is going in the pool, make sure you reapply after being in the water.
---
Childs Farm Roll-On Sun Lotion
Discount - Save £2.01
SPF 50+
UVA Star Rating 3*
Dermatologically tested? Dermatologist and paediatrician-approved.
This roll-on is designed to take extra care of baby's skin.
Water resistant.
Suitable for eczema prone-skin.
It's easy to apply and smells lovely.
Suitable from 6m.
Vegan and cruelty free.
Loads of fabulous reviews. From 937 ratings 81% of buyers gave this 4-5 stars.
---
Garnier Ambre Solaire Kids Sensitive
Discount - Save £4.00
SPF 50+
UVA Star Rating 3*
Dermatologically tested? Tested under paediatric control.
This sun spray has a unique sand repelling action, so it's great for taking to the beach.
The spray format makes it super easy to apply.
The formula is non-sticky and water resistant.
Plenty of good reviews. From 2,457 ratings 79% of buyers gave this 4-5 stars.
---
NIVEA SUN Kids Protect & Play Sensitive Sunscreen Spray
Discount - Save £1.50
SPF 50+
UVA Star Rating 4*
Dermatologically tested? Yes
This sensitive kid's spray is highly water resistant so ideal for using at the beach and pool.
The spray bottle makes it easy to apply.
Good reviews. From 94 ratings 71% of buyers gave this 4-5 stars.
---
SunSense Kids
SPF 50+
UVA Star Rating 3*
Dermatologically tested? Yes
An easy to apply formula specially designed for the delicate skin of babies and children over 6m.
Water resistant for up to 2 hours.
With Vitamin B3 to help improve skin texture.
Vegan friendly.
Good reviews. From 588 ratings 71% of buyers gave this 5/5 stars.
---
Ultrasun Kids Sunscreen
Discount - Save £2.60
SPF 50+
Dermatologically tested? Yes
This sunscreen has an added booster ingredient called Celligent® for children who've rarely built up any natural defences against the sun's rays.
The ingredient has been shown to aid more rapid regeneration of UV related cell and DNA damage.
One application will give long lasting, high level, water resistant protection from UVA and UVB.
Contains no perfume, emulsifiers or preservatives.
Great reviews. From 152 ratings 83% of buyers gave this 5/5 stars.
---
Ladival Kids Sun Protection Spray
SPF 50+
UVA Star Rating 4*
Dermatologically tested?
A personal favourite, which I use on both of my children. It is the only sun protection cream I've used which doesn't irritate my daughters delicate skin.
Protects against UV-A, UV-B and Infrared-A rays.
For kids delicate skin. Suitable for eczema and atopic dermatitis.
Nourishing and rubs in nice and easy.
Good reviews. From 21 ratings 81% of buyers gave this 4-5 stars.
---
SUN SMART Kids Sensitive Moisture Protect Sun Spray (M&S)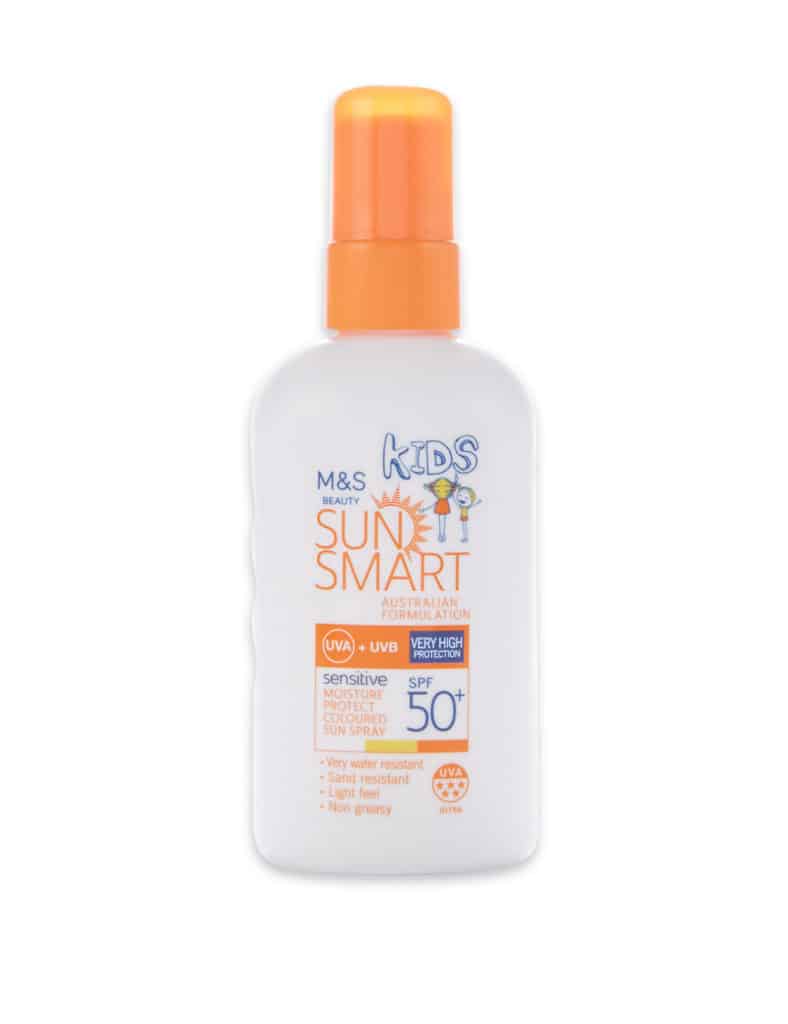 SPF 50+
UVA Star Rating 5*
Dermatologically tested? Yes
Coloured sun spray so you can see where you've applied it to your child.
Very water resistant.
Sand resistant.
Light feel when applying.
Non greasy.
5/5 star reviews so far.
Price £6.50 for 200ml.
Available from M&S.
---
Solait Baby Very High Moisturising Sun Lotion (Superdrug)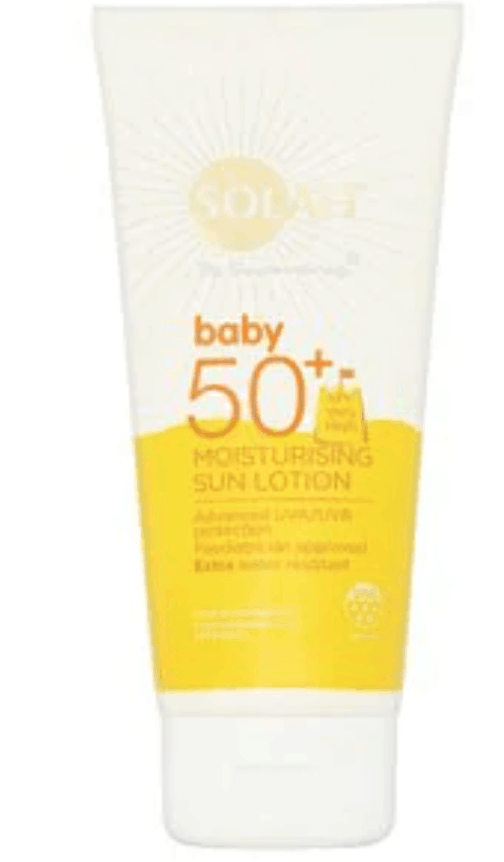 SPF 50+ 
UVA Star Rating 5*
Dermatologically tested? Yes
Enriched with Radicare, a unique antioxidant complex proven to enhance the skin's tolerance to the sun by combating free radicals.
Provides 24-hour hydration to keep the skin feeling soft during sun exposure.
4.5/5 star ratings so far.
It has a slight coconut smell.
Price £5.99 for 100ml.
Available at Superdrug.
---
Today's Top Deals & Bestsellers
---
FAQ's Babies & Sun Cream
Should I put sun cream on an infant?
No! Sun cream isn't suitable for children under 6 months of age as their skin is extremely sensitive. Keep infants out of the sun, shaded with an umbrella and wide brimmed hat and avoid exposure between 11 a.m. and 3 p.m, when ultraviolet (UV) rays are strong.
What type of sunscreen is best for children?
Lotions, creams, sprays, roll-ons! It comes down to personal preference and what works best for you and your child. From experience, I find applying lotion to my kids thoroughly in the morning and then topping up with spray during the day keeps them well protected.
How often should you apply sunscreen to kids?
Around every 2 hours. Reapply after swimming or towel drying. Water resistant formulas will keep kids protected in water but towel drying may remove the product so it's always worth reapplying.
What does SPF, UVA and UVB protection mean?
SPF rating is the number which shows protection against UVB rays. UVB has a shorter wavelength and is associated with skin burning.

SPF 6-14 is low protection, 15-29 is medium and 30-50+ is high. The SPF is a guide to how long you can stay in the sun without your skin burning.

UVA has a longer wavelength, and is associated with skin ageing. Sun screen protection is shown by star rating. It indicates the percentage of UVA radiation absorbed by the sun screen in comparison to UVB. You can have 5 star rating on a lower SPF product that may not offer you as much UVA protection as a 3 star SPF 50+ product.
How should I apply baby sunscreen to my baby?
Apply at least 15 minutes before going into the sun, then apply again once in the sun. Pay attention to areas such as shoulders, tops of ears and neck which sometimes get forgotten. If your child doesn't enjoy the application process, rather than it becoming a battle, get them involved and let them apply it themselves while you make sure its rubbed in. Use a good amount (roughly 2 teaspoons) for head and neck and then more all over body.
Top Tips For Keeping Babies Safe In The Sun
Wear a wide-brimmed hat which protect ears and back of the neck. For younger babies use one with an elastic to keep it on.
Wear high-factor sun cream which has minimum SPF 30.
Keep in the shade as much as possible, especially during the hours between 11am-3pm.
Cover up with clothing and if swimming, put babies in UV swimsuits which offer UPF protection.
If children are age 3+ wear sunglasses.
Use sunshades/ umbrellas on prams and pushchairs.
Watch this short video by the AAD on how to keep your baby safe in the sun.
---
Baby Products – Buyer Guides
Sleeping & Nursery
Feeding
Toiletries & Nappy Changing
Clothing
Travel
Playtime
Baby Extras