For this post, I have put together a collection of the best nappies currently available. Browse my guides to the best newborn baby essentials.
Our Top Picks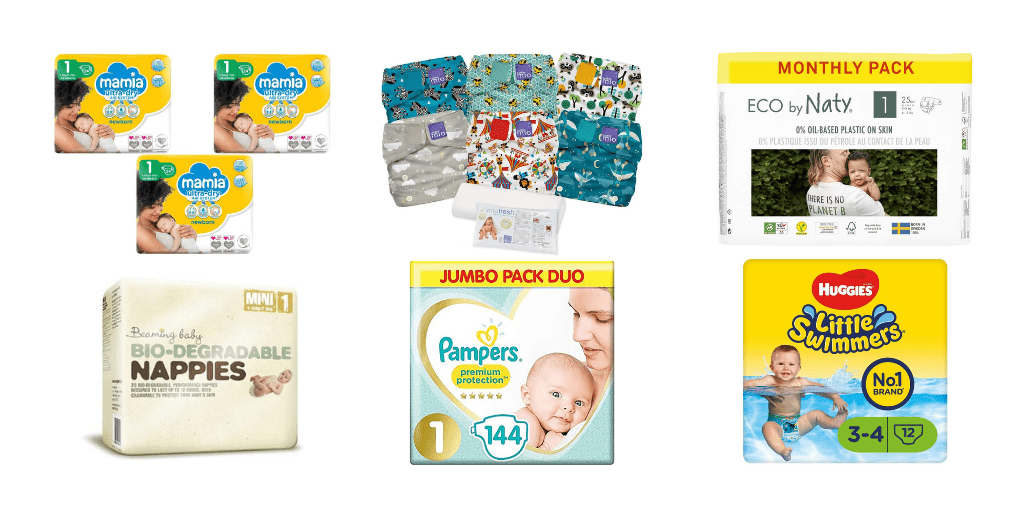 ---
Nappies are an essential item when you have a baby; whether they're disposable, bio-degradable or reusable nappies, you want the best for your little one.
More baby essentials? Get our guides to the best biodegradable nappies, swim nappies and nappy bins.
How We Selected
We've hand-picked the best nappies through asking parents, trawling the internet and reading reviews written by buyers.
All of our selected products have 4-5/5 star ratings and excellent buyers reviews.
Learn how to change a baby's nappy here at the NHS website.
So here is my list of the best nappies.
Pampers Nappies
From Baby Dry to Active Fit (which is a pant version of the nappy) these are the market leader for disposable nappies and it's not hard to see why.
With special features which give these nappies the best comfort, fit and dryness they also have a wetness indicator which changes colour and tells you when it's time for a change.
Pampers also feel so feathery soft and lightweight in comparison to other disposable nappy brands.
Pros: Excellent dryness, great comfort and fit, wetness indicator, soft and breathable.
Cons: A little more expensive than other disposable nappy brands.
Sizes Available: 1/2/3/4/5.
Consumer Score: Buyers love these nappies with 87% of buyers giving them 5 stars out of 5.
Bambino Mio Reusable Nappy Set
Adjustable one-size reusable nappy set which makes using reusable nappies convenient.
The set contains six stylish and durable outer shells with soft fabric lining.
The removable core can be inserted into a pocket inside the outer shell. When soiled, both the shell and the core can be machine washed.
This set comes with 6 x miosolo all-in-one nappy, 50 x mioliners (nappy liners), 100g x miofresh (nappy/laundry cleanser).
Pros: Funky and stylish designs, reusable so kinder to the environment.
Cons: More washing required, drying not as easy in the winter months.
Sizes Available: One size.
Consumer Score: Buyers really like these nappies with 84% of buyers giving them 4-5 stars out of 5.
Eco by Naty Baby Nappies
These nappies have no oil-based plastic and are super soft to the touch.
The plant-based fibres make the nappies breathable and provide a comfortable fit.
They consist of mainly wood pulp that is highly absorbent so it keeps baby's skin dry and protected.
Hypoallergenic and dermatologically tested, they are also free from fragrances, chlorine, bleaching, latex and lotions so much kinder to the environment.
Pros: Hypoallergenic, vegan friendly, kinder to the environment.
Cons: Pricey.
Sizes Available: Newborn/ Size 1.
Consumer Score: Buyers like these nappies with 67% of buyers giving them 4-5 stars out of 5.
See the best biodegradable nappies here.
Beaming Baby Biodegradable Nappies
Chemical free and gently infused with chamomile, these nappies are ideal for sensitive baby skin or those with nappy rash, eczema or asthma.
Environmentally friendly and compostable, they can break down within four years.
Pros: Chemical-free, biodegradable, compostable, ideal for babies suffering from nappy rash, eczema, asthma or sensitive skin problems.
Cons: Pricey.
Sizes Available: Mini/ Midi/ Maxi/ Size 4/ Size 5.
Consumer Score: Buyers love these nappies with 71% of buyers giving them 5 stars out of 5.
See the best biodegradable nappies here.
Huggies Little Swimmers Swim Nappies
Discount - Save £4.50
Made of absorbent material which doesn't swell like a normal nappy or fall apart in the water.
With special leak guards and easy open and close sides for a quick change.
Disney characters on the nappies make them look like swimwear.
Pros: Stretchy sides to avoid any leaks, made of unique material which can be used in the water.
Cons: Can only be worn once.
Sizes Available: Size 3-4/ Size 5-6.
Consumer Score: Buyers like these nappies with 80% of buyers giving them 5 stars out of 5.
See the best swim nappies here.
Aldi Mamia Nappies
Discount - Save £0.57
A nappy and nappy pant range which is great value for money.
Good fit, absorbency and comfort with wetness indicator so you know when your baby's nappy needs changing.
The Mamia nappy pants have an Ultra Dry Air System, for maximum dryness.
Dermatologically tested and hypoallergenic.
Pros: Affordable, hypoallergenic, wetness indicator.
Cons: They are disposable so not as kind to environment.
Sizes Available: newborn.
Consumer Score: Buyers really like these nappies with 84% of buyers giving them 4-5 stars out of 5.
Also available to buy from Aldi.
What To Consider When Buying Nappies
Disposable Or Reusable?
Deciding whether to use single-use nappies or reusable nappies is your first decision.
Disposable nappies are known to add to our landfill problem so are not the most eco-friendly option, but there are biodegradable nappies available, which although more expensive can be kinder to baby's skin and the environment too.
Reusable nappies are pretty stylish these days and are machine-washable, which makes them a good alternative, although they can still have an environmental impact due to the energy used whilst washing.
The Fit
A nappy which fits correctly should prevent any leaks around the legs or waist.
It's important to use the right size for your baby, so if you find the nappies are leaking you may want to opt for a different size or switch brands.
Some nappies are designed to hold more moisture than others and are good for use overnight or on long journeys. Look for the ones that are labelled as extra or ultra-dry.
Absorbency
Regular disposable nappies depend to have the best moisture locking properties, keeping wetness away from baby's bottom.
Biodegradable nappies tend not to be as moisture-wicking, so will need more regular changes and reusable nappies will need to be kept on top of to prevent nappy rash.
Nappies FAQs
How Often Should You Change A Newborn Baby?
You'll know your baby best but try changing them after every feed, and straight after they've done a poo.

Once baby can sleep through the night, nappies should last 12 hours.
How Many Times Can You Use Reusable Nappies?
You will need 15-20 nappies if you plan to use reusable nappies all the time.
Cheap Nappies & Today's Bestsellers
If you think I left any out that should be included or have a suggestion for a future article, let me know in the comments below.
Nicola
Baby Products – Buyer Guides
Sleeping & Nursery
Feeding
Toiletries & Nappy Changing
Clothing
Travel
Playtime
Baby Extras