For this page, I have put together a collection of the best travel potties currently available. For more top picks and best buys see my newborn baby checklist.
As a parent you know that when they've got to go, they've gotta go right!
Show Today's Top Deals
These are today's top deals and bestsellers for travel potty.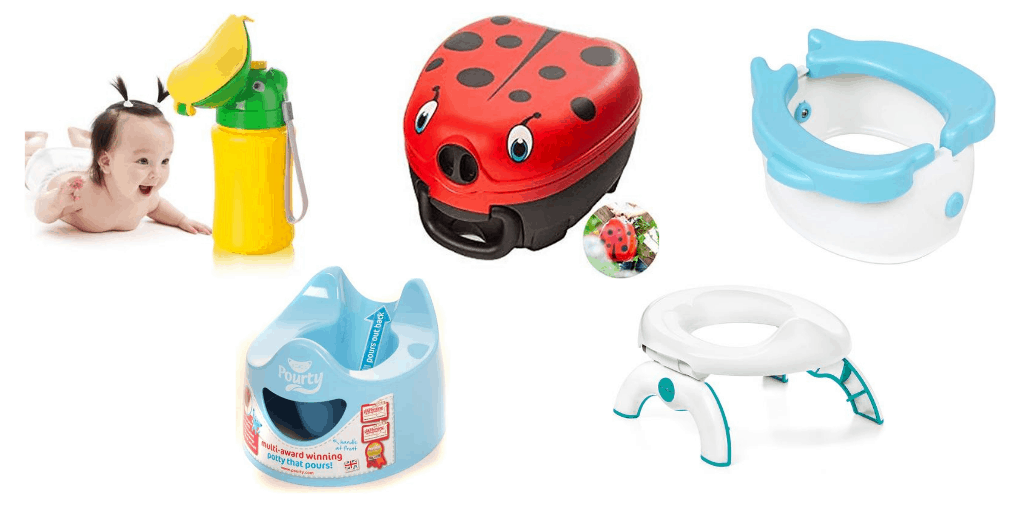 If you are at a stage where you are potty training your toddler, it can be a hard task finding a toilet quick enough if you are out and about or even travelling.
Long car journeys, flights and other situations where you may not have quick access to a toilet can make you feel like reaching for a nappy….but what if there is an alternative solution that will give you the confidence to carry on the potty training, even though you're not in the comfort of your own home?
Related: Also see my top pics for the best baby carrier and changing bag.
A travel potty or seat with liners can be a great solution to potty training on-the-go. We've searched the market to find the best ones available.
Let's get started!
Potette Plus 2-in-1 Compact Universal Potty and Toilet Training Seat
This cleverly designed product can be used as a standalone potty with the legs locked in place, or in the open position with the legs used to create handles that securely sit over a toilet seat (ideal for in the home or a public toilet).
The legs can also be completely detached to make cleaning easier.
A triple pack of super absorbent, gently fragranced disposable liners come with every purchase.
Contains a clever pad that turns liquid to gel.
Up to 3 liners can be stored on the folded potty ready for immediate use.
The foldaway design allows it to be easily stored in most changing bags or tucked under your pushchair.
Minnebaby Disposable Potty Liners
I've included these potty liners in this article as they are universal and work with many types of potties.
The pack of 30 liners can be used to reduce the need to constantly clean and sanitise your child's potty or can be thrown away when on the go and using a travel potty seat.
They soak up liquid and waste so that there is no messy clean up and they are also odourless.
Tippitoes Travel Potty
This travel potty is small and compact and comes in its own PVC bag, handy for storage and taking with you anywhere.
It includes 10 disposable liners.
The potty is made from strong, durable, wipe-clean plastic, designed with practicality and simplicity in mind.
Hippychick Tron Disposable Travel Potty
This potty is completely disposable, recyclable and eco-friendly.
It will fit easily into your handbag or changing bag and it is lightweight and small.
It contains a highly absorbent, biodegradable pad which quickly eliminates odours and absorbs 250ml of liquid within 30 seconds.
Although it is disposable, it is durable and can withstand up to 30kg!
Perfect potty for camping, the beach and festivals.
Galaxer Foldable Potty Toilet Training Seat
Foldable frog design and very compact potty seat.
Will help toddlers feel more secure when sitting on a proper toilet.
The anti-slip silicone mat material and no-gap design ensure a firm and tight grip between the trainer and actual toilet seat.
The trainer seat is designed to fit standard toilet sizes.
Fold up and take with you anywhere.
Pourty Easy-to-Pour Potty
This is a great potty to use at home and can also be used on the go as, although it's not a travel potty, it is lightweight and has an easy carry handle and clever 'pour away' channel, to easily dispose of its contents.
Its sturdy comfortable seat will help toddlers to feel secure on it.
BYETOO Portable Travel Potty/ Urinal for Boys and Girls
These small and compact travel potties/urinals are available for boys or girls.
They are great for long car journeys or skipping toilet queues when your child just needs to go for a wee.
They are lightweight and easily portable.
Can be reused after cleaning.
OXO Tot 2-in-1 Go Potty for Travel
Discount - Save £1.09
This 2-in-1 go potty opens quickly and easily so it can be ready in snap, whether you need a standalone potty to use with disposable bags, or a potty seat to use in a public toilet.
Three disposable bags with absorbent pads are included, and refills are available.
The small seat is sized perfectly for little ones and the generous shield prevents splatter.
The smooth surfaces of the potty are easy to clean, and the legs fold in to fit the potty in the travel bag which is included.
My Carry Potty
Discount - Save £28.78
Great animal design carry potty which will make potty training fun.
This has a unique carry handle that can be used when out and about.
It has a secure locking mechanism to prevent any spillages, non-slip feet and a large bowl which shows maximum level mark.
Plus an extra tall splash guard to prevent any mess.
Today's Top Deals & Bestsellers
What is a travel potty or seat?
It is essentially a potty which is more portable than a standard potty that you would buy for home use.
It is usually easy to carry or comes in a case which you can take with you when you are out.
Alternatively you can take a potty seat which clips over the top of a toilet seat to make it easier for a little one to use a public toilet.
Travel potties can help support your toddler's potty training and give you the confidence to carry on with it even when you are on the go or travelling.
Tips for using a portable potty or seat
Get into the habit of taking a travel potty with you everywhere so that you are not caught short
Let your little one use the travel potty or seat at home first so they are used to it before you venture out with it
Don't worry about using the odd nappy or pull-up in certain situations where you can't really carry a potty around, like say a theme park
Pack spare clothes just incase. Accidents will happen
If you are potty training, let everyone who looks after your child know so that they can help with the process
Regularly check in with your toddler and ask them if they need to go to the toilet. A little reminder should they need to
Try and keep to a routine
Baby Products – Buyer Guides
Sleeping & Nursery
Feeding
Toiletries & Nappy Changing
Clothing
Travel
Playtime
Baby Extras