For this post, I have put together a collection of the best double buggies currently available. For more essential items for newborns, browse my baby checklist.
Our Top Picks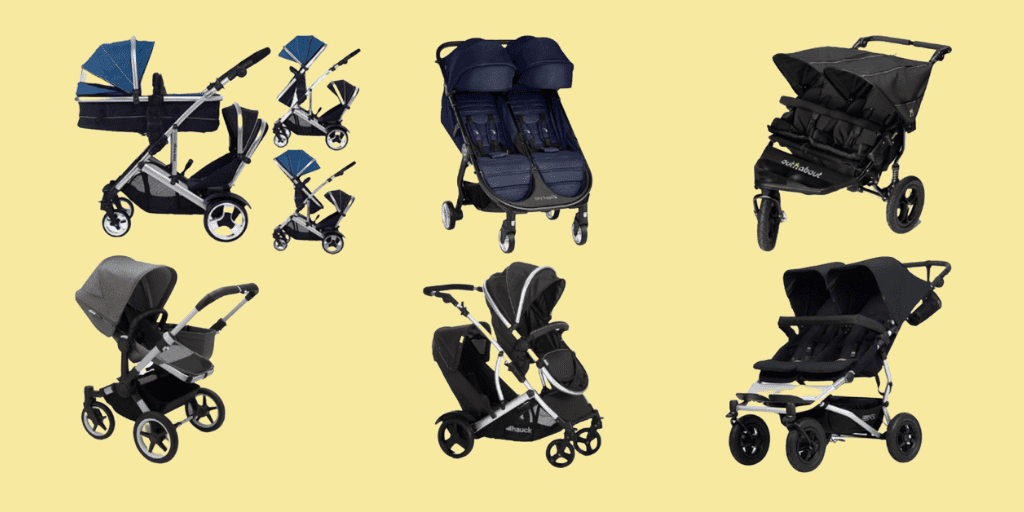 Looking for a double buggy for twins or a baby and toddler?
A double buggy is an essential item for anyone with two little ones, to be able to get out and about.
How We Selected
There are many double buggies available and different styles too.
From tandem, to side-by-side pushchairs, there is a great deal of choice.
We've picked some of our favourites, with guidance from parents and all of our picks have excellent customer feedback and 4-5/5 star ratings.
Also check out our buyers guides to the best travel strollers, pram accessories and pram bags.
Planning on travelling with a baby or toddler? See what you need to know before going ahead, on the NCT website.
So here is my list of the the best double buggies.
Mountain Buggy Duet V3 Double Pushchair
Side-by-side buggy with four wheels.
Cleverly designed, this buggy is no wider than a single pushchair.
It has a horizontal tilt for newborns.
The classic seats can seat toddlers up to 4 years old.
There is additional storage space for carrying essentials.
It can take two carrycots or two infant car seats.
Mid-priced.
Pros: The tyres are big which make the buggy easy to manoeuvre, you could even go jogging with it, no wider than a single pushchair.
Cons: Rain cover not included.
Consumer Score: Parents love this double buggy – 62% of buyers gave it 5 stars.
Bugaboo Donkey 3
Discount - Save £257.00
Latest, improved version of this well-loved buggy.
This pushchair converts to a twin pram or duo carrycot and pushchair with separate extension sets.
Small enough to fit through standard doorways.
It's really easy to manoeuvre with 1 hand steering.
Suitable for all terrain.
Buggy comes with all of the following; Bugaboo Donkey 3 stroller in grey mélange, with bassinet and mattress, extendable sun canopy, seat frame and seat fabrics, wheels, side and under-seat basket, rotating carry handle and rain cover.
Higher priced.
Pros: Easy to push and suitable for all terrain, small.
Cons: Expensive.
Shop all Bugaboo products on Amazon.
Hauck Duett 2 Tandem Double Pushchair
Discount - Save £52.89
Tandem double buggy with reversible seat.
The good thing about this buggy is that the upper seat can be installed in both directions and can be converted into carrycot (from birth).
The lower seat is usable from 6 months and can be completely removed when not needed.
The handle can be adjusted in height.
The separate carseat can also be used on buggy with adaptors (sold separately).
Lower-priced.
Pros: Easy to steer on most terrain, due to its lightweight frame and swivelling front wheels, a carseat can also be used on buggy with adaptors.
Cons: Not much storage space.
Consumer Score: Popular choice 79% of buyers gave it 4-5 stars.
Baby Jogger City Tour 2 Double Travel Pushchair
Lightweight, ultra-compact side-by-side double buggy.
One of the narrowest side-by-side buggies on the market.
It folds away really small so it can easily be stored in car boot.
You can add two carrycots on it from birth.
Seats recline to a flat position.
Storage basket underneath can hold essentials.
It's lightweight so easy to manoeuvre.
Mid-priced.
Pros: Lightweight, compact for easy storage.
Cons: Unsuitable for uneven terrain.
Consumer Score: Parents like this double buggy – 82% of buyers gave it 5 stars.
Kids Kargo Duel DS
Buggy to carry two children of different ages.
Carrycot top and toddler seat underneath.
The carrycot converts into a toddler seat once you're finished with it.
Unlike with some buggies, the space between the seats is quite wide so the child underneath doesn't feel too closed in.
Can be used as a travel system with adapters.
Mid-priced.
Pros: Versatile, looks stylish.
Cons: Can be harder to manoeuvre than some of the other buggies we've recommended.
Joie Evalite Duo Twin Pushchair
Ultra lightweight tandem buggy.
Has a one-hand folding mechanism with automatic folding lock.
Back seat can be used from birth thanks to the flat recline position.
Front seat with two resting positions.
With a 5-point SoftTouch safety harness.
4-wheel single suspension and swivel and lockable front wheels.
Lower-priced.
Pros: Affordable, lightweight.
Cons: Quite long and doesn't feel as durable as some.
Consumer Score: Parents like this double buggy – 63% of buyers gave it 5 stars.
iCandy Peach Double Buggy (iCandy)
Luxury travel system with everything included to use as a single pushchair and double buggy.
Suitable from birth to 25kgs, this travel system comes with everything you need to set it up as a double buggy straight away.
Includes car seat adaptors, carrycot with fleece lining which is suitable for overnight sleeping.
Beautiful fabrics to choose from.
Height adjustable handlebar.
Higher-priced.
Pros: SPF 50+ protection, maintaining a smooth silhouette on the canopy fold after fold, with no drooping over time, seats can face both ways.
Cons: Expensive.
Available to buy from iCandy.
What To Consider When Buying A Double Buggy
Will you be using it from birth?
Most double buggies can be used from birth with a carry cot or in a seat that reclines to a lie-flat position. Some are complete travel systems which can be used with car seats too. Check though as some aren't suitable from birth.
Tandem or side-by-side?
When your baby is newborn it's nice to be able to keep an eye on them while walking along with your buggy, so you need to think about which way round the seats will be facing. For toddlers they are usually happy to be forward facing so they can check out what's going on in the world! If you have twins you may want both of them to face you, so check out all of your options before you buy.
How heavy is the buggy?
Look for something lightweight which is easy to push and lift in and out of a car boot. With two kids in tow you are going to want something that isn't going to weigh a tonne!
Width and Length of buggy
Check how wide the buggy you are purchasing is. You want to make sure you can get through a standard door frame without too much hassle. Side-by-side buggies have come a long way in recent years and there are some slimline ones out there. Alternatively if you are opting for a tandem buggy you are going to want something which isn't too long and hard to manoeuvre. It may look narrow but sometimes controlling the tandem can be just as tricky.
Budget
One of the main things to consider when choosing a double buggy is the price. There are good double buggies to suit all budgets and we've included all of them in our article. Lower priced range from under £100-£300, Mid-priced range from £300-£700 and then Higher-priced range from £700-over £1,000.
FAQ's Double Buggies
What is a double buggy?
A double buggy allows you to travel with two children at the same time.

You can choose between a twin buggy where your children sit side-by-side or a tandem buggy where one child sits in front of the other.
Are double buggies suitable for children of different ages?
If you're buying a buggy for a baby and toddler then seats that can be reclined independently of each other are a good option.

Some double buggies can even turn back into a single buggy by removing the second seat.
Are double buggies worth it?
Toddlers can't walk that far or at a quick pace, so a double buggy is really an essential item if you have a baby and toddler and want to get around outdoors.
Cheap Double Buggies & Today's Bestsellers
Final Thoughts
My preferred pick for best double buggy is the Baby Jogger City Tour 2 Double Pushchair as it's ultra compact and really easy to foldaway. It is suitable from birth up to 22 kg.
I hope this list of the best double buggies was helpful.
If you think I left any out that should be included or have a suggestion for a future article, let me know in the comments below.
Nicola
Last Updated: February 2022
Added 'How We Selected.'
Updated Image.
Added link to NCT website.
Added Internal Link.
Added Pros/Cons on all products.
Added FAQ's.
Added Alternative Retailer.
Added Final Thought.
Moved OOS To Bottom Of Page.
Baby Products – Buyer Guides
Sleeping & Nursery
Feeding
Toiletries & Nappy Changing
Clothing
Travel
Playtime
Baby Extras
Out 'N' About Nipper Double V4 (currently unavailable)
All-terrain 3-wheeler pushchair.
The three wheels make this buggy easy to manoeuvre and steer.
The air-filled tyres work on all terrain.
It's rather slimline and can fit through standard doorways.
The reclining seats and sun canopies move independently for each child.
It is suitable from birth and you can also buy a carrycot for the frame.
It also features large storage pouches.
Mid-priced.
Parents love this double buggy – 93% of 105 buyers gave it 5 stars.
Silver Cross Wave 2020 Pushchair (John Lewis) (currently unavailable)
Luxurious travel system which adapts to your family's needs.
Top of the range buggy which can hold a newborn and toddler.
You can use it for twins if you buy an extra carrycot or seat.
There is a ride-on board available (sold separately) for an older child.
Seats are front and back in tandem.
Multi-terrain wheels and four-wheel suspension make it easy to manoeuvre.
Higher-priced.
Available to buy from John Lewis.