For this post, I have put together a collection of the best buggy boards currently available. For more top picks and buying advice, see my guide to all things you need for a baby.
Our Top Pick
My top pick is the Lascal Buggy Board because it fits 99% of pushchairs, the universal adapter makes fitting simple, is available in two sizes (Maxi and Mini) and receives rave reviews from parents. From 2,046 ratings 70% of parents gave this 5 stars.
When it's not in use it can be folded aware quickly, securely and safely.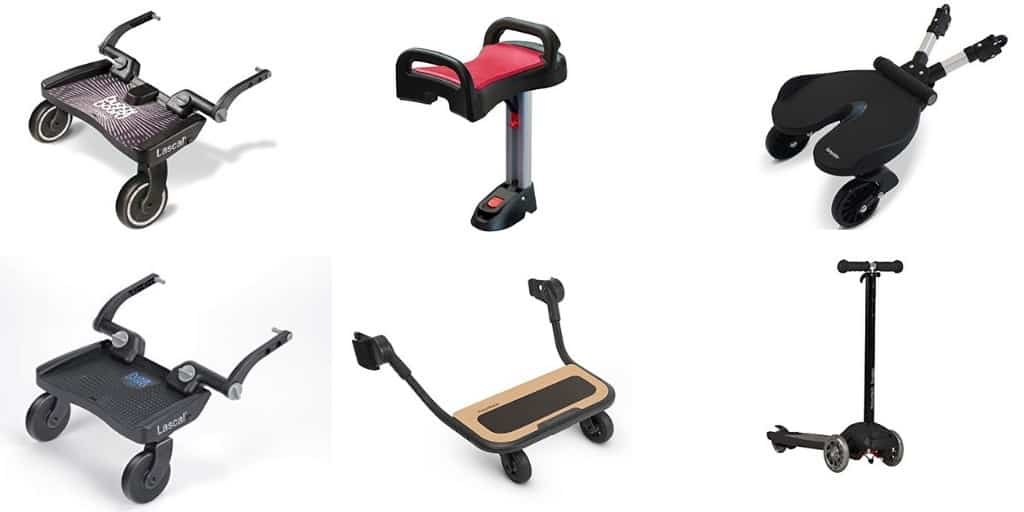 ---
Do you need to travel with two children but want to avoid having to purchase a double stroller?
Getting a buggy board is a simple solution. I've pulled together five of the best buggy boards available.
Related: See my top picks for baby reins and travel strollers.
Let's get started!
Lascal Buggy Board Maxi & Mini
The original board that launched the buggy board name.
Still a fantastic choice for parents and one of the most popular.
It's the ideal choice for children aged between 2 and 5 years old and up to 66 pounds.
It fits 99 percent of pushchairs and is available in two sizes, Maxi and Mini.
Solid and sturdy three-wheeled plastic ride-on board.
It's universal adapter allows it to be attached quickly, securely and easily.
When it's not in use the saddle and board can be retracted securely and safely.
The mini option is a good option for the more lightweight travel strollers on the market.
You can also buy the excellent Maxi Board Saddle seat.
This allows your child to sit down and face you and rest their tired little legs.
By no means a necessity but if you have the budget this can make a big difference to those afternoon walks.
UPPaBaby Vista Piggyback Ride Along Board
Designed specifically for use with the Uppababy Vista stroller this small ride on board is a cinch to attach.
Cute design made out of plastic and wood it can hold a child up to 22kg.
The non-skid surface provides a secure and safe platform.
Folds away with the stroller.
Bumprider Stroller Board
Swedish designed buggy board is designed to fit 100% of single pushchairs.
The bumprider can be fitted without any tools and can also be detached in seconds.
The wheels are excellent quality and very quiet for a buggy board.
When it's not in use you can use the strap to pull it up out of the way.
Good to see an ergonomic non-slip surface for safety and comfort.
Mountain Buggy Freerider Stroller Board
Mountain Buggy makes sturdy, multi-functional prams and it's no surprise to see this excellent buggy board.
This innovative board doubles up as a freestanding scooter, complete with rear brakes and light up wheels.
It fits many brands on the market including Mountain Buggy and Phil & Teds pushchairs – for others you'll need to spend extra on a connector (approx £20).
Babystyle Oyster Ride On Board
Highly rated stroller board that will connect with ease to the Oyster 3.
It can be quickly stowed away by pushing upwards with your feet and still leaves a gap for the pushchair brake.
What is a Buggy Board?
Buggy boards are also known as ride-on boards, rider boards or stroller boards.
They convert a single pushchair into a double child carrier. They do this by attaching onto the back of your existing buggy, allowing your other child to stand or sit on.
They're perfect for kids who can't walk or need a rest through the course of your journeys.
When shopping for your buggy board be aware that many come with universal connectors – this enables you to attach them to pretty much any pushchair.
You'll also find that almost all pushchairs have their own specific buggy boards so it's up to you if you opt for that or go for one of the ones that can adapt to almost any pushchair.
What are the Different Types of Buggy Board?
There are generally three different types of buggy board.
Stand-on Platform Boards
These tend to be the most common and attach to the back of the pushchair.
Your child can then tuck in between you and the pram whilst your younger child sits in the pram.
2-in-1 Boards
These boards cunningly convert into a scooter when not in use as a buggy board.
These provide a bit more flexibility no matter the mood of your toddler.
They can be particularly useful for the school run where you walk to school with it attached as a buggy board not in use.
Your child can then decide if they wish to ride it on the way home as a buggy board or quickly detach it for some scooter fun.
Adaptive Boards
The final type and one that is seeing more product options is an adaptive board, one that doubles up as a stand-on platform board and also a small seat unit.
This option converts a single buggy into a double at a lower cost than buying a whole new double buggy.
What Makes a Good Buggy Board?
Compatibility
Essential! Is your prospective buggy board compatible with your pushchair? Most boards are universal but ALWAYS check.
Weight Specification
If you plan to use for an older child then do check the buggy board does not exceed the weight limit.
Foldable
This is a personal preference but for some who are storing need a buggy board that folds away or comes off (And back on) easily.
Multi-functional
Would you and your toddler benefit from a buggy board that can turn into a scooter or a seat unit?
There are many models on the market that do just that.
Today's Top Deals & Bestsellers
Baby Products – Buyer Guides
Sleeping & Nursery
Feeding
Toiletries & Nappy Changing
Clothing
Travel
Playtime
Baby Extras