For this post, I have put together a collection of the best changing bags currently available. For all my recommended baby product guides, with top picks, see my list of newborn essentials.
Our Top Pick
My top pick is the Babymel Grace Faux Leather Changing Bag as I like that it looks like a regular handbag, but when you look inside it has all the required compartments for a changing bag. Plus it is made of vegan leather and has great feedback from customers.
Show Today's Top Deals
These are today's top deals and bestsellers for changing bags.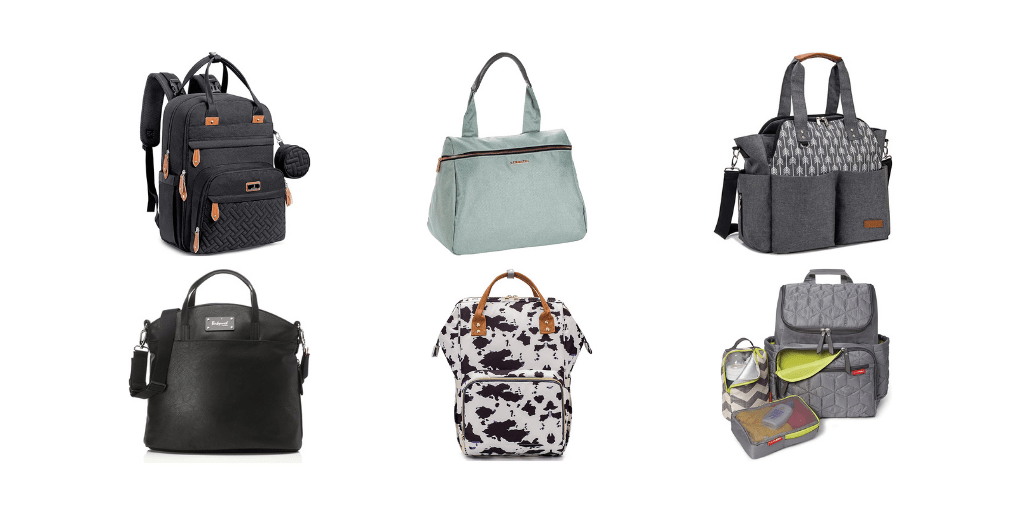 ---
A changing bag is an essential item when it comes to having a baby! Although babies are small, they require a great amount of stuff when it comes to going out, so a changing bag can accommodate the space for all those items.
There are so many different options available these days and you are going to want one which is not only practical, but stylish too.
We've put together our top 10 picks of the best changing bags on the market, from backpacks to tote bags and vegan to animal print, plus they all have excellent customer reviews with a majority of 5/5 star ratings.
Mums-to-be or new parents will also find our guide to the Top 100 Baby Products super useful.
So here is my list of the the best changing bags.
Best Backpack Changing Bags
BabbleRoo Baby Changing Bag Backpack
Waterproof backpack style changing bag.
It comes with an easy to wipe-clean foldable changing pad, features built-in buggy clips and a detachable dummy case.
It includes 2 main compartments, 5 insulated pockets (for bottles), a wipe pocket, a key loop, and a dedicated multi-function changing pad pocket which holds tablets and laptops up to 15.6″.
Multiple pockets with easy-glide zippers makes this nappy changing backpack easily accessible with one hand.
It comes in stylish, neutral colours including Black/ Dark Grey/ Navy Blue. It's a great unisex option.
Parents love this changing bag – 87% of 1,923 buyers gave it 5 stars.
Skip Hop Forma Backpack
Durable quilted well compartmentalised backpack.
Large main compartment stores nappies, wipes, extra clothes, or laptop.
Exterior front pockets for small essentials. Inner slip pocket to store mobile phone or keys. Insulated side bottle pockets.
Comes with a multipurpose mesh storage cube an insulated cube to keep bottles cool and a double-duty changing pad.
It comes in Black/ Black floral/ Grey/ Latte.
Parents love this changing bag – 89% of 158 buyers gave it 5 stars..
Best Tote Changing Bags
Lekebaby Baby Nappy Changing Bag
3 options for carrying! Either with tote handles, stroller straps, and the cross body/messenger strap.
Made of high grade polyester fabric which is water resistant. Any mess or spills made can easily be cleaned up.
It has 17 pockets, including 1 side tissue pocket, 2 insulated milk bottle pockets, 1 pocket on the back for pad or changing mat.
The large front zippered pocket that is attached to the handle is unique and versatile. It's large enough to use as a separate compartment for all your "purse stuff" so you can keep it separate from the baby stuff.
Comes with a changing mat.
Bag is grey with arrow print.
Parents love this changing bag – 85% of 1,623 buyers gave it 5 stars..
Ruvalino Large Weekender Travel Nappy Tote Bag
Large weekender travel changing bag in tote style.
Also big enough to use as a hospital overnight bag for baby's arrival.
Spacious extra large compartment to fit your largest items with 14 small pockets ensure you stay organised.
Built-in stroller straps so you can hang your nappy bag off your buggy.
Includes metal studs on bottom to keep the changing bag clean, as well as an adjustable shoulder strap with a sliding pad to cushion your shoulder from the weight of the bag.
Featuring premium wipeable and spill-resistant interior and exterior.
Battery comes in a neutral grey.
Parents love this changing bag – 84% of 2,421 buyers gave it 5 stars..
Best Vegan Changing Bag
Babymel Grace Faux Leather Changing Bag
Stylish satchel/ handbag faux leather changing bag.
Made of vegan leather.
The curved top shape of the bag adds a chic twist to this roomy changing bag.
It can be carried by top handles, slung over your shoulder using the long strap or even attached to your stroller using the integrated stroller straps leaving your hands free.
With changing mat and bottle holder included.
The built-in insulated zipped bottle pocket on the side will keep liquids warm or cool for up to four hours.
Available in black or grey.
Parents love this changing bag – 72% of 102 buyers gave it 5 stars..
Best Changing Bags with Accessories
Lässig Baby Nappy Changing Bag
Discount - Save £0.99
Stylish trapezoid shaped changing bag.
Can be worn as a handbag, shoulder bag, backpack or attached to stroller.
Interior includes spacious compartments and accessories such as a water-repellent changing mat, insulated bottle holder, removable baby food jar compartment, integrated mobile phone compartment, key finder, stroller hooks and more.
Available in Mint/ Black/ Blue/ Anthracite Glitter.
Parents love this changing bag – 75% of 128 buyers gave it 5 stars..
Maxi-Cosi Nappy Changing Bag
Perfectly matching any of the Maxi-Cosi strollers, the nursert bag offers enough compartments to store all your baby's necessities.
The bag also includes a foldable changing mat, a toiletry bag and an insulated bag to keep baby's food and drinks either warm or cool.
The included toiletry bag has a convenient hanging hook to rapidly access all you need when changing baby.
Large and spacious bag with easy to access compartments.
Available in Black raven/ Concrete grey/ Essential black/ Essential graphite/ Essential grey/ Nomad black/ Nomad grey/ Sparkling blue.
Parents love this changing bag – 78% of 51 buyers gave it 5 stars..
Best Changing Bag For Dads
Ruvalino Changing Bag Backpack
A streamlined design with great construction perfect for both mum and dad.
It has 2 big compartments and 16 pockets for organisation, easy-grab handles, pockets for your belongings and custom hardware D-rings for stroller.
This spacious backpack offers plenty of storage space.
Made of lightweight, durable and waterproof fabric.
It comes with a easy wipe clean, waterproof changing mat.
Available in Dark grey/ Grey.
Parents love this changing bag – 88% of 9,500 buyers gave it 5 stars..
Best Animal Print Changing Bag
FEWOFJ Cow Print Baby Changing Bag
Cool cow print changing bag/ backpack.
With multiple storage pockets, including insulated pockets.
It can be worn as backpack and handbag or it can hang on stroller,
Water resistant material.
Available in Cow print/ Cactus print / Camo/ Sunflower.
Parents love this changing bag– 87% of 741 buyers gave it 5 stars..
Best Designer Changing Bag
JEM + BEA Jemima Black Changing Bag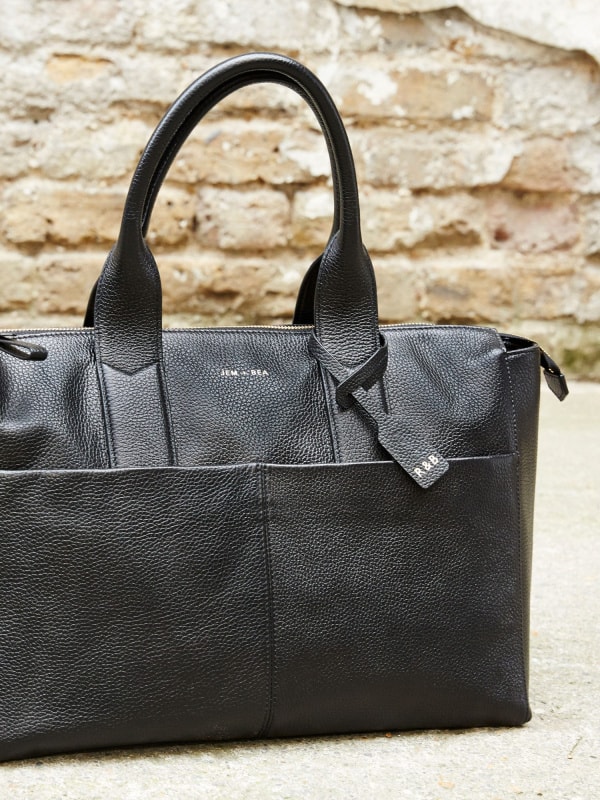 Luxury award-winning changing bag.
Parents rate this product 5/5 stars.
Made of 100% Tumbled Calf leather for a premium feel.
Luxury leather vanity pouch & keyring holder included.
Looks more like a stylish handbag than a changing bag.
Includes 8 interior pockets, including a secure zip compartment for valuables.
Luxury padded changing mat and branded dustbag included.
Comes with a detachable cross-body strap.
Available in Black/ Grey/ Tan.
Today's Top Deals & Bestsellers
What should I pack in my changing bag?
You've picked your changing bag and you're about to pack it for the first time but not sure what to include? We've suggested a list for new parents;-
A changing mat (if not already included in your bag)
Baby wipes
Nappy sacks to dispose of dirty nappies
3-5 clean nappies
Spare clothes for baby incase of any accidents
Barrier cream
Breastfeeding mums may want to include spare breast pads
Muslin
Bottle feeding parents will need two sterilised bottles
Formula powder measured out in a clean plastic container
Flask of hot water that's just been boiled
Alternatively to formula powder you could take ready-mixed formula cartons
Portable toys and books to keep baby amused
Don't forget your own purse, keys and phone!
I hope this list of the best changing bags was helpful.
If you think I left any out that should be included or have a suggestion for a future article, let me know in the comments below.
Nicola
Baby Products – Buyer Guides
Sleeping & Nursery
Feeding
Toiletries & Nappy Changing
Clothing
Travel
Playtime
Baby Extras