For this page, I have compiled a room-by-room baby proofing checklist and recommended the best baby proofing products currently available. For more great baby products see my list of newborn essentials.
Our Top Picks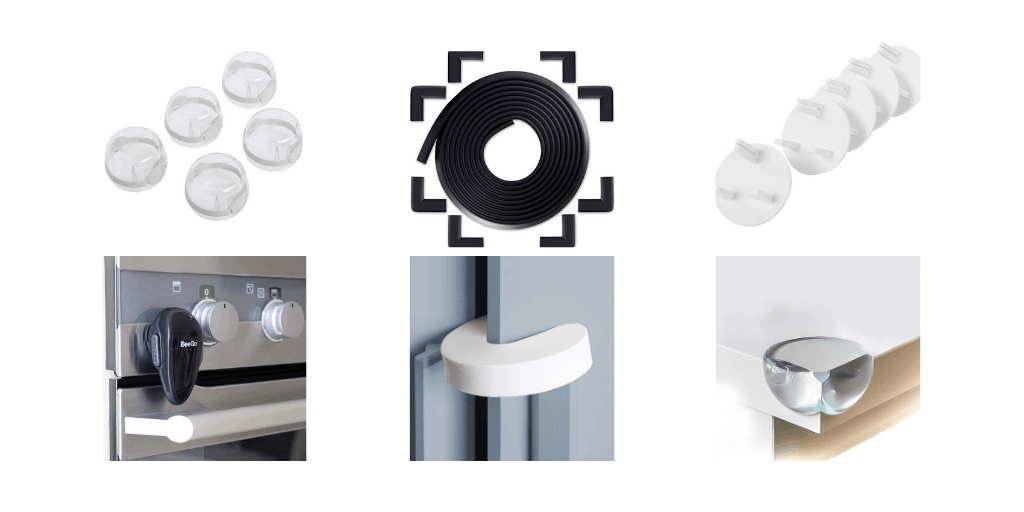 ---
We've compiled a checklist and recommended the best baby proofing products for your home.
All of our recommendations have been tried and tested by 1000's of customers, all with excellent reviews.
Looking for a stair gate or baby monitor? See our buyer's guides to these products.
Let's get going!
16 Best Baby Proofing Products Room-By-Room.
Every Room Baby Proofing
Bebe Earth Furniture Straps
Toppling furniture can be a serious hazard in the home.
Secure your TV and furniture to the walls with these furniture straps.
Safety tested & certified with reinforcement hardware.
TV anchor kit includes 8 straps & all the integral hardware (screws, washers & wall plugs).
Available in black or white.
Great reviews from parents. From 525 ratings 86% of buyers gave this 4-5 stars.
---
Norjews Baby Home Safety Plug Socket Protectors (20 Pack)
These plug socket covers keep little ones away from electric hazards.
Simply insert the safety plug in the unused socket so that little fingers can't get to socket.
20x Universal 3 pin plug protectors.
Made of eco-friendly material and 100% non-toxic.
Excellent reviews. From 5,120 ratings 82% of buyers gave this 5/5 stars.
---
Eudemon Baby Safety Door Knob Covers/Locks (6 Pack)
Prevent little ones from opening or closing the door effectively.
Easy to assemble and clean.
Easy for adult to use and can extend the operating life of the door knob.
Prevent children from injury by opening or closing the door. 
6 pack door knob safety covers for the home.
Good reviews from parents. From 2,114 ratings 73% of buyers gave this 5/5 stars.
---
Hauck Safety Gate for Doors and Stairs
This safety gate is fixed with four fixing screws by pressure, that means neither drilling nor screws are necessary.
The double safety lock prevents children from opening the door.
Suitable for doors or stairs.
Available in 3 sizes.
Really good reviews. From 18,181 ratings 75% of buyers gave this 4-5 stars.
---
BeeGo Window Restrictor Child Safety Locks
These window restrictors can be applied to almost any window frame without the need of screws or drilling.
They use the strongest 3M VHB tape to ensure and maintain a tough and robust fitting.
They can prevent minor or serious injuries.
Will give you peace of mind, especially in high windows.
Good reviews. From 1,346 ratings 73% of buyers gave this 5/5 stars.
---
Bebe Earth Corner Protectors
These edge protectors fit all standard tables of various shapes and sizes.
The strongest adhesive make it difficult for little ones to remove.
High-density foam is the perfect balance of soft impact and thickness and seamlessly blends into your decor.
No tools needed to install.
Available in black or oyster.
Includes 6.2m roll + 8 Corner Guards.
Great reviews. From 2,234 ratings 73% of buyers gave this 4-5 stars.
---
Volila Foam Door Stoppers
These foam door stoppers come with 6 pieces to help children's fingers getting caught or hurt.
The guards can be placed on the top of the door or on the side, to help prevent doors slamming shut or completely closing.
Made of EVA foam which is approx an inch wide which helps prevents doors being closed on children's fingers.
Plenty of good reviews. From 701 ratings 78% of buyers gave this 5/5 stars.
---
Lattcure Baby Proofing Kit
This handy kit includes 36 baby proofing products.
Includes Baby Safety Locks; 8 Magnetic Cupboard Locks+2 Keys, 8 Corner Protectors, 8 Child Safety Cupboard Straps, 10 Socket Covers Protectors/Guards.
The perfect kit to baby proof your home.
Very good reviews. From 900 ratings 80% of buyers gave this 4-5 stars.
---
Living/Dining Room Baby Proofing
Calish Safety Corner Protectors for Kids
These corner guards are ideal for sharp edges of tables or corners.
The flexible ball shape allows for safe child play around the house.
Come in a set of 20, with adhesive.
Semi-soft and flexible.
Easy to install.

Clear colour so that they aren't very noticeable

.
Loads of fabulous reviews. From 456 ratings 83% of buyers gave this 4-5 stars.
---
Bathroom Baby Proofing
Quacks Innovation Tappy Tap Protector
This cute tap cover helps protect children from head injuries, scratches, burns and scalds.
Pour water in Tappy's mouth and then try to catch it below.
Play number and colour games with Tappy's tentacles.
Clever, flexible strap guarantees universal tap fit for taps of all shapes and sizes.
Velcro and rubber grip ensures it stays in place whilst also being easy to fit and remove.
Certified safe for newborns, designed to entertain and safeguard children up to 6 years.
Machine-washable Neoprene, phthalate and mould-free.
Good reviews. From 159 ratings 78% of buyers gave this 4-5 stars.
---
N/D Baby Toilet Lock
This safety baby toilet seat lock is designed to protect baby from any potential damage from toilet.
It is easy to install, no tools, screws or drilling are required.
Help to keep toddlers opening the toilet lid and throwing things in the toilet etc.
Good reviews. From 99 ratings 72% of buyers gave this 4-5 stars.
---
TensCare Digi Duckling Digital Water Thermometer and Baby Bath Time Toy
This cute bath thermometer gives you the reassurance that the bath water is at an ideal temperature for your little ones.
Quick and easy to read LCD display.
Red warning light illuminates when the water temperature is too hot
Safe, fun and encourages early number recognition for children.
Can also be used as a bath toy.
Good reviews. From 3,672 ratings 70% of buyers gave this 5/5 stars.
---
Kitchen Baby Proofing
Aycorn Child & Baby Safety Proof Magnetic Cupboard Locks
Magnetic cupboard locks which keep your child safe from dangerous items in drawers, cupboards and cabinets.
With extra-strong 3M adhesive which keeps the locks in place and an advanced locking mechanism that ensures the locks stay locked when your child pulls your drawers.
This set includes 10 locks & 2 powerful magnetic keys designed for furniture up to 38mm thick.
Great reviews. From 11,798 ratings 70% of buyers gave this 5/5 stars.
---
Safety 1st Child Proof Clear View Stove Knob Covers (Set of 5)
Keep kids away from dangerous stove knobs with these clear view stove knob covers.
Easily and fit over your stove knobs to keep children from turning them.
Pop open the covers hinged lid to access the knob when it's time to cook.
This set includes five stove knob covers.
Good reviews. From 15,171 ratings 75% of buyers gave this 5/5 stars.
---
BeeGo Oven Safety Child Lock
A safety oven lock designed to prevent small children from opening oven doors and potentially causing serious harm or injury.
Self adhesive and can be installed in seconds.
Each lock has been manufactured using the highest quality TPE heat resistant materials.
Available in white or black.
Very good reviews. From 1,813 ratings 80% of buyers gave this 5/5 stars.
---
Nursery Baby Proofing
ABC Decor Cordless Thermal Blackout Roller Blind
These cordless child safe roller blinds are ideal for a nursery.
Easy to fit and control they prevent any hazards with strings or cords.
100 % blackout fabric to keep little ones sleeping tight.
This blind may help regulate room temperatures, keeping cool in the summer and warm in the winter.
Total fitted width of blind: 120cm wide x drop 170cm.
Available in neutral Stars Grey print.
Great reviews. From 32 ratings 86% of buyers gave this 5/5 stars.
---
Today's Top Deals & Bestsellers
---
Home Baby Proofing Checklist
We have compiled this checklist for baby proofing your home as a guide only. All of these products are not essential but they can help make your home a safer place for your tot.
Every Room:
Cover plug sockets.
Use door knob covers/ latches to prevent child opening doors.
Use stair gates at top and bottom of stairs and on rooms you don't want child to get out of.
Store breakable items up high and heavy items down low.
Use furniture straps to avoid child pulling heavy furniture on top of them.
Install window guards or restrictors on any windows of concern.
Kitchen:
Use child locks on drawers and cupboards.
Use child locks on microwaves and ovens.
When you're cooking, keep pot handles turned toward the back of the stove, so little ones don't try to grab them.
Nursery:
Keep baby's cot bare except for their mattress, sheet and blanket.
Use cordless window blinds as these can be a hazard to babies.
Keep baby monitors out of reach.
Bathroom:
Always drain the bath straight after use.
Install a latch on the toilet.
Use a tap cover to prevent child touching/ scolding hands.
Keep medication out of reach.
Use a bath thermometer.
Don't use electrical items in the bathroom.
---
Baby Products – Buyer Guides
Sleeping & Nursery
Feeding
Toiletries & Nappy Changing
Clothing
Travel
Playtime
Baby Extras