For this page, I have put together a collection of the best baby bath towels currently available. For an exhaustive list and top picks see my buying guide to newborn essentials.
Show Today's Top Deals
These are today's top deals and bestsellers for cot beds.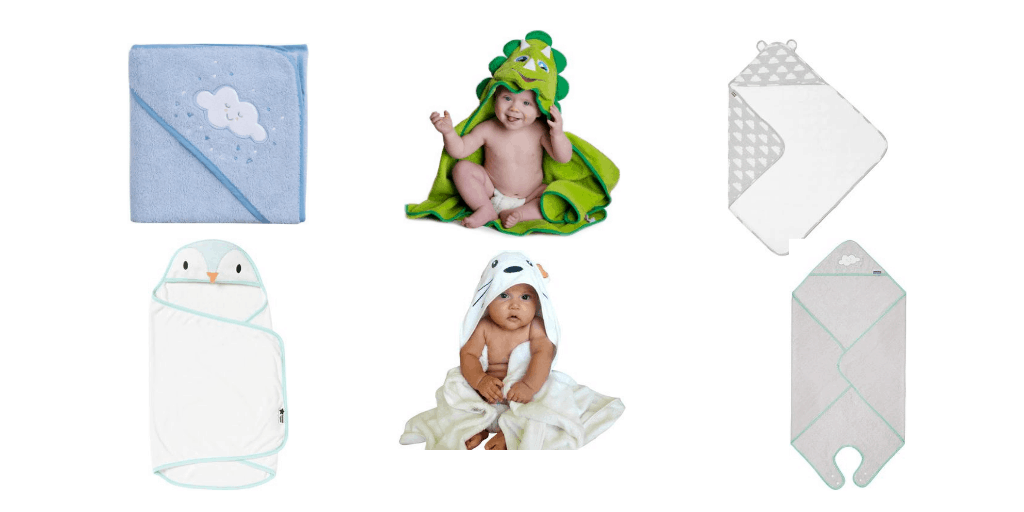 A good baby bath towel will quickly dry your little one and keep them wrapped up warm after a bath. See my buyer's guide for baby bath tubs.
Whether you're shopping for a newborn, toddler, boy or girl, we've searched the market to find the best baby towels around from organic to oversized hoods, we've got it covered.
Always choose absorbent, soft material towels like 100% cotton or bamboo (which is also eco-friendly, hypoallergenic and has antibacterial properties).
Choose a towel that will wash well and think about buying a large size so that you can use for you baby right through to their toddler years.
I've written many guides for baby toiletries – see my top picks for a baby changing mat and baby scales.
Let's get started!
Cuddledry Handsfree Towel
An award winning apron style towel makes bath time with your baby easier as you can wear it while washing them and then have your hands free to pick them up after and cuddle against you.
Made with eco-friendly bamboo and cotton so perfect for sensitive skin.
Double layers for warmth.
Reviewers say it makes bath time much easier and towel is good quality.
Tommee Tippee Newborn Swaddle Dry Towel
Discount - Save £1.00
A swaddle towel which is made from hypoallergenic microfibre towelling so great for sensitive skin.
SPF 50 and chlorine resistant so perfect for beach or at the pool too.
The soft hood has a penguin design which will also make your baby look even cuter than they are already.
Highly recommended by parents.
ClevaMama Apron Baby Bath Towel with Hood
An extra large apron towel which can be fastened around your neck so that you can dry, snuggle and cuddle your baby safely with both hands.
Also acts as a splash guard for your clothes.
Available in various colours.
Made of pure cotton and is anti-bacterial and absorbent on your little one's delicate skin.
Can be used up until 4 years of age.
Customers say it's lovely and soft and washes well.
Panda Kids Bamboo Baby Hooded Bath Towel
Made of cotton and eco-friendly bamboo which is naturally antibacterial.
Features panda ears and an elegant black piping for a luxury but cute look on your baby.
It's ultra absorbent and able to take up to 3 times its weight in water.
Parents love it for the luxury quality.
Cuddleroar Dragon Toddler Towel (Green)
Discount - Save £5.25
A great towel for toddlers who are into dinosaurs as it has a hood with dino spikes which run all down the back of it.
Contains bamboo fibre and cotton so 60% more absorbent than just cotton and has natural antibacterial quality.
Two layers of fabric to keep toddlers warm and suitable from walking age until 3 years.
Kids like it as it is dinosaur themed.
Snuz Baby Towel with Hood – Cloud Nine
Hooded baby towel made with super soft micro cotton and available in cool, contemporary prints.
The towel has bear ears for extra cuteness.
Perfect for new-borns and infants (0-12 months).
Would make a nice baby shower gift.
Personalised Name Boys & Girls Super Soft Hooded Bath Time Towel
Personalised towels make great gifts and this one is a bestseller on Amazon.
Personalise with a baby boy or girls name and available in pink or blue embroidery with jumping fish design.
Super soft luxury 100% cotton.
Customers like the good quality and embroidery.
Jumpy Moo's Organic Bamboo Hooded Baby Towel Set
Made with 100% organic bamboo
This hypoallergenic bath towel is perfect for sensitive skin and is super soft and absorbent.
The towel is extra large allowing you to double wrap babies from newborn all the way through to toddler years.
It comes as part of a 3 piece set which includes a washcloth and laundry bag.
Parents love the quality and large size.
Immaculate Textiles Premium Bamboo Hooded Baby Bath Towel Set
An extra large hooded towel made of bamboo so perfect for sensitive skin.
Cute mouse ears on hood.
It's highly absorbent and super soft.
Customers rate it for the generous size and soft feel.
Comes with a wash cloth.
Tutti Bimbi Certified Organic Bamboo Hooded Baby Bath Towel
Certified organic bamboo hooded towel which is extra large so will last up to age 5.
The extra thick (500gsm) towel has a cute mouse hood (with grey ears) which keeps baby snuggly and warm after bath time.
Made from 92% organic bamboo it's perfect for babies, those with sensitive skin, and those that suffer from skin irritations.
Parents love the lovely soft feel of it.
Comes with a matching wash mitten.
Hooded Baby Towel by Little Tinkers World
Discount - Save £5.00
100% Cotton Hooded Towel with a unique and playful dinosaur design.
It features a cute triceratops face with 3D horns and would make a great gift for a baby or toddler.
Parents rate it for its bold bright colour and good quality.
Note it may need to be machine washed before use so that it doesn't shed.
Where To Buy Online (Best Retailers)
In our product reviews above I've recommended Amazon as they tend to have the best price and stock levels. I do recommend checking other retailers.
eBay
My 1st years
John Lewis
JoJo Maman Bebe
Today's Top Deals & Bestsellers
I hope this list of the best baby bath towels was helpful.
If you think I left any out that should be included or have a suggestion for a future article, let me know in the comments below.
Nicola
Baby Products – Buyer Guides
Sleeping & Nursery
Feeding
Toiletries & Nappy Changing
Clothing
Travel
Playtime
Baby Extras