For this post, I have put together a collection of the best baby bibs. For all my recommended newborn product guides, with top picks, see my list of baby essentials.
Our Top Pick
My top pick are the aden + anais 3 Piece Classic Snap Bibs as they are super soft and made of 100% cotton muslin so ideal for leaving on babies to soak up and dribbles. They also come in a variety of pretty prints.
Show Today's Top Deals
These are today's top deals and bestsellers for baby bibs.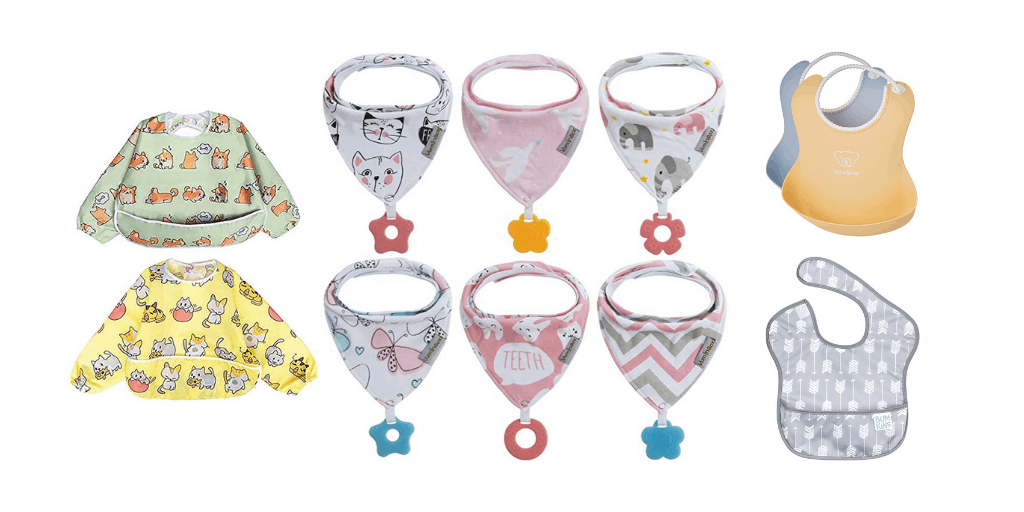 ---
A good supply of baby bibs is an essential if you want to save yourself plenty of washing.
Bibs are ideal for catching newborn milk feeds, dribbles while teething and for weaning and feeding.
There are plenty of different bibs to choose from in various fabrics and styles. They will suit the different stages your baby is at, so be sure to check before you use them.
We've put together our top 8 picks of the best baby bibs, all of which have excellent customer reviews with a majority of 4-5 star ratings.
Don't forget how handy muslin cloths are too! Check out our buyer's guide to the best baby muslins.
Looking for a highchair to feed baby in? Here are our Top 8 picks of the best baby highchairs.
Mums-to-be or new parents will also find our guide to the Top 100 Baby Products super useful.
So here is my list of the the best baby bibs.
Best Bandana Bib
Baby Bandana Drool Bibs 6-Pack and Teething Toys
---
Best Weaning Bib
Weaning Bib – BIBaDO
---
Best Long Sleeved Bib
Little Dimsum Long Sleeved Baby Bib Feeding Bibs
---
Best Muslin Bib
aden + anais 3 Piece Classic Snap Bib
---
Best Silicone Bib
BabyBjörn Baby Bibs Pack of 2
---
Best Waterproof Bib
Bumkins SuperBib
---
Best Milk & Dribble Catcher Bib
Tommee Tippee Closer to Nature Bibs 4 Pack
---
Best Personalised Baby Bib
Personalised Baby Name Bib
---
Today's Top Deals & Bestsellers
When Can Babies Start Wearing Bibs?
New babies can wear soft drool bibs to soak up any milk mess and dribbles.
Bibs to catch any food will not be needed until babies are being weaned.
Always keep an eye on your baby when he or she is wearing a bib.
---
I hope this list of the best baby bibs was helpful.
If you think I left any out that should be included or have a suggestion for a future article, let me know in the comments below.
Nicola
Baby Products – Buyer Guides
Sleeping & Nursery
Feeding
Toiletries & Nappy Changing
Clothing
Travel
Playtime
Baby Extras