For this page, I have put together a collection of the best potties currently available. For more top picks and best buys see my newborn baby checklist.
Our Top Picks
Show Today's Top Deals
These are today's top deals and bestsellers for potty.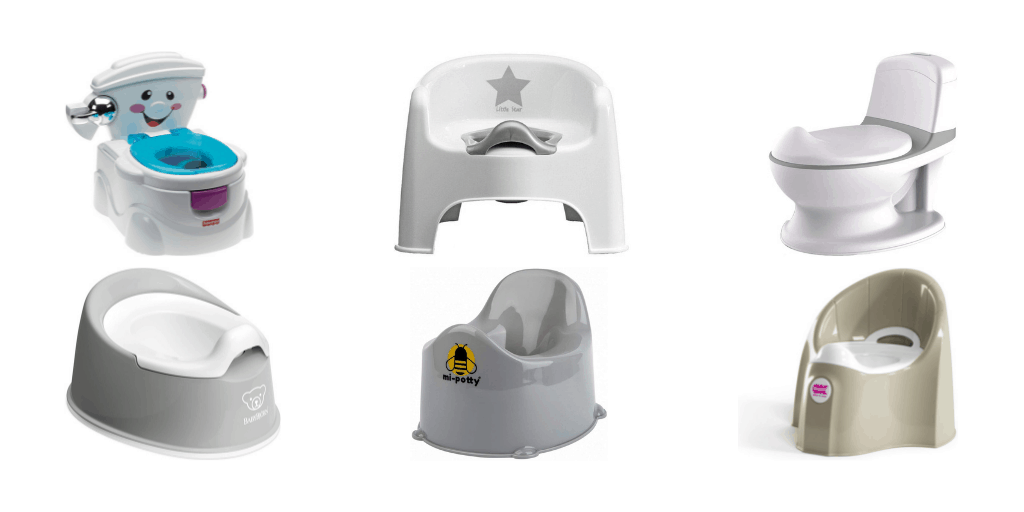 A potty can help your toddler make the transition from using nappies to becoming toilet trained. Not sure where to start? Find out how to potty train your child at the NHS website.
There are so many potties available from portable potties to miniature toilets or potty chairs to potties with sounds.
We've picked the best potties available, all of which have excellent 5/5 star ratings and customer reviews.
Also see my top picks for the best travel potties and baby changing mats.
Let's get started!
Fisher-Price My Potty Friend
This all singing, all dancing potty will reward your little one with a song each time they sit on it.
It has encouraging phrases and songs to keep kids entertained.
The potty seat also clips onto a regular toilet seat, for when your child reaches the next step.
A great way to encourage kids who otherwise aren't interested in sitting on a potty.
It's quite pricey compared to our other top picks.
It's quite bulky so not as portable as other options.
Very good reviews. From 6,989 ratings 71% of buyers gave this 5/5 stars.
BabyBjörn Smart Potty
This potty is small and lightweight so easy to move around or even take out with you.
The non-slip base prevents the potty from slipping on the floor.
The removable insert can be lifted out with its handle for easy emptying.
The grey and white design also looks fairly stylish in comparison to some potties.
Excellent reviews. From 865 ratings 85% of buyers gave this 5/5 stars.
Pote Plus My First WC Potty
A potty which has been cleverly designed to look just like a 'grown-up' toilet.
It has a button for your child to push, which makes a good flushing sound so its just like the real thing.
It is nice and easy to keep clean as it has a removable insert.
With a built-in wipe compartment and flip up lid.
Larger than your usual potty.
Fab reviews. From 1,324 ratings 87% of buyers gave this 5/5 stars.
Strata Deluxe Silver Lining Potty Chair
This armchair potty is great for kids who want to sit comfortably.
The removable insert makes it easy to empty.
As well as being a sturdy choice, this potty is also budget friendly.
Very good reviews. From 695 ratings 78% of buyers gave this 5/5 stars.
Pourty Easy-to-Pour Potty
Discount - Save £1.00
A clever design with a handle at the front rather than at the back, so that adults can easily pick up and pour the contents away.
The easy-pour channel means than the mess flows down the back of the potty rather than the front.
Good for on-the-go as it's compact and lightweight.
With no backrest this may not be the most comfortable choice.
Great reviews. From 2,946 ratings 74% of buyers gave this 5/5 stars.
mi-potty ® The Anti-Bacterial Potty
This potty has anti-bacterial effectiveness of 99.9% against E-Coil.
The wide comfortable seat makes it easy for toddlers to sit on.
The high splash guard will prevent any splashes.
Great bargain buy.
Excellent reviews. From 528 ratings 80% of buyers gave this 5/5 stars.
My Carry Potty Ladybird Travel Potty
This potty has a unique carry handle and can be used at home and outdoors.
It comes in a range of bright, cute animal designs that toddlers will love including a ladybird, dinosaur, fox etc.
The large comfy seat and non-slip feet give comfort and security for little ones.
Brilliant reviews. From 1,160 ratings 85% of buyers gave this 5/5 stars.
QMQ Potty Training Seat
Discount - Save £6.01
Some kids are confident about using a toilet so this potty training seat is ideal for them.
The high backrest provides comfort and support and the handles give your child something to hold onto.
The splash guard will prevent any splashes.
The padded seat portion is removable and you also get a spare.
Great reviews. From 1,243 ratings 80% of buyers gave this 5/5 stars.
Ikea Lilla Potty
Discount - Save £0.77
This bright green, high-shine potty has a non-slip base and gently curved shape for comfort.
The bargain price point means you can buy more than one if needed.
The front handle makes it easy to tip away the contents.
Very good reviews. From 1,708 ratings 76% of buyers gave this 5/5 stars.
OKBaby Pasha Potty Chair
Discount - Save £1.01
A stylish potty chair with high back which comes in tuape or white high shine.
The large removable, easy-wipe bowl with handle makes keeping it clean simple.
Ergonomically designed for comfort, kids will feel supported and comfortable sitting on this potty chair.
Very good reviews. From 555 ratings 80% of buyers gave this 5/5 stars.
Today's Top Deals & Bestsellers
What To Consider When Choosing A Potty
Is It Fun?
Adding a play element to a potty can make the whole toilet training experience more fun, especially for kids who are a bit scared of toilets. Little ones love acting like grown-ups so a potty which looks like a 'real' toilet and makes a flushing sound can be a great option.
How Easy Is It To Clean?
Some potties are easier to clean than others. Ones which have a removable insert can be emptied and cleaned more easily than bulkier potties.
Is It Portable?
A potty which is easy to carry and move around the house can be super handy, especially if you need to be quick off the mark. There are also travel potties which are specifically made for when you are out and about. You may want a potty which you use for at home and another for when you go out or you may just decide on one for both.
Is It Comfortable To Sit On?
Toddlers like to feel comfortable and secure so a potty which feels good to sit on will be more favourable than one which doesn't. There are potty chairs available which are good for adding extra comfort.
FAQ's Potties
Is it better to use a potty or toilet?
A potty can feel safer for little ones at first rather than getting straight onto a toilet. A good tip is to put the potty out ready in your bathroom and then when you sit on the toilet your child can sit on their potty at the same time.
At what age do you start potty training?
Around 18-30 months, or when you feel your child is ready to start. If you try too early it may take longer.
When should you buy a potty?
When your child starts to recognise that they they have a wet or dirty nappy. They may begin to tell you when they are peeing. If they start fidgeting before they need to go, these are all good signs that your child is ready to start potty training and a good time to buy a potty.

How much do potties cost?
There are potties available to suit all budgets. A simple potty can cost less than £10 right up to the more expensive options (which feature additional extras such as sounds and songs) which can be up to £40-£50.
Baby Products – Buyer Guides
Sleeping & Nursery
Feeding
Toiletries & Nappy Changing
Clothing
Travel
Playtime
Baby Extras