For this post, I have put together a collection of the best muslin cloths for babies currently available. For all my recommended baby product guides, with top picks, see my list of newborn essentials.
Our Top Pick
My top pick are the Tiny Alpaca Pack of 5 Organic Muslin Squares as they made from luxurious organic cotton that gets softer as you wash it. I also love the quirky animal prints and bright colours of these.
Show Today's Top Deals
These are today's top deals and bestsellers for muslin cloths.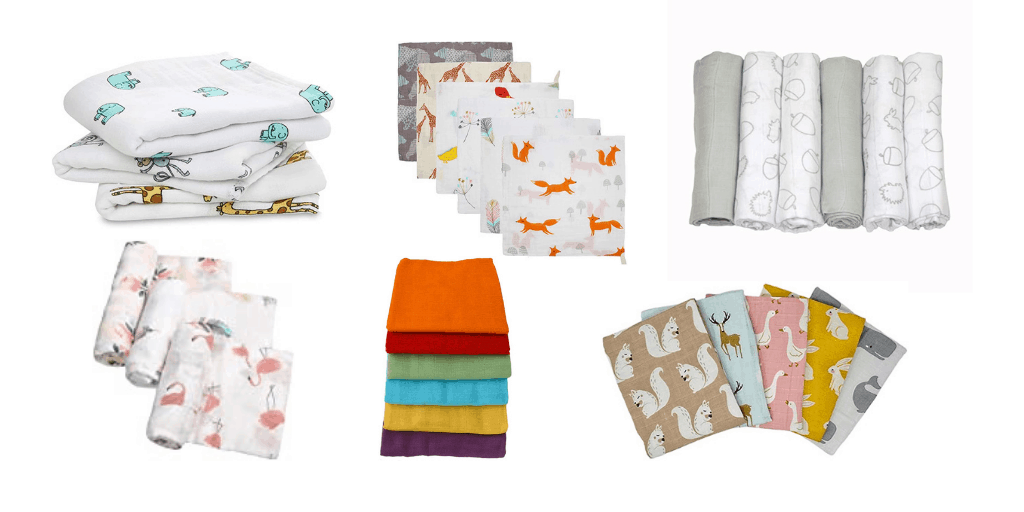 ---
A baby muslin is a cloth, usually made from cotton, which can be used in many ways. Mums will know how many muslin cloths you can get through, so buying multi-packs is a good idea, so you always have a supply of clean ones spare.
Muslin cloths are ideal for when you are breast or bottle-feeding to cover up or to catch milk before it hits your clothes and they can be used to easily wipe baby's mouth and clean up any spills.
Large muslin cloths can be used as light blankets or as a comforter when burping your baby.
We've put together our top 8 picks of the best muslin cloths, most of which have excellent customer reviews with a majority of 4-5 star ratings.
Mums-to-be or new parents will also find our guide to the Top 100 Baby Products super useful.
So here is my list of the the best muslin cloths.
Best Muslin Cloths For Babies (5)
MuslinZ 6 Pack Baby Muslins
Pure 100% cotton muslins designed to become softer with every wash and are gentle on baby's delicate skin.
Presented in a 6 Pack with 2 grey, 2 woodland and 2 acorn prints. Nice as a baby shower gift.
Ideal for newborn swaddling or use as a nappy, a bib, a burping cloth or general mopping up after baby.
Ultra absorbent, hardwearing, versatile.
Machine washable at 40c, quick drying and breathable.
Size; 70cm x 70cm.
Also available in the following colours/patterns; Mint/ Yellow Stars/ Blue Stars/ Pink Stars/ Violet Stars.
Parents love these muslin cloths – 95% of 1, 289 buyers gave it 4-5 stars..
---
Aden + Anais Musy Squares Jungle Jam 3 Pack
100% high quality cotton muslin squares.
Small, portable and fast drying.
Soft, absorbent and breathable.
Perfect as a security blanket, makeshift bib, burpy cloth and more.
Pre-washed and stays soft wash after wash.
Size; 70 x 70 cm.
Available in prints; Jungle Jam/ Dancing Tigers/ Leader of the Pack/ Muslin Ma Fleur/ Picked for You/ Rising Star/ Seafaring/ The Lion King/ Twinkle.
Parents love these muslin cloths – 95% of 599 buyers gave it 4-5 stars..
---
Bright Bots Unisex Combo Muslin Squares 6 Pack
100% cotton muslin squares in bright rainbow eye-catching colours.
Nice new baby or baby shower gift.
Can be used as a newborn nappy or swaddle. Also great as a burp cloth, comforter and general mopping up cloth.
Unisex, boy and girl pack options available.
Size; 70cm x 70cm.
Parents absolutely love these muslin cloths – 93% of 354 buyers gave it 4-5 stars..
---
Comfy Cubs Muslin Burp Cloths 6 Pack
Made from 100% durable, breathable cotton.
The cloths are made up of 6 layers of extra absorbent, soft cotton.
Perfect for protecting your clothing when burping little ones, breastfeeding cover ups, for teething, dribbling babies or even as a changing mat cover when out and about.
Size; 20″ x 10″ inches.
Available in colours; White/ Blue/ Pink.
Parents love these muslin cloths – 94% of 13,583 buyers gave it 4-5 stars..
---
LifeTree Baby Washcloths Muslin 6 Pack
These muslins are made from 70% bamboo /30% cotton muslin, so they are lightweight and soft for baby's young skin.
100% Double gauge muslin.
Ideal for face washing.
Quirky unisex patterns which suit both baby girls and baby boys. 3 different pack combos available.
Small size; 27cm x 27cm
Parents love these muslin cloths – 93% of 1,312 buyers gave it 4-5 stars..
---
Best Organic Muslin Cloths For Babies
Tiny Alpaca Pack of 5 Organic Muslin Squares
100% Organic muslin cotton cloths.
Breathable, high water absorbent and quick drying.
Four layers of softness and security and made with two premium layers to be heavy enough to use as a security blanket and for swaddling.
Perfect for babies with sensitive skin.
Size; 60cm x 60cm.
Quirky colourful animal prints.
Parents love these muslin cloths – 95% of 203 buyers gave it 4-5 stars..
---
Best Large Muslin Cloths For Babies (2)
Bamboo Muslin Baby Blanket 2 Pack
70% Bamboo / 30% Cotton swaddle blankets/ large muslin cloths.
Pre-washed so they are extra soft.
Bamboo has great breathability which helps regulate your baby's body temperature and prevent overheating.
Great for use as a burp cloth, tummy time blanket, nursing cover, stroller cover and more.
Size; 47″ x 47″ large.
Pretty watercolour Floral & Flamingo prints. Lovely baby girl gift idea.
Parents love these muslin cloths – 93% of 397 buyers gave it 4-5 stars..
---
Extra Large Elephant Print Muslin (JoJo Maman Bebe)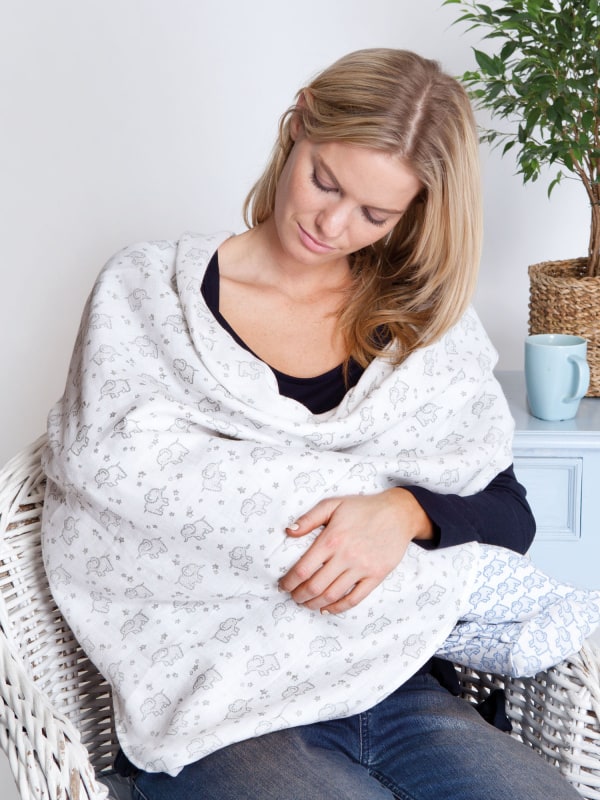 Extra large elephant print muslin is ideal for use as a swaddle, pram cover to shade baby or as a breastfeeding cover.
Multi-use and highly absorbent.
100% Cotton.
Machine washable.
Available in three colours; Blue/ Pink/ Grey.
Size; 120cm x 120cm.
Parents love these muslin cloths and they have 5/5 star ratings based on 29 reviews.
---
Today's Top Deals & Bestsellers
---
How do I wash muslin cloths?
Muslin cloths can be washed in the washing machine along with other baby clothes. Wash them on a low temperature to avoid shrinking and tumble dry on a low setting. Wash in a non-biological detergent for baby's sensitive skin.
What else can I use muslin cloths for?
Muslins don't just come in handy for babies! Here are a few other ideas of what you can use them for;-
As a sunshade for your baby
For teething, dribbling babies
As a changing mat
As a flannel to gently exfoliate your skin
As a strainer for foods
Cut up and use as wraps for little bundles of herbs
Use old ones as dusters for your home
Use a damp one as a face cooler
---
I hope this list of the best muslin cloths for babies was helpful.
If you think I left any out that should be included or have a suggestion for a future article, let me know in the comments below.
Nicola
Baby Products – Buyer Guides
Sleeping & Nursery
Feeding
Toiletries & Nappy Changing
Clothing
Travel
Playtime
Baby Extras