For this page, I have put together a collection of the best pram bags. For more top picks and best buys see my baby essentials checklist.
Our Top Picks
Show Today's Top Deals
These are today's top deals and bestsellers for pram bags.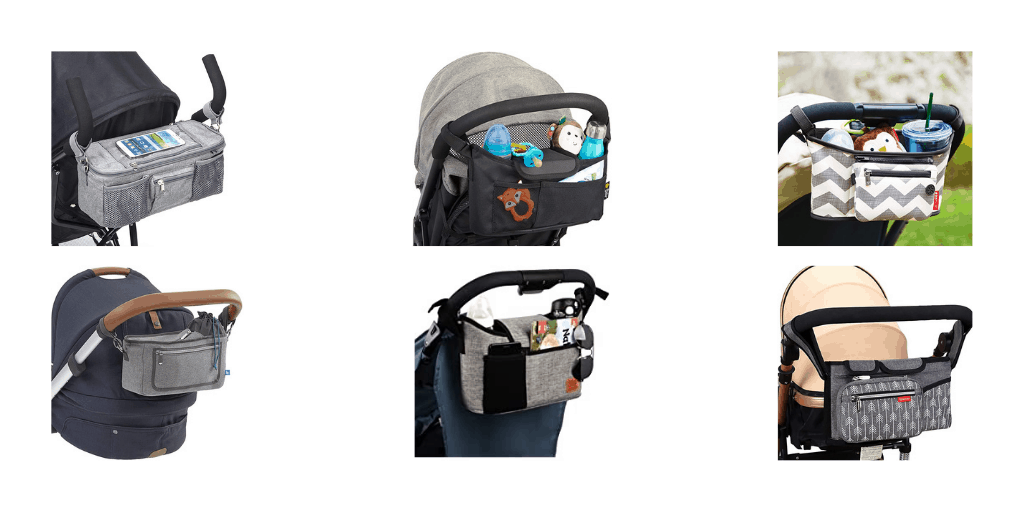 A pram bag or pram organiser attaches to your buggy handlebar so that you can keep all of your baby essentials within easy reach.
You can keep anything from wipes, dummies, toys, bottles to hand plus it's also a great place to chuck your phone and keys so you don't have to rummage through a handbag.
There are two different types of pram bags. One is an open option so you can see everything in front of you; the other is a closed design, more like a zipped bag which you can keep everything in and is more secure.
All of our recommended products have excellent buyers reviews and 4-5/5 star ratings.
Also see my top picks for the best baby changing bags and pram accessories.
Let's get started!
Homlynn Pushchair Bag
Discount - Save £1.00
This pram organiser is such a neat idea. It allows you to be hands-free and keep all your essentials like phone, bottle, dummy, keys etc. within easy reach.
The universal fit means you can clip it onto all buggy handlebars.
It also comes with a carry strap if you want to carry it like a handbag.
11L large capacity.
Includes 2 deep drink holders with space for milk bottles or water bottle, room for 3 nappies, wipes, baby essentials, 2x phones, keys, snacks, purse, ipad or book.
Excellent reviews. From 1,137 ratings 76% of buyers gave this 5/5 stars.
---
Skip Hop Stroller Organiser
An insulated sturdy neoprene caddy to hold bottles and coffee cups securely.
It also provides easy access to your essential items.
Includes a detachable wristlet for errands and a headphone port for hands-free calls.
Available in grey and off-white zig zag pattern or black.
Great reviews. From 1,091 ratings 80% of buyers gave this 5/5 stars.
---
BTR Buggy Organiser Bag
This pram bag has a two way zipped lid to keep your contents secure and weatherproof.
With a touchscreen PVC phone-pocket so you can read messages, follow maps etc as you walk along.
It coms with two handy buggy clips to hang your bags and shopping from.
The 2 hook and loop fastening straps ensure the bag doesn't swing about.
With 2 internal and 3 external pockets to keep you organised.
An added key clip means you never need to rummage around for your keys.
Turns it into an instant go-bag with a detachable strap.
Available in black, blue and grey.
Very good reviews. From 1,001 ratings 79% of buyers gave this 5/5 stars.
---
Babymoov Stroller Organiser Bag
This neat pram organiser has several inner storage compartments and a zip pocket on the front of the bag to hold your bank card or mobile phone.
It has a unique adjustable insulated compartment to keep your baby's food or bottle.
With a full-length zip fastening for security.
Dimensions: 33 x 11.5 x 16 cm.
Excellent. From 156 ratings 75% of buyers gave this 5/5 stars.
---
Lekebaby Pram Organiser Bag
This pram organiser is really useful and spacious and made to hold quite a lot of things without being too bulky.
The additional mesh pocket on the back of the bag provides additional storage space when folded out; perfect for nappies, wet wipes or muslins.
This pram bag comes with detachable D buckle and strong adjustable velcro, so it can perfectly fit curved handlebar, square handlebar, round handlebar.
With a handy removable pouch and room for insulated drink.
Great reviews. From 167 ratings 74% of buyers gave this 5/5 stars.
---
Baby Uma Pram Bag
This muted black buggy bag has a compartment for everything.
Front pockets can be used for your mobile phone, keys & cards.
The open main compartment has enough room for baby's favourite toy, baby snacks and wipes.
Drink holders on the inside are extra deep to prevent spills, and can easily hold baby's next feed, or your morning coffee.
The mesh pocket at the back is perfect for nappies or baby wipes.
Available in black.
Brilliant reviews. From 126 ratings 82% of buyers gave this 5/5 stars.
---
Today's Top Deals & Bestsellers
Baby Products – Buyer Guides
Sleeping & Nursery
Feeding
Toiletries & Nappy Changing
Clothing
Travel
Playtime
Baby Extras