For this post, I have put together a collection of the best bottle warmers for your baby's milk and food. For all my recommended newborn product guides, with top picks, see my list of baby essentials.
Our Top Pick
My top pick is the Tommee Tippee Closer to Nature Insulated Bottle Bag Twin Pack as they have high thermal properties and will keep baby's warm feeds warm and cold feeds cool, while you are out and on the go. They also have excellent reviews from customers with 89% giving them 4-5 star ratings.
Show Today's Top Deals
These are today's top deals and bestsellers for bottle warmers.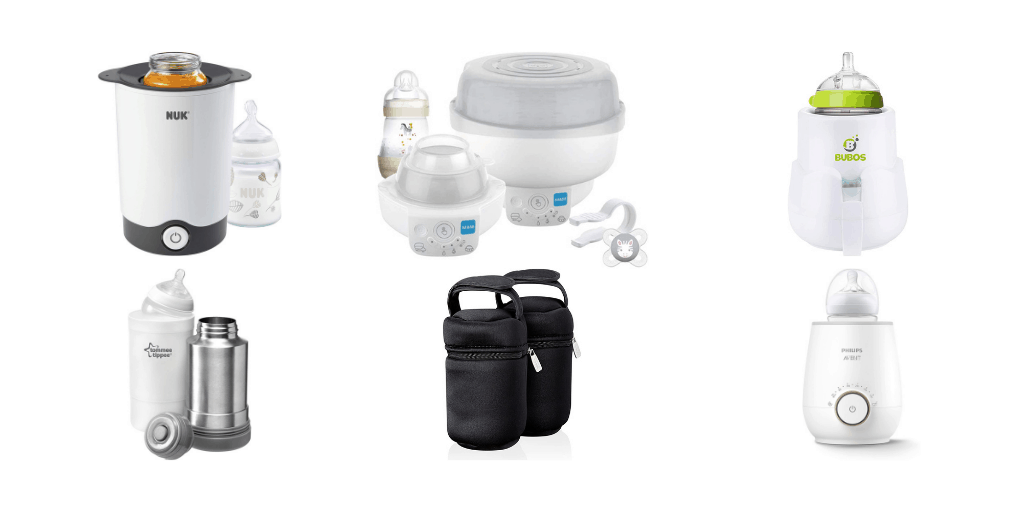 ---
When you're feeding a baby regularly, anything which makes the routine a bit easier will be helpful to you.
A bottle warmer is a handy device which enables you to warm up your baby's food and milk quickly and efficiently, with no need to worry about making it the right temperature as this will automatically be done for you.
Steam heating is the best method for gently warming milk and food so that it keeps the nutrients and it doesn't overheat.
There are also other options such as insulated bottle warmers for when you are out and about or combined steriliser and bottle warmers.
We've put together our top 7 picks of the best bottle warmers, all of which have excellent customer reviews with a majority of 4-5 star ratings.
Mums-to-be or new parents will also find our guide to the Top 100 Baby Products super useful.
So here is my list of the the best bottle warmers.
Best Bottle & Food Warmer
NUK Thermo Express Baby Food Warmer
---
Tommee Tippee Easy Warm Baby Bottle and Food Warmer
Discount - Save £7.10
---
Philips Avent Fast Baby Bottle Warmer
Discount - Save £5.19
---
Bubos Smart Fast Heating Bottle Warmer
---
Best Travel Bottle Warmer
Tommee Tippee Travel Food Warmer
---
Best Bottle Warmer Bag
Tommee Tippee Closer to Nature Insulated Bottle Bag
---
Best Bottle Warmer & Steriliser
MAM Electric Baby Bottle Steriliser & Express Bottle Warmer
Discount - Save £19.20
---
Today's Top Deals & Bestsellers
Do you really need a bottle warmer?
Although a bottle warmer is not an essential item, it can certainly be a handy addition to you baby product list.
Babies like warm milk so warming it up to just the right temperature is made easy with the use of a bottle warmer. You could stand it in hot water or run it under a hot tap, but this would take longer and you have to guess how long to leave it for.
Using a microwave to warm baby's milk can be dangerous and cause hot spots or uneven heating which could burn your baby's mouth, so using a bottle warmer is a much safer option.

Using a bottle warmer will also preserves the goodness and nutrients in milk and baby food.
How can I warm up bottles on-the-go?
If you are in a restaurant or cafe you can ask for a bowl of hot water to stand your bottle in. This is a good way to warm up you babies bottle safely, rather than asking if they have a microwave.
If you are out at a park or the shops a Portable Bottle Warmer (like a thermos) is a great option.
Alternatively you can take your heated water in out in an insulated bag and add your babies formula to the bottle just before the feed.

---
I hope this list of the best bottle warmers was helpful.
If you think I left any out that should be included or have a suggestion for a future article, let me know in the comments below.
Nicola
Baby Products – Buyer Guides
Sleeping & Nursery
Feeding
Toiletries & Nappy Changing
Clothing
Travel
Playtime
Baby Extras