For this page, I have put together a collection of the best baby bath toys currently available. For more best buys see my baby essential list.
Our Top Picks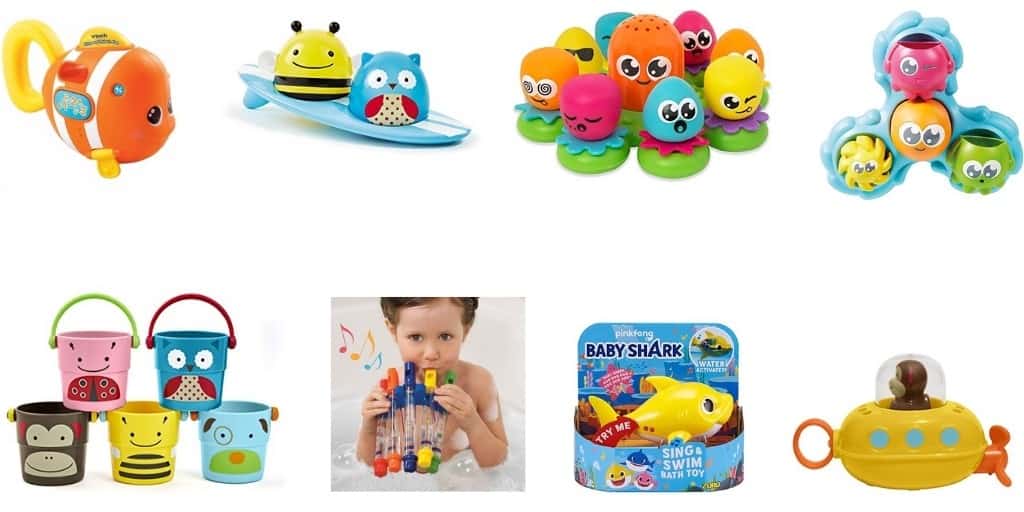 Looking for the perfect bath toy to entertain and educate?
A good bath toy should engage, amuse and educate. They should also be sturdy, colourful and safe.
See my guide to the best baby bath tub and baby scales.
From cups to crayons here are 27 of the best bath toys for babies and toddlers.
Let's get started!
Sing and Splash Fish
No products found.
A singing fish that lights up and splashes whilst introducing your baby to the numbers 1, 2, 3.
Infantino Glowing Jelly Lights
Excellent sensory experience with these little jellyfish that light up as soon as they hit the bathwater.
Perfect for babies six months and older as they help them bob along the water.
Skip Hop Zoo Stack and Pour Buckets
A firm favourite this is a must have bath toy for many parents.
This simple toy (they are often the best) sees your little ones have lots of fun as they stack, fill and pour with these bright, colourful, easy to hold buckets.
There's five in total and feature fun character faces on their side.
Tomy Spin and Splash Octopals
Really good bath toy where you stick the Octopus set to the side of the bath, and then pour in water and watch each octopus move and fire out water in different ways.
Helps develop your little one's motor skills and with all the splashing water can also improve their confidence in the water.
Compact, well made, colourful and a cinch to keep clean.
Vtech Splash & Play Elephant
Lovely action packed elephant bath toy, suitable for all ages as nothing comes apart.
Plays a song and glows up makes bath time instantly more fun!
The singing elephant sticks to the side of the bath and squirts water from its trunk.
Lots of fun accessories including beads, spring back seahorse, wobbly water container and a spinning starfish.
You press the light up snorkel button for fun phrases and sounds that include 15 melodies and 4 songs to sing along to.
Washable Crayons
Let your child's creative streak come out by using crayons on these wipe clean tiles.
Though they will likely spend more time drawing on themselves!
Infantino Plug and Squirt
Fun toy with excellent sensory experience for your baby.
It's a set of four bathtime characters including a turtle, octopus, seahorse and frog.
You pull them apart with ease and encourage their imagination as you can mix and match them back together into whatever character they wish.
The way they come apart makes for simple, effective and easy cleaning.
Munchkin Caterpillar Spillers
Essential bath toy buy!
This timeless classic is loads of fun, well made and is good for learning colours and numbers.
Your baby will have endless fun with the stacking cups – spilling, straining and pouring the water.
TOMY Toomies Spin & Splash Jellyfish
Nevermind fun, which it is, this toy also helps your child develop water confidence and improves their dexterity.
It produces a rain shower and improves their comfort levels with their head getting wet – important trying to get their hair washed.
Bonus points for the strong, eye-catching colours, friendly face and mould free cleaning.
What more could you want from a bath toy?
Skip Hop Zoo Light Up Surfers
No products found.
Soft, pliable, well made toy that features our cool dudes, Bee and Owl.
They light up when they touch the water.
Watch them ride the bath waves and surfboard all on their own.
Splash About Splash Jacks
Made with pure natural rubber and mould resistant these colourful toys are perfect for teething babies.
Their unique shape design makes them easy to handle for little fingers.
There are no air holes so you don't get any water build up and no mould.
Toomie Turtle Bath Salon
We love this colourful action packed bath toy and you can't go wrong with anything that creates bubbles.
This toy comprises of a hairdressing turtle with a small octopus that squirts water.
Pour bubble bath foam into the turtle's head and then pull his arm to give his octopus pal a foamy hair do!
Lots of moving parts so it's a good way to improve your baby's dexterity.
Jumbo Games Peppa Pig 4-in1 Bath Time Jigsaw Puzzles
A sure fire hit for any Peppa fan this is a set of four, shaped foam jigsaw puzzles.
The foam jigsaw puzzles float or stick easily to the bath tub (and easily peeled off).
The big pieces make it easy for their little hands and the puzzle element will help keep them occupied with educational fun!
Skip Hop Full Up Bee Fountain
A simple fun fill-up-and-spill water toy with easy-grab handles in an adorable bee design.
It's safely made with Pvc & also phthalate-free.
Watch your little one marvel at the fun water umbrella effect and can also help encourage them to wash their hair.
Munchkin Learn Bath Toy
Educational hit for toddlers and up.
Hours of fun with these floating numbers and letters – they stick everywhere on the bath, on my shower screen and even on them!
Simple joy.
Skip Hop Zoo Pull and Go Submarine
No products found.
Plenty of monkeying around with this top bath toy!
Simply pull the string and watch him go.
Cute and entertaining.
Green Toys Ferry Boat with Two Toy Cars
Guaranteed hit for any transport lovers, young or old!
This boat toy is super sturdy and if that wasn't enough, comes with two cars.
The slide-out ramp provides much fun in, or even out of the boat.
To top it all, the boat is made from recycled milk jugs so you'll be happier you're making an eco friendly purchase.
Edushape Floating Blocks Bath Toy
Very well made, unique set of building blocks for the bath.
Loads of different designs, shapes and colours – all extremely stimulating for your young child.
Parents like there are a good number of blocks included.
TOMY Boon Pipes Baby Bath Toy
Hours of fun for both younger babies and older toddlers.
The younger kids will be quite content watching the water pour in and work its watery way through the cogs and wheels.
Older kids up the game by constructing mini water mazes.
TOMY Toomies Octopals Number Sorting Baby Bath Toy
The idea is simple.
This toy finds mummy Octopus with eight babies on a floating island.
Each of them can soak up and squirt water.
Or the babies can be stuck to tiles or the bath tub with their own suction pads.
Different colours and numbers makes for a education and fun hit!
Waddle Bobbers
On the higher end when it comes to bath toys for babies, but this one does pack a punch with its fun features.
The set comprises of a floating ice berg and six cute floating penguins.
You attack the ice berg (suction slide) to the side and watch the penguins go from there.
They're good fun on the water as they stack, twirl, spin, wobble and float.
Water Flutes Whistles
A bright set of colourful flutes that lets your child create different notes.
Be prepared for a noisy repertoire – it might be some time, if ever, before they progress to playing tunes.
It does come with five colour coded waterproof music sheets.
To get its' full use it's likely better suited to toddlers as it does require a bit of know how to create the sounds.
Baby Shark Sing and Swim Bath Toy
This one has a dual function – entertain the kids while they sing along to the baby shark song and in doing so drive you mad.
Decent size and well made shark comes in yellow or pink.
Plui Rain Cloud Toy
A very popular baby bath toy that is both fun and educational.
Plunge it under the water and feel the bubbles as the air is displaced.
Take it out of the water and it gently releases little droplets of rain – holding your finger on a little hole will stop the rain from failing.
Babies will find this endlessly curious and also help their motor skills.
Cuddledry Cuddleduck
A collection of the best bath toys without a classic duck is not complete.
This one is made fro 100% natural soft rubber so is both safe and soft enough for them to play with.
The combination of no holes and mildew resistant rubber means there is no harmful bacteria mould to collect.
Munchkin Floating Farm Animal Themed Rubber Bath Squirt Toys
The simple toys are usually the best.
This comes with eight bright, cute farm animals that float in the water and can be squeezed to take in and then squirt out water.
A fun way to teach them about their first animals.
Some parents have commented on mould so do ensure to fully squeeze them at the end of bathtime!
Big Frog Automatic Bubble Maker Bath Toy
This is not only a fun floating Frog bath toy – it also creates bubbles and music!
A little bit of soap goes a long way and see your baby's delight as a stream of bubbles fires out of the frog's mouth.
Three strong suction cups keeps it securely attached to the sides of the bath.
There are 12 classic nursery rhymes to provide the musical accompaniment.
Today's Top Deals & Bestsellers
Baby Products – Buyer Guides
Sleeping & Nursery
Feeding
Toiletries & Nappy Changing
Clothing
Travel
Playtime
Baby Extras