For this page, I have put together a collection of the best baby bath tubs currently available. See my best buys for newborn essentials.
Our Top Picks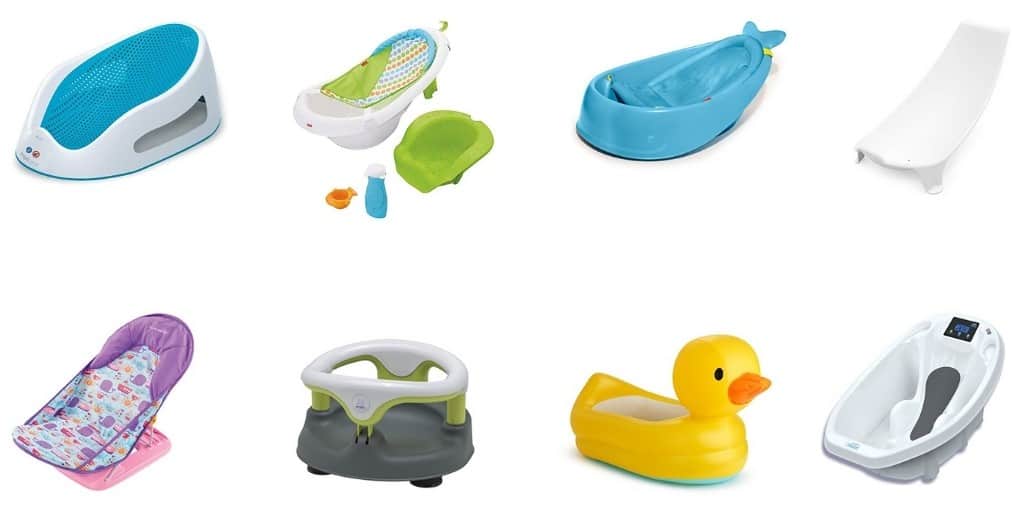 Are you looking for a bath tub to keep your baby safe and comfortable?
In this comprehensive buyer's guide I'll show you 16 of the best baby bath tubs and bath seats and help you choose the right one for you.
Related: You may also be interested in my bumper guide to the top baby bath toys or my top picks for baby changing mats.
Let's get going!
16 of the Best Baby Bath Tubs and Bath Seats
Angelcare Baby Bath Seat Blue Soft Touch
Excellent option for a newborn as it fits them perfectly and they are supported in an incline position with a safety post between their legs.
The soft mesh keeps them in place and comfortable for them to lie on.
This allows them to easily kick their feet about in the water.
Compact option that is easy to clean and is made from a mildew-resistant mesh material.
Stokke Flexi Bath Newborn Support
Intended for us in Stokke's Flexi Bath this support for newborns can also work standalone in a bath tub.
The sculpted chair design is able to support the natural body shape of your baby.
If this is the one for your baby it also has the benefit if looking the part with its modern, sleep design.
Fisher-Price 4-in-1 Sling N Seat Tub
If you're looking a bath tub set that your little one can continue to get use from as they grow, then this one could be the ideal option.
There are four stages from newborn to toddlerhood and whatever the age you can wash your baby hands-free.
Skip Hop Moby Smart Sling Three-Stage Tub
If you're looking for a versatile baby bath that will grow with your little one then is one we strongly recommend.
For newborns you'll find a mesh sling for them to lie back into.
As they learn to sit, that sling converts into a cushioned seat.
At the final stage you simply remove the seat and they can stretch their feet for big splashes.
Supplied with a handy swivel hook for hanging on the shower rod.
It's lightweight and compact so a good option for taking on your travels.
Parents love the design, sturdy nature and securing insert.
Suitable for newborns until 18 months approximately.
Summer Infant Deluxe Baby Bather
This lie-bath seat sticks to the bottom of the bath.
Features three recline positions.
The seat's gentle material is quick drying and you can throw it in the washing machine.
It's comfy and parents love the support it provides freeing up hands to wash their baby.
Suitable for newborns to 6 months approx when they can sit up on their own.
There's a hook so you can hang the tub to dry when not in use.
Also comes with a scoop bath toy and squeezy bottle.
Fits in most sinks and baths.
Pricier option but if you can make use of the all the different stages then it's worth it.
Rotho Babydesign Baby Bath Seat
Parents love the strong sturdy design.
Baby can wiggle their legs and splash around and it doesn't move anywhere through the use of four pronged suction pads.
Very easy to get baby in and out.
Some parents do add a baby dam to combat the issue of the height of the seat and water level.
Good non slip seat to keep baby in place and secured.
Supports babies up to 13kg.
Suitable for us from 6 to 12 months.
Munchkin Sit and Soak Baby Bath Tub
Great value baby bath that provides a safe and secure upright position for your little one.
Comfort levels are good with a support bump and the padded backrest.
Simple pull-tab drain for getting rid of water quickly for an easy clean.
One criticism from parents are the stickers supplied that are difficult to remove.
Munchkin Hot Safety Duck Bath
This one will be sure to put a smile on your little one's face.
Parents love this when they don't have a batch or it's perfect for taking on your travels.
Once inflated it's nice and sturdy and holds enough water to keep them warm, but still space to splash about and have some bath toys.
It features a contoured head rest and textured bottom to help keep them in stable.
There is also a handy plug at the bottom for when you're done!
You can also use it by the pool as a playpit.
Suitable from 6 months onwards.
Nuby Baby Bath
After a straightforward traditional mini bath for your baby?
This one should fit the bill and you can free up both hands while you wash your little one.
Lots of features that can make this an excellent choice.
An integrated seat prevents your baby from sliding down.
The anti-slip base maintains a stable position on hard surfaces.
Handy water indicator to show where you fill it to.
There is a soft foam headrest to keep them happy and comfortable during bath time.
Suitable for babies from birth to toddler.
Easy to grip handles make it simple to move before and after bath time.
TummyTub
This one is a bit like marmite amongst parents.
It's essentially a huge bucket aiming at recreating the recently familiar foetal-like position.
The water is designed to come up their shoulders and many parents say their little ones find it soothing.
There are easy to grip, wide handles and you can give them a good wash with little water used.
Some parents find it difficult to use until the baby is able to keep their neck stable.
Can also use outside as a little cooling pool.
Suitable for newborns until 6 months approximately.
Dream Baby Premium Deluxe Baby Bath Seat
Really useful design feature with the front opening up to make bathing your baby easier and getting them in and out quickly and safely.
There are four strong suction cups keeping the bath seat firmly in place.
Folds away easily for convenient storage.
Suitable for babies from 5 months to 10 months approximately.
Dream Baby also sell a model that includes a heat sensing indicator.
Safety 1st Swivel Bath Seat
The ergonomically designed backrest supports their back so they can sit upright with a bar to hold them in one place.
Perfect so you can free up both hands to give them your full attention.
The clue is in the name – there is a swivel control so you can rotate 360 degrees and access those hard to reach areas.
Four suction pads keep the bath stuck tightly in place.
Lovely fun feature with a roller ball that will them giggling and entertained.
This one is available in an array of bright colours including pastel blue, lime green, pink and white.
Suitable for babies from 6 months to 12 months approximately.
Aqua Scale 3-in-1 digital bath
Two features that make this one stand out.
This bath tub weighs your baby and there is a digital scale on the front.
There is also an in-built digital baby thermometer which monitors the water temperature through their bath time.
You'll get an alert if the temperature gets too cold.
These bells and whistles might be overkill for many but I know some of you will find this very enticing.
You'll be pleased to know the Aqua Scale handles the basics of baby bath tubs admirably.
A non slip base keep its stuck to hard surfaces, it's fairly lightweight for moving around and there is a baby friendly insert to keep them in position.
Suitable for newborns up to two years old.
Shnuggle Baby Bath Seat Support and Cosy Foam Back Rest
Excellent all rounder this bath seat balances being a bucket type bath with a traditional slipper-style one.
If you're not happy with dunking your baby like in the TummyTub but you want to encourage them to remain upright then this offers a perfect balance.
There is strong support provided by the smart bum bump and rubber non-slip feet, keeping them secure and safe.
It's extremely lightweight so you can use it anywhere though might be a bit large dimension wise for certain sinks.
Holds up to 2 litres so it also saves on the water, bonus!
Suitable from birth up to 12 months.
Boon Naked Bath
Fantastic choice of baby bath if you regularly take your little one on your travels or if you have space constraints.
Super easy and convenient collapsible design that folds flat for easy portability and storage.
Supplied with a hook so you can hang it from the shower rod.
Parents find plenty of use once they outgrow – including dragging their kids in the snow or using as a mini outdoor pool to splash about in.
Suitable for newborns up to 18 months.
Parents like that it's simple and quick to install and dismantle.
BabyDam Bathwater Barrier
Less of a baby bath tub, rather an excellent bath aid to use in the main bath.
It's designed to turn your family bath into a bath for your baby.
It will save you time, water and energy!
Simple to use, it's extremely durable.
Features a spill hole so you don't run a bath that is too deep for small babies.
Suitable for newborns until 3 years old approximately.
What is a baby bathtub?
Baby baths are waterproof seats that can be put inside of your existing bath for them to securely sit on while having a good wash.
They provide varying degrees of support depending on what age your baby is. This stability and support gives you peace of mind they are comfortable and safe whilst you wash them.
Good ones tend to be lightweight, simple to carry in and out of the bath. Many contain plugs so you can drain the water quickly and are easy to clean.
They usually have strong suction pads on the bottom to ensure they secure tightly to the bottom of the family bathtub.
There are baby bath seats and tubs on the market that are designed for newborns but really come into their own when babies can sit up on their own, so from about six months approximately.
Do you really need a baby bath tub?
A baby bath tub is not a necessity. Many parents choose to bathe their baby in the kitchen sink or bathroom.
You can also use a bath aid to convert your existing family bath. See the BabyDam Bathwater Barrier in our review above.
Another option for some parents is to shower or bathe with your baby.
Although it's a very strong bonding experience it can be challenging when you're both slippery!
A free standing baby bath tub can be essential if you have any issues with your back.
Alternatively, a bath support intended for the bathroom or kitchen sink can really help free your hands up.
If your bathroom only has a shower then you can find small enough baby bath tubs that will be a perfect fit.
How much does a baby bath tub cost?
Anywhere from £15 – £75.
The more expensive ones will come with all sorts of bells and whistles that aren't essential.
These features include things like thermometer or even a baby weight scale.
How long can I use a baby bath tub for?
This depends. You can buy a bath tub that adapts as your baby grows and some are good even up to 5 or 6 years of age.
Others are designed solely for their youngest months – so from newborn until 6 months old.
Parents often move to a non slip bath mat once their child is able to sit up on their own unsupported.
What to look for in a baby bath tub
This will depend to a degree on personal preference and also the age of your baby.
I would consider the following factors as you make a purchase decision for your baby bath tub.
Age Limit
Picking one that is both suitable for your baby's current age but also thinking if you want one that will adapt as your child gets older. There are many on the market suitable for newborns to 6 months whilst others can be great up to 5 or 6 years of age.
Weight Limit
You'll want to ensure you buy a bath tub that is suitable for your baby's weight. Check the weight limit guidance for any shortlisted bath seats.
Play Attachments
Do you want a bath seat that has toys and play elements integrated? Or if not, ensure the item has bumper bars or straps that you can attach their own toys.
Portability
Are you low in room in your bathroom for storing items? Or are you looking to use the bath tub on your travels?
Please then keep in mind the dimensions of the bath tub. Some are even collapsible so are perfect for using very little space or stuffing in the car boot.
Also look at the handling of them – many have ergonomic and soft grip, making your life easier as this is an item you'll be moving around a lot!
Upright or Reclined
If you have young baby then you will need a reclining model but perhaps you want it to be able to sit upright as they get older?
If they're already of a certain then you can opt for a sit up model only.
Surface Attachments
Most have suction pads to secure the tub securely to the family bath.
Check the specific model to see how good they are.
How do I bath my baby?
Check out this excellent video from the NHS on how to bath your baby.
It's best not to bathe your baby straight after a feed or when they're hungry or tired.
Make sure the room you're bathing them in is warm.
Have everything you need at hand: a baby bath or clean washing-up bowl filled with warm water, two towels, a clean nappy, clean clothes and cotton wool.
The water should be warm, not hot. Check it with your wrist or elbow and mix it well so there are no hot patches.
Hold your baby on your knee and clean their face, as described above.
Next, wash their hair with plain water, supporting them over the bowl.
Once you've dried their hair gently, you can take off their nappy, wiping away any mess.
Lower your baby gently into the bowl or bath using one hand to hold their upper arm and support their head and shoulders.
Don't add any liquid cleansers to the bath water. Plain water is best for your baby's skin in the first month.
Keep your baby's head clear of the water. Use the other hand to gently swish the water over your baby without splashing.
Never leave your baby alone in the bath, not even for a second.
Lift your baby out and pat them dry, paying special attention to the creases in their skin.
This is a good time to massage your baby. Massage can help them relax and sleep. Avoid using any oils or lotions until your baby is at least a month old.
If your baby seems frightened of bathing and cries, try bathing together. Make sure the water isn't too hot. It's easier if someone else holds your baby while you get in and out of the bath.
Important points about bathing safety
Baby Bath Tubs and seats can be a divisive subject for some parents because there are possible dangers associated with them.
This is because there is a risk a parent could gain a false sense of security and leave them.
It's absolutely essential to maintain close supervision of your child at all times.
Today's Top Deals & Bestsellers
Baby Products – Buyer Guides
Sleeping & Nursery
Feeding
Toiletries & Nappy Changing
Clothing
Travel
Playtime
Baby Extras