For this page, I have put together a collection of the best nursing chairs currently available. Also see my complete guide to new baby essentials.
Our Top Picks
Show Today's Top Deals
These are today's top deals and bestsellers for nursing chairs.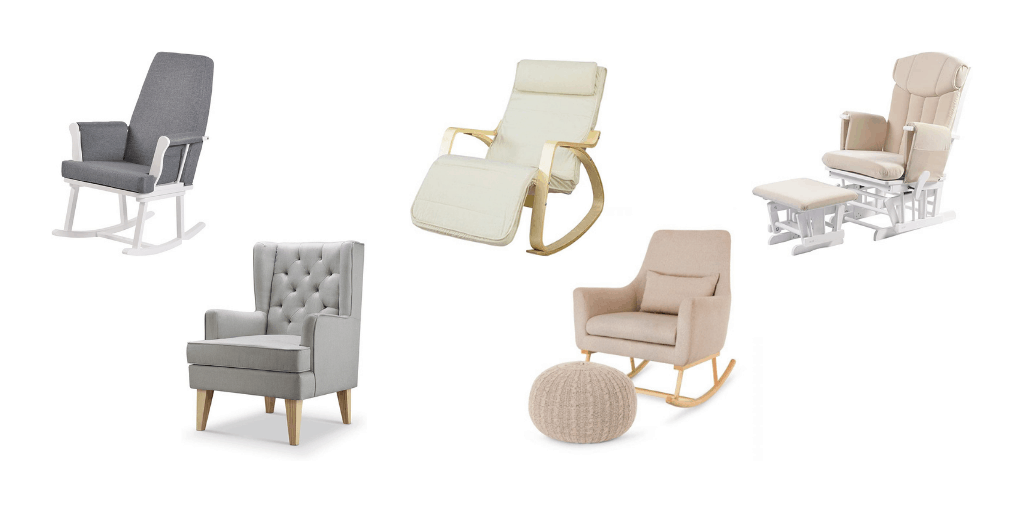 A nursing chair is ergonomically designed so that it is comfortable and soothing for a new mum to feed her baby in.
A nursing chair makes a great addition to any nursery and it's the perfect place to sit back and relax, as a busy new mum or even when pregnant.
There are lots of nursing chairs on the market from rocking chairs, reclining chairs or ones with matching footstools.
See my top picks for the best nursing bra and sleep bra.
We've picked 7 of the best. Let's get started!
7 Best Nursing Chairs
Kub Chatsworth Gliding Nursing Chair and Footstool
This glider nursing chair in white wood finish provides comfort and support with its soft corduroy cushions.
The 7 recline position design enables you to adjust to the positions best for feeding baby.
The gentle rocking mechanism helps getting your baby to sleep, also comes with a locking mechanism for added safety.
It is designed with an elegant sleigh back rest.
Babylo Nested Nursing Rocking Chair
This stylish grey chair has a gentle rocking feature providing a relaxing environment for you and your baby to enjoy some special bonding time together.
It also comes with two easy to assemble formats, so you can choose to relax with either rocking or fixed feet.
The fixed feet version would work well as an armchair in the living room after you've finished using it as a nursing chair.
Obaby 7 Position Reclining Glider Nursing Chair & Stool
Discount - Save £23.00
A reclining glider chair and stool.
The gentle gliding motion helps you unwind whilst also soothing your baby to sleep.
With 7 adjustable positions.
Features a comfy padded back and seat cushions with handy storage pocket to keep any important items close to hand.
The carefully constructed wooden frame and curved back show off the traditional design.
SoBuy Relax Rocking Chair Lounge Chair Recliner with Footrest Design
This chair isn't designed as a nursing chair, but it does have a few features which make it work as a nursing chair.
It's shaped differently to a typical rocking chair as the backrest is tilted backwards, and the built in footrest can be adjusted to 5 different heights.
It is made from beech veneer, and has a poly-cotton cushion cover.
The cover can be removed and washed.
It has a non-slip matting on the rocking mechanism.
It prevents the chair from slipping, but it also protects your floors from any scratches.
Available in four colours, but only the grey option comes with removable storage pockets on the arms.
Best for value!
Kub® Haldon Nursing Rocking Chair
This rocking chair is perfect for smaller nurseries where space is at a premium.
It has a smooth and gentle rocking motion.
Made from solid wood and upholstered with a stone grey coloured fabric and convenient pockets on the sides to help keep all your nursery items handy.
Tutti Bambini Oscar Rocking Chair & Pouffe Set – Stone (Pramworld)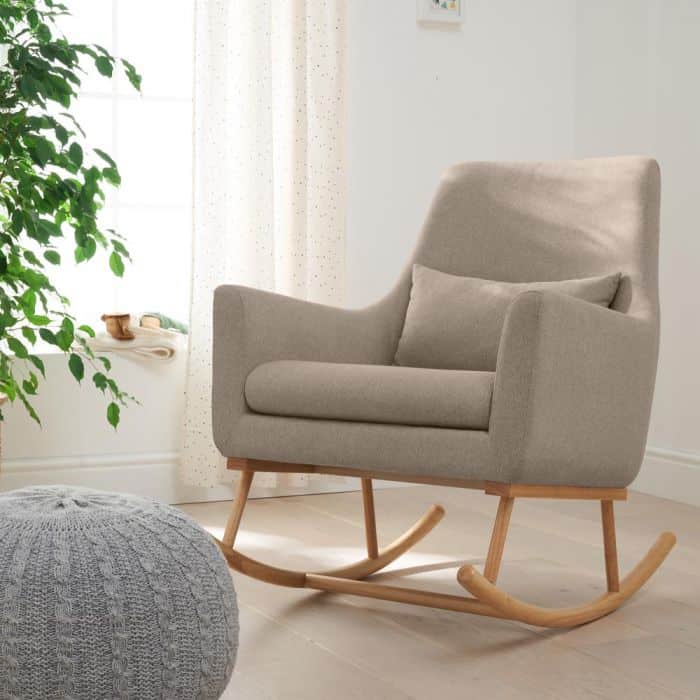 This stylish Rocking Chair & Pouffe Set offers great support for your back and feet during pregnancy and breastfeeding.
The rocking arches allow you to relax and gently lull your baby to sleep.
A wide and deep seat with high backrest, comfy armrests and additional support pillow provides support for your back.
The chair fabrics are made of soft-touch brushed fabric treated with a special Scotchguard layer to protect the chair against damage and scratches.
A Knitted Pouffe included is made of soft cotton with poly beads filling to provide great relief for tired legs.
Gaia Baby Serena Nursing Rocking Chair, Oat (John Lewis)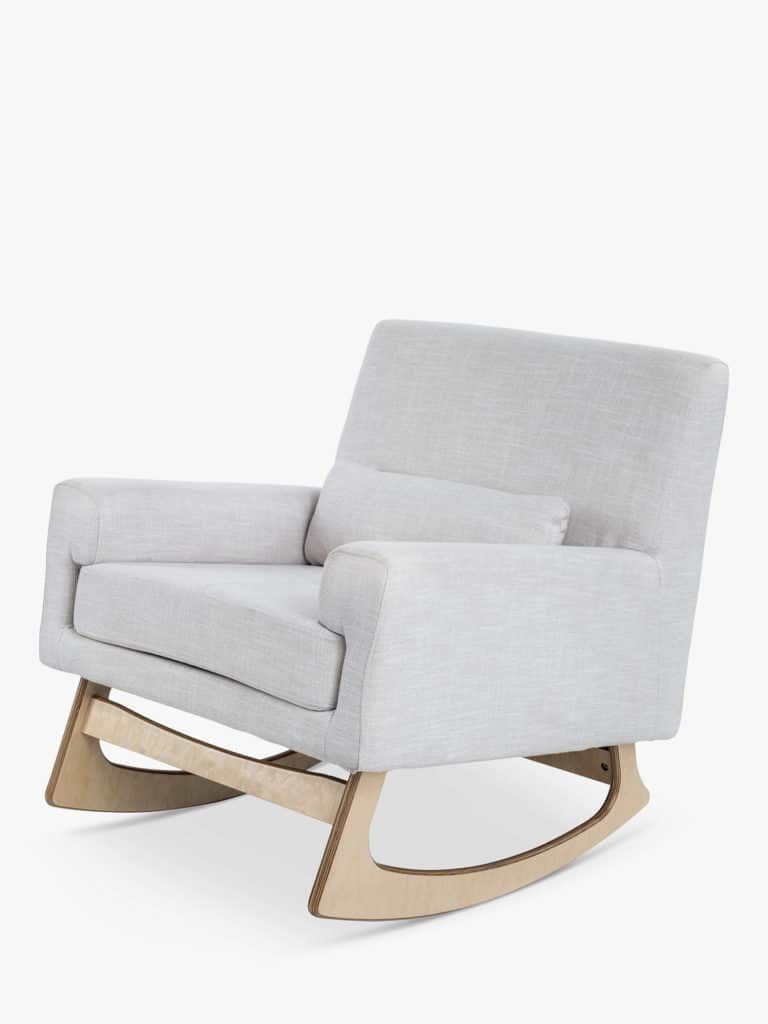 Cool and contemporary nursing/feeding chair, with an extra lumbar cushion and padded armrests.
The softly contoured legs are made from laminated birch-wood veneer using a special technique during the manufacturing process to give extra strength and avoid splintering for a smooth and soothing rocking motion.
It is finely upholstered with removable and washable armrests.
Where To Buy Online (Best Retailers)
In our product reviews above I've mainly linked to Amazon because they tend to have good stock levels at competitive process. I do strongly checking these recommended retailers below.
Today's Top Deals & Bestsellers
Maternity Clothing Buying Guide
---
Baby Products – Buyer Guides
Sleeping & Nursery
Feeding
Toiletries & Nappy Changing
Clothing
Travel
Playtime
Baby Extras