For this page, I have put together a collection of the best baby changing mats currently available. For more essential items see my baby list of things needed.
Our Top Picks
So many good ones to choose from and it will depend on your needs.
Show Today's Top Deals
These are today's top deals and bestsellers for baby changing mats.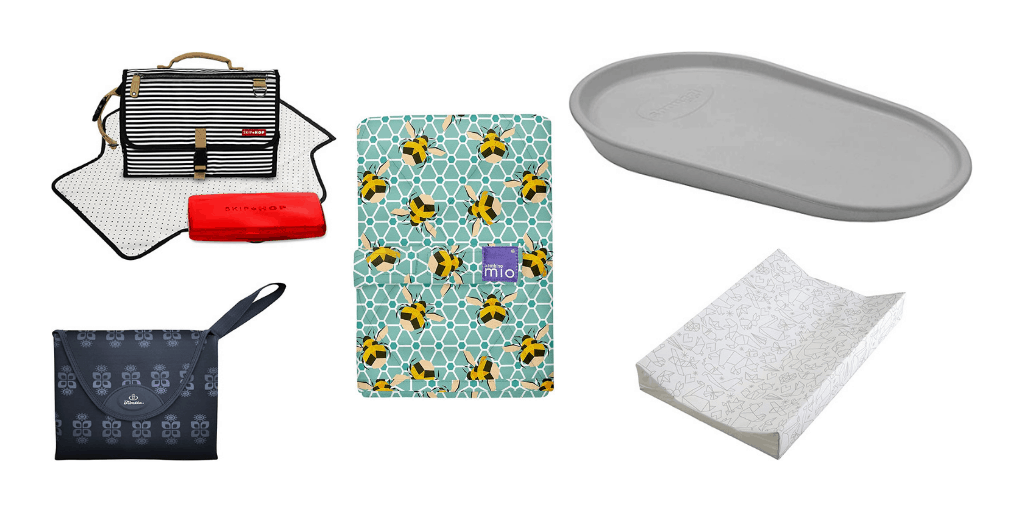 ---
A baby changing mat is an essential item when it comes to changing baby's nappy. While you can use a towel or blanket, a changing mat is a lot more practical as you can wipe it down easily whether at home or out and about.
There are lots of changing mat styles to choose from including portable, disposable or ones that come in cool designs which will match with home interiors.
We've picked 10 of the best baby changing mats which are available on Amazon, plus we've also recommended some of the best other places to buy them.
Let's get going!
10 of the Best Baby Changing Mats
Splash About Baby Neoprene Changing Mat
Changing mat made from anti-bacterial neoprene
Ideal for use after a swim as its non-slip and retains heat.
Protects babies from cold, unclean changing room and poolside floors.
It comes easy to carry, wipe down and roll up, plus its quick drying so much better than using a towel on the floor.
Silver Cross Baby Changing Mat
Luxury padded, changing mat with a removable machine washable cover.
Waterproof mat with towel liners and a removable head and neck support cushion included.
This mat is ideal for use at home and will look lovely in any nursery.
Bambino Mio Changing Mat
Perfect for on-the-go, this changing mat is a quick and easy solution for changing your baby.
It's available in a range of stylish designs and is made from towelling material, which is very lightweight and folds down to a tiny size.
Machine washable.
East Coast Nursery Mini Origami Wedge Changing Mat
A wedge changing mat designed to make your baby feel a bit more secure during nappy changes.
It is waterproof and easy to wipe clean, filled with foam to make sure your little one is nice and comfortable.
The graphic origami print is in a soft neutral colour to complement your home.
Shnuggle Squishy Baby Changing Mat
Discount - Save £19.90
This multi-purpose changing mat can also be used for tummy time and baby massage as its elevated head helps reduce colic or reflux.
Made from a squishy premium foam, which is warmer and more comfortable against skin than standard change mats.
Lekebaby Portable Nappy Changing Mat
Perfect for on the go, this changing mat can be folded into a handy carrier with handles, so it's easy to carry around and use at public changing facilities.
With three inner pockets and a zipped pocket on the outside, which will fit nappies, clothes, wipes, creams, small toys and your personal items (keys, wallet, phone, etc.).
Easy to clean and wipe over.
Skip Hop Pronto Mini Changer Black and White Stripe
Discount - Save £1.20
Another portable changing mat with room for all the nappy changing essentials.
Its extra-wide changing pad wipes clean, and the head area is cushioned with a pillow.
The pad is also removable, allowing the body to become an independent nappy carry-all.
Includes a translucent wipes case, a mesh pocket that fits up to four large nappies and creams.
Mamas & Papas Luxury Baby Nappy Changing Mattress + More
A soft liner, detachable fabric pillow and removable towelling insert makes this changing mat really soft and comfortable for babies.
The pillow cushions a baby's neck and head as you change them, while the liner is removable and machine washable.
A perfect changing mat for at home or to keep on show in the nursery.
Bibetta Star Changing Mat and Nappy Wallet
Unique star shaped changing mat so baby can stretch out their arms and legs.
It can be folded into a wallet with a handy carry handle for on the go.
Made of soft, padded neoprene material for comfort and warmth, which also dries quickly.
Waterproof and absorbent top fabric and there is also a pocket for nappies and wipes.
Babymoov Ultra Absorbant Changing Pads
These disposable changing pads are ideal for travel.
They are really absorbent and small enough to fit into a bag, plus they can be disposed of as soon as you've used them so nice and hygienic.
They come in a handy box of 10 so you could take them on holiday.
Where To Buy Online (Best Retailers)
In our product reviews above I've linked to Amazon because they tend to have good stock levels at competitive process. I do strongly checking these recommended retailers below.
Today's Top Deals & Bestsellers
Baby Products – Buyer Guides
Sleeping & Nursery
Feeding
Toiletries & Nappy Changing
Clothing
Travel
Playtime
Baby Extras