For this post, I have put together a collection of the best cot mobiles. For all my recommended newborn product guides, with top picks, see my list of baby essentials.
Our Top Pick
My top pick is the Butterfly Dreams 3-in-1 Projection Mobile as it has a starry night light show which projects onto ceiling and walls, plus 3 musical settings including white noise and lullabies. It also has excellent customer feedback with 85% rating it 4-5 stars.
Show Today's Top Deals
These are today's top deals and bestsellers for cot mobiles.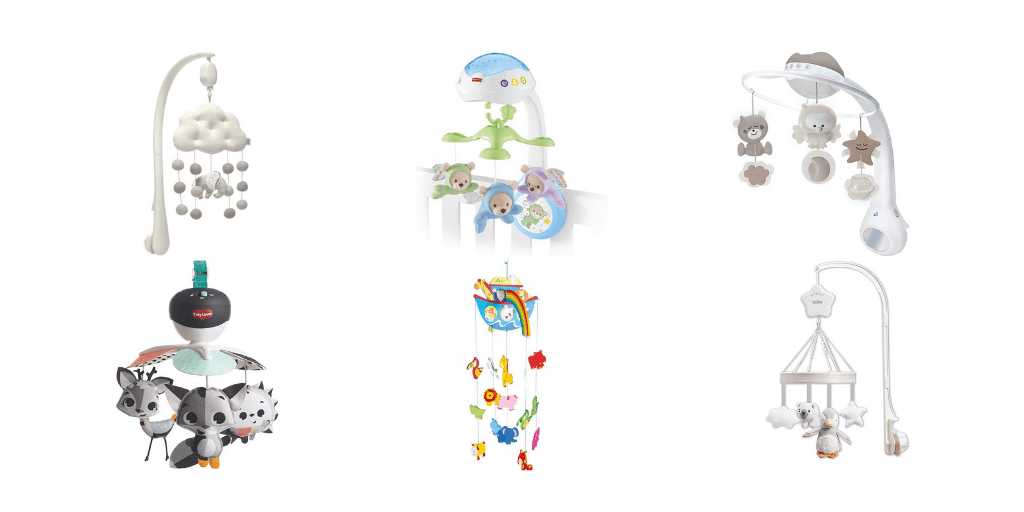 ---
A cot mobile completes a nursery and is a great aid for helping your baby to fall off to sleep.
There's plenty of cot mobiles available, from musical with lights to pretty soft toy versions.
We've put together our top 8 picks of the best cot mobiles, all of which have excellent customer reviews with a majority of 4-5 star ratings.
Mums-to-be or new parents will also find our guide to the Top 100 Baby Products super useful.
So here is my list of the the best cot mobiles.
Best Cot Mobiles
Fisher Price Butterfly Dreams 3-in-1 Projection Mobile
Discount - Save £14.99
This cot mobile has a starry light show projection and three soothing audio modes as well as three soft teddy butterfly toys dangling from it.
It provide up to 30 minutes of calming music or sounds including lullabies, white noise and sounds of nature.
Remote control lets you start or stop the soothing without disturbing baby.
As baby grows the mobile converts into a tabletop projection soother or it can be linked to your stroller for entertainment on the go.
Parents love this cot mobile – 85% of 13,999 buyers gave it 4-5 stars..
---
Tiny Love Black and White Take-Along Mobile
Discount - Save £7.50
The great thing about this mobile is that it is portable and can easily be clipped to a cot at home or a stroller on-the-go.
Features enchanted forest characters.
Plays 30 minutes of uninterrupted music.
Available in four themes; Magical Tales/ Meadow Days/ Take-Along Mobile/ Tiny Princess Tales.
Parents love this cot mobile – 86% of 9,518 buyers gave it 4-5 stars..
---
Infantino 3 in 1 Projector Musical Mobile
Discount - Save £1.36
Cot mobile with light projector and music.
Has a built-in 20-minute auto-off timer, meaning you don't need to risk waking baby up to turn off the mobile.
As your child grows older you can remove the hanging toys and use the musical mobile as both a cot night light and a projector.
Once your little one is too old for a cot you can once again remove the parts of the musical mobile which your child no longer needs. Moving it from a traditional mobile to bedside night light or projector.
Features peek-a-boo mirror.
Parents love this cot mobile – 83% of 1,587 buyers gave it 4-5 stars..
---
Baby Einstein Sea Dreams Soother
This fixes to cot rails or can be used by the bedside.
It provides a medley of soothing sounds, motion, and lights to ease baby into sleep.
With 25 minutes of continuous playtime.
It offers drift off, a feature which slowly dims sounds and lights in 10-minute increments as baby slowly drifts off to sleep.
There is a convenient remote control which allows parents to control the soother from up to 15 feet away and not disturb baby.
Parents love this cot mobile – 84% of 2,796 buyers gave it 4-5 stars..
---
Nuby Musical Cot Mobile
This cot mobile plays five gentle calming melodies.
With sweet characters that rotate to send baby off to sleep.
The hanging musical star control is easy to use. You can adjust the volume and control the rotation.
Available in two themes; Fox or Penguin.
Parents love this cot mobile – 84% of 713 buyers gave it 4-5 stars..
---
Nattou Nina, Jade, & Lili Mobile
Pretty mobile with four soft hanging toys. Features cuddly design characters found in Nattou's collections.
With a music box which can be played to lull your baby to sleep.
Features a pull cord to play the music.
Available in four themes; Adèle and Valentine/ Alex and Bibou/ Manon & Alizee/ Nina, Jade and Lili.
Parents love this cot mobile – 83% of 918 buyers gave it 4-5 stars..
---
Small Foot Noah´s Ark Mobile
Traditional style ceiling hanging mobile.
Brightly coloured wooden ark and animals to stimulate baby's senses and encourages them to focus.
Noah's ark theme.
Parents love this cot mobile – 93% of 25 buyers gave it 4-5 stars..
---
Mamas & Papas Welcome to The World Musical Mobile
If you're looking for a neutral cot mobile, this one is perfect.
With playful hanging elephant, pom poms and point elle cloud elements.
Made of super soft bamboo cotton and grey chambray fabrics.
This one plays a gentle lullaby melody.
Parents love this cot mobile – 82% of 19 buyers gave it 4-5 stars..
---
Today's Top Deals & Bestsellers
What To Consider When Buying A Cot Mobile
Cot mobiles aren't just a decorative piece for the nursery. They can actually be beneficial for your baby as in the first few months of life, babies are attracted to bold and contrasting colours, which make cot mobiles good for their visual development. Some also have multi-functions.
Before you decide on a cot mobile for your new baby there are a few things to consider.
Will you be using the cot mobile as a musical and/or light aid too? There are plenty of options to buy cot mobiles with light shows which project onto the ceiling while playing lullabies or white noise to your baby. The integrated night lights can be really useful for night feeds too.
What colour scheme or theme is your nursery or babies room? You may want a cot mobile which matches the room or fits in nicely with the theme.
Thing about the size of the cot mobile. If you travel or stay away from home regularly you may want something small and easy to pack and take with you.
Lastly you may just want a traditional mobile which hangs from the ceiling and adds some colour and is a focal point for your baby to look at.
Cot Mobile Safety
Make sure you follow the manufacturer's safety instructions carefully when fixing you baby's cot mobile.
It is very important that there are no loose parts which could fall into your baby's cot.
Make sure the mobile remains out of your baby's reach.
As soon as your baby is able to pull themselves up or push up onto their hands and knees the cot mobile needs to be removed.
---
I hope this list of the best cot mobiles was helpful.
If you think I left any out that should be included or have a suggestion for a future article, let me know in the comments below.
Nicola
Baby Products – Buyer Guides
Sleeping & Nursery
Feeding
Toiletries & Nappy Changing
Clothing
Travel
Playtime
Baby Extras