For this post, I have put together a collection of the best breast pumps currently available. For all my recommended baby product guides, with top picks, see my list of newborn essentials.
Our Top Pick
My top pick is the Elvie Pump Single Silent Wearable Breast Pump with App as its innovative technology means it is hands free, letting you get on with what you need to while it works. What's more, it's silent so you can pump anywhere you like. It is the most expensive pump in our selection but if you are planning on using it regularly it could be worth the investment.
Show Today's Top Deals
These are today's top deals and bestsellers for breast pumps.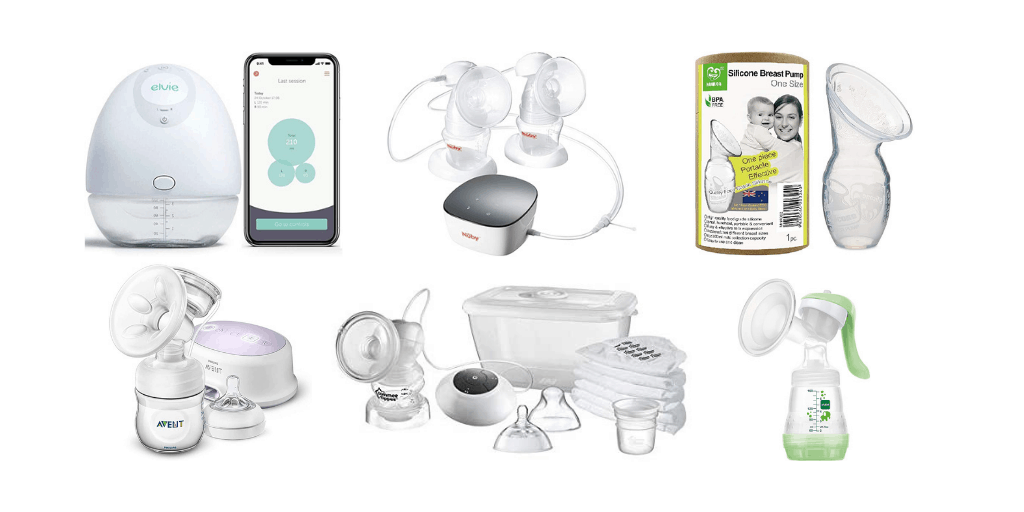 ---
Breast pumps are a great option if you want to express breast milk regularly.
Expressing is a good way to provide breast milk for your baby if you need to be away from them for any reason, whether it's going back to work or even if you're going out for the night.
We've put together our top 9 picks of the best breast pumps on the market, which all have excellent customer reviews.
Mums-to-be or new parents will also find our guide to the Top 100 Baby Products super useful.
So here is my list of the the best breast pumps.
Best Electric Breast Pumps
Tommee Tippee Closer to Nature Electric Breast Pump
Mimics baby's natural feeding action for improved expression.
Design delivers improved efficiency with 0% backflow guarantee.
Four adjustable suction phases for comfort and control.
The silicone cup gives optimum comfort.
Kit contains everything you need to sterilise, express, store and feed.
It's perfect for travel use and holidays as it comes with its own steriliser.
Excellent value for money.
Mains or battery operated.
Parents love this breast pump – 80% of 2,234 buyers gave it 4/5 stars or more..
Elvie Pump Single Silent Wearable Breast Pump with App
Discount - Save £20.00
The innovative first silent wearable breast pump.
Small and lightweight, it is worn inside a standard nursing bra, making it truly hands-free.
It is powered by an internal battery that can be charged via a USB cable so there's no need for a power cord.
It will automatically pause when the bottle is full.
If you're someone who likes apps you can connect to the free Elvie Pump app to monitor milk volume in real time, track pumping history for each breast and control the pump remotely.
No tubes or wires make it extremely portable and discreet.
This is the most expensive breast pump in our selection.
Parents love this breast pump – 67% of 901 buyers gave it 4/5 stars or more..
Philips Avent Ultra Comfort Single Electric Breast Pump
Designed to mimic the way a baby sucks, this pump has a wide, breast-shaped teat to promote a natural latch.
After stimulation choose from 3 pumping settings to make milk flow comfortable for you.
Easy to carry around as its compact.
Philips Avent quietest pump yet,
Parents love this breast pump – 81% of 242 buyers gave it 4/5 stars or more..
Best Manual Breast Pumps
Medela Harmony Breast Pump
Manual breast pump with two-phase expression.
Two-phase pumping rhythm helps express your milk gently and efficiently.
Perfect breast pump for occasional pumping.
Convenient lightweight and portable.
Easy to assemble and clean.
Parents recommend this breast pump – 82% of 59 buyers gave it 4/5 stars or more..
MAM Manual Breast Pump
Manual breast pump where you can adjust the angle of the funnel for your comfort while expressing.
It has an adjustable suction controller to match your milk flow.
Relatively easy to clean.
Affordable.
Soft breast pads inside the funnel ensure it fits securely.
Parents love this breast pump – 80% of 523 buyers gave it 4/5 stars or more..
Haakaa Generation 1 Silicone Breast Pump
Discount - Save £0.62
Soft and squishy pump made from 100% BPA-free food grade silicone.
The fluted bottle either sits on your breast to catch let-down milk while your baby feeds on the other side
Alternatively use as a manual pump by gently squeezing and releasing the bulb to encourage milk flow.
Unsuitable to help establish milk supply.
Compact size to fit perfectly into any handbag or baby bag.
Easy to use and clean, with no cords or batteries required.
Affordable.
Parents love this breast pump – 87% of 14,079 buyers gave it 4/5 stars or more..
Best Electric Double Breast Pumps
Ardo Calypso Double Plus
Customisable breast pump with 64 different suction levels.
Quiet yet powerful electric breast pump which is easy to operate.
Ideal for expressing with twins.
An efficient and sturdy hospital-grade pump.
Great for parents who want to express frequently.
Parents recommend this breast pump – 86% of 375 buyers gave it 4/5 stars or more..
Lansinoh Breast Pump 2-in-1 Double Electric Breast Pump
Discount - Save £31.49
Hospital grade double electric breast pump which has 3 pumping styles and 8 suction levels.
Can be used as a single breast pump or double breast pump.
Closed system design guarantees no breastmilk can enter the tubing or motor helping to keep it hygienic.
Parents love this breast pump – 85% of 1,091 buyers gave it 4/5 stars or more..
Nuby Ultimate Electric Breast Pump
Discount - Save £27.97
An infant seat which bounces up and down and sways from side to side.
This breast pump can be used as a single or double pump with up to 9 levels of stimulation and expression functions.
Portable and convenient for on the go.
The light up digital touch-screen display panel is perfect for night-time expressing.
This pump is quiet even on the maximum levels.
It is easy it is to assemble and clean.
Parents love this breast pump – 84% of 124 buyers gave it 4/5 stars or more..
Today's Top Deals & Bestsellers
How Do I Choose A Breast Pump?
The two main types of breast pumps are manual or electric.
With a manual pump, you squeeze the handle repeatedly to extract your breast milk, which then collects in a storage bottle.
An electric pump will automatically do the work for you so you can relax while it's doing its job.
Electric pumps are usually quicker and more efficient than manual pumps, so if you are expressing regularly then it's worth investing in an electric version.
If you are not planning on using one that often then a manual one should do the trick as they are much cheaper and are still effective.
Are Electric Breast Pumps Worth It?
Electric pumps are definitely popular as you can adjust speed and suction. They also leave your hands free to do other things.
Double electric pumps are even more efficient as they allow you to pump two breasts at the same time, which will ultimately be a great time saver if you're pumping everyday for while you're at work.
How Do I Clean A Breast Pump?
Before each use wash your hands well.
Assemble clean pump kit. Discard any mouldy tubing.
Clean pumping surface area with disinfectant.
Take apart and inspect pump kit.
Rinse any parts that come into contact with milk under running water.
Clean breast pump kit in any of the following ways, ideally straight after use;-
Use a wash basin and fill with hot soapy water. Scrub items and rinse separately. Allow to air dry thoroughly.
Place the disassembled pump parts in dishwasher. Put the dishwasher on a hot wash with heated drying cycle (or sanitising setting).
Do not use a dish towel to dry items because doing so may transfer germs to the items.
For extra germ removal, sanitise pump parts once a day. Some pumps even come with their own steriliser. Sanitising is especially important if your baby is less than 3 months old, was born prematurely, or has a weakened immune system.
Once dry, the items should be stored in a clean, protected area to prevent contamination during storage.
I hope this list of the best breast pumps was helpful.
If you think I left any out that should be included or have a suggestion for a future article, let me know in the comments below.
Nicola
Baby Products – Buyer Guides
Sleeping & Nursery
Feeding
Toiletries & Nappy Changing
Clothing
Travel
Playtime
Baby Extras