For this page, I have put together a collection of the best car sun shades. For more top picks and best buys see my baby essentials checklist.
Our Top Picks
Show Today's Top Deals
These are today's top deals and bestsellers for car sun shades.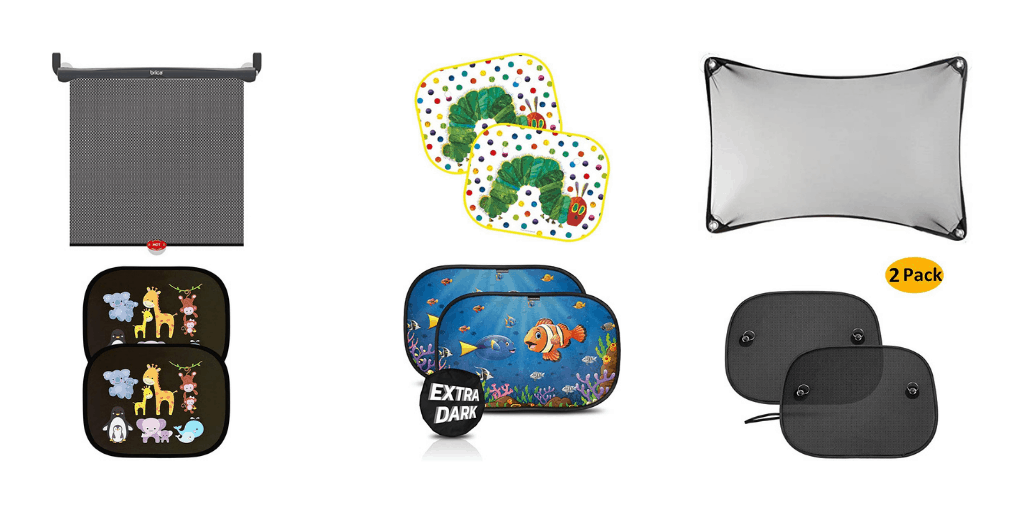 The sun can be irritating when it's shining in through the cars rear passenger windows, especially for babies and kids. Thats why car sun shades and blinds, which block out the UV rays can help to keep passengers comfortable and cool.
From sun shades with suckers to retractable sun shades, we've handpicked our favourites. All of our recommended products have excellent buyers reviews and 4-5/5 star ratings.
Also see my top picks for the best baby car mirrors and baby travel essentials.
Let's get started!
AumoToo Car Sun Shade
Discount - Save £1.20
This pack of two sun shades will provide protection from UV Rays, cut sun glare and reduce heat in the back car seats.
Just install with the 2 fixed suction cups. Easy to put up and take down.
They can be folded and stored in the handy pouch when not in use.
These provides extensive coverage for car side windows.
Pack includes 2 x Car Side Window Sun Shades, 4 x Suction Cups, 1 x Storage Pouch.
Great value for money.
44cm x 36cm (L x W)
Very good reviews. From 227 ratings 79% of buyers gave this 4-5 stars.
---
Hungry Caterpillar Very Car Window Sun Shade
A twin pack of folding Very Hungry Caterpillar sunshades with eye-catching polka dot background.
Suitable for all car side windows.
They filter and block bright sunlight and will reduce heat build up.
Kids will enjoy looking at the pictures on the windows.
Excellent reviews. From 54 ratings 81% of buyers gave this 4-5 stars.
---
Caramaz Car Sun Shade
The under the sea theme on these sun shades will keep the kids happy.
The thick mesh shades are 98.6% UV protective.
These sunshades attach with static, so they're easy to put up and take down.
When not in use, they can be stored in the carry pouch provided.
Dimensions: 51 x 31cm
Twin pack.
Great reviews. From 484 ratings 78% of buyers gave this 4-5 stars.
---
Astarye Solar Protection Car Sun Shade
These easy to use sun shades

use advanced electrostatic adsorption to make installation and removal easier.

With excellent UV protection for your little ones.
The cute animal pictures will be a distraction for your children when travelling.
The sunshades are supplied with a carry bag to store them in.
100% refund guarantee.
Dimensions: 44 x 36 cm.
Twin pack.
Excellent reviews. From 1,776 ratings 77% of buyers gave this 4-5 stars.
---
Brica by Munchkin Car Window Sun Shades
Discount - Save £1.80
An easy-to-use, retractable car shade that blocks the sun and features a white hot patented heat alert system that turns white when car is too hot.
Can protect your little ones skin from harmful UV-A and UV-B rays.
The one-push retract button allows for easy use on sunny days.
Two attachment options allow for a customisable fit helping to keep the shade securely in place.
Great reviews. From 1,458 ratings 82% of buyers gave this 4-5 stars.
---
Kinder Fluff Windscreen Sun Shade
If you're looking for a windscreen shade then this is a good option.
Proven to block 99.02% of UVA and 99.87% of UVB.
This sun shade will protect against sun, UV rays and heat build up in the car when parked outside in the sun.
Available in 3 sizes, medium, large and extra large.
Really good reviews. From 7,359 ratings 83% of buyers gave this 4-5 stars.
---
Kinder Fluff Car Side Window Sun Shade
2 transparent + 2 semi-transparent shades.
The semi-transparent shades can be used where sun protection is more important than visibility and the transparent shades where visibility is more important.
Dimensions: 51x31cm
Easy to install static film.
With free carry pouch.
These shades block 99.79% of UVA and 99.95% of UVB! With the maximum level of UPF in the category (50+) equivalent to 100 SPF.
Excellent reviews. From 16,054 ratings 81% of buyers gave this 4-5 stars.
---
Dreambaby Adjusta-Car Shade Stretch It
Flexible and easy to use stretchy car shades, which can be adjusted to fit almost any car window shape.
Blocks out glare.
Unclear what level of UV protection this provides for your baby.
Easy-grip, strong suction cups
Made from 100% polyester.
Stretches to a maximum of 46 x 69 cm.
Good reviews. From 447 ratings 80% of buyers gave this 4-5 stars.
---
DIZA100 Car Side Window Sun Shades
These sun shades can be stretched over the rear side passenger windows for full coverage and shade.
They protect from harmful UV rays and sun glare and reduce heat.
Stretches to 42.00″ x 20.00″ and will fit most car rear side windows.
Excellent reviews. From 3,987 ratings 84% of buyers gave this 5/5 stars.
---
Today's Top Deals & Bestsellers
Baby Products – Buyer Guides
Sleeping & Nursery
Feeding
Toiletries & Nappy Changing
Clothing
Travel
Playtime
Baby Extras