For this post, I have put together a collection of the best travel highchairs currently available. For more best buys and buying guides, see my newborn essentials list.
Our Top Pick
My preferred pick for best travel highchair is the Munchkin Portable Travel Child Booster Seat as it is lightweight, versatile and has storage space too.
Show Today's Top Deals
These are today's top deals and bestsellers for travel highchairs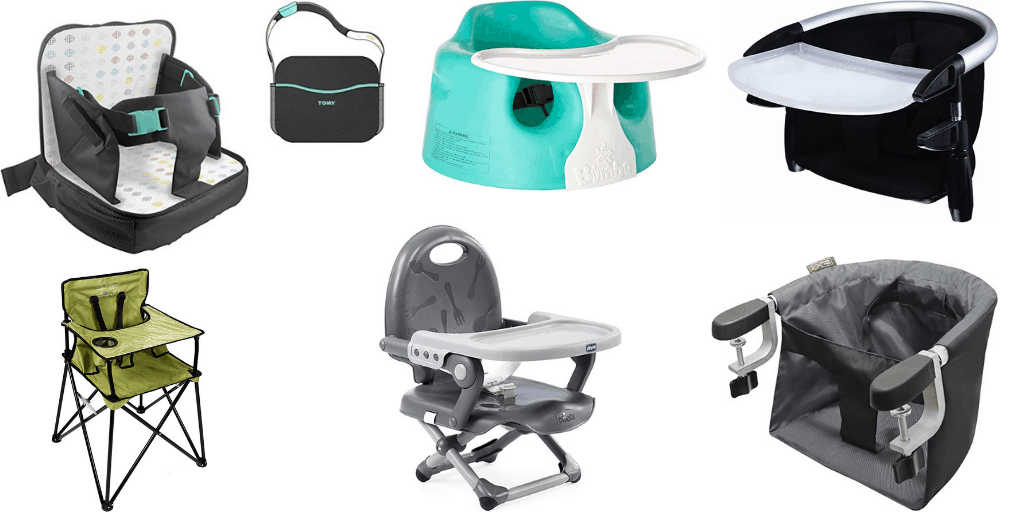 ---
If you're off on your holidays or going out for the day with your baby, a portable highchair or booster seat can come in really handy for feeding them on the go. From travel highchairs to foldable booster seats, there are some great options on the market for making mealtime easier while out and about.
We've picked 10 of the best options, to make your decision much easier. They all have excellent customer feedback.
Alternatively if you are looking for a highchair for home check out our article on the 8 Best Baby Highchairs here.
So here is my list of the the best travel highchairs and booster seats.
Chicco Pocket Snack Booster
Discount - Save £18.91
Height adjustable, lightweight and compact travel highchair.
Lightweight and portable booster seat.
It can attach to a dining chair with handy safety straps.
Allows your child to sit at the table with you during meal time.
Easy to use and adjust in height.
Adjustable and removable tray.
Folds flat with handle for easy transportation.
Shop all Chico products on Amazon.
Parents love this travel highchair – 77% of 3,250 buyers gave it 5 stars.
Munchkin Portable Travel Booster Seat
Stylish travel bag which easily transforms into a booster seat.
It has a convenient storage section for on-the-go essentials.
Portable with a strong and stable internal frame.
Adjustable three point harness system to fit child approximately 12-36 months (15 kg max).
Xtra-Grip traction pads provide a no-slip grip on chairs for increased stability
Folds neatly for portability.
Shop Munchkin range on Amazon.
Parents love this travel highchair – 76% of 3,267 buyers gave it 5 stars.
Vine Easy Portable Travel High Chair
Portable travel high chair harness.
Folding, lightweight and portable travel harness which can be strapped to chair for babies to sit in.
Shoulder straps and flexible belt for extra safety.
Soft and comfortable plus it's machine washable.
Suitable for children aged 6-30 months old.
Parents love this travel highchair – 72% of 900 buyers gave it 5 stars.
Summer Deluxe Comfort Folding Booster
2-in-1 infant feeding seat with tray which becomes a toddler booster seat at table.
With 2-level height adjustment for your growing child.
It has a 3-position full-size, dishwasher safe tray.
3-point harness system with chair straps to secure booster to chair.
Ultra compact folding design for storage and portability with removable machine-washable seat pad.
Parents love this travel highchair – 69% of 9,479 buyers gave it 5 stars.
Phil and Teds Lobster Highchair
Portable table clamp seat for babies.
Clips onto almost any table or bench top at home or on your travels.
Easy to take with you when dining out with your baby.
Fabric is durable & wipe clean, and slides right off the high chair frame for hand washing.
A dishwasher-safe food tray slides between the clamps to protect your table surface from food spills.
4-point safety harness with padded shoulder straps keeps the wriggliest of babies safe & secure in their highchair.
Super strong 'lobster claws' with rubber grips secure to the table using a 'twist on-and-off' clamp mechanism.
The wide bite of the clamp suits most table thicknesses.
Folds neatly into its own carry bag.
Age range from 6m to 3yrs.
Parents love this travel highchair – 71% of 763 buyers gave it 5 stars.
Bumbo Floor Seat and Play Tray Combo Pack
Seat that allows babies to sit independently in an upright sitting position.
Made from a soft, lightweight, non-toxic material for comfortable seating from 4 months of age.
It can be used on any flat floor surface and is durable and easy to clean.
Includes a safety harness to keep baby securely in place.
Also includes a play tray for eating and playing.
Ideal from approximately 4-months, suitable up to 10 kg in weight.
Parents love this Bumbo seat – 69% of 388 buyers gave it 5 stars.
Mountain Buggy Pod
Portable table clamp seat for babies.
Portable highchair which will clamp to most tables and bench tops.
Clamps are safe and robust with non slip grip pads.
It has a padded back for support.
Extremely compact it can even fit into a handbag.
Parents love this travel highchair – 75% of 439 buyers gave it 5 stars.
Ciao! baby Portable Highchair
Freestanding portable highchair.
Durable, lightweight highchair which is ideal for travel or camping.
Easily unfolds, locks into place and folds back up in seconds.
Comfortable five-point safety harness and lap belt to securely hold baby.
There is a clear vinyl tray with cover and built in cup holder which easily wipes clean.
Perfect for children from 0-3 years.
Parents love this travel highchair – 69% of 329 buyers gave it 5 stars.
Tomy 3-in-1 Booster Seat
Multi-function three-in-one booster seat.
Booster seat with feeding and changing features.
Stylish bag with bottle and nappy storage and cushioned changing mat.
Flexible strap allows the seat to be safely attached to most chairs.
Simple bag to seat transformation makes it easy and convenient to use.
Wipe-clean booster seat and changing mat are perfect when on the move.
Baby Bud with Free Universal Play Tray (Mamas & Papas)
Booster seat with universal play tray.
Soft and comfortable with removable tray. A padded seat insert keeps your little one comfy.
Adjustable non-slip feet and harness.
You can easily attach the booster seat to any dining chair using the straps.
Carry handle making it easy to transport.

Play tray has 6 interactive features and 3 toy arrangements which can change with your child's development.

Great for keeping your little one entertained.
This product suitable from ages 6 months up to 36 months.
This product is available from Mamas & Papas.
Today's Top Deals & Bestsellers
What are the different types of travel feeding seats?
There are different options of travel feeding seats available. The main four are travel highchairs, travel booster seats which fold up for easy transporting, table clamp seats and seat harnesses which are usually made of durable fabric.
Travel highchairs can sit on top of a dining chair, so that your child can join you at the table. Or there are some travel highchairs which are freestanding but fold up and can be taken out for the day or on holiday.
Travel booster seats attach to a dining chair and can be folded up compactly. They are great as they usually have a handle which makes them easy to carry and they are also lightweight and some have room for storing items such as nappies and wipes.
Table clamp seats are another compact and lightweight option are great if you are eating out at a restaurant or at family or friends. They easily clamp onto most tables and are strong and ideal for letting your child sit straight up to the table with the adults. It saves you having to ask for highchairs at restaurants too.
Seat harnesses are fabric which wraps around your baby and the chair, holding them in place. They won't give your child any height on the chair so if they are very small this may not be the first choice for you.
I hope this list of the best travel highchairs was helpful.
If you think I left any out that should be included or have a suggestion for a future article, let me know in the comments below.
Nicola
Baby Products – Buyer Guides
Sleeping & Nursery
Feeding
Toiletries & Nappy Changing
Clothing
Travel
Playtime
Baby Extras