For this post, I have put together a collection of the best body boards currently available. You can also see my top picks for all beach accessories.
Our Top Picks
Show Today's Top Deals
These are today's top deals and bestsellers for body boards.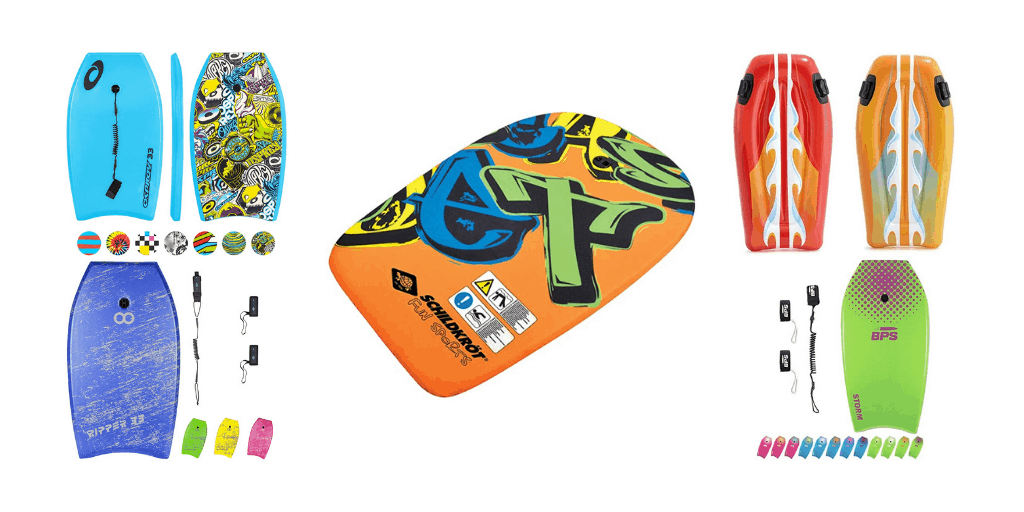 ---
Bodyboarding is the perfect introduction to surfing for kids.
Kids can lie on the board and surf the waves in the shallow water to get used to riding the waves and improve their balance and coordination.
We've searched the market to bring you the best body boards for kids (and adults!), all with excellent customer feedback.
Taking the kids to the beach? See our top picks for the best kids beach shoes and kids life jackets.
Let's get going!
Best Body Board
WOOWAVE Bodyboard
This is a lightweight bodyboard with HDPE layers on the bottom and an EPS core.
With a coiled wrist leash for added security.
Dynamic design that allows great control.
With water-resistant core which are suitable for all waves conditions.
Available in blue, pink, red, green and yellow.
Great reviews. From 306 ratings 70% of buyers gave this 5/5 stars.
---
BPS 'Storm' Bodyboard
A super lightweight board with a slick, high-speed surface, an EPS core for buoyancy.
With bottom rear channels, and a crescent tail for top performance. 
It comes with a coiled leash and fin tethers. 
Available in three different sizes 37″/ 41″/ 83.82cm
Available in lots of colours including blue, green and pink.
Very good reviews. From 293 ratings 74% of buyers gave this 4-5 stars.
---
Osprey Bodyboard
These body boards are made in Devon and are available in a number of striking and attractive designs.
Strong and durable, they have an XPE deck and EPS Core.
HDPE slick increases speed and enables a smoother trajectory on the water.
Includes leash to keep your board with you at all times.
Easy to learn on.
Good reviews. From 177 ratings 70% of buyers gave this 5/5 stars.
---
Koopp Boogie Board
No products found.
An affordable body board.
Can be used by both adults and children.
With leash plug and leash to tie to your hand or leg.
84cm Length x 44cm Width
Available in Shark or Parrot design.
Number 1 bestseller in bodyboards on Amazon.

No products found.

. From 22 ratings 71% of buyers gave this 5/5 stars.
---
Best Kids Body Board
Schildkrot Funsports Children's Bodyboard
A lightweight bodyboard made from foam.
Vibrant design which kids will love.
With a leash to attach around their wrist.
This board is great for beginners as it's not top quality but affordable and a good way to try out body boarding.
Excellent reviews. From 127 ratings 75% of buyers gave this 5/5 stars.
---
Best Inflatable Body Board
Intex Joy Riders Surf Beach Toy
Discount - Save £2.51
This inflatable body board is great for little ones who want to try out 'surfing'.
Brightly colours with cool graphics.
With two handles to hold onto for stability.
Available in red or orange.
Suitable for ages 6+.
Includes repair patch.
Brilliant reviews. From 1,675 ratings 83% of buyers gave this 5/5 stars.
---
FAQ's Body Boards For Kids
How old do you have to be to body board?
There's no minimum age to learn body boarding, but choosing the right board will definitely help.
How do you teach a child to body board?
Make sure the body board has a wide enough cross-section, so kids can float and bodysurf with ease. Be comfortable in the sea and always stay in the shallows. Wear a wetsuit and learn the basics of catching a wave.
What size of body board should I get for my child?
Most are designed for adults and would be too big for kids to control. Check when you buy as some are specially made for a certain age and weight.
What's the difference between a boogie board and a bodyboard?
A boogie board is for smaller waves and a bit of fun in the water, while the body board is for larger waves and more serious body surfers.
Today's Top Deals & Bestsellers
Beach Buyer Guides
Heading to the beach? Get the low down on our detailed product round ups!
Chairs & Tents & Storage
Food & Drink
Beach Clothing & Shoes
Water Fun & Beach Games
Baby At The Beach