For this post, I have put together a collection of the best kids life jackets and swim vests currently available. You can also see my top picks for all beach accessories.
Our Top Picks
Show Today's Top Deals
These are today's top deals and bestsellers for kids life jackets.

You shouldn't take any chances when it comes to keeping your child safe in the water. A life jacket is essential if your child is going out to sea or taking part in any outdoor water sports.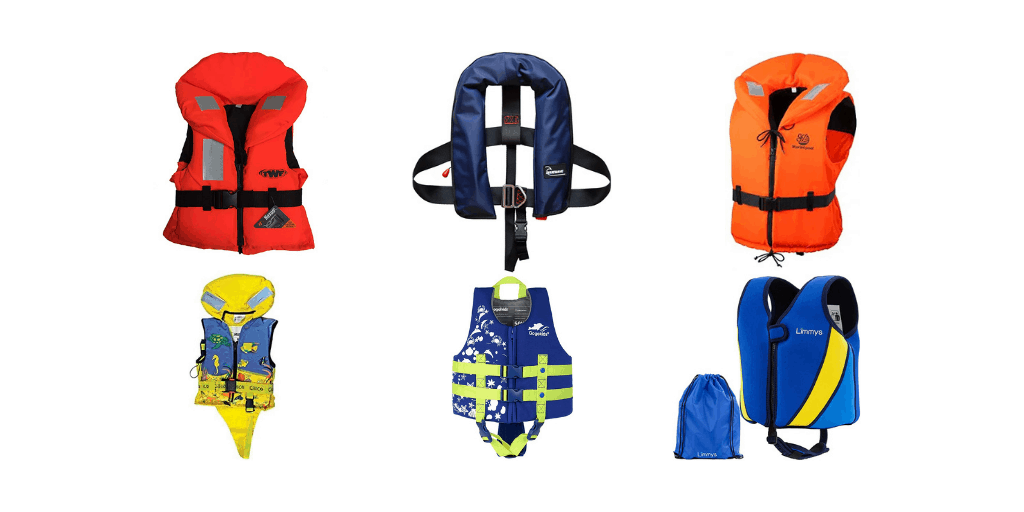 ---
We've searched the market to find the best life ,jackets for kids.
We've also recommended the best neoprene swim vests, which are ideal for kids learning to swim in a swimming pool as they keep them warm and give the child buoyancy in the water. Not a life jacket and will not prevent drowning. Swim vests should ONLY be used with competent adult supervision.
All of our choices have excellent customer feedback and reviews.
Looking for more beach essentials for your child? See our top picks for the best kids wetsuits and kids swimming goggles.
Let's get going!
Best Kids Life Jackets
Marinepool CHILDS 100N Buoyancy Lifejacket
Life jacket made with soft touch fabric for comfort.
The belt and crotch straps are adjustable and come in various sizes for your child.
It includes a signal whistle should your child need to grab your attention.
The reflective strips will help your child to be seen in low visibility conditions.
CE approved to EN 395.
100n Buoyancy.
Size; 20 – 30 kg's weight – max chest 60 – 70 cm's.
Very good reviews. From 180 ratings 86% of buyers gave this 5/5 stars.
---
TWF Kids 100N Approved Life Jacket
Bright neon orange life jacket with reflective patches for great visibility.
With a secure collar to support your kids head and neck in the water.
The belt and crotch straps are adjustable and come in various sizes for your child.
100n Buoyancy.
EN, CE & ISO Approved.
Whistle attached to grab attention if needed.
Available in two sizes; 10-20kg and 20-30kg.
Fab reviews. From 144 ratings 81% of buyers gave this 5/5 stars.
---
Bluewave Navy Kids 150N Automatic Lifejacket with Harness
An automatic inflating lifejacket designed for smaller sailors amongst the crew which has all the features of an adult automatic jacket.
With the facility to manually top up air via a tube.
Integrated harness with stainless steel fittings including a single crutch strap, and a D ring for attaching a lifeline.
Suitable for inland, coastal and offshore use and has a large enough belt to allow for foul weather clothing.
Designed to be comfortable for kids to wear it is both lightweight and compact allowing good freedom of movement.
It is designed to last and will fit your child from age 3 to around 12 years.
The inflating bladder is bright yellow in colour with 3M reflective strips.
Will work in fresh or saltwater.
Adjustable crutch strap prevents your child falling out of the jacket and aids recovery from the water.
With 150 Newton's of buoyancy.
Conforms to European standard EN 396.
Officially classed as a lifejacket because it turns you into the upright position once in the water.
One size fits weight range 15 kg to 40 kg, roughly 3 -12 years in age.
Excellent feedback. From 13 ratings 91% of buyers gave this 5/5 stars.
---
Lalizas Chico Infant Life Vest
Discount - Save £2.59
Comfortable and secure life jacket with zip, belt with quick release.
Cute underwater themed design for kids.
With adjustable crotch buckle (integrated pants).
Fluorescent yellow jacket will stand out in the water.
With solar reflective strips.
With a wide protective, floatation neck.
Conforms to the latest European standards ISO 12402-4 relating to 100N lifejackets.
Available in sizes; 3-10kg/ 10-20kg/ 15-30kg/ 30-40kg.
Very good reviews. From 376 ratings 76% of buyers gave this 5/5 stars.
---
Best Neoprene Swim Vests
Swimbest UK Swim Jacket
Discount - Save £3.00
A snug fitting swim jacket which supplements the wearers buoyancy while they learn to swim giving them a boost of confidence in the water.
Designed to hold children in the correct position for learning to swim, with a little help of adult supervision.
Comes with 8 soft flexible easy to remove foam floats to give your child the adjustable buoyancy they need.
Not to be used as a life jacket.
Available in 12 designs with and without crotch straps.
Available in 3 sizes; 12-20kg/ 20-25kg/ 25-30kg.
Great reviews. From 1,162 ratings 89% of buyers gave this 4-5 stars.
---
Gogokids Swim Vest
Jacket style swim vest.
Made of neoprene for warmth and buoyancy.
With adjustable chest strap with quick-release buckles for comfort and safety.
Comes with an adjustable crotch strap that ensures a snug fit.
Available in blue or rose.
Not to be used as a life jacket.
Good reviews. From 2,884 ratings 81% of buyers gave this 5/5 stars.
---
Limmys Premium Neoprene Swim Vest for Children
This swim vest will help your toddler or young child gain confidence in the water allowing them to have fun and splash about while training.
There are 8 buoyancy floats that can be removed 2 at a time as your child becomes more confident in the water.
Top quality neoprene is used to give a premium softness and stretchability, and keeps the body warm.
Not to be used as a life jacket.
Available in sizes S/M/L.
Very good customer reviews. From 461 ratings 77% of buyers gave this 5/5 stars.
---
What is the difference between a life jacket and swim vest?
It's important to know the difference between the various flotation devices available for kids.
Life Jacket
Strongly recommended for children, toddlers and babies, a life jacket will support the child's head and keep them facing upwards in the water, should they be unable to do this themselves. Always make sure your child is wearing a proper life jacket in the sea or taking part in any outdoor watersports.
Swim Vest
A swim vest or buoyancy aid (which looks a bit like a padded life jacket) will keep the wearer afloat, however will not support the head and neck or keep them facing upwards in the water, so a swim vest is more suitable for the swimming pool and for a child learning to swim with adult supervision.
What to look for in a kids life jacket
All European life jackets must carry the CE mark.
Ensure the life jacket is the correct size for your child and is able to fit securely around them. It should feel snug and not loose as you do not want their head to slip out when in the water.
Different styles of life jackets may be better for certain activities or watersports. Vest shaped life jackets may be easier to move around in when sailing or kayaking.
Look for a brightly coloured jacket with reflective patches so that should they fall in the water, your child will be easy to spot. A whistle attachment is also very handy so that your child can blow it should they need to get your attention.
A foam collar or neck support is an essential feature of a life jacket and if it doesn't have this it isn't actually a life jacket.
100N of buoyancy is ideal for calm water but a 150N life jacket would be a good idea for choppier water. Your child may also need more buoyancy if they are heavier.
Today's Top Deals & Bestsellers
Baby Products – Buyer Guides
Sleeping & Nursery
Feeding
Toiletries & Nappy Changing
Clothing
Travel
Playtime
Baby Extras
Beach Buyer Guides
Heading to the beach? Get the low down on our detailed product round ups!
Chairs & Tents & Storage
Food & Drink
Beach Clothing & Shoes
Water Fun & Beach Games
Baby At The Beach