For this post, I have put together a collection of the best picnic bags currently available. You can also see my top picks for all beach accessories.
Our Top Picks
Show Today's Top Deals
These are today's top deals and bestsellers for picnic bags.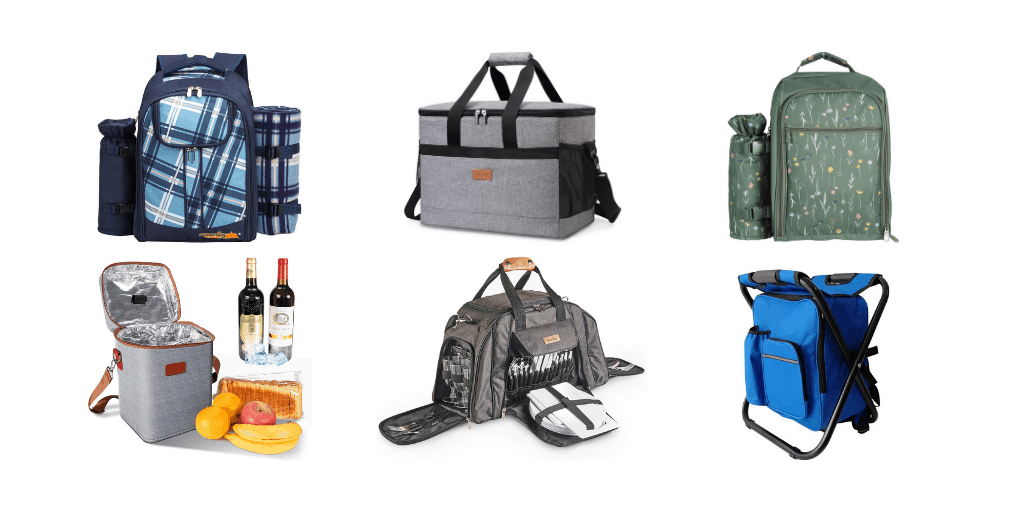 ---
Picnic weather is here! As we are all spending more time outdoors, what better way to spend the day than having a picnic with family or friends.
There are plenty of great picnic bags available from backpacks to holdalls, so we've handpicked our favourites to share with you.
All of our choices have excellent customer feedback and reviews.
Also check out our top picks for the best beach bags and beach towels.
Let's get going!
Best Picnic Bag
Apollo walker 2 Person Picnic Backpack
We love this picnic bag with accessories.
It contains a cold storage compartment to store your picnic foods in such as sandwiches, cold meats and cakes.
High quality fully equipped insulated picnic backpack for 2 people.
Includes all the essential items needed for a small picnic -2x Stainless Steel Knives/Forks/Spoons with Plastic Handles; 2x Washable Cotton Napkins; 2x Plastic Wine Glasses; 2x 8″ Plastic Dinner Plates; 2x Plastic Salt & Pepper Shakers; 1x Stainless Steel Corkscrew+Bottle Opener;1x cheese/butter knife and a plastic chopping board perfect for cutting breads or cheese on.
With a waterproof back fleece picnic blanket (size 45×53 inch).
With multiple storage compartments for your convenience.
Available in Brown/ Red/ Blue 2/ Brown 1/ Brown 2/ Red 4.
Excellent reviews. From 1,609 ratings 81% of buyers gave this 5/5 stars.
Best for romantic picnics.
---
VonShef Ash 6 Person Picnic Holdall
Premium look 6 person picnic bag.
The holdall's thick aluminium foil lined walls offer superior insulation properties.
Woollen flannel effect finish is soft to the touch but extremely hardwearing.
The holdall is backed with a waterproof coating so no moisture or liquid can penetrate into or out of the bag.
Set contains: 6 X stainless steel knives, 6 X forks, 6 X spoons, 6 X BPA-free dinner plates, 6 X plastic wine glasses and 6 X washable cotton napkins, salt and pepper shakers, 1 X serrated butter/cheese knife, a large plastic chopping board and a corkscrew with bottle opener.
Ideal for a large family picnic.
With the option to carry with handles or shoulder strap.
Available in Grey.
Really good reviews. From 52 ratings 71% of buyers gave this 5/5 stars.
Best for large family picnics.
---
Best Picnic Cooler Bag
Lifewit 30L (50-Can) Soft Cooler Bag
Discount - Save £5.00
This picnic bag has a cool bag shape to it with wide opening so it's easy to see what you've got.
It is lightweight, so that it can be easily carried for heavy loads.
The interior lining is made of food grade PEVA foil and padded with foam for great thermal resistance.
There are 2 side mesh pockets for storing drinks, bottles and even umbrellas. 
Available in sizes 20L/ 30L/ 40L.
Available in Grey.
Plenty of amazing feedback. From 3,060 ratings 83% of buyers gave this 5/5 stars.
Best for 'throwing everything in' picnics.
---
Mountain Warehouse Four Person Picnic Set
4 person picnic set & backpack.
Great option for a family of 4.
With a spacious, insulated main compartment to keep your food fresh and drinks cool.
Contains 4 plates and tumblers along with 12 pieces of cutlery.
Also includes a cutting board, corkscrew and salt & pepper shakers to complete the set.
Cute floral design on the bag which is perfect for picnics or camping.
Great reviews. From 227 ratings 83% of buyers gave this 5/5 stars.
Best for family picnics.
---
Ventvinal 13L Cooler Bag Picnic Bag
This cooler bag can perfectly carry 4 bottles of wine or alternatively fill with food.
The insulation will keep your wine cool for several hours with a removable divider.
with a padded shoulder strap and handle.
Good reviews so far. From 9 ratings 85% of buyers gave this 4-5 stars.
Best for boozy picnics.
---
Best Picnic Bag With Chair
Glenmore Portable Camping Backpack Chair
10L large-capacity backpack can accommodate various tools and food.
The foldable design is perfect for various outdoor activities.
Shoulder straps can be adjusted to fit your back perfectly.
The backpack is made of high-quality Oxford cloth, which is durable and waterproof.
Also turns into a folding chair, so you can sit down wherever takes your fancy.
Suitable for camping, fishing, mountain climbing, BBQ, picnic, travel and other outdoor activities.
Available in Black/ Blue/ Camouflage.
Good reviews. From 43 ratings 90% of buyers gave this 4-5 stars.
Best for solo picnics.
---
Best Insulated Picnic Bag
Buringer-Newox Reusable Insulated Lunch Bag
This fashion tote doubles up as a picnic bag.
Made of eco-friendly durable oxford cloth with non-toxic aluminium foil lining.
Light and portable, with padded handles and smooth double zippers.
There is a front pocket for putting utensils, napkins, keys, small change, cards and other bits and pieces.
Available in a number of prints including stripes/ floral/ flamingo and more.
Very good customer reviews. From 981 ratings 84% of buyers gave this 5/5 stars.
Best for style.
---
Best Picnic Bag On Wheels
Arctic Zone Titan Deep Freeze Rolling Cooler
This large cooler keeps ice in for up to 3 days!
On wheels so easy to transport.
The detachable all terrain cart features an expandable, extra wide base, all terrain wheels, retractable, telescopic hook 'n' go handle and can hold up to 100 lbs./45.4 kg.
Can also be carried without wheels.
Both the cooler and cart collapse for easy storage.
Very good customer reviews. From 424 ratings 86% of buyers gave this 5/5 stars.
Best for festivals or camping picnics.
---
Today's Top Deals & Bestsellers
Baby Products – Buyer Guides
Sleeping & Nursery
Feeding
Toiletries & Nappy Changing
Clothing
Travel
Playtime
Baby Extras
Beach Buyer Guides
Heading to the beach? Get the low down on our detailed product round ups!
Chairs & Tents & Storage
Food & Drink
Beach Clothing & Shoes
Water Fun & Beach Games
Baby At The Beach