For this post, I have put together a collection of the best bucket and spade sets currently available. You can also see my top picks for all beach accessories.
Show Today's Top Deals
These are today's top deals and bestsellers for bucket and spade.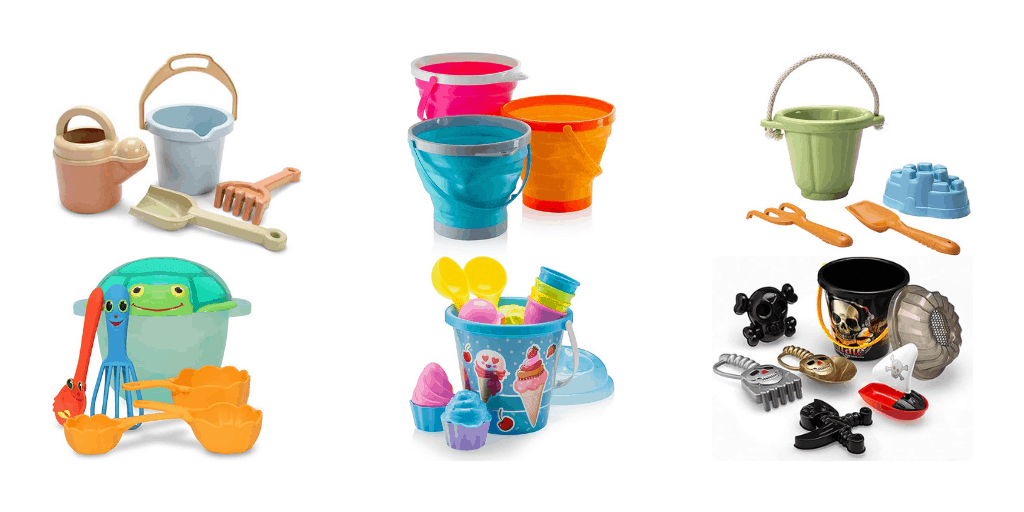 ---
A trip to the beach with the kids wouldn't be complete without a bucket and spade!
Keep them entertained and happy playing in the sand with one of these bucket and spade sets.
We've picked some of the best bucket and spade sets available from eco-friendly sets to collapsible buckets, we've got it covered. All of our picks have excellent feedback from customers.
Planning a family trip to the beach? See our top picks for the best kids beach shoes and beach chairs.
Also check out out buyer's guides to the best outdoor toys where you will find sandpits and sand and water tables.
Let's get going!
Melissa & Doug Seaside Sidekicks Sand Baking Set
Sea-creature inspired "baking" set for the sand.
This 7 piece set includes 3 shell-shaped measuring cups, octopus whisk, crab mixing spoon, and a mixing bowl.
The turtle lid on the mixing bowl doubles as a sifter!
Kids can mix and sift sand and enjoy whipping up some sand cake creations.
Perfect for kids from 3 to 5 years of age.
Made of plastic.
Excellent reviews. From 299 ratings 82% of buyers gave this 5/5 stars.
---
Top Race Kids Beach Toys Set
Kids can serve you up the best sand ice creams with this unique ice cream cupcake beach bucket set.
Includes 1 x large bucket, 1 x special cover that will hold the cones, 4 x ice cream cones, 4 x ice creams, 2 x cupcake holders, 2 x cakes, 2 x scoops.
Beach fun for the whole family.
Made of plastic.
Good reviews. From 1,998 ratings 74% of buyers gave this 5/5 stars.
---
Quut Ballo Beach Bucket
This clever ball shaped bucket is perfect for kids to collect sea water without spilling.
Ideal for sandcastle building.
Perfect for toddlers as the spherical shape results in minimal spills.
BPA, phthalate, latex free & recyclable.
Available in colours; Anthracite Grey, Blue Vintage, Lagoon Green and Rose Corail.
---
Top Race Folding Buckets
This collapsible beach bucket set includes 3 buckets made of flexible silicone.
The plastic base and rim of the buckets make them sturdy.
Can be folded away and stored in bags or packed in suitcases.
With a generous 5 litre capacity.
Good reviews. From 53 ratings 72% of buyers gave this 5/5 stars.
---
Dantoy Bio-Toy Bucket and Spade
This eco-friendly 100% recyclable set is made of at least 90% sugarcane and packaged in recycled cardboard boxes.
4 piece set includes 1 x bucket, 1 x watering can, 1 rake, 1 spade.
Sturdy and durable set.
Great reviews. From 67 ratings 88% of buyers gave this 5/5 stars.
---
Green Toys Sand Play Set
This cute bucket and spade set is made completely from recycled plastics.
Set includes 1 x bucket, 1 x spade, 1 x castle mould.
Sturdy, high quality set.
All non-toxic and BPA, PVC and phthalate free.
Available in blue, pink or green.
Excellent reviews. From 44 ratings 86% of buyers gave this 5/5 stars.
---
Top Race Pirate Bucket and Spade Set
A pirate themed bucket and spade set for kids.
This set will spark the kids imagination and they can enjoy making pirate castles.
All m

ade from boa free materials that are safe for your children to play with

.
Includes 1 x beach bucket and cover, 1 x pirate skull, 1 x pirate axe and sword, 1 x pirate boat, 1 x pirate shovel, 1 x pirate rake.
Suitable for ages 2+.
Great reviews so far. From 29 ratings 80% of buyers gave this 5/5 stars.
---
Scrunch Bucket
This clever bucket is made of silicone and can be folded, rolled or squashed down so it can be put in a handbag or pocket.
A great space-saving bucket which is ideal for taking away on holiday or for a day out.
It will never lose its shape!
Available in lots of bright colours including orange, pink, purple, red, yellow, blue, blush pink and twilight blue.
Excellent reviews. From 65 ratings 100% of buyers gave this 4-5 stars.
---
Today's Top Deals & Bestsellers
---
How Can Sand And Water Play Benefit Children?
It can help them to understand the natural world and learn how sand and water behave.
It can help to develop their fine motor skills and hand-eye coordination. Digging and sifting sand and pouring water will encourage children to use their muscles.
Sand and water play can stimulate kids imaginations and help them to create stories through role play. e.g. Pirates and Mermaids.
It is also a good way to incorporate some learning through discovering which items float and sink.
Sand and water play can be very calming, meaning that it is an excellent activity for children.
Beach Buyer Guides
Heading to the beach? Get the low down on our detailed product round ups!
Chairs & Tents & Storage
Food & Drink
Beach Clothing & Shoes
Water Fun & Beach Games
Baby At The Beach