Our Top Picks
For this post, I have put together a collection of the best inflatable kayaks currently available. For more of my seaside top picks, see my guide to the finest beach essentials.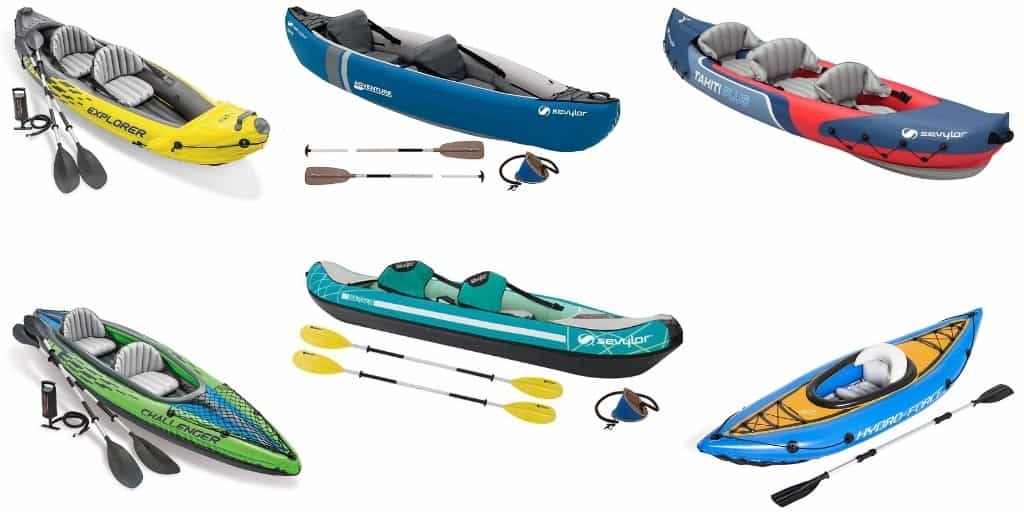 Show Today's Top Deals
These are today's top deals and bestsellers for inflatable kayaks.

Kayaking has surged in popularity over the last decade.
I'm a huge fan of kayaking and go as often as I can all year round.
I'm a keen angler and spent most of the time on the water at sea I mainly use a hard plastic one (I'm out on the water for hours at a time, a hard one drifts a lot less and also no chance of hooks in the rubber).
I have spent many trips on inflatable kayaks and they are great for so many reasons.
The key benefits of a blow up kayak over a plastic one are portability and easy storage. Being able to pop one in the boot of the car and store it compactly at home versus roof racks, lugging it about and then having to find someone to store at home or in the garage is not ideal (or possible) for many.
You'll also make the walk to your favourite beach or river spot easier with an inflatable. Plastic kayaks are heavy and you have the added expense of kayak trolleys and kayak roof racks to transport them.
Related: Protect yourself from the elements with the best beach tents and beach umbrellas.
So here is my list of the the best inflatable kayaks.
2 Man Inflatable Kayaks
Intex Explorer K2 Kayak
Comes with a hand pump, two collapsible paddles and skeg.
A skeg assists steering – kind of like a keel in a boat.
Quick to inflate – takes two people around five minutes.
Includes adjustable inflatable seats with backrest.
Weight: 16.7kg & Max Capacity: 180kg.
Kayakers love this two person kayak. From a massive 22,446 ratings, 80% gave it 5 stars.
This kayak is excellent value given all the accessories included.
It's a good choice for casual use on rivers and lakes, or very sheltered calm conditions at sea.
Intex Challenger K2 Kayak
Discount - Save £25.59
Comes with repair set, two aluminium paddles, pump
Includes adjustable inflatable seats with backrest.
Weight: 17.65kg & Max capacity: 180kg.
Very good reviews. From 6,829 ratings, 75% gave this double kayak 5 stars.
Sevylor Tahiti Plus Kayak – 2 + 1
Good choice for young families as it provides enough space for two adults and one child.
You can easily convert it for two or three on board.
Nifty backpack system: after you deflate the kayak you roll it into the spray deck, that then converts into a backpack.
Compared to some of the Intex models this does not come with a whole lot of accessories – no keg, no oars.
Weight: 11.7kg and max capacity: 200kg.
Decent reviews, scoring 4.1 out of 5 from 486 ratings.
Many of the lower reviews are because of the accessories that don't come with it. And the lack of the keg.
Sevylor Adventure
Good looking canoe style kayak.
Easily convert between a 2 or 1 person kayak.
Very light – 11.5kg.
Comes with double paddle, pump, carrybag, manometer and fin included.
The Sevylor Adventure is perfect for lakes, fishing and calm sea shores.
Very good reviews. 80% of 382 reviews gave this 4 stars or more out of 5.
How to inflate the Sevylor Adventure.
Sevylor Madison
The Madison is one of the more expensive models – one reason due to the stronger black material on the underside of the kayak. This 'Decitex' material is PVC with a nylon weave running through – this provides excellent strength with smooth paddling.
Another upgrade on this model are the superior seats which along with adjustable straps and taller back better back support.
Wider shape than others can add to the comfort levels.
Comes with a foot pump, paddles, carry bag.
Great reviews. 69% of 27 buyers gave this 5 stars out of 5.
1 Man Inflatable Kayaks
Intex Challenger Kayak
Comes with removable skeg (helps steering on less than calm waters), repair patch, hand pump and paddle.
Number one bestselling kayak on Amazon.
Weight: 11.15kg
Maximum weight capacity: 220 pounds
75% of 11,583 kayakers. gave this 5 stars out of 5.
Bestway BW65115
For use in canals and rivers.
Maximum capacity: 100kg. Weight 8.6kg.
Comes with single paddle, hand pump and repair patch.
Very well reviewed. 81% of 103 reviews gave this 4 stars or higher.
Aquaglide Navarro 110 Kayak
High end recreational touring sit-inside solo kayak.
Full coverage bow and stern decks to help keep you warm and dry.
Drop-stitch, hard-bottom floor gives superior speed/performance and extra strength.
Weight: 28 lb. (12.4 kg).
Capacity: 1-person | 250 lb. (113 kg) max weight.
Three chambers this is a breeze to inflate and set up. 5-10 minutes.
Other good features include paddle holders, rear storage hatch, upper deck bungee storage and the foam cushioned seat.
Fantastic reviews. From 20 reviews 77% gave this 5 stars.
Today's Top Deals & Bestsellers
How To Repair an Inflatable Kayak
Any inflatable kayak can get a hole in it.
But you're less likely to get one if you spend a bit more on additional protection for the inflatable hull.
The Sevylor Madison above for example has a 'Decitex' material that is PVC with a nylon weave running through – this provides excellent strength with smooth paddling.
If your price range is in the budget range I still would not be put off from making an inflatable kayak purchase – you just need to take care.
Tip: Before you get your boat out to inflate it, you should comprehensively check the ground beforehand and then put a heavy duty tarpaulin down below and then place the boat on that.
Many boats will come with their own puncture repair kit but do always check.
Discount - Save £2.62
1
Discount - Save £0.96
2
Where Can I Use An Inflatable Kayak?
The British Isles provide a wonderful variety to choose from.
Inland waterways include canals, rivers and lakes.
If you're near a canal they can provide the perfect starting ground if you're new to kayaking. Rivers are graded according to an International Grading System 1-6, with grade 1 representing calmer rivers.
You will need a licence to paddle on the inland waterways. These can be purchased as part of British Canoe Union membership, or from one of the three organisations that run the waterways.
British Waterways manages much of the canals and rivers including the Severn, Trent and Yorkshire Ouse.
The Environment Agency manages the River Thames, the River Medway, and the rivers of East Anglia.
The Broads Authority manages the Norfolk and Suffolk Broads.
Are Inflatable Kayaks Better Than Plastic?
The coastline around Britain provides fantastic kayaking water and there are no restrictions.
If you go a little off the beaten track you'll be rewarded with spectacular scenery and beautiful wildlife.
IMPORTANT: Coastal kayaking demands knowledge and skill. It's my strong recommendation that you do not embark on any sea kayak trips without sufficient training.
Do Inflatable Kayaks Puncture Easily?
Thanks to modern materials and manufacturing technology, inflatable kayaks have very strong exteriors.
Punctures are rarely an issue.
As mentioned above there is variation between the strength of materials across different inflatable kayaks.
If you do get a puncture, it won't pop and explode like a balloon. It will lose air slowly, giving you plenty of time to get to shore.
How stable are inflatable kayaks?
You will be surprised at how strong and rigid these inflatable kayaks can be once they are inflated.
Proper inflation is important. Under inflating and over inflating an inflatable watercraft can cause problems.
There are a number of ways manufacturers tackle the stability of inflatable kayaks:
Drop-stitched high-pressure air floors (Sevylor Madison above).
Small inflatable sections that behave like support beams.
Metal framework
If you do fall out off your kayak then here's a good video to show you how to get back into the kayak.
Inflatable Kayak Safety Tips
Let someone know where you plan to kayak and approximately what time you'll be back.
Consider using an app like what3words – this will let you easily and quickly let someone know where you are if you're in trouble.
Distribute load on your kayak evenly – generally more weight on back is better.
Ensure the kayak is inflated to its full capacity. A less than fully inflated kayak will give you sluggish performance.
Make sure you pack your pump and repair kit – and in a dry bag.
Take lots of clean drinking water with you.
If you're heading out on coastal waters make sure you stay close to the shoreline.
Pack extra layers of clothing.
Bring your mobile phone – also make sure it's in a dry bag and with plenty of battery power. Bringing a power bank is also a good idea.
Make sure you take some hat wear.
Take a whistle – always useful in case you need to get someone's attention.
Bring lots of sunscreen.
I hope this list of the best inflatable kayaks puts was helpful.
If you think I left any out that should be included or have a suggestion for a future article, let me know in the comments below.
Dominic
Beach Buyer Guides
Heading to the beach? Get the low down on our detailed product round ups!
Chairs & Tents & Storage
Food & Drink
Beach Clothing & Shoes
Water Fun & Beach Games
Baby At The Beach