For this post, I have put together a collection of the best puddle suits currently available. See my other buying guides for kids waterproofs.
Our Top Pick
My preferred pick for best overall puddle suit is the 2 piece set from LZH because they offer a range of bold and bright themed designs, the separate top and bottom is useful (particularly for toilet runs) and the jacket has two handy pockets.
Show Today's Top Deals
These are today's top deals and bestsellers for puddle suits.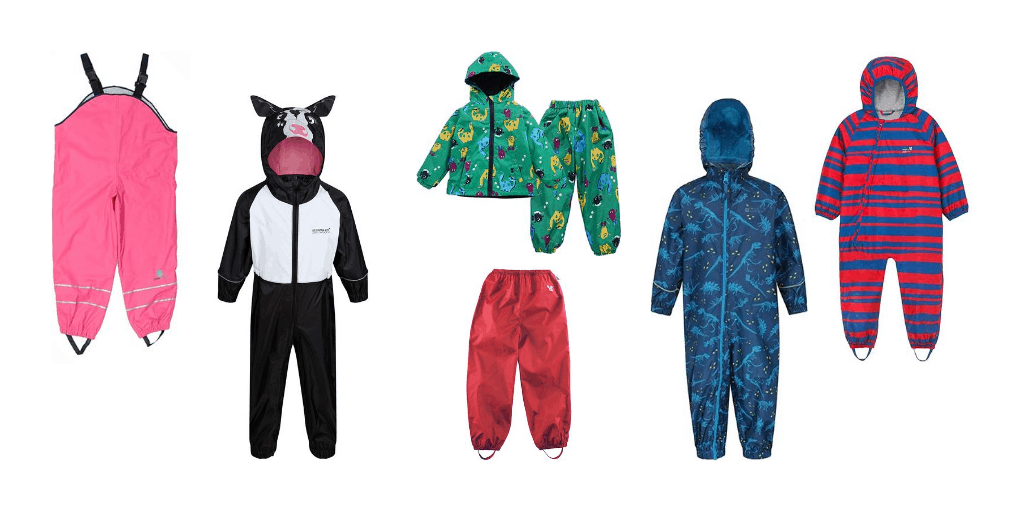 Rain, rain go away…or maybe stay!
No need to fret about getting out in all weather with the kids. Whether it's pouring with rain at home or you're heading off on a holiday a puddle suit (teamed with a pair of wellies) will keep your little one protected from the elements…and keep your washing pile under control!
We've searched the market to find you some of the best tried and tested waterproof outerwear for kids. I've also recommended some of the best online retailers and brands.
So here is my list of the the best puddle suits.
Regatta Charco All-in-One Suit
No products found.
This all in one suit is made from breathable material which has a durable water repellent coating.
It's waterproof and will keep kids warm thanks to wind blocking at the garment's wrists and ankles.
With a zipper which zips right down to the right ankle making it easy to put on and take off without making a mess.
Available in super cute animal designs that kids will love.
Parents love this rain suit set – 81% of 154 buyers gave it 5 stars.
Shop all Puddle Suits at Regatta
Muddy Puddles Puddlepac All in One
No products found.
This waterproof suit is made from recycled plastic and will protect against wind and rain.
The elasticed hood will stay in place even on a windy day.
It folds into its own pocket and has a handy carabiner clip to attach to a bag, belt loop or buggy, ensuring children are always prepared for unexpected rainfall.
The jersey lining adds extra warmth and the ankle stirrups make sure no water gets in while jumping in puddles.
Shop all Puddle Suits at Muddy Puddles
Mountain Warehouse Puddle Kids Printed Rain Suit
No products found.
Fully waterproof with taped seams and elasticated cuffs and hood, this suit is ideal for jumping in puddles.
Highly breathable membrane lets moisture out, making sure you stay dry on the inside.
The reflective piping will help to keep kids visible, even in dark, wet weather.
Very lightweight and perfect for even the summer months.
Shop all Puddle Suits at Mountain Warehouse
DRY KIDS Childrens Waterproof Dungarees Fleece Lined
No products found.
Polyurethane (PU) coated Dungarees which makes them very waterproof.
They also come in unlined and polar fleece lined variants, ideal for wet weather.
There are elastic ankle straps that can be worn either inside or outside of wellies but will prevent the legs from riding up.
The shoulder straps are totally adjustable so that they can be made to fit perfectly and can then be adjusted as your child grows up.
The legs each have 2 reflective stripes so that your child can be easily seen in the dark or extreme weather conditions.
The fact these dungarees have no arms means they can be worn in the summer months to splash around in puddles or in the winter months with a coat.
Muddy Puddles Kids Waterproof Trousers
Breathable, machine-washable and rain-resistant trousers which feature handy, adjustable underfoot stirrups with elasticated hem to prevent trousers riding up.
Super durable, they are ready to tackle any adventure.
They are unlined and can be worn over jeans or school trousers to keep your little ones dry.
Plus, they are machine washable.
These can be worn with your child's own coat or blazer.
Shop all Puddle Suits at Muddy Puddles
LZH Boys Girls Waterproof Raincoat Hooded Jacket Dinosaur Coat Trousers Suit
Little ones love bright, bold prints? This 2 piece waterproof jacket and trouser suit comes in cool dinosaur prints for both boys and girls plus more choice of funky designs and colours.
We like the fact the items can be worn together or separately and are easier to wear on any toilet dashes.
The long-sleeved zipper windproof jacket come with two handy pockets.
Helly Hansen Puddle Suit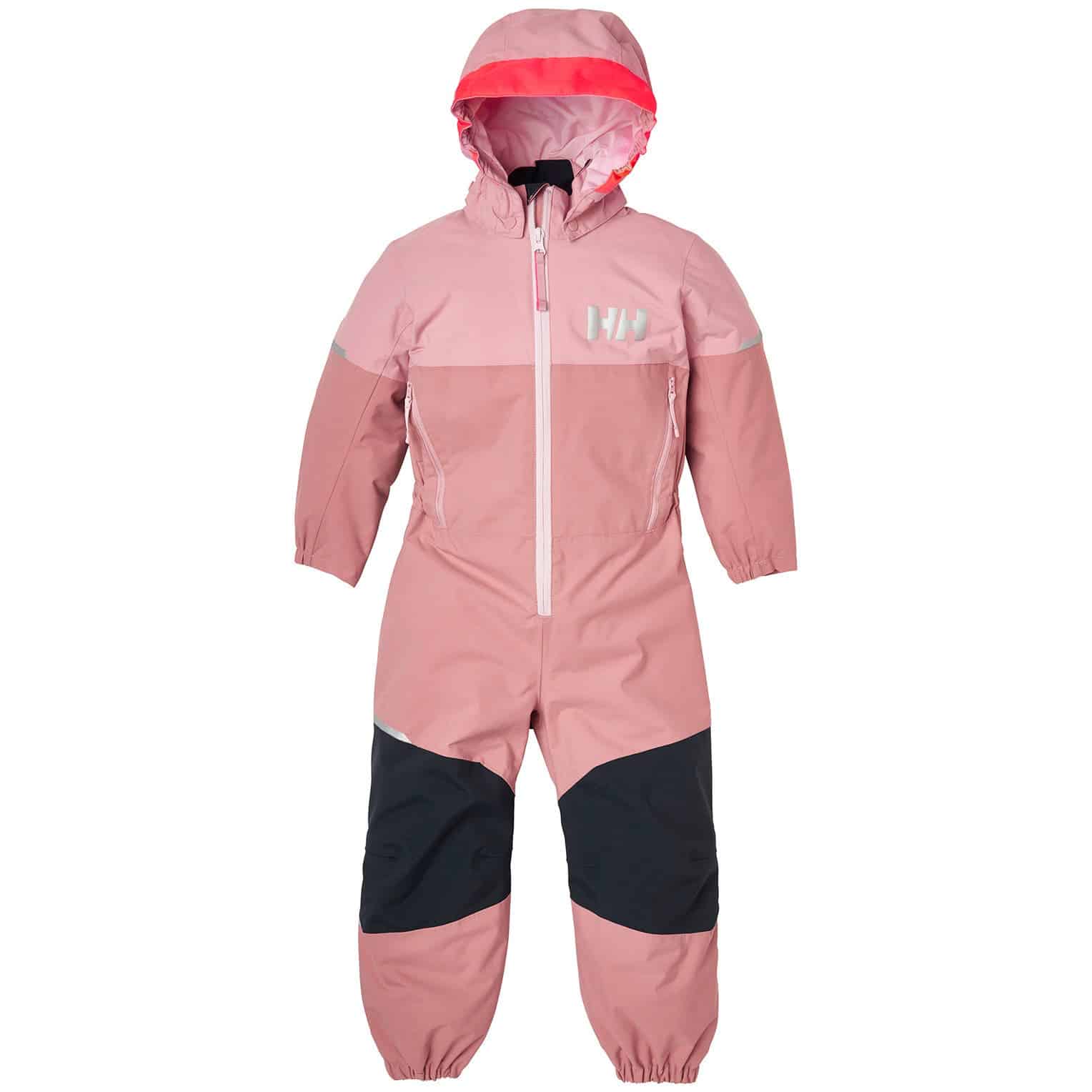 At the top end is the K SOGN PLAYSUIT from Helly Hansen. Lots of useful features if the budget allows.
A full protection playsuit for active kids who like to stay outdoors.
The HELLY TECH® construction offers a fully waterproof and breathable construction for long lasting comfort in any weather.
Its quick-dry, lightweight lining adds comfort in both warm and cold weather.
The full suit design combines maximum protection with ease of use when getting dressed or undressed.
The detachable hood with high vis/neon panels and reflective elements add extra safety.
Inside suspenders to keep the suit up when it's open is a practical solution to keep the kids from tripping or stepping on suit.
Where To Buy Online (Recommended Retailers)
In our product reviews above I've linked to Amazon because they tend to have good stock levels at competitive prices.
I do strongly checking these recommended retailers below.
Marks & Spencer Puddle Suits
Love these cute ones from M&S in 2020 – Duck Puddle Suit, Dinosaur Puddle Suit and Striped Puddle Suit.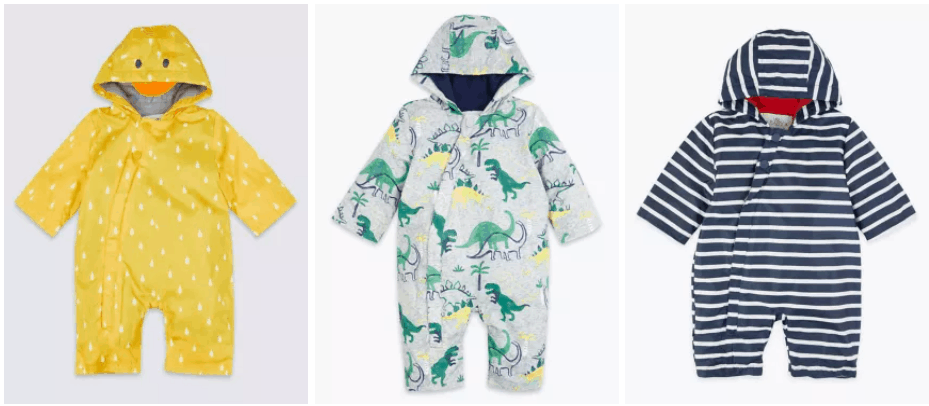 Regatta Puddle Suits
Regatta have a large selection of puddle suits. As of October 2020 they had 19 puddle suits. Excellent selection with a sale with 30-70% discount.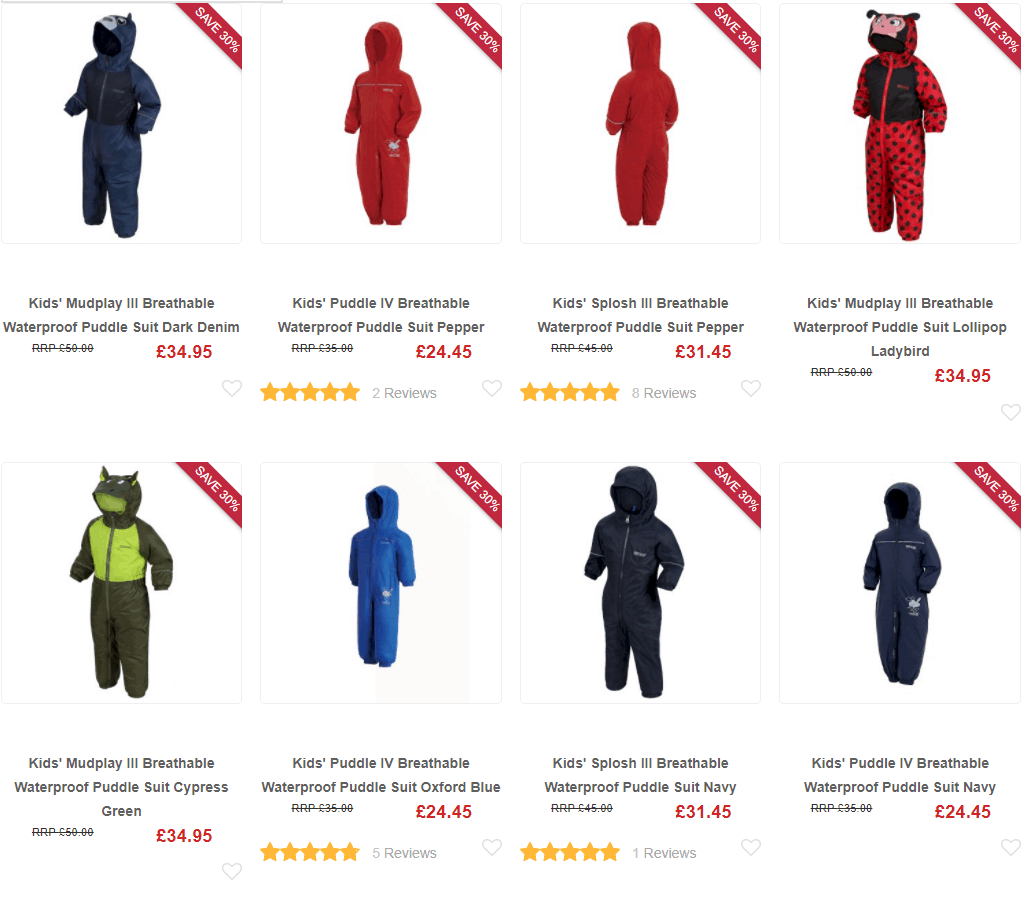 The Regatta line include Kids' Mudplay III and IV, Splosh III, Puddle IV, Splosh III, Charco and Splat II.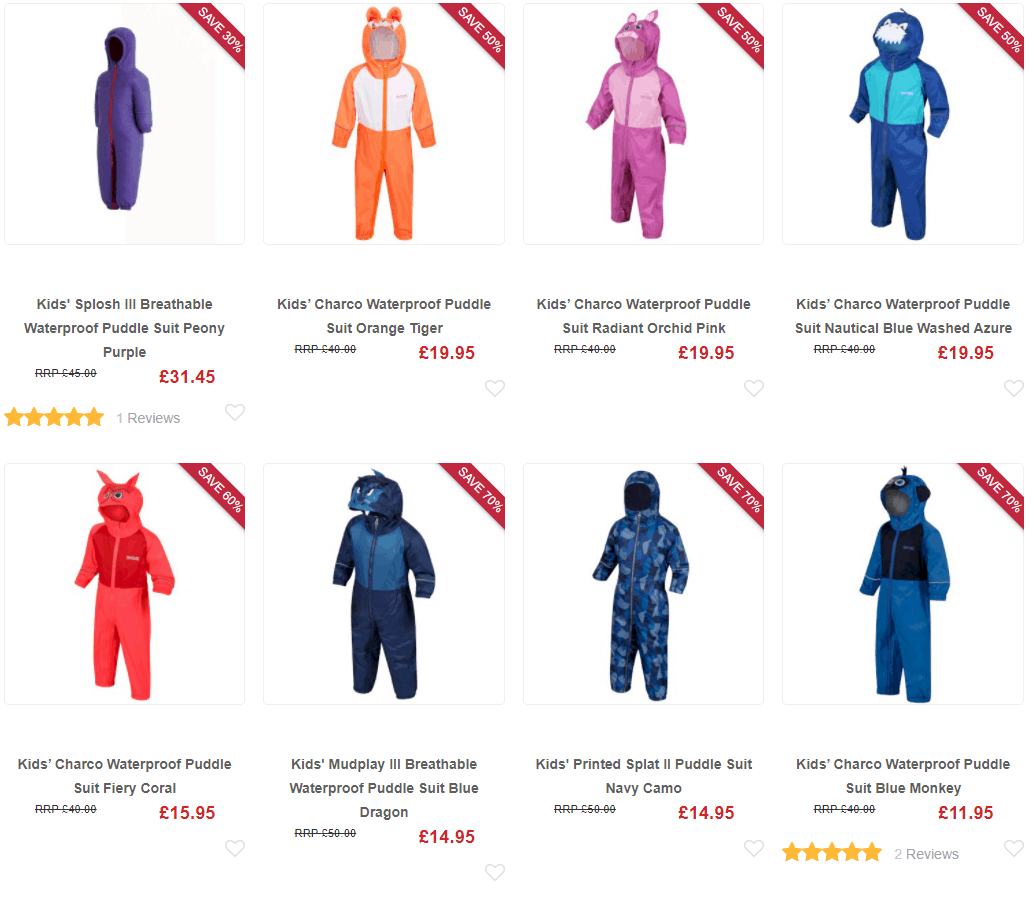 Regatta have a whole range of bold and vibrant colours including blue, green, orange, pink, purple and red. They range from £24 to £70.
Mountain Warehouse Puddle Suits
Mountain Warehouse have 17 puddle suits in stock and are running a sale offering discounts from 13% to 50% (October 2020).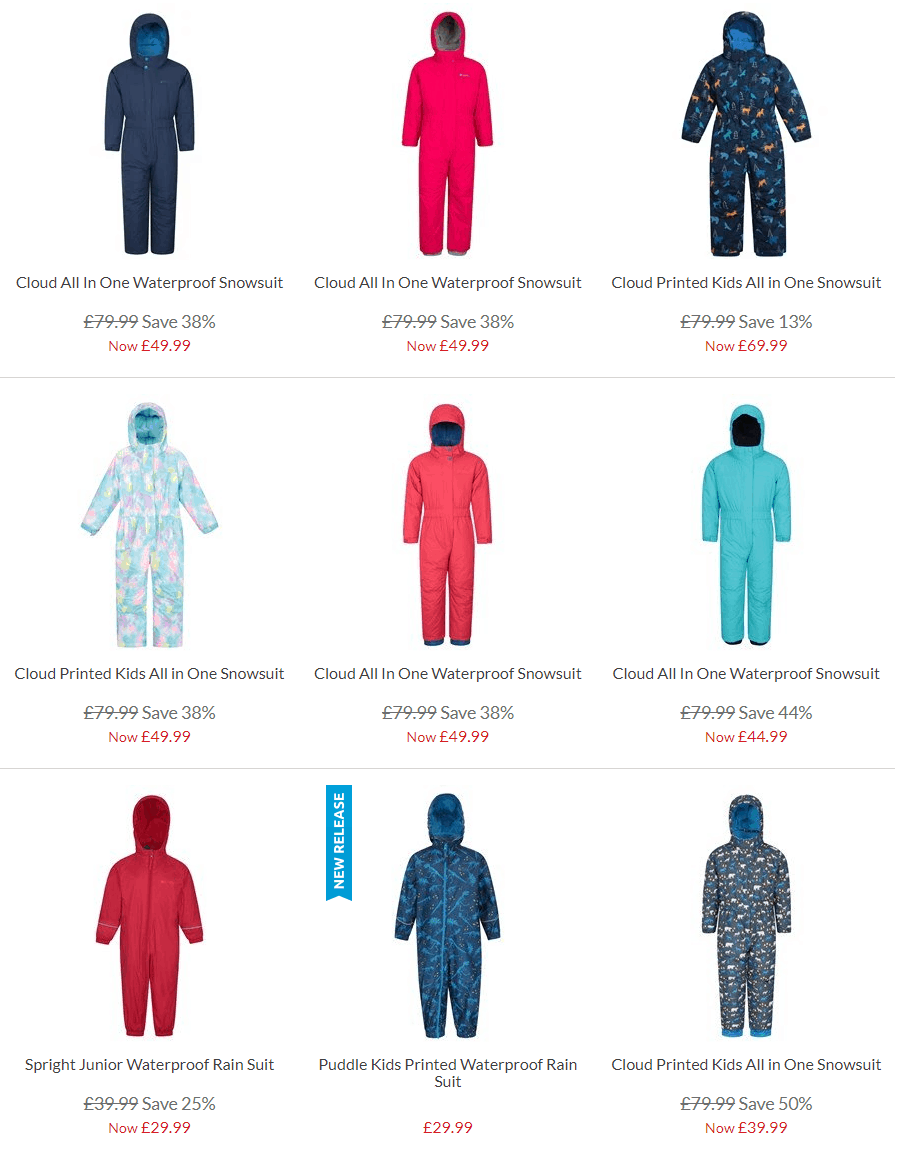 Their most recent releases include four animal printed puddle suits. Dinosaurs, Unicorns, Boats and more unicorns.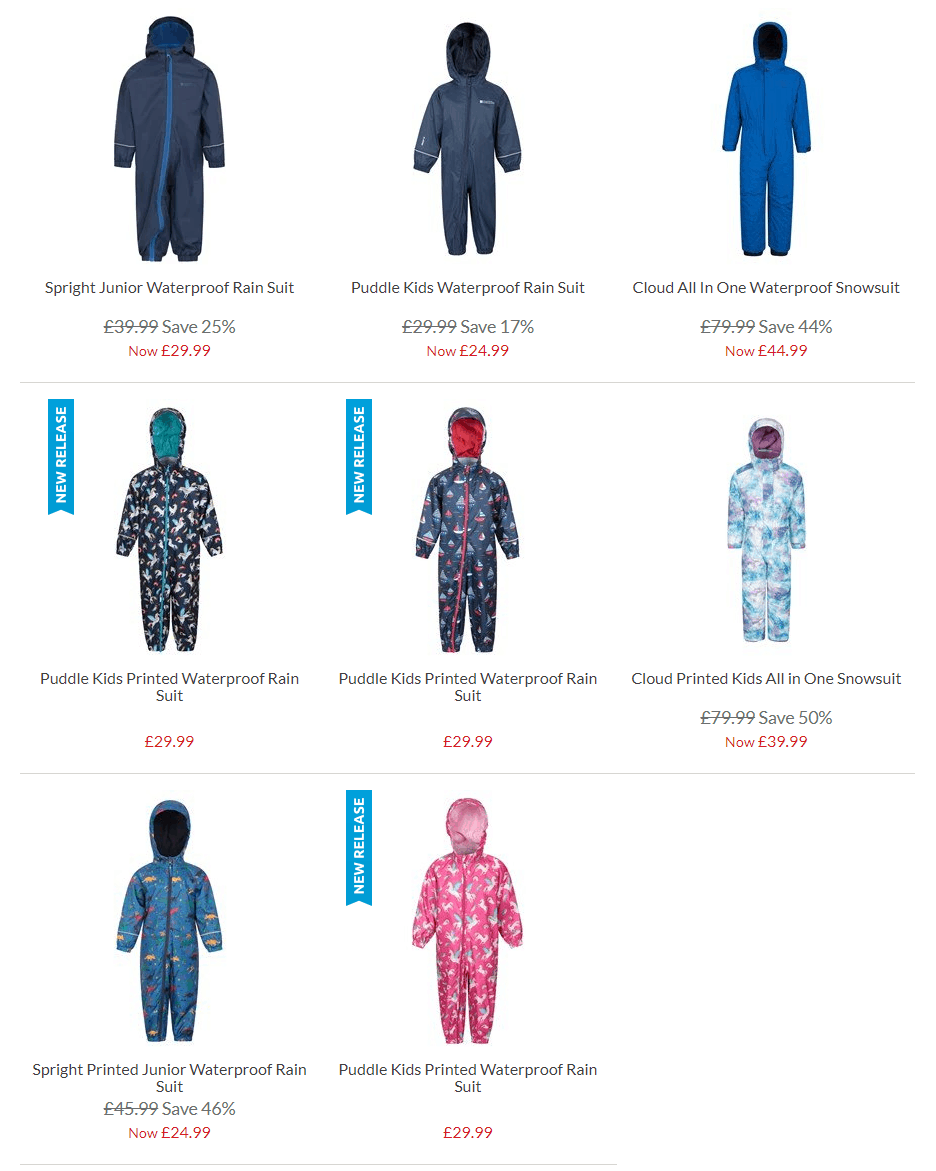 Muddly Puddles Puddle Suits
Muddy Puddles have 8 puddle suits (October 2020) and range in price from £28.80 to £59.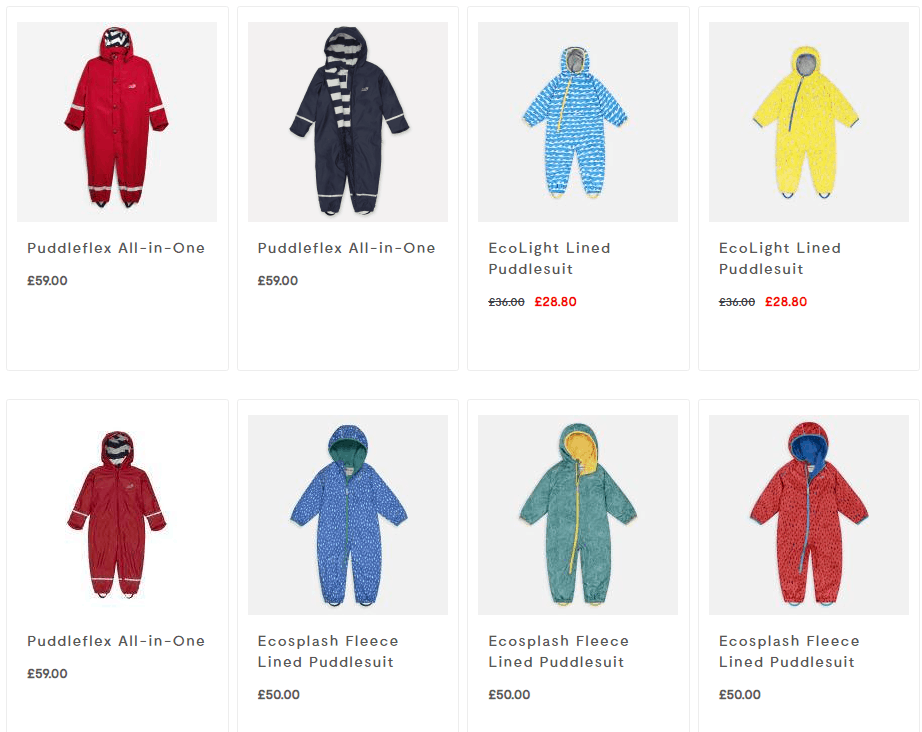 Their range include the Puddleflex All-in-One and a number of Eco Light lined Puddlesuits.
Today's Top Deals & Bestsellers
What is a puddle suit?
A puddle suit is lightweight, all-in-one outerwear for kids that is usually splash proof and will keep them dry in rain and puddles, plus protect the clothes they are wearing underneath it from getting wet and/or muddy.
We recommend buying a size up to enable layering clothes up underneath when it's cold, although some puddle suits are fully lined so check before you buy.
Do you really need a puddle suit?
It's not an essential item, but a puddle suit is perfect for keeping your child dry and their clothes protected when you're out in the rain.
As puddle suits are thin and lightweight they can be folded down and packed away, so are ideal for travel or taking out and keeping on standby in case the weather changes when you are out and about.
What to consider when buying a puddle suit
Material
Think about why you are buying a puddle suit. Don't confuse the garment with a snow suit which is a warm, padded all-in-one suit for use in cold and snowy conditions.
A puddle suit is essentially made of lightweight, waterproof material for keeping your child dry and stop them from getting soaked in rainy weather.
Cost
If you are planning on using the puddle suit regularly you may want to invest in a high quality, durable one which will stand the test of time or alternatively, if you are buying one for a short break you may opt for one which is more affordable.
There are a wide range of puddle suits available so its down to preference which one you decide to go for.
Style
As you have seen, puddle suits are usually all-in-one garments although you may want to opt for the dungaree style which is adjustable and may last longer as your child grows.
Then there are also the separates options, where you can buy just the waterproof trousers, just the jacket or 2-piece sets.
Another deciding factor will be the design or print of the puddle suit. From simple plain, bold colours to funky prints or character ears, there are lots of options to choose from.
Kids Waterproofs & Outdoor Clothing