For this post, I have put together a collection of the best kids' umbrellas currently available. For more best buys to keep your kids warm and dry see my guides to waterproofs for kids.
Our Top Picks
My pick for best overall kids umbrella are the printed umbrellas range from Hatley's because they offer a fantastic range of designs (such as sharks or hearts), are very good quality, safe for little ones to put up and down and receive rave reviews from parents.
Show Today's Top Deals
These are today's top deals and bestsellers for kids umbrellas.

A fun, easy to use and colourful brolly can make all the different to a joyful trip in the rain. Kids love their shape and hiding underneath watching and listening to the rain fall safely above their heads.
The best umbrella for kids should be safe to put and up down without any pinching of skin.
You also want them to be light and easy grip onto. They should be sturdy and hold strong against the elements. It's also essential they are a bright bold design to appeal to your little ones.
So here is my list of the the best kids' umbrellas.
Skip Hop Owl Umbrella
Parents love this umbrella giving it 4.6 out of 5 from 202 ratings.
Reviewers comment on the source of joy it brings and of its superior quality
Highlights include the 3D parts, the ears are of particular fascination.
Features good clear plastic sections to ensure maximum visibility.
The close and release mechanism is easy to use and safe from caught skin.
Other designs include Bee, Butterfly, Ladybug and Unicorn.
Kids Striped Umbrella Rainbow
Low priced bright umbrella that scores 4/5 from over 85% of 350 reviews.
Most parents are pleased with the quality given its low price.
Light umbrella weighing 215g and 59cm in length when closed.
Kids Marvel Spiderman Umbrella
Discount - Save £1.04
Parents rate this brolly highly – 81% of buyers gave it 5 stars.
Feedback is that they are sturdy and easy to hold.
Low canopy so gives a child good protection from the elements.
It's transparent so provides good visibility.
Pink Colour Changing Umbrella With Mermaids & Unicorns
No products found.
Bestselling kids umbrella with 88% of parents scoring this at least 4 out of 5.
Parents advice is this brolly is suitable for ages 7 and above.
Standout feature is that it changes colour in the rain.
Each panel of this umbrella is adorned with an adorable unicorn or a magical mermaid.
Comes with a brightly coloured carry case.
Kids 3D Dome Umbrella Ladybug
Bestselling fun kids umbrella range from Drizzles brand.
79% of parents gave these umbrellas 5 out of 5 stars from 197 reviews.
Available in a range of designs children will love! Green, Navy Blue Dinosaur, Pink Mermaid, Pink Unicorn and White Panda.
Kids Rainbow Umbrella
Another rainbow brolly but this one is a colour wheel design.
Number one bestseller with 83% reviews give it the maximum 5 stars.
Glowing reviews from parents say it's sturdy, good quality and easy to put up and down.
Perfect for kids up to 6 years old.
Also available in Navy or Pink designs.
Check price at the Mountain Warehouse website.
Pink Color Unicorn Umbrella
Super popular Unicorn brolly aimed at 3-7 year olds.
Well reviewed with 95% of parents giving this 4 stars or above.
Easy to open and close.
Features colourful 3D cartoon unicorn design.
Nordic Apples Umbrella
High Quality Umbrella with real wood handle and tip from Hatley brand.
Featured design is Pink Pretty Hearts. Also available in designs Galloping Horses, Strawberry Sundae and Unicorns & Rainbows.
Extremely well received by parents – 80% of buyers gave this 5 stars out of 5.
Hatley's Printed Umbrellas (Sharks)
Featured design is Sharks but also available: Dinos, Farm Tractors, Fighter Planes, Fire Breathing Dragons, Monster Trucks and Tractors.
Parents love these fun kids brollies from Hatley – 81% of 469 buyers gave this 5 out of 5.
Safe, easy to use mechanism.
Little bit more expensive than some on this list but the quality is very good.
Kids' Unicorn Colour Change Umbrella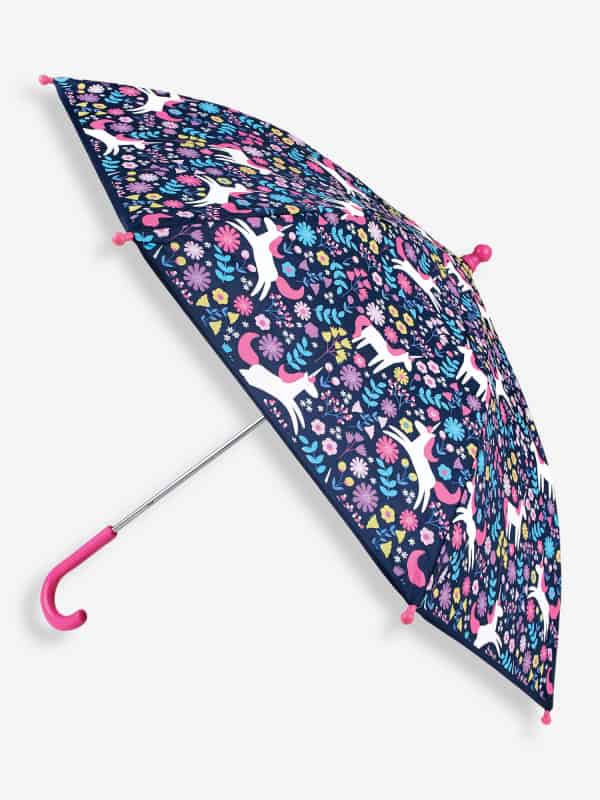 Standout feature of this brolly is its ability to change colour.
Special print that makes the white unicorns turn colourful when wet.
The handle has been specially designed to be easy for children to hold
Velcro strap keeps the umbrella secure and compact once it's been put down.
Kids Umbrella Deals & Today's Bestsellers
I hope this list of the best kids' umbrellas was helpful.
If you think I left out one that is important or have a suggestion for a future article, let me know in the comments below.
Dominic
Kids Waterproofs & Outdoor Clothing