For this post, I have put together a collection of the best bread bins currently available. For all my recommended accessories see my list of kitchen essentials.
Our Top Picks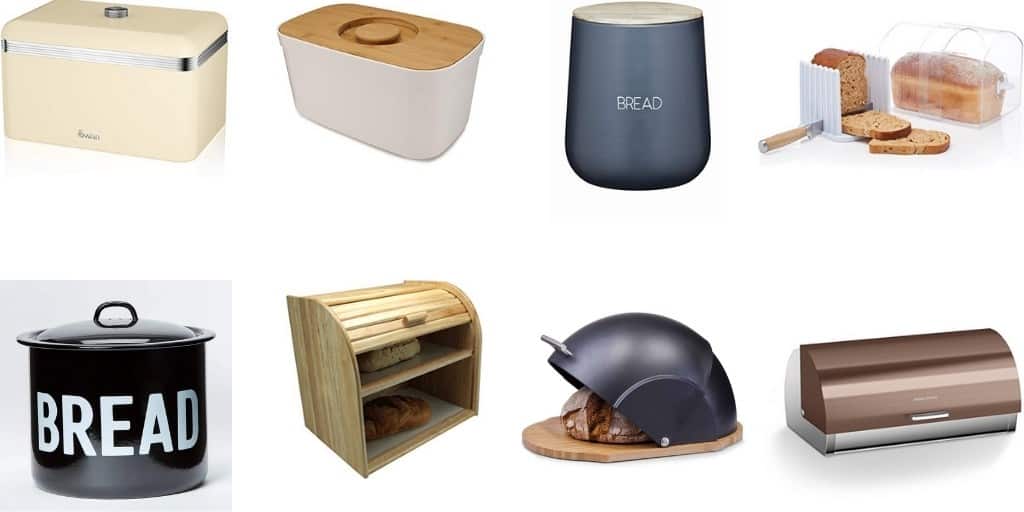 Storing your bread, cakes or pastries correctly is a sure fire way to conserve their taste and freshness.
In this article I review 17 of the best bread bins on the market.
I'll share our top tips on finding the ideal container for your household, big or small. Read on to see our recommended products from top brands from Joseph Joseph, Brabantia, Morphy Richards and more.
Related: Love baking? See my best buys for cake tins and cake storage tins. Or help teach your little one with one of these baking sets for kids.
Let's get going!
Swan Retro Bread Bin
Add a touch of vintage style with this retro classic from Swan.
Ample storage space for a loaf and a few of your favourite pastries.
It's made from colour coated iron and chrome and you can choose from 11 different colours.
2 year warranty.
Joseph Joseph Bread Bin With Bamboo Lid
Stylish minimalism available in black or white.
Useful 2 in 1 function – the bamboo lid can be removed (with a handle) and flipped over you have a chopping board.
The lid handily has little grooves to catch any stray crumbs.
Plastic container is BPA-free, lightweight and easy to clean.
Morphy Richards Bread Bin Accents Roll Top
A cool looking copper coloured bin this roll top model is made from sturdy stainless steel.
The domed shape provides lots of space with plenty of ventilation.
There's also a little lip at the front that allows you to pull the bread out without leaving a trail of crumb destruction in your path.
Helen Round Natural Linen Bee Bread Bag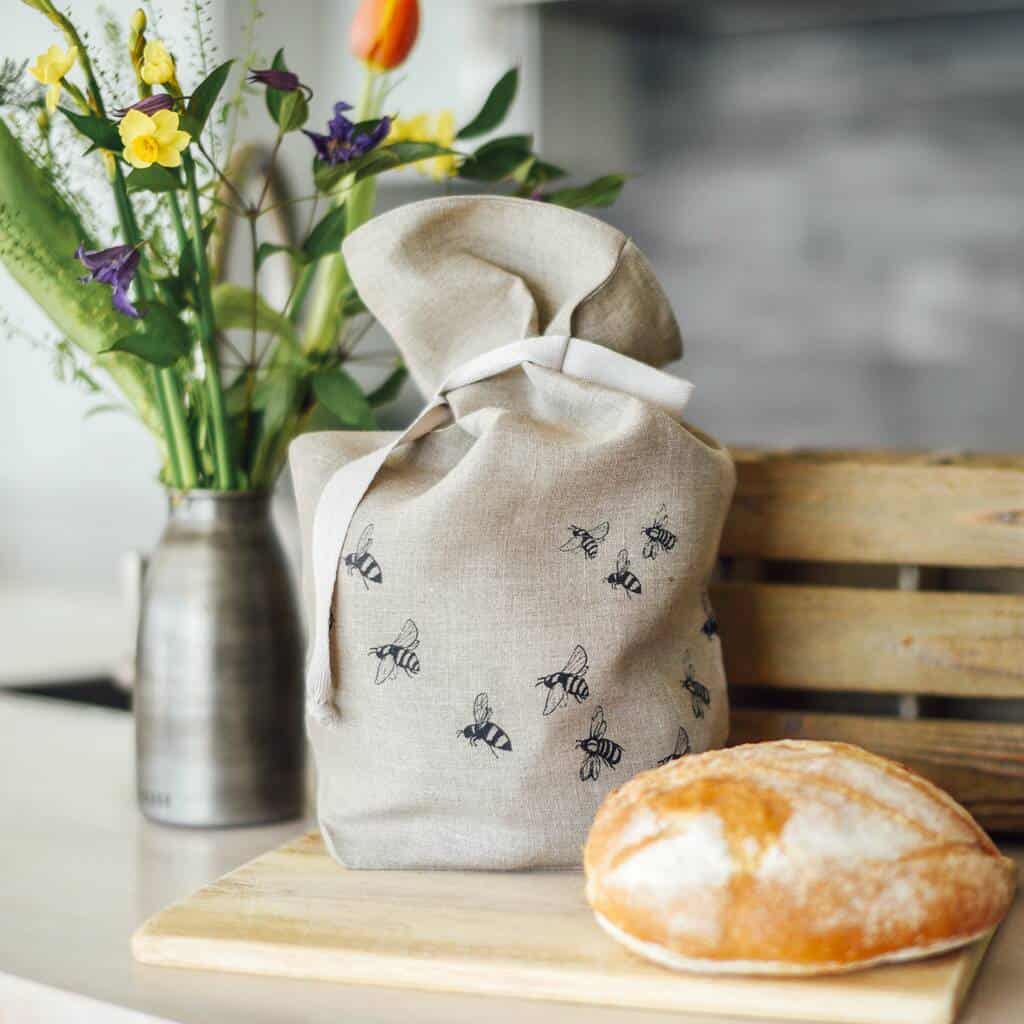 As you can read below lined bags are one of the best choices for keeping home made bread fresh.
This clever bag lets air circulate preventing your bread creation from going mouldy.
If you prefer to keep your kitchen worktops clutter free then a bag such as this is a great option.
When it's not in use it folds away like a tea towel and you can throw it in the washing machine after use.
Progressive Bread ProKeeper
This one cleverly changes size to accommodate whatever size loaf you have.
Or it's perfect if you only wish to keep a few pastries fresh. They won't last long anyway!
When not in use you can collapse this bread bin to half of its full size.
Handily includes a cutting board.
Dishwasher safe and BPA free.
Brabantia Bread Bin With Handle
Do you buy fresh bread from your local bakery? Or maybe you're taking a freshly home baked loaf round to friends?
This portable bread bin could be a good option.
The removable lid also doubles up as a chopping board or serving tray.
You might also find this bread bin useful to take on a picnic.
Marble Bread Bin
10 out of 10 for style this marble bin will stand the design test of time.
Made of stainless steel, with a white marble effect coating and rose gold detailing on the handle.
It's not all looks though – this one has anti-slip feet to keep it in place on your counter, along with ventilation holes to keep contents fresher for longer.
The Conran Shop Bread Bin Black Enamel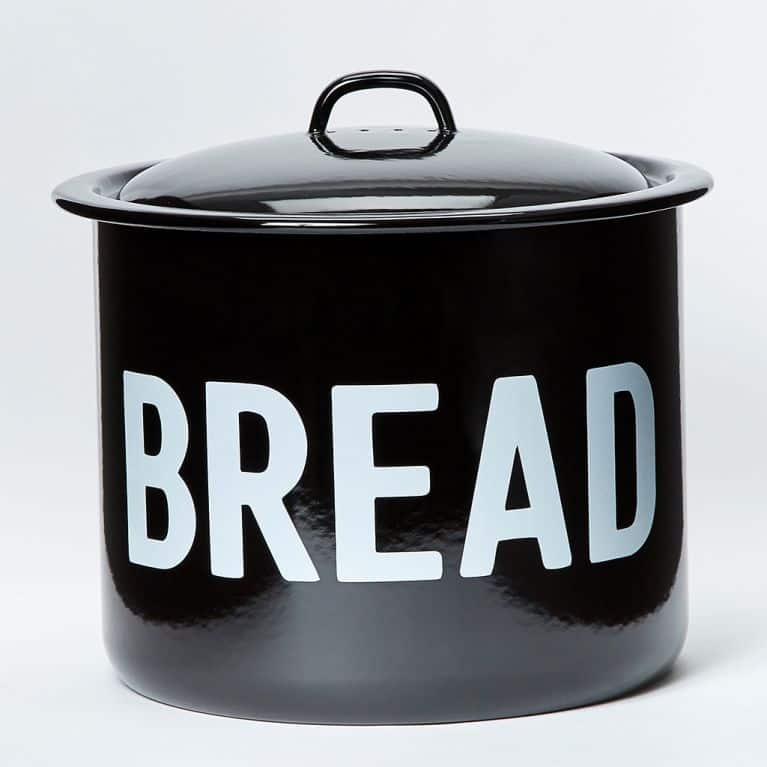 Make a statement with this simple but bold bread bin crafted from porcelain enamel.
It's super durable fully scratch resistant and a cinch to wipe clean.
Bodum Bread Bin BISTRO Box
This sturdy eco-friendly option is made of sustaibable bamboo and BPA-free plastic.
It's available in 7 colours including some very colourful options.
You can also choose from three different sizes – small, medium and large.
Handy feature – take the lid off and turn it over, you have a chopping board.
Brabantia Fall Front Bread Bin
Roll top designs make it easy to get at your loaf without creating a crumby mess.
This model from top brand Brabantia handily features a flat roof, allowing you to stack other items on top and make full use of any kitchen counter space.
There's a number of colour options as well as a matte version – if you're after the sleek silvery look without the eyesore of grubby fingerprints.
This is a large breadbin so would suit families as it stores up to two loaves.
Koziol Manna Bread Box
It does what it says on the tin – or rather it is what it is!
How about this playful option for your kitchen? Alongside the white it's available in some bright colour options.
The construction makes for a simple wipe clean and it packs good ventilation to keep your loaves fresh.
Apollo Doubledecker Bread Bin
Classic wood option is also a top space saver as it will store two loaves in very little space.
The retractable roll-top lid with a flat top allows it to fit into small spaces.
KitchenCraft Bread Bin Serenity
This tulip-like shape is pleasing to look at with its grey curves and herringbone mango lid.
If you're looking for something lighter and less space consuming this is an excellent option for the contemporary kitchen setup.
KitchenCraft Stay Fresh Expanding Bread Keeper
This innovative creative space saver changes in size to fit the contents.
The transparent cover means you can see how much is left without rummaging around.
There's adjustable air vents so you can control the air flow to maximise freshness.
If you're after the perfect slice it contains a neat slicing guide so you get uniform slices every time!
Rebrilliant Bengtson Bread Bin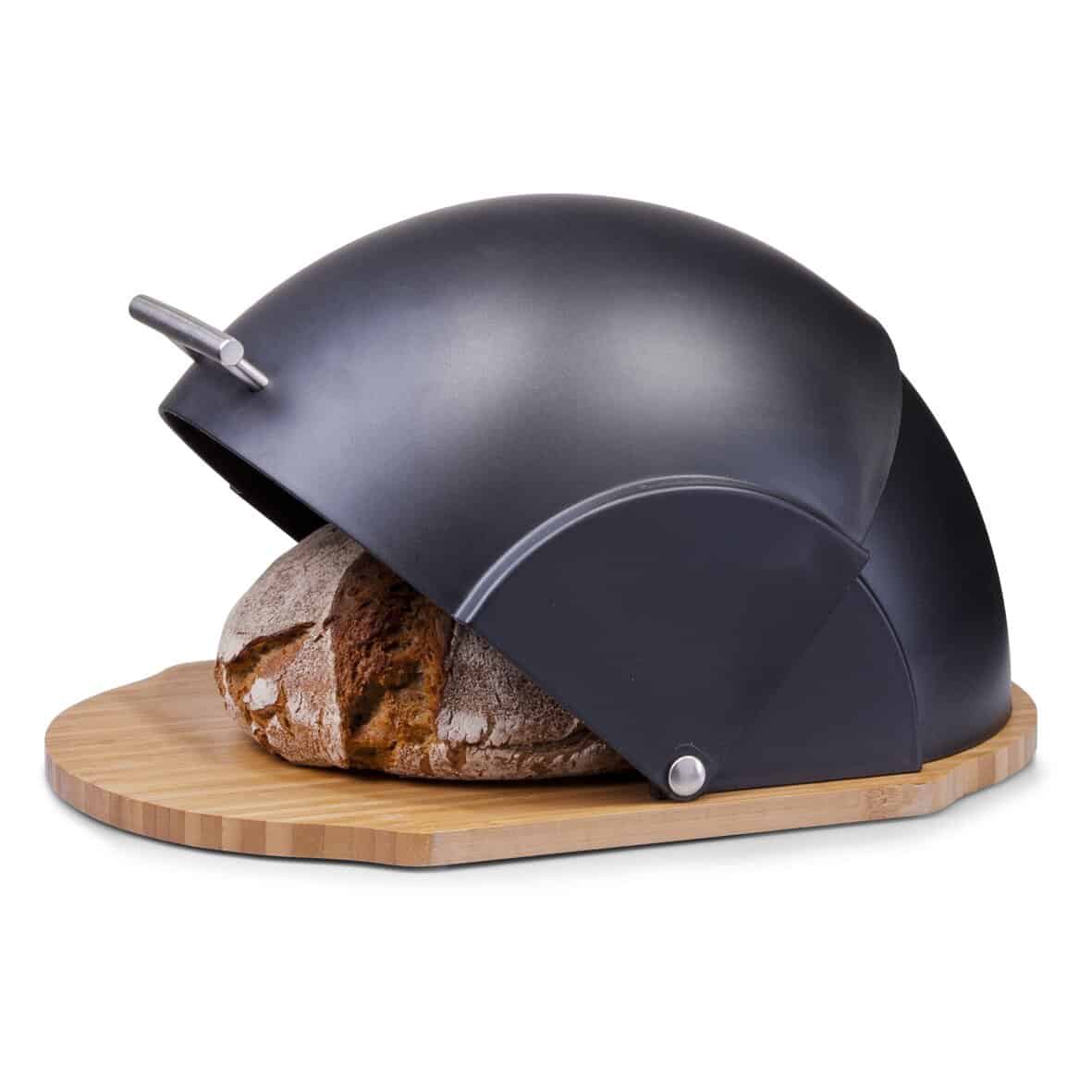 Something a bit different this is shaped like a shell and would fit in a modern or industrial style kitchen.
Easy to clean bamboo and curved surfaces this base also doubles up as a chopping board.
Bamboo also keeps the bread fresher for longer.
KitchenCraft Lovello Textured Bread Bin
This one has Smeg like retro vibes with chrome lettering is raised on four legs.
Anti-scratch pads to stop it from making your lovely kitchen work tops.
Unlike the usual 'sticky' lid this works with a simple easy to open hinged lid.
KitchenCraft Art Deco-Style Carbon Steel Airtight Bread Bin
Art Deco inspired with a cartoon front will give your kitchen a fun, playful look.
It's a simple design that works well with an airtight lid to lock in your bread and is made from a durable carbon steel.
How To Choose The Right Bread Bin For You
Double check your dimensions
Whether you will store your bread bin on a worktop surface or away in a cupboard check the dimensions so you don't get anything too big – or too either.
Bread bins are usually designed to hold at least one standard sized loaf.
I have included a number of bread bins that will hold more than one loaf – a preferred choice for bread loving big families.
Different Types Of Bread Bin Lids
Roll-top Bread Bins
The old school style of bread bin is a great option for space saving.
They're also much easier to open than some of the lids that get stuck on tightly.
Flop-forward or Flip-Top Bins
These can also be suited to small spaces and tend to be featured on larger bread bins.
Removable Lids
Although they sometimes seem hard to get off they do provide often the best seal.
You'll also find many clever designs where these lids flip over and voila, you have a chopping board.
Different Types of Bread Bin Material
Plastic Bread Bins
Lightweight, waterproof and easy to clean. Plastic bins ten to come in a variety of colours, shapes and styles. Watch out for mould though as plastic bread bins tend to trap moisture more. Look out for ones with sufficient ventilation.
Wooden Bread Bins
Wooden bread bins tend to provide sufficient natural ventilation and therefore freshness. Use only a damp cloth to give it a clean to avoid any wood warping.
Metal Bread Bins
Tend to be extremely durable and do an excellent job at keeping bread fresh.
Unless you find a matte finish the shinyness does tend to show up fingerprint marks.
If you have a modern style kitchen metal options can go particularly well.
Many of the steel designs are also available in a selection of bright colours.
What Is The Best Way To Store Fresh Homemade Bread At Home Revealed
You've slaved away in the kitchen preparing a delicious home made loaf.
Now you want to make sure it stays fresh and tasting good for as long as possible.
Unlike store bought bread, homemade bread does not contain the extra preservatives that many supermarket loaves do.
The number one method is to store the bread in a cotton bag. Second is to use a plastic bag and thirdly in a bread bin.
Although you are looking for a degree of ventilation the lack of preservatives will mean the bread will lose its freshness quicker.
Our recommendation is to place bread ideally in a cotton bag or plastic bag and within a bread bin.
Today's Top Deals & Bestsellers
I hope this list of the best bread bins was helpful.
If you think I left any out that should be included or have a suggestion for a future article, let me know in the comments below.
Dominic
Kitchen Essentials Buying Guide