For this post, I have put together a collection of the best kids' baking sets currently available. I've also included 12 essentials for budding cooks and bakers.
Our Top Pick
My top pick for an introductory all round baking kit is the well reviewed one from Baking Wizard. It has 20 utensils and is suited for both role play and real cooking. It's STEM approved, suitable for ages 3-10 and 75% of parents give this 5 stars.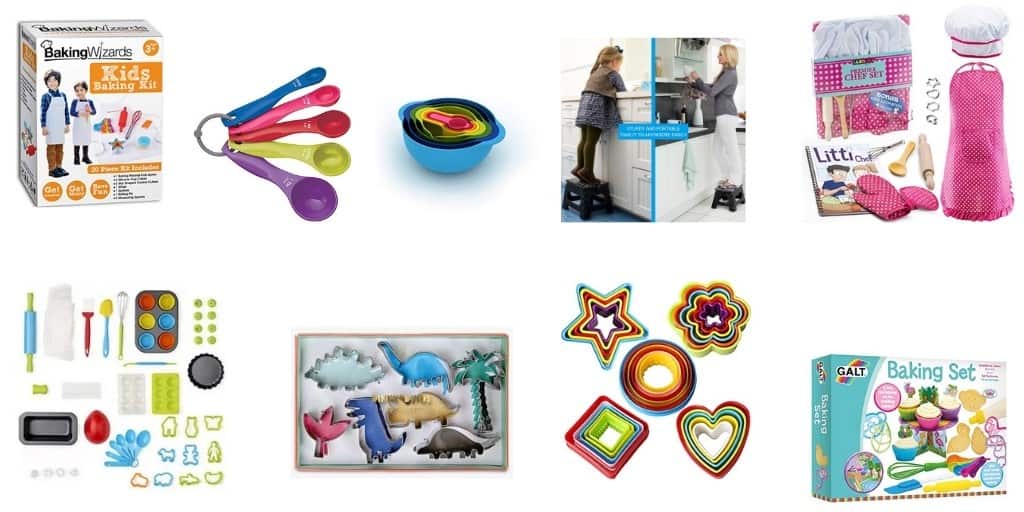 So here is my list of the the best baking sets for kids.
Baking Wizard Deluxe Kids Baking & Cooking Set
Well reviewed kit to introduce children to the art of baking.
Small size utensils for little ones.
Can be used for role play as well as real cooking.
Suitable for children from ages 3 up to 10 years old.
Includes a easy-to-make recipe spell book,
STEM.org authenticated product.
Very well reviewed. 75% of buyer give this 5 stars.
From 360 ratings this scores 4.6 out of 5.
Parents in particular love the kit quality, apron, the star cutters.
They will learn to measure (5 spoons), mix (spatula), whisk (whisk), roll (kid sized rolling pin), fill (6 cupcake cases) and stamp (5 star shaped cookie cutters).
Jaxojoy Premier Chef Set
11 Piece Set With Chef Dress Up Clothes & Utensils
Good for role play and real baking for ages 2 and up.
Includes apron, chef hat, oven mitt, glove, whisk, wooden spoon, rolling pin & 4 cookie cutters.
Pretty pink apron with white polka dots.
Chef's hat is white with pink trim.
Excellent reviews from parents. 81% give this 5 stars.
The same set is available in blue.
Lakeland Kids' Real Bakeware Set
48pc starter kit for young bakers aged 3 and above.
Real utensils and bakeware, only smaller.
Make cake pops, cookies and lots more.
Really good reviews. 75% of buyers give this 5 stats.
From 79 ratings this scores 4.6 out of 5.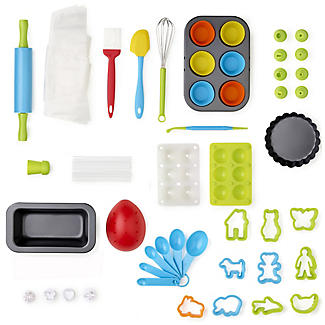 Galt Toys Real Baking Set For Children
Well priced bright set that is for both play and real baking.
Bright, colourful utensils with a jungle theme.
Suitable for children aged 5 and up.
Bake cupcakes and cookies.
Decorate them using the icing set and cake stand.
4 simple recipe cards included for vanilla and chocolate cupcakes, shortbread biscuits and vanilla frosting.
Exceptional reviews. 79% of parents give this set 5 stars.
From 25 ratings it scores 4.8 out of 5.
Highwood Kids Baking Set
Quality 26 piece Children's Baking Set recommended for ages 3 up to 7 years old.
Recipe e-book included.
Utensils are sized to be used by children and adults.
Very well reviewed baking set. 80% of buyers give it 5 stars.
From 53 ratings parents give this 4.6 out of 5.
Kids' Baking Set Essentials
If you'd prefer to do it the DIY way I've put together our top picks of child-friendly tools.
KitchenCraft Colourworks 5 Piece Measuring Spoon Set
5 brightly lit coloured plastic measuring spoons.
Easy to read markings, with millilitre (ml) equivalents.
Includes quarter tsp, half a tsp, one tsp, half a tbsp and one tbsp.
Excellent reviews. 82% of buyers give these 5 stars.
Lakeland Children's Baking Gift Set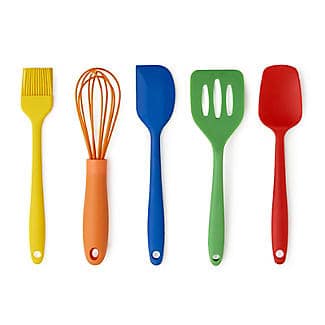 Bright silicone set designed for small hands.
Includes Whisk, turner, spatula, 'spoonula' and basting brush.
Heat-resistant to 220°C, dishwasher safe, BPA Free.
Suitable for ages 3 and up.
Very good reviews. Bright, sturdy and perfect for little hands.
Tala Beechwood Kids Baking Set
MOACC Silicone Spoon Set
Not designed for children but robust enough to be used by toddlers and they will like the bright design.
Available in three different sizes.
Amazing reviews! 81% give these 5 stars.
From 751 purchases these score an average of 4.7 out of 5.
Joyoldelf 40 Pcs Cookie Cutter Kids Set
Reusable, safe and made of stainless steel.
Includes 14 different animals.
4 Christmas shapes including tree, snowflake, Santa Claus and snowman.
Lots of other shapes including star, heart, flower, house, car, train and aircraft.
Brilliant reviews from parents! 74% of parents gave these 5 stars.
Nuosen 30 Pc Cookie Cutter Set
5 shapes in 6 different sizes.
Excellent value for money.
Shapes are round, heart, flower, pentagonal and square.
Lots of ways to use including baking cookie cutters, Biscuit Cutters, Sandwich Cutters, Fruit Cutters, Vegetable Cutters, Cake Cutters.
Brilliant reviews from parents with 72% giving these 5 stars.
Meri Meri Dinky Dinosaur Cookie Cutters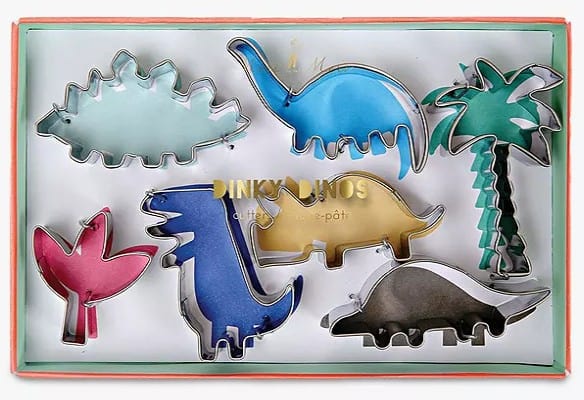 Super cute stainless steel set.
Includes two prehistoric plants and five little dinosaurs.
Joseph Joseph Nest 8 Piece Food Preparation Set
Super colourful space-saving set that stack together.
Set includes: 4.5L mixing bowl, 3L colander, 1.65L mixing bowl, 0.5L mixing bowl, 4 x measuring cup.
Measuring cups: ¼ cup (60 ml), 1/2 cup (85 ml), ½ cup (125 ml), 1 cup (250 ml).
Not especially designed for kids but they are robust enough for heavy toddler use and they will love the bright colours.
Outstanding reviews. 82% of buyers give these 5 stars.
From 180 purchases these score 4.7 out of 5.
OXO Good Grips Angled Measuring Jug – 500 ml
The angled surface lets you read the measurements from above, handy for children.
Markings for millilitres and fluid ounces.
Dishwasher safe and BPA free.
Very good reviews. 77% of buyers give this 5 stars.
From 2,882 purchases this scores an average of 4.6 out of 5.
Ateco 1385 Offset Spatula
These small offset spatulas are simpler for children to use for icing.
This one has an easy to use wooden handle.
It's available in loads of sizes but this 4.5″ is a good choice.
Super reviews! 87% of buyers give this 5 stas.
From 1,726 ratings this scores an average of 4.8 out of 5.
Dexam Non-stick 12 cup Mince pie/Tart pan
The size of the holes on this mince pie tin are ideally suited for children making jam tarts and little cakes.
Makes for an easy-to-clean alternative to your paper cups on baking trays.
These are excellent quality and receive outstanding reviews.
86% of buyers give these 5 stars and from 213 purchases they score an average of 4.8 out of 5.
Folding Step Stool
Today's Top Deals & Bestsellers
I hope this list of the best baking sets for kids was helpful.
If you think I left any out that should be included or have a suggestion for a future article, let me know in the comments below.
Nicola
Kitchen Essentials Buying Guide