How do you prefer a Gin served? In a classic highball, Martini glass, tumbler or balloon glass? There are a few ways to serve a Gin, depending on how you like it. See our top picks for kitchen items or the best gin accessories.
Our Top Picks
Show Today's Top Deals
These are today's top deals and bestsellers for Gin glasses.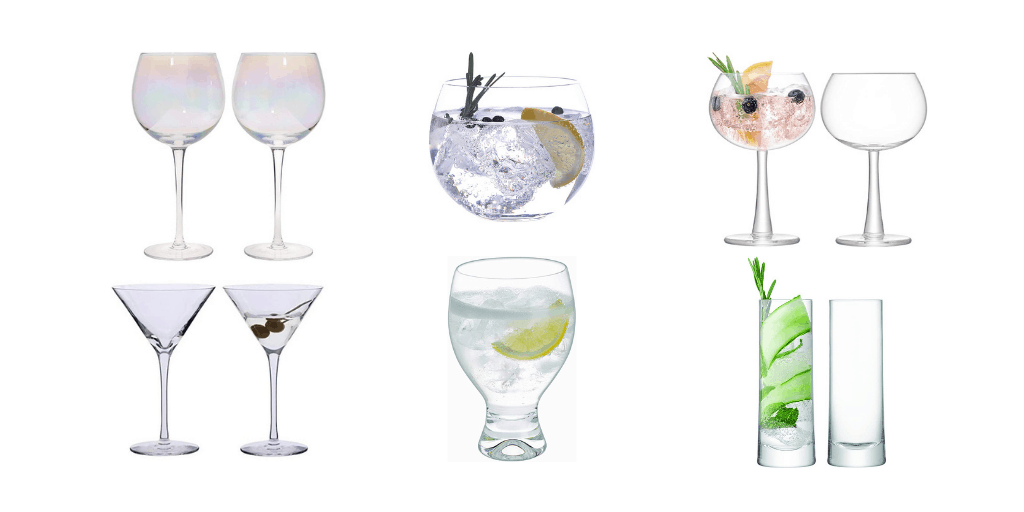 Here are our picks of the best 12 Gin glasses to enjoy the perfect G&T or Gin cocktail in. Also check out the latest gin deals.
Let's get started!
LSA International Gin Balloon Glasses
Discount - Save £10.83
A pair of handblown mouthblown balloon glasses with conical stems.
These are high quality glasses which come well packaged and look great.
Geo Glass Tumblers, Double by Root7
These unique tumblers take inspiration from modern terrariums with an angular shape and are emphasised by beautiful metallic styled edges.
The hand-blown glass makes them sturdy and their quirky design would make them a great gift.
Dartington Crystal Bar Excellence Martini Glasses
Simple, elegant, classic martini glasses.
They look extremely stylish.
Each glass has been carefully crafted by hand using the finest lead crystal.
Durobor's Alternato Gin Glasses
These Alternato glasses have a shorter, stouter stem than a usual balloon glass, so it provides a comfortable in-hand hold.
Perfect for garden parties or social occasions where table space is hard to come by.
Dartington Crystal Home Bar Gin Goblet
Discount - Save £5.85
This modern twist on a gin goblet has a 'one piece' Construction with a solid base which is flared in shape for stability.
These glasses not only look great but they are easy to hold.
Stemless Gin Glasses by Lunar Oceans
These beautiful stemless glasses are made with a unique but classical fishbowl balloon shape.
Handmade from crystalline glass, they are stylish and ideal for serving a gin cocktail in.
Maison & White Gin Glass Gift Set
This is a gift set which would be ideal for a gin-loving friend or family member.
It includes 2 large 700ml glasses, blown in a traditional 'Copa de Balon' style, silver mixing cocktail spoon and a double-sided shot jigger.
Rainbow-Pearl Iridescent BarCraft Balloon Gin Glasses
Discount - Save £4.04
These pretty glasses are finished with a lustrous iridescent sheen which shimmers in a rainbow of colours as it catches the light.
They come gift boxed so would make a lovely gift.
Silent Pool Gin Tumbler Glass Set in Matt Finish (6 Pack)
Discount - Save £3.74
These beautiful glasses come in a 6 pack and are enhanced with the Silent Pool signature botanical design in a matte finish.
Ideal for those who prefer to drink their cocktails from a long glass.
LSA International GN02 Gin Highball
Discount - Save £10.89
This pair of mouthblown highballs have a substantial weighty base and slightly tapered shape for that premium finish.
The modern highball is designed to enhance the aromatic botanicals of gin.
Personalised Engraved Large Gin Balloon Glass
This good quality balloon glass comes well packaged and can be personalised with message, name and occasion.
Ideal as a special gift.
drinkstuff Plastic Balloon Gin Glass
Discount - Save £5.00
If you are looking for an unbreakable glass but want good quality too, these Balloon Gin Glasses are perfect for any event, and the best bit is, they're made from plastic.
Where To Buy Online (Best Retailers)
In our product reviews above I've recommended Amazon as they tend to have the best price and stock levels. I do recommend checking other retailers such as the following.
eBay
Asda
John Lewis
Tescos
Debenhams
Next
Gin Glasses Deals & Today's Bestsellers
Different Types Of Gin Glasses
Balloon glass (Also know as Copa de balon)
Popular glass bowl with stem. This glass provides lots of space for mixed drinks which can be served with ice and embellished with additional ingredients.
The size allows for a large amount of drink, which is ideal if you are after a refreshing alcoholic drink in the summer.
Best For: Classic G&T, Flavoured Gin
Martini glass
Iconic shaped glass with open brim and stem. Ideal for allowing the aroma from the drink to hit the nose as you drink it.
The stem allows the drinker to hold it without warming up the drink with their hand as they hold it.
Best For: Straight-up or short cocktails served without ice, such as the classic Martini.
Hi-ball glass
A traditional way to serve G&T.
The hi-ball glass is great for Gin that is served with mixers like tonic or lemonade and as there is space for both the ice and the high volume of liquid.
Best For: Classic G&T, Gin cocktails with lots of non-alcoholic mixer, drinks with crushed ice.
Tumbler (Also known as a rock glass or lowball)
These shorter glasses still have a good width to them and are perfect for serving drinks neat or 'on the rocks'.
Best For: Strong, short mixed drinks which don't need shaking.
Gin Accessories Buying Guides
Kitchen Essentials Buying Guide