For this page, I have put together a collection of the best cake storage tins currently available. See my top picks for all types of kitchen utensils.
Our Top Picks
Show Today's Top Deals
These are today's top deals and bestsellers for cake storage tins.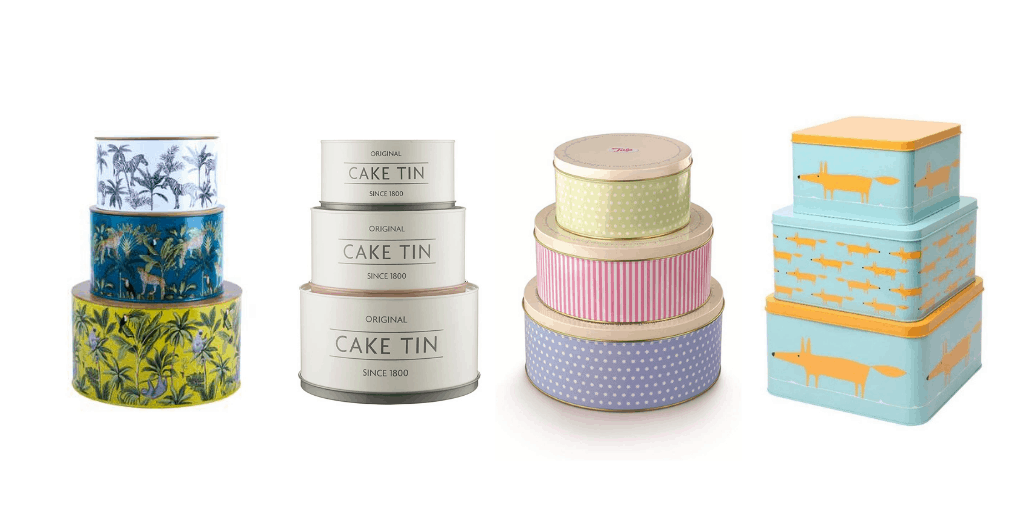 Related: See my guide to the best cake tins. If you're looking to keep your bread fresh check my top picks for bread bins.
If you want to keep those home-baked cakes nice and fresh a great solution is a cake storage tin.
Cake storage tins come in all shapes, sizes and styles from classic to Christmas tins or square to tiered tins.
We've picked the best storage tins or tin sets, which will look fab in any kitchen and keep those cakes staying fresher for longer.
Get our review of the best cake tins to bake your next cake in.
Let's get started!
Whitefurze Square Cake Box
Discount - Save £1.97
Highly rated budget option.
Square, plastic design with locking clips.
Holds cakes up to 30 cm in diameter.
Excellent reviews. From 1,081 ratings, 77% gave this 5 stars.
Lock & Lock Square Cake Box
Discount - Save £20.00
Excellent all rounder – good size, strong, secure and deeper than most.
Four-lock system offers an airtight seal that's ideal for keeping sponges soft and fillings fresh.
Amazing reviews! 88% of 1,351 buyers gave this 5 stars.
This is the one I have used consistently over the last 5 years.
It's also freezer-, microwave- and dishwasher-safe.
KitchenCraft Lovello Textured Cake Storage Tin
Discount - Save £17.00
Textured cake tin with embossed hexagonal motifs for a statement-making storage solution.
Finished with a sleek chrome base, and raised 'Cake' lettering.
This cake tin makes an excellent centre piece for a modern kitchen.
Wrendale Designs Country Set Cake Tins
Beautifully designed set of three cake tins with artwork by award-winning artist Hannah Dale who seeks inspiration from the characters found in the British countryside.
Large cake tin measurements: height 15.5cm x diameter 25cm,
Medium cake tin measurements: height 12cm x diameter 22.5cm,
Small tin measurements: height 9cm x diameter 20cm.
Tala Retro Design Round Cake Tins
Discount - Save £7.55
Tala Cake storage tins are ideal for transporting anything from biscuits to cakes in a safe and dry environment.
They come in a variety of sizes to accommodate all needs and purposes.
When not in use can snuggly be nested inside each other for ease of storage.
These tins have a retro inspired design.
Garden Trading 1-Piece Round Cake Tin
Discount - Save £2.10
Crafted in sturdy powder coated steel with a stylish brushed nickel handle.
This cake tin is designed to be durable and attractive.
Alice Scott HAPPINESS TEA & CAKE Large Square Tin
A large square cake tin with a lighthearted slogan on the lid.
Perfect for transporting cakes or biscuits.
Scion Mr Fox Set of 3 Square Cake Tins
This set of 3 cake tins feature an orange Mr Fox on a light blue background.
The tins are designed to stack and fit neatly inside each other for space saving storage.
The 3 tins are made from tinplate with a bold and bright design.
KitchenCraft Sweetly Does It Cake Storage Tin, Extra Large, Vintage Style Design, Pink, 28.5 cm
A vintage style tin great for storing all types of cakes.
Featuring a slightly raised lid for storing slightly deeper than usual cakes and with a sturdy riveted handle.
Decorated with a front facing "Cake" label.
Measures 28.5cm diameter by 18cm depth.
If you're looking for a larger cake tin this is a good option.
Mason Cash Innovative Kitchen Coated Steel Upside Down Stackable / Nesting Cake Tins
Discount - Save £2.53
Innovative set of 3 cake tins, which are a twist on the traditional as the lids are on the base.
You can store your cakes hassle free and serve straight from the base.
Recessed lids stack securely when in use and the tins nest together for space-saving storage.
Day at The Slopes Round Christmas Cake Tin (Argos)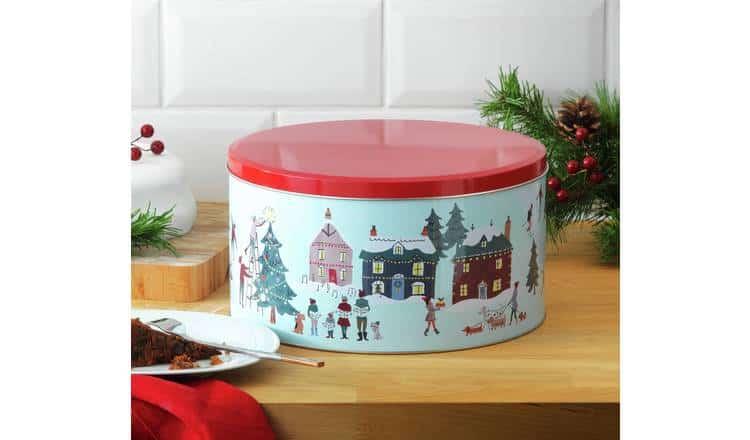 A bright and jolly cake tin which makes the ideal storage solution for all your festive bakes.
Fill it with your homemade Christmas cakes or mince pies.
Great as a gift.
Madagascar 3 Piece Cake Tin Set (Wayfair)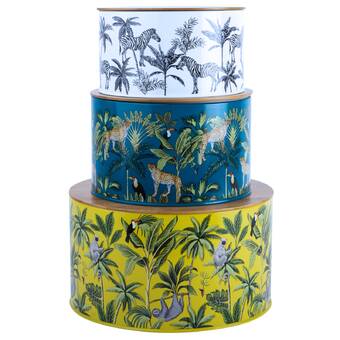 This cake storage tin set is tropically inspired and features bold animal print designs.
They would make a lovely gift and are also ideal for storing a 3-tiered cake.
Where To Buy Online (Best Retailers)
In our product reviews above I've mainly linked to Amazon because they tend to have good stock levels at competitive process. I do strongly checking these recommended retailers below.
Today's Top Deals & Bestsellers
I hope this list of the best cake storage tins was helpful.
If you think I left any out that should be included or have a suggestion for a future article, let me know in the comments below.
Nicola
Kitchen Essentials Buying Guide