For this post, I have put together a collection of the best oven gloves currently available.
There are plenty of different styles and types of oven gloves on the market from silicone to cotton and stylish to novelty.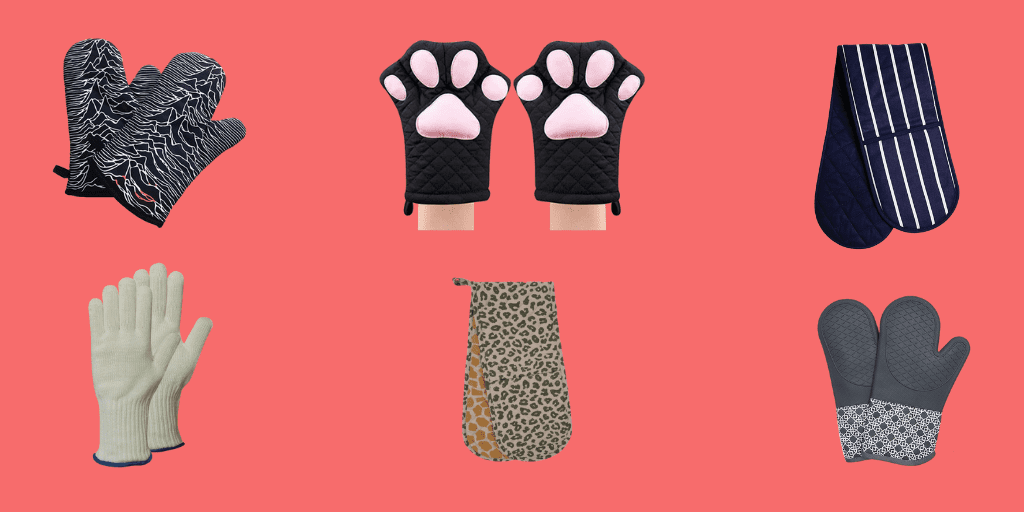 With so much choice it can be hard to pick which ones to go for, so we've done our research to bring you our top 11.
Check out our top picks of oven gloves here! Let's get going!
Non Slip Silicone Kitchen Mitts
Heat resistant oven gloves made of premium quality silicone which can tolerate high temperatures.
They are double layered for extra protection oven with inner lining of breathable cotton material for comfort.
Silicone provides a good grip for holding heavy trays, pots and utensils.
They are made to cover hands and wrists, so there is less risk of painful oven burns.
Made to fit hands of both men and women.
Amazon customers especially like the non-slip silicone grips.
Excellent 4.6/5 star rating based on 700 customer reviews.
MasterClass Double Oven Gloves
Discount - Save £6.00
Oven gloves made of heavy duty cotton.
The multi layered quilted design adds extra protection and the beige towelled interior is ideal for wiping hands dry.
The oven mitts will fit even large hands.
They are covered by a 5 year guarantee.
Excellent 4.4/5 star rating based on 1,608 customer reviews.
Abbey Professional Double-Sided Oven Gloves
Discount - Save £4.50
Double thick padded oven gloves.
Heavy duty cotton.
Customers rate their great value for money.
Neutral colour.
Excellent 4.7/5 star rating based on 2,569 customer reviews.
Enjoy Kitchen Silicone Oven Gloves
Silicone Oven Gloves with comfortable quilted inner liner.
Offering excellent heat and cold protection.
With diamond textured pattern for a non-slip grip.
Eco-friendly and high quality silicone.
Excellent 4.7/6 star rating based on 1,161 customer reviews.
Premier Housewares 100% Cotton Oven Gloves
No products found.
100% cotton oven gloves in a smart navy and white striped print.
Double insulated for extra protection.
Machine washable.
Amazon customers rate their quality.
Excellent 4.5/5 star rating based on 1,246 customer reviews.
Joy Division Oven Gloves
Inspired by the Half Man, Half Biscuit song and the Unknown Pleasures album of Joy Division.
Made from 100% cotton.
The design is also printed on both sides.
Striking print. Would look nice in a stylish kitchen.
Excellent 4.5/5 star rating based on 1,209 customer reviews.
GEEKHOM Silicone Oven Gloves
Discount - Save £10.02
Oven gloves made of high quality silicone.
Waterproof and moisture wicking.
Heat-resistant with dual layer protection.
With inner cotton layer, which can prevent burns caused by hot water, steam and the oven.
Non-slip texture to aide picking up kitchen utensils and pans.
Easy to wash in water or wipe over with a damp cloth.
12-month warranty.
Excellent 4.6/5 star rating based on 3,428 customer reviews.
Funny Cat Heat Resistant Cooking Gloves
Novelty cat paw oven gloves.
Oven mitts with special cotton lining which protect hands and forearms from hot dishes.
100% cotton.
Each oven mitt has a hanging loop which allows for easy storage.
Excellent 4.2/5 star rating based on 194 customer reviews.
Wallace Cotton Urban Jungle Double Oven Glove
Timeless Zebra, Cheetah & Giraffe prints in black, moss and gold.
Durable printed cotton/linen blend.
Stylish oven gloves which would look great in a modern kitchen.
My personal favourites are the Wallace Cotton Urban Jungle Double Oven Gloves because I love the classic and stylish animal print design at an affordable price.
Coolskin® 375 GTX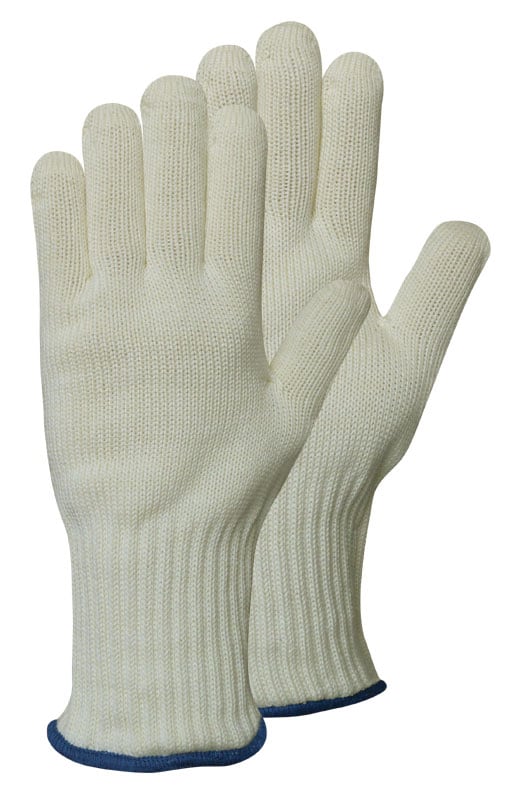 These soft oven gloves have high level of heat and flame resistance, yet have similar wear behaviour to normal gloves.
With the addition of a high quality cotton lining, the gloves are both comfortable and flexible.
Exceptional durability.
Unique oven gloves which work well.
Grill Power Double Oven Glove (Red Candy)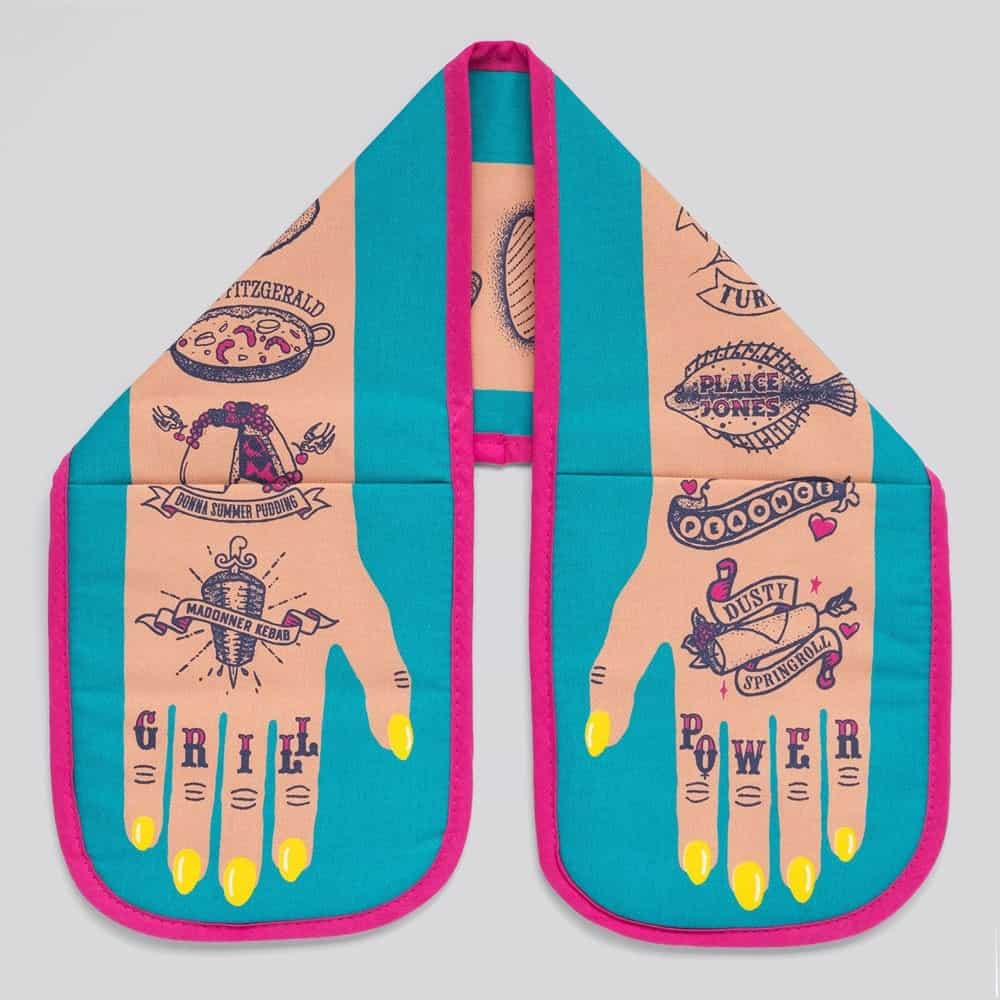 Included these oven gloves for their bright, fun and quirky design.
Girl arms with tattoos design. Also available in man arms and other designs.
Lightweight gloves with good heat protection.
Machine washable.
I hope this list of the best oven gloves was helpful.
If you think I left out any that are important or have a suggestion for a future article, let me know in the comments below.
Nicola
Kitchen Essentials Buying Guide