For this post, I have put together a collection of the best kitchen trolleys currently available. For all my recommended accessories see my list of kitchen utensils.
No matter the size of your kitchen you could always do with extra storage space! A great solution for this is to use a kitchen trolley. Not only can you fill it with all those kitchen essentials, but it can also double up as extra surface space when cooking or hosting (depending on the style of trolley you opt for).
Show Today's Top Deals
These are today's top deals and bestsellers for kitchen trolleys.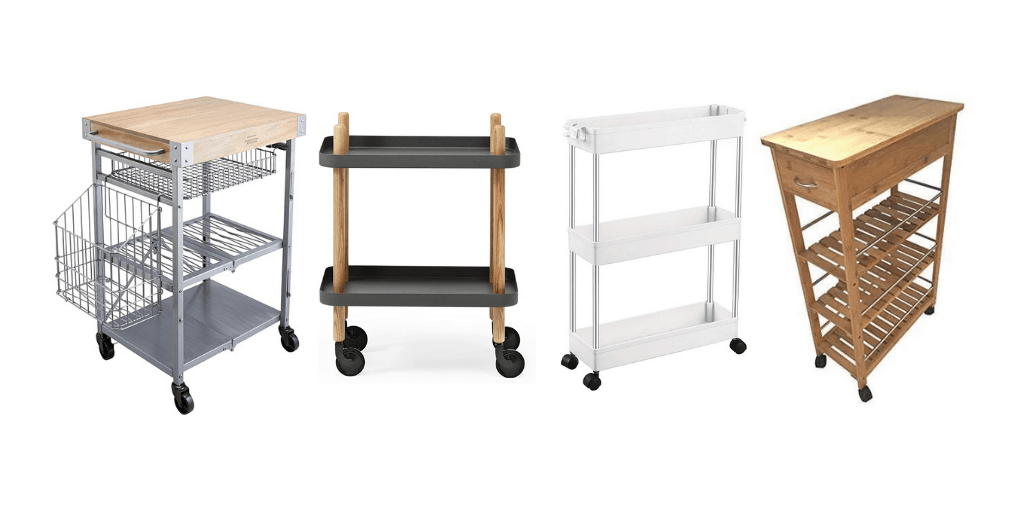 Kitchen trolleys usually come on wheels, so they can be easily moved to where you need them. Some are purely for storage and some are even built with cabinet doors or wine racks.
We've selected our top picks, which will make your kitchen life all the more organised.
Let's get started!
Normann Copenhagen Block
Stylish, lightweight and portable small kitchen trolley which is ideal for storing fruit and veg, serving breakfast in bed or even drinks.
Best for style!
4 Tier Bamboo Kitchen Storage Trolley
Luxurious kitchen trolley for the kitchen or dining room.
The fully stainless steel and bamboo wood looks modern and stylish.
There is room for basket and wine storage.
On four wheels which can be locked into place for a static trolley
Flieks 3 Tiers Kitchen Serving Trolley
This kitchen trolley is perfect for entertaining.
It's ideal for holding food or wine and transporting items from room to room.
The rustic cabinet will match with different furniture styles.
The top shelf is removable to be used as a food tray.
It is set on 4 swivel casters for easy movement.
Best for serving food and drink!
Amazon Basics 3-Shelf Shelving Unit on Wheels
Placed in the kitchen, this shelving unit holds anything from canned goods and bulk items to pots and pans, stand mixers, dishes, and bowls.
It could also be used in any room in the house.
A versatile kitchen trolley at an affordable price.
Best for value!
Homfa Bamboo Kitchen Serving Trolley
No products found.
If you are looking for a serving cart as well as a kitchen storage solution this could be the answer.
Not only does it look great, it has handles so you can push it along from room to room.
Made of natural bamboo it has 4 drawers with silver handle for easy opening and convenient storing.
2 removable trays which can be used to serve food and beverages.
2 shelves and 6 bottles rack which create extra storage space for you.
SPACEKEEPER Kitchen Storage Trolley
This slimline spacekeeper is ideal for small spaces.
It is an extension of cupboard space and you can fill it with cans, fruit and veg or condiments.
JOLLY Vintage Wooden Kitchen Trolley
An industrial style kitchen trolley, with 3 shelves and handrail to make it easy to move around.
On quiet swivel easy rolling casters.
High quality pine wood and iron art make this a durable piece which will last a long time.
AmazonBasics Wooden Kitchen Trolley
This convenient cart can be used to place items such as utensils, dry goods, cookware, grilling or bar supplies in.
Whether you need extra counter space or are looking for a mobile surface for outdoor entertaining, this rolling cart provides functionality and an attractive, modern look.
Rolling Stackable Basket Trolley
No products found.
This moveable rolling stackable basket trolley is constructed of heavy-duty metal with an attractive rust-resistant powder coating.
A perfect solution for organising a multitude of household items.
Set on 4 casters wheels.
KitchenCraft Kitchen Storage Trolley
This butchers trolley has a stylish vintage character and it folds down to a third of its original width.
With a strong mango wood butcher's block, which is ideal for chopping food on.
It will create instant storage space for fruit, veg and pantry items.
alvorog 3-Tier Kitchen Storage Trolley
This storage trolley is simplistic but stylish in design
Sturdy and has a large storage capacity.
Easy to set up and convenient to move around.
COSTWAY Kitchen Island Trolley
This large kitchen cart doubles up as a kitchen island.
Ideal for those who would like a kitchen island but don't have one.
With 2 drawers and 3 cabinets which will provide ample storage space for your kitchen and dining essentials.
Additionally, there's a towel rack and a knife block.
Each cabinet is equipped with an adjustable shelf which can be moved up and down.
Best for use as a kitchen island!
Today's Top Deals & Bestsellers
Kitchen Essentials Buying Guide