Whether you're after a weekend break or a late holiday deal, a holiday park is an affordable, flexible and – most-of-all – FUN holiday choice for families.
With accommodation ranging from static caravans and pre-pitched tents to lodges, apartments, wigwams and bungalows, there's lots on offer. We've rounded up the best websites and expert tips so you can choose the best deal for YOUR family.
WHEN TO GO, WHY GO AND WHERE TO GO
The best time of year for a holiday park break
Because they're easy to get to and offer both indoor AND outdoor activities or entertainment for the whole family, UK holiday parks are popular all year round.
While prices are obviously still affected by the school holidays – with busy half-term, Easter and Summer breaks seeing average prices rise 20-60% – the overall financial 'damage' is rarely as much as you'd suffer on a package holiday abroad during the school breaks.
What's more, you can often find a bargain whether it's term time or not. All the top parks we feature in this guide offer year-round deals for the key holiday periods. And if you're up for a last-minute getaway, you could find a real bargain.
Which type of holiday park is right for you?
There are hundreds of holiday parks to choose from and, on the face of it, they all have a similar range of facilities. But the truth is their 'brands' are all quite different.
From cheap and cheerful to chic and pricey, from the loud and brash to the simple and serene, you need to check out what you're in for and make sure it suits you.
And when you DO find the type of holiday park you like, you'll probably fall in love.
When you're looking at holiday parks, read the reviews. What did people like? What didn't they appreciate? See if you can work out the common reasons people like a holiday park and whether they are also things you look for. TripAdvisor is great for this. You can filter results to just see those from families or couples or business people – there may be great differences between them. And you can click on users' profiles and see what other places they like and dislike to see if this person shares your priorities;
Look at the entertainment on offer – it's usually a good giveaway as to the kind of park you can expect. Big name parks like Butlins and Pontins go for TV talent acts. Expect big crowds and a big atmosphere. Center Parcs plays down it's evening entertainment in favour of the adventure activities it offers during the day: climbing, fencing, craft-making and kayaking – expect a quieter crowd. Smaller caravan parks promote their signature characters that kids love, such as Sammy the Seahorse or Freddy Fox. These places are more intimate and less hectic than their bigger rivals;
Check the types of accommodation. The more variety there is, the more mixed the range of visitors. Some parks offer only caravans divided into bronze, silver and gold categories (or similar). The differences between their features is often minimal. Other holiday parks have caravans, lodges, tent pitches, apartments, yurts, wigwams and bungalows;
Where is the holiday park located? Is it a sunny seaside resort that attracts families looking for a bucket-and-spade holiday? Is it an urban park in a European city that attracts those looking for some local culture? Or is it a woodland park where the emphasis is on nature and adrenaline-fuelled activities?
Great reasons to choose a cheap holiday park break
There are some powerful reasons to pick a holiday park getaway. Here are a few:
Things to do whatever the weather

Kids make new friends

Free activities

Staff on hand to help you

Safe environments

Your own 'home' and garden to hang out in

Take bikes, footballs, tennis racquets etc

No expensive air fares

Often late availability

Can be less hassle – UK trips means no passports, currencies, car hire

Half the cost of a package holiday abroad

You can often take the dog

Low booking deposits offered by many parks

Cook for yourself or use the restaurants

Entertainment for all ages

Close to tourist attractions
The top holiday park websites
The choice of holiday park accommodation is huge. From the popular static caravan to the unusual treehouse, with lodges, chalets, tents, apartments and bungalows in between. Below we've listed the big holiday parks, the smaller outfits, European holiday parks and alternative options like campsites with static tents.

UK holiday park owners – the big five
Stacey from Yorkshire says:
For Haven, buy the activity pass instead of paying for activities as you go as an activity pass saves money especially if you have a few children. Also if you buy the pass online whilst booking you get it even cheaper. Have food shopping delivered to eat in at times as eating on site can work out dear
UK and Europe holiday park owners – others
Broker sites – UK and Europe
Camping and glamping in Europe – pre-pitched tents with beds
Countryside, forest and eco holiday parks
---
SPECIAL OFFERS: WHERE TO FIND THEM
Almost all of the top holiday park websites we've included above have a special offers page. Here are some other places you will find holiday park deals for the UK and Europe.
Check the flash deal websites
Flash deal sites like Wowcher and Groupon usually have holiday park offers. Keep a close eye on them because new deals come in every day.
Wowcher
Click on 'Travel Deals' on Wowcher, and then choose 'families', and you should see some holiday park deals pop up. Wowcher deals are time limited and change daily. Make sure you read the fine print to see the conditions – dates are often restricted.
Groupon
Choose 'Getaways' and then select 'Families' and you're likely to finding some holiday park deals. Glamping is a very popular choice right now, with offers on wooden teepees, wigwams and cabins across the UK. We found this 1 or 2 nights glamping for two with breakfast- Go to Groupon deal.
Late getaway websites
Travel sites specialising in late holidays include Teletext, which has a whole section on UK breaks. See its worldwide late deals.
lastminute.com mostly finds flights and hotels but there is the occassional UK holiday park break. Deals are promoted on their homepage.
News-worthy? The truth about tabloid voucher deals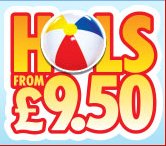 Many of the cheap holiday parks have got involved with eye-catching newspaper deals in recent years.
You've seen them on the front pages of newspapers like The Sun and the Daily Mail: collect a set of vouchers from the papers over a few weeks and qualify for a £9.50 holiday at dozens of different parks.
Are they too good to be true? Yes and no. Yes because it's impossible to book any kind of break with them for a total basket price of £9.50. No because you can still get a heavily-discounted holiday bargain.
The Sun
The Sun periodically runs a holiday park voucher promotion. Typically you have to collect around seven tokens printed in the paper over a few weeks. The promotions usually run during the Autumn/Winter. You have to be quick once the final voucher is printed as these holidays fill up fast. Be aware that the price celebrated is per-person and you usually have to book at least four people to qualify – so a £9.50 holiday is actually £38. Be aware too that you'll also face a 'service charge' levied by the holiday park of between £10-50 and there are booking fees with some cards. And when you get to the park there may be a host of extra charges for entertainment, linen etc. The bottom line is: work out all the extra costs and make sure the deal is worth the hassle.
The Daily Mail
The Mail's promotion with Breakfree Holidays usually runs in the summer and offers £15 holidays. Again, that's £15 per-person and the cost goes up depending what time of year you want to travel. There's a 'service charge' from the holiday park and a number of extra costs you could face. Importantly, these newspaper deals are very rigid with no flexibility for cancellations and changes. So read the terms before you start collecting.
The first place you are likely to find out about new holiday park deals is through the park owner's newsletter. If you want to be first to a good offer, sign up for all those you are interested in. You should find links on all the websites we've included above.
Also make sure you're signed up for FamilyBreakFinders's own newsletter. We are constantly watching the market and send new deals out every week as we find them.
---
GETTING THERE
Remember to factor in the cost of getting to your destination. Journey Price has a great calculator for working out petrol costs. But think too about the experience of driving which, for some, can be stressful and tiring. There are alternatives.
Let the train take the strain
Many people drive to their holiday parks – even those abroad are often reachable within a few hours. But if you want to save some money and enjoy a stress-free journey, it's worth checking out the train deals.
The key to finding cheap train tickets is looking early. Ideally start looking AT LEAST 12 weeks before you travel.
We've got a huge guide to buying train tickets with over 30 expert tips, but if you want to get an idea a good place to start is Virgin Trains who sell tickets for all UK destinations. They don't charge a booking fee and their site is easy to use.
Consider taking the coach
If you get travel sick or hate longer journeys then the coach may not be an appealing alternative – but if you love saving money then it's worth a look.
National Express makes an effort these days to be family friendly, with booster seats for kids, power sockets for tablets, air con and wifi on many coaches.
Coach travel generally takes longer than rail, but if you've left it late to buy tickets then it can be a very economical option.
We compared train versus coach for a journey from Manchester to London, travelling at 9.30 am on a Friday in a fortnight's time (with no family discount cards).
On the National Express a family of two adults and two children would pay £37.30. The journey time is 4 hr 50 m. The Megabus is even cheaper at £29.60 for the whole family and a journey time of 5 hr 50.
Meanwhile the equivalent journey with Virgin Trains would cost £265 (Off Peak Single) and take 2h 08 m.
Do you need to hire a car?
If you don't have a car or you don't trust it to make the journey, you may be thinking about car hire.
While our guide to cheap car hire is largely written for holidaymakers going abroad, you can still use it to find some national car deals and avoid expensive insurance.
A quick check with Skyscanner for instance shows that three days car hire in Manchester could cost as little as £32 with Green Motion. Fuel for the single journey would cost around £36 according to Journey Price.
If you're looking at holiday parks in southern Europe, check out our guide to cheap flights. A good starting point to get an idea of costs is Skyscanner.
---
OTHER MONEY-SAVING TIPS
We're big fans of the global accommodation finder Booking.com. As well its honest customer reviews and 10% member discount, it often finds the cheapest prices.
So once you know the holiday park you're interested in, it's worth typing its name into Booking.com. If yours isn't listed they will show you others in the same area (choose ' holiday parks' from the filters).

Beware the food at some sites + other tips from our members
Your holiday park might be isolated and you may be some way from big supermarkets, which means you could be reliant on on-site shops and restaurants. Three FamilyBreakFinder members share their wisdom. Not all parks are the same.
Lynsey from Powys says:
Take loads more money because apart from swimming if you're lucky enough to have a pool, everything else costs a small fortune. Food on site is very much of the expensive fast food variety and you'll return home craving food with colour, fruit and vegetables.
Hannah from Norfolk says:
Haven entertainment starts early – bingo starts at something like 5:30! So it may be better having big lunches and a quick tea. Always ask for your preferred area when booking as we were a 20 minutes walk away from the centre and it was horrendous trekking the kids back and forth. On site food is very expensive
Kirsty from London says:
Haven in Perran Sands is fantastic. Request a premier chalet and go out of school holidays. Book a year in advance and pay monthly and it works out really inexpensive. Bring the essentials like tea bags and cereal as the shop on-site is expensive.
Take a few days out of term-time – if the school won't fine
The situation with unapproved school absences in the UK is messy.
Some schools are inflexible on ANY absence (one Kent schoolchild was recently refused authorised leave to go to her grandfather's funeral). Others are more relaxed, particularly primary schools.
They are all choosing their own interpretations of guidance laid down by county councils.
You can save money on your holiday if you do travel during term time. You may feel that a few days out of school is worth it given the other benefits your child will experience. If so, speak to your school well ahead of your holiday and ask their position.
If your holiday is not authorised you'll face a fine of £60 per child, per parent, for each week. But it may be that the school won't report a few days tagged on to half term – especially if the trip offers some educational benefit.
Go in a group – split the costs
Holiday parks often have big chalets and caravans that cater for up to 12 people. Since you usually only pay for the accommodation and not the number of people, you can save money by splitting costs if you go as a group.
Note that many holiday parks prevent bookings of more than one unit of accommodation online. To maintain the family environment of the parks they restrict groups of young adults and single sex parties.
So if you are a few families going on holiday together but looking to book separate caravans, you may need to call.

---
TOP RESOURCES YOU'LL NEED
UK holiday parks: Park Holidays | Pontins | Haven | Butlins | John Fowler | Hoburne | Parkdean
UK camping and glamping: Center Parcs | Pure Leisure | Bluestone
European holiday parks: Hoseasons | Sunparks | Al Fresco | Breakfree Holidays
European camping and glamping: Eurocamp | Canvas Holidays
Daily deals and last minute breaks: Wowcher | Groupon | Teletext | lastminute.com
Reviews: TripAdvisor
Getting there: Flights | Travel Insurance | Car Hire