We scoured the web for these super adorable costumes for your little ones. Check them out!
1. Baby Shark
via buzzfeed
Sharks may be the scariest fish in the ocean, but put a shark costume on your little one, and a shark now represents ultimate cuteness!
2. Buster the Ice Cream Man/Toddler
via Buzzfeed
Who said ice cream?
3. Baby Edward Scissor Hands
via Buzzfeed
Cuter than Johnny Depp? Yes.
4. Viking Baby
via Spirit Halloween
Known for being ruthless warriors. Your baby=ruthless adorableness!
5. Superman Baby
via tumblr
Too cute for words!
6. Little Candy Corn
via tumblr
For the tiniest sweetie out there, this costume is simple and comfy!
7. Super Mario Brother/Sister
via wtf costumes
These costumes will be a sure hit!
8. Biker Boy
via party city
Tattoos and leather, your baby was born to be wild!
9. Bjork Mini-Swan Dress
via costume works
A faux pas in 2001, but its back in time for Halloween 2013! The infamous Bjork swan dress, miniature edition.
10. Crazy Cat Lady
via costume works
Brilliant. We'd add a few more cats, for good measure!
11. Little Cherry Pie
via party city
Dressing her up as an actual pie could be a bit uncomfortable, but this adorable costume is a sure way to cutie pie!
12. Mouse Trapped

via tumblr
Portable mouse trap on wheels!
13. Count Cuteness
via costume works
Heartthrob.
14. Star Wars
via tumblr
Princess Leia just got cuter! Although we're not so sure about those hair buns…
15. Raggedy Ann
via costume works
For your little doll.
16. Up Inspired
Inspired by Up, this costume is simple and adorable.
17. Knight in Shining Armour
He'll be your little knight in shining armour! Cute!
18. Tiny Octopus
via amazon
Tiny Tentacles Octopus, utterly irresistible!
19. Umpa Lumpa
"Oompa Loompa, do-ba-dee-doo,
I've got a perfect puzzle for you."
20. Play Pen Inmate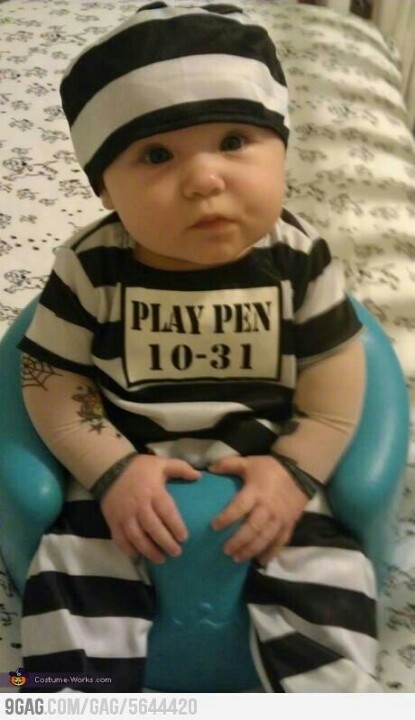 Play pen inmate, how clever!
21. Wizard of Oz Tin Man
via costume works
Precious costume from a classic Wizard of Oz.
22. Baby Minion
"It's so FLUFFY!" In this case, CUTE!
23. Pizza Slice
via amazon
It's a fresh slice of baby pizza. *shivers*
24. Cotton Candy
via costume works
To get candy, one must think and be a candy!
25. Stay Puft Marshmallow Man
via costume works
Ghostbusters fans rejoice, miniature Stay Puft Marshmallow Man is here!
26. Thing 1 & Thing 2

Little Thing 1 and Thing 2, to cause a little mischief!
27. Humpty Dumpty

He sat on the wall, but his parents would never let him fall!
28. Frida Kahlo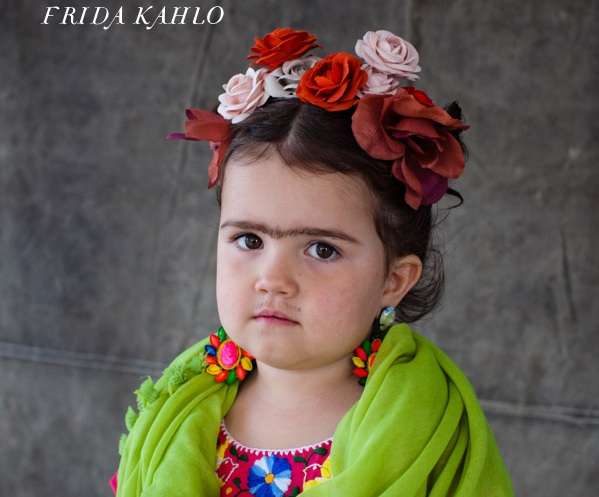 For the artistic ones.
29. Pumpkin Cutie

Simply Adorable!
30. Fire Breathing Baby Dragon

Attaching the flames to the pacifier really makes this costume a winner!
31. Garden Gnome
At first we actually thought this was an impressive gnome, his parents did a great job!
32. Breakfast at Tiffany's
For the little diva.
33. Spaghetti & Meatballs
Why not dress up your tot in your favourite meal?
34. Spring Chicken
Simple, effective, and comfy! It's all a baby needs!
35. The White Rabbit

It's never too late to dress up like the rabbit from Alice in Wonderland!
36. Cheshire Baby
… or The Cheshire Cat.
37. Sad Baby Lion
The expression of the little one is priceless, maybe he wanted to go as someone else. We think its perfect!
38. Owl

Curious pink owl. What a great DIY costume!
39. Toy Story Inspired

Classic!
40. Stinky

Warning: may actually be stinky!
41. Royalty
via Martha Stewart
Little Royals!
42. Scuba Diver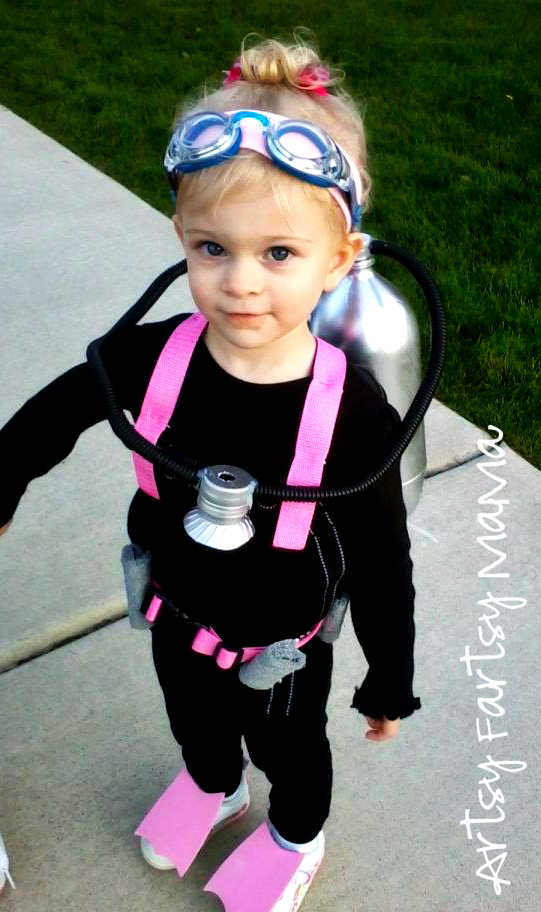 For the lovers of the ocean, it's a great DIY for the girls and boys!
43. The Original Bee Hive
Fantastic Hive and bumble bees!
44. Tornado

This costume is fully equipped with cows, fences and trees!
45. Chinese Take Out

Chinese Food…. Mmm!
46. Goldfish

One little goldfish.
47. Knight and Dragon

Very cute!
48. Starbucks Drink

Your very own Starbucks Frappuccino.
49. Chanel Purse

For the fashion lovers. One day she'll wonder why you dressed her up as your favourite fashion accessory.
50. Monsters Inc.

Raaawwr!
51. Subway Baby
52. Octobaby
53. Grinch
54. Baby Grandma
Phew…there we go, we made it, hope you did too. The finest, most adorable homemade halloween costume ideas for kids and babies. Now you know what is possible, or otherwise!
We hope you enjoyed these. What was your favourite? Stay tuned for more in the series, we have some interesting pet costumes and costumes for the whole family!