Here are 15 ghoulish treats and meals that actually look quite tasty! Mmmm shrunken cider head….Bon appetite!
Tombstone Taco Dip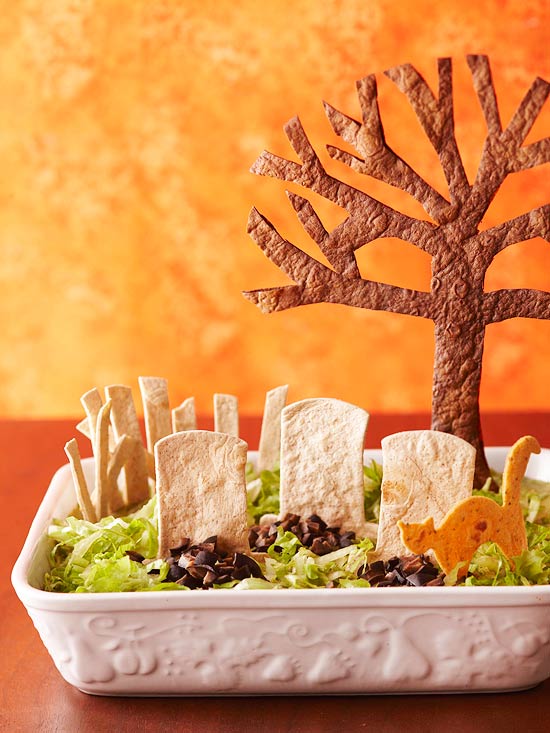 Recipe HERE.
With layers of refried beans and other flavourful ingredients, this party dip will be a hit!
Pretzel Fingers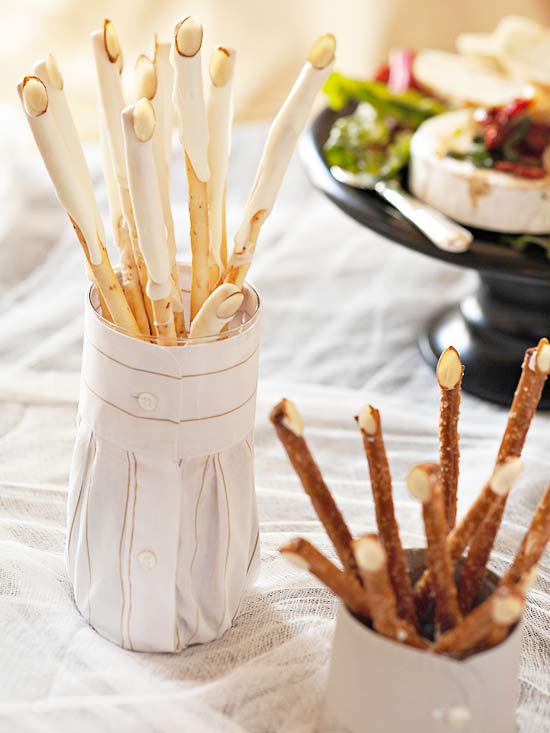 Recipe HERE.
This is a quick, and super easy way to create a fun themed snack. You can also add some green food dye to the white chocolate, to create green fingers or use various sizes of pretzels!
Brownie Coffins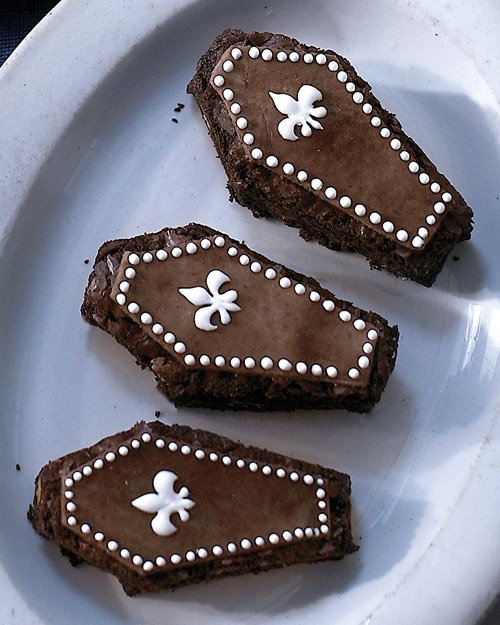 Recipe HERE.
If you've made brownies before, this is a great way to give your recipe a festive twist.
Poisoned Apples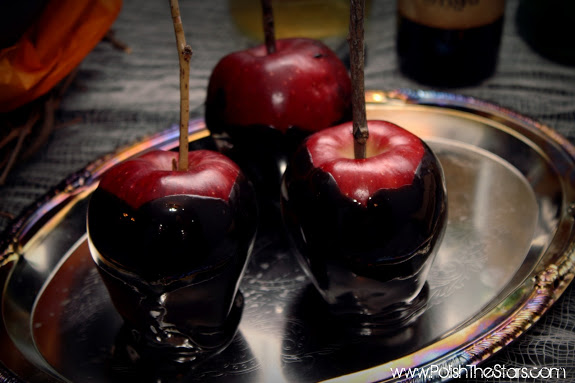 Recipe HERE.
Adding the black food colouring is really what makes this recipe so cool! It's a fast and easy treat, that can be wrapped and given away at a children's Halloween party!
Gingerbread Skeletons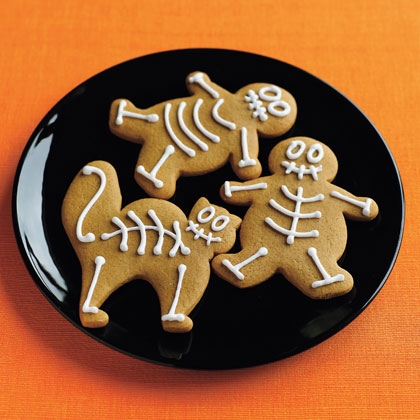 Recipe HERE.
Using your cookie molds and some white icing, the gingerbread cookies are now spooky skeleton treats!
Dracula's Dentures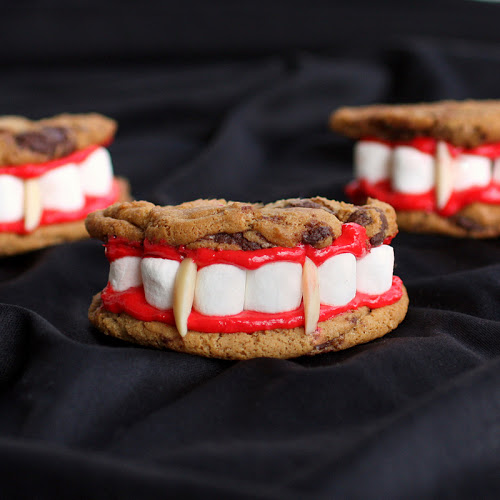 Recipe HERE.
Dracula would be so proud of these! Another simple and quick recipe that people will be asking you about!
Strawberry Ghosts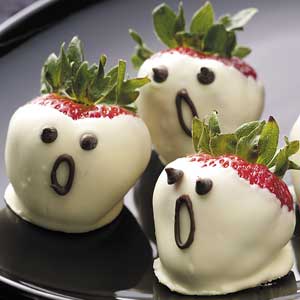 Recipe HERE.
A fun twist to chocolate dipped strawberries, just add a frightened face, and voila, you've got creepy ghosts!
Deviled Eggs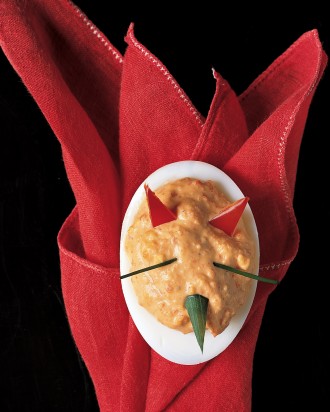 Recipe HERE.
They're called deviled eggs, so why not dress up this appetiser with a little sinister pointed features from the one they get their name from?
Peanut Butter Spider Cookies
Recipe HERE.
Just make sure you know ahead of time if anyone has a peanut allergy!
Jack O Lantern Dip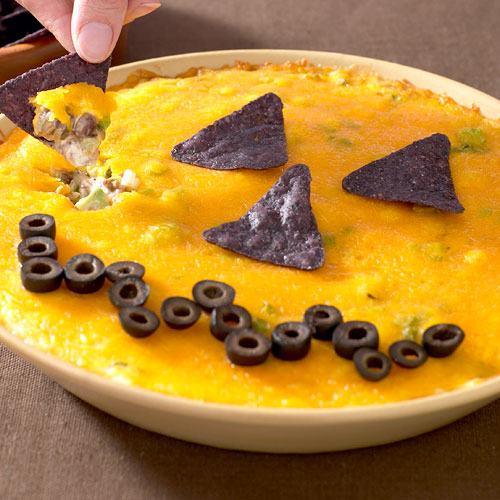 Recipe HERE.
Yellow cheddar cheese is the perfect pumpkin orange! With a little help from tortilla chips and olives, you will have a delicious dip!
Edible Eyeballs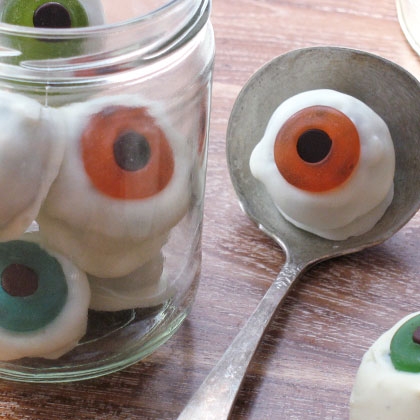 Recipe HERE.
Inspired by Pirates of the Caribbean, this fun desert recipe is spooky fun! Just place them in a jar to freak everyone out!
Pizza Mummies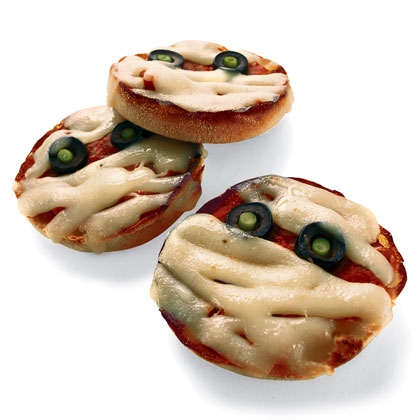 Recipe HERE.
Creating this fun snack is a breeze, using a crumpet, layer on some pizza sauce, cheese, and a few eye details, you have a mummy!
Bloody Finger Hot Dogs
You only need about 20 minutes and a few ingredients to make these Hot Dogs including hot dogs, hot dog buns, ketchup, and water.
Cauldron of Green Curry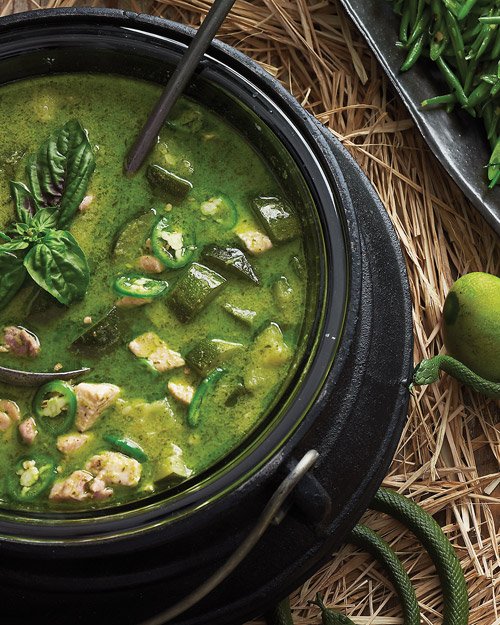 Recipe HERE.
The green colour of this dish really does look like something a witch would brew in her cauldron! Now to find an actual cauldron to serve this in…
Hot Dog Mummies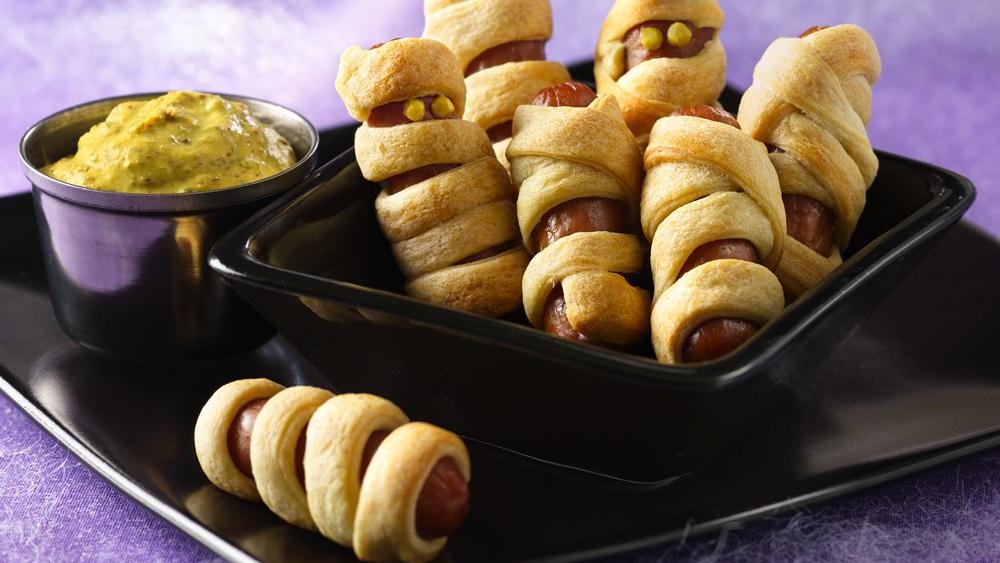 Recipe HERE.
These look delish! Any ready dough will do, all you need to do is cut it in to strips and wrap around the hot dog. The dips can be others, just according to preference. Quick and great to serve to kids!
Shrunken Heads in Cider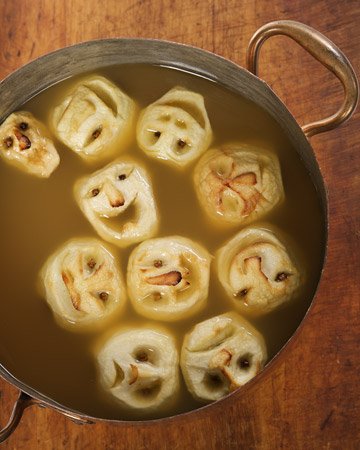 Recipe HERE.
This is one spooky looking bowl of cider! You can either scare the children with this one, or add rum for the adult version of the drink.
Spiderweb Eggs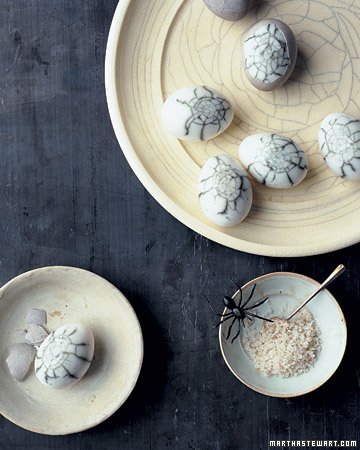 Recipe HERE.
This recipe asks for blueberries, but black or dark blue food dye can also be used.
There you have it – hope these Halloween recipes come out looking half as good as these and you're onto a winner!