For this post, I have put together a collection of the best 8ft trampolines currently available. If your looking for something extra take a look at our kids trampoline buyer's guide covering best buys, sizes, covers and safety advice.
Our Top Picks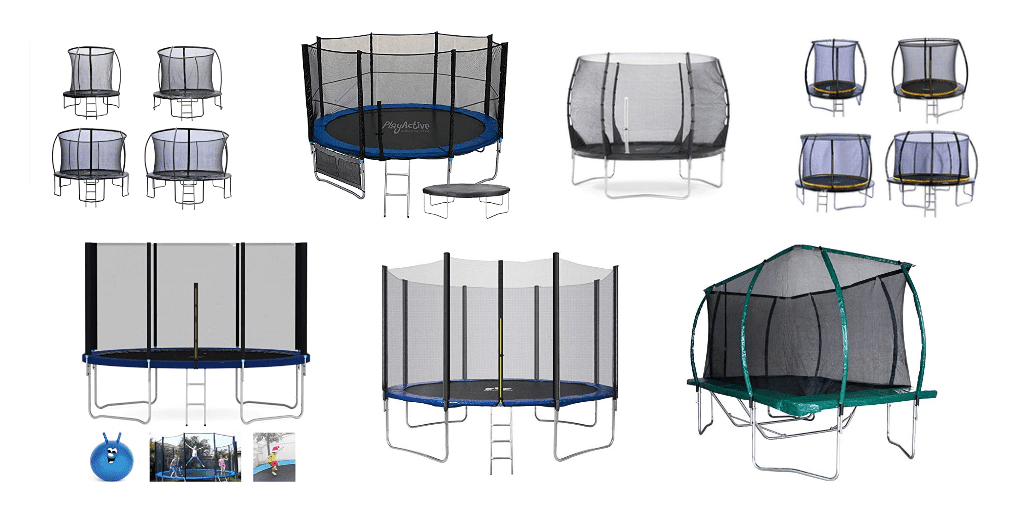 ---
Do you look out at your garden and see the kids letting of some steam? What better way to do this than with an 8ft trampoline to keep them entertained.
Not only are trampolines fun for all ages, but they are a great way to get some exercise in too! Trampolines can increase fitness levels and muscle strength making them a highly beneficial addition to your garden as long as the safety rules are adhered too.
To learn more about Trampoline Safety I highly recommend checking out this page on ROSPA (Royal Society for the Prevention of Accidents).
Not sure on the size you're looking for? See my picks for the best 10ft trampolines and 12ft trampolines.
How We Selected
I have carefully made my selection by scouring the web for reviews on 8ft trampolines to find you the best ones available.
My aim in this review is to look at those that only get the best feedback. I have researched the ones with the best design features, weight capacity or that have added accessories included, as well as offering a various selection on prices, for families on a budget to the more premium options.
I have also based my research on family and friends testing and my own personal experience of having two lively boys who love to jump around!
So here is my list of the best 8ft trampolines.
ZERO GRAVITY Ultima Trampoline with Safety Enclosure
Frame- Alloy steel
Features a strong safety net enclosure.
A high quality and high performance trampoline.
PVC safety padding with 20mm thick foam.
Max weight capacity : 150kg
Safety: EN71 certification
Pros: An affordable price, Strong support poles and easy 2 person assembly.
Cons: If you are looking for 'assembly included' it can be quite pricey.
Consumer Score: Families love this trampoline. Outstanding reviews From 5 ratings 100% gave this 5 stars out of 5.
---
PlayActive 8ft Trampoline
Frame: Galvanised Steel with thick weather-resistant foam for safety cushioning on the frame.
Features a safety net enclosure
A spring cover.
Comes with a ladder attachment, a weatherproof cover, and a shoe bag.
Max Weight Capacity: 150kg
Safety: TUV, GS, EN-71, CE Approved
Pros: Plenty of accessories included in the price to get you started, easy 2 person assembly.
Cons: The layout of assembly instructions could be better.
Consumer Score: A highly rated trampoline. Superb reviews From 111 ratings 75% gave this 5 stars out of 5.
---
Plum 8ft Magnitude With 3G Enclosure
Frame: Galvanised steel for rust free protection.
Features a curved design enclosure to protect the jumper from springs, whilst maximising jumping space.
Zinc coated springs and durable jumping mat provide the ultimate bouncing experience.
Max Weight Capacity: 100kg
Safety: EN-71 certificate
Pros: Very sturdy, quicker assembly time than other 8ft trampolines. 1-2 person assembly.
Cons: The zip is of low quality and not as durable as others. No ladder included. Higher price tag as it's a premium brand.
Consumer Score: Super reviews. Brilliant reviews From 113 ratings 65% gave this 5 stars out of 5.
---
KANGA Premium Trampoline with Safety Enclosure, Net, Ladder and Anchor Kit
UK's best selling 8ft trampoline
Features a safety net enclosure, ladder and anchor kit.
YouTube assembly video + user manual.
Available in different sizes.
Max Weight Capacity: 100kg
Safety: EN71 certification
Pros: Sturdy construction, ample bouncing room, quick delivery.
Cons: The paper assembly instructions could be clearer.
Consumer Score: A superb addition to your garden. Amazing reviews From 906 ratings 74% gave this 5 stars out of 5.
---
MCC Direct Heavy Duty Trampoline with Enclosure Net
Discount - Save £10.00
Frame: Heavy duty galvanised steel
Wear-resistant and anti-UV jumping mat which stands up to high pressure.
Features a 15mm thick foam inside.
A wide spring cover pad with quality elastic straps to fully cover the frame.
Max Weight Capacity: 150kg
Safety: Not Specified
Pros: Comes with a ladder, net and a free Space hopper. Great value for money.
Cons: Some reviews state it's tricky to assemble.
Consumer Score: A good value for money trampoline Very good reviews From 67 ratings 76% gave this 5 stars out of 5.
---
Rocket Bunny trampoline
Frame: Rust resistant galvanized steel.
Spacious UV Protected bounce Mat.
Premium steel rust-resistant net support pole.
All accessories Included.
Max Weight Capacity: 75kg
Safety: Not Specified
Pros: User friendly assembly with no drilling required. Free delivery.
Cons: No anchor pegs included. Delivery seems to come in multiple packages.
Consumer Score: A nice sturdy trampoline with accessories Superb reviews From 90 ratings 68% gave this 5 stars out of 5.
---
Skyhigh Rectangular Trampoline
Fully galvanised steel frame for added strength and a longer life.
The surround pads are 20mm thick for great protection.
Enclosure poles are padded and covered with green PVC.
UV treatment ensures the components will survive all seasons.
8ft x 14ft rectangular shaped trampoline.
The shade of green will blend beautifully into your garden.
10 years manufacturer's warranty on the frame with a year on other components
Max Weight Capacity: 150kg
Safety: Meets with GS/TUV standards
Pros: Being rectangular this trampoline offers a responsive bounce which doesn't pull the user into the centre of the mat as round trampolines are prone to doing. Comes with 70 springs. The PVC covering on this trampoline ensures it will stay looking great and prevent contact with the metal enclosure pole.
Cons: A larger garden space is required due to the rectangular size and 14ft length. Assembly can be tricky.
Consumer Score: An aesthetically pleasing trampoline Superb reviews From 28 ratings 73% gave this 5 stars out of 5.
---
8ft trampoline Sale & Today's Bestsellers
The Most Important Features To Consider
The 8ft size is the most popular size of trampoline purchased in the UK. They are child friendly, they don't cost the earth and suit the majority of small families.
When doing your search you should consider some important factors.
Size
When considering buying an 8ft trampoline, it is important to think about the garden size. This size trampoline would be suitable for small to medium gardens however, would still suit a nice quiet corner of a larger garden.
It is vital that you first measure the space you intend the trampoline to go in to ensure you have enough space for it including the frame, but also you have enough 'build' space to assemble it.
Safety
The standard safety certification for outdoor or garden trampolines in the UK must meet certain criteria. This criteria is measured in a certification called the EN-71. The EN-71 part 14 relates to the sale of trampolines within the European Union.
To receive this certification, they must be tested and meet certain specifications set out in the EN-71.
Don't purchase a trampoline that does not have an enclosure or safety net included with it. Trampolines sold without the safety net included are now illegal (except if buying second-hand)
Assembly
Have a think about how long it may take to assemble the trampoline, and how many people are required . The majority of 8ft trampoline usually require 2 people.
Recommended Age
Most manufacturers list an 8ft trampoline being suitable for the ages of 3+ years. However a child may not experience much of a bounce due to their weight at that age.
Also be aware of the height from the ground, some trampolines come with a ladder, but not all. Consider how your child will get up an down from the trampoline if no ladder is included.
Weight Limit
For an 8ft trampoline the maximum weight limit capacity is usually between 75KG's to 150kg.
While an 8ft trampoline can often hold 100KG or more it won't provide a decent bounce if loaded at that weight,
8ft Trampoline FAQs
Is an 8ft trampoline big enough?
An 8ft trampoline, including the enclosure is approximately 243 cm, 2.43 m or 8ft in diameter.
An 8ft Trampoline is ideally suited to children 4 years old to 12 years old.
What is the maximum number of people allowed on an 8ft trampoline?
Trampoline safety rules recommend only 1 child or person should use the trampoline at any one time. This is to lower the risk of collisions occurring and accidents happening.

One of the most common sources of injury is when multiple users are bouncing on the trampoline at one time and are being thrown in an unexpected direction.
What is the maximum weight an 8ft trampoline can hold?
Depending on the retailer and brand of the trampoline, most 8ft trampolines can hold between 50kg to 100kg.

There are a few that will state up to 150kg as a total maximum. Always check with the manufacturer for a recommended weight capacity.
Do I need a big garden for an 8ft trampoline?
The answer is not really! For an 8ft trampoline which is usually around 240 cm a small to a medium garden is perfect.

You need to ensure that there are no hazards around the trampoline that may cause injury such as trees or buildings. They need to be on level ground -preferably grass.

Remember to measure! Check the trampoline specifications and dimensions from the retailer.

Do you think 8ft is too big? See my collection of the best 6ft trampolines.
If you think I left anything out that should be included or have a suggestion for a future article, let me know in the comments below.
Buyer's Guides & Best Buys