For this post, I have put together a collection of the best toddler trampolines currently available. For more ideas on garden fun for the kids, check out our outdoor toys buyer's guides.
Our Top Picks
Show Today's Top Deals
These are today's top deals and bestsellers for toddler trampolines.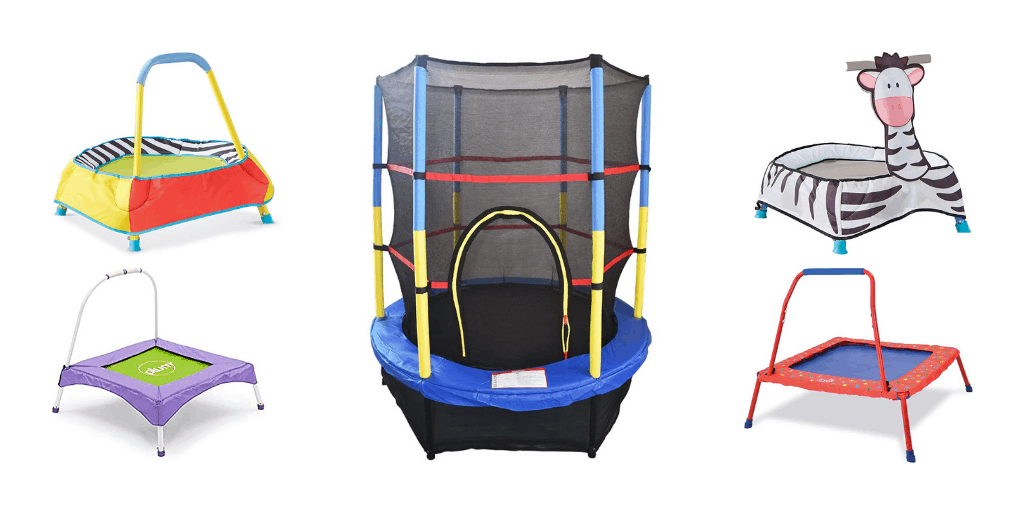 ---
As a mum, I know how much little ones love spending time bouncing around on a trampoline.
If you're looking for a fun and active way to keep your toddler happy and entertained indoors or outdoors, then a trampoline could be just what you are looking for.
There are so many trampolines on the market but we've selected the best and safest ones for toddlers.
All of our recommendations have 4-5 star ratings and excellent customer reviews.
Looking for more garden entertainment for your kids? See our buyer's guides on the best kids slides and best sand pits.
So here is my list of the the best toddler trampolines.
Best Toddler Trampoline With Bar
Galt Toys Folding Trampoline
Junior trampoline with a handy foldable design so it an be stored away when not in use.
Multicoloured with padded cover around the mat which provides extra safety and prevents kids stepping on bungee cord.
Suitable for both indoor and outdoor use with tough weatherproof mat.
Maximum weight 25kg.
Size: 82cm from floor to handle; 86 x 86cm frame.
Suitable from 3 years.
Excellent reviews. From 772 ratings 73% of buyers gave this 5/5 stars.
---
Plum Unisex-Youth Junior Bouncer Children's Trampoline
Discount - Save £25.00
Brightly coloured junior trampoline.
The edges of the trampoline have padded edges for safety and are also stitched in.
A new soft-grip handle to aid stability.
With a spring-free construction using woven elastic cords instead.
Can be used inside and outdoors.
Recommended for children from 3 years.
Maximum weight 25kg.
Size: H85 x W81 x D81cm.
Great reviews. From 150 ratings 76% of buyers gave this 5/5 stars.
---
Best Indoor Toddler Trampoline
Kid Active Toddler Indoor Trampoline
Ideal my first trampoline for toddlers.
It has a unique construction for easy assembly and safer bouncing.
Very low to the ground with a padded safety mat for added security.
Soft grip handle and non slip rubber feet.
Can be used indoors but also outside.
For ages 12 months +.
Size; 58 x 58 x 59.5 cm.
Good reviews. From 372 ratings 83% of buyers gave this 4-5 stars.
---
smarTrike Children's Trampoline (3-in-1 Activity Centre)
This 3-in-1 activity centre starts off as a ball bit for toddlers with 100 balls included.
As kids grow they can use the trampoline with handle from around 12m.
Then from 24m+ the handlebar can be removed.
Made with high-quality elastic mat and strong elastic bands.
Suitable from 10 months to 5 years and up.
Easily fold the small trampoline and ball pit for storage.
Can be used indoors but also outside.
Fab reviews. From 872 ratings 84% of buyers gave this 5/5 stars.
---
Kid Active Baby Zebra Toddler Trampoline Toy
Cute zebra design trampoline with handles for added safety.
With a soft handle that's easy to grip.
For ages 12 months +
Can be used indoors but also outside.
Very good reviews. From 123 ratings 81% of buyers gave this 4-5 stars.
---
Best Outdoor Toddler Trampoline
WestWood NEW Mini Trampoline
4.5FT outdoor trampoline with safety net. Can be used indoors.
Made with a rust-resistant, powder-coated frame, and a USA made pp jump mat.
The thick foam padding has vinyl covering to hide heavy duty bands.
Enclosure is made from UV resistant mesh fabric with elastic net straps sewn in and features an easy entry zipper.
Available in red, pink, green and blue.
Age recommendation: 3 – 6 years old.
Very good reviews. From 254 ratings 73% of buyers gave this 4-5 stars.
---
Greenbay Kids Trampoline
4.5ft trampoline which can be used both indoors and outdoors.
Safety features include thick foam padding with vinyl covering over the extra heavy-duty bands.
Good for smaller children.
Ideal for smaller gardens.
Available in blue.
Recommended for ages 3-6 years.
Maximum weight 45kg.
Excellent reviews. From 135 ratings 75% of buyers gave this 5/5 stars.
---
Today's Top Deals & Bestsellers
---
FAQ's Toddler Trampolines
Are trampolines safe for toddlers?
If your child is under the age of six, we recommend not using garden trampolines over 6ft.

Safety guidelines issued by ROSPA (Royal Society for the Prevention of Accidents) state that trampolining is unsafe for children under six as they can't control their bouncing.

However, there are trampolines on the market designed especially for toddlers which have been made with safety in mind and are suitable for younger children.
What are the best trampolines for toddlers?
Always choose a trampoline with padded safety pads that cover the elastics or springs, hooks and frames.

Only buy a trampoline which is suitable for the age range of your child.

Opt for smaller trampolines which are low to the ground and have a handle bar for extra safety.

Always refer to manufacturers safety manual.
---
I hope this list of the best toddler trampolines was helpful.
If you think I have left any out that should be included or have a suggestion for a future article, let me know in the comments below.
Nicola
Buyer's Guides & Best Buys