For this post, I have put together a collection of the best indoor trampolines currently available.
My Top Picks:
Show Today's Top Deals
These are today's top deals and bestsellers for indoor trampolines.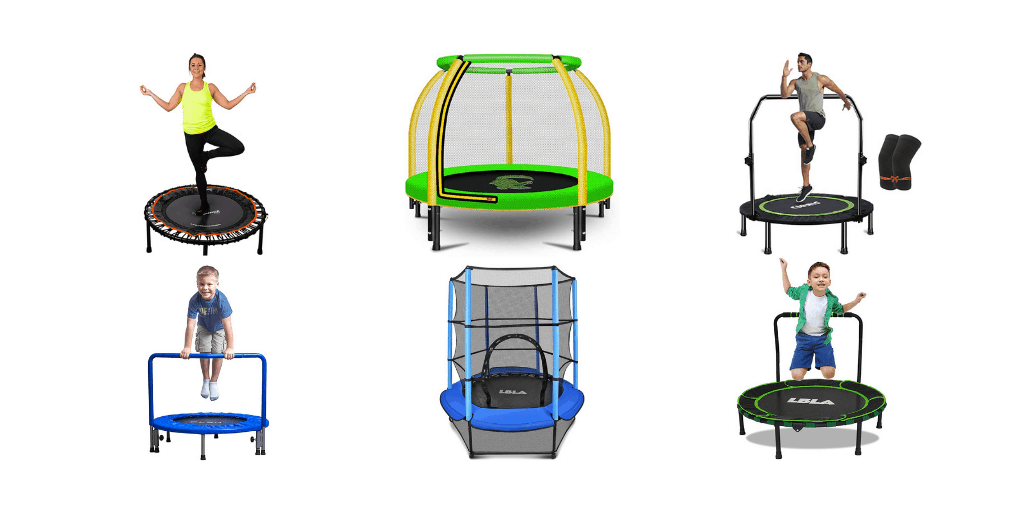 ---
If you're looking for a fun and active way to keep your kids or even yourself happy and entertained indoors, then a trampoline could be just what you are looking for.
There are so many trampolines on the market but we've selected the best and safest indoor trampolines for toddlers, kids and adults.
All of our recommendations have 4-5 star ratings and excellent customer reviews.
Looking for a toddler trampoline for the garden? See our buyer's guides on the best toddler trampolines.
For information on trampoline safety see NIDirect Government Services and ROSPA.
So here is my list of the the best indoor trampolines.
Best Indoor Trampoline For Toddlers
Chad Valley Toddler Trampoline
A really good first trampoline for toddlers over 12 months of age.
It has a soft padded mat surround to offer protection for younger users.
Great for building strength and co-ordination in toddlers.
Size H56, W56, D56cm.
Excellent reviews so far. From 26 ratings 80% of buyers gave this 4-5 stars.
---
SmarTrike Children's Trampoline (3-in-1 Activity Centre)
This 3-in-1 activity centre starts off as a ball bit for toddlers with 100 balls included.
As kids grow they can use the trampoline with handle from around 12m.
Then from 24m+ the handlebar can be removed.
Made with high-quality elastic mat and strong elastic bands.
Suitable from 10 months to 5 years and up.
Easily fold the small trampoline and ball pit for storage.
Can be used indoors but also outside.
Fab reviews. From 872 ratings 84% of buyers gave this 5/5 stars.
---
Best Indoor Trampoline For Kids
PLENY 36″ Kids Mini Trampoline with Handle
A kids trampoline with foam covered handrail for steady performance and grip.
Padded surround.
Available in pink and blue.
Recommend for kids age 3 years and up.
Good reviews. From 661 ratings 76% of buyers gave this 4-5 stars
---
LBLA 36″ Kids Trampoline
No products found.
Trampoline with padded handle for stability.
This trampoline is foldable and can be folded up and placed anywhere in the house, even under the bed for storage.
Compact and portable, the mini trampoline can be used anywhere you want.
The elastic bands on the mini trampoline are fixed with a webbing, which is safe and does not hurt the knees.
Suitable from 3 years and up.

No products found.

. From 405 ratings 75% of buyers gave this 5/5 stars.
---
LBLA 38″ Trampoline for Kids
No products found.
This trampoline has a long, adjustable handrail to suit kids of different heights.
With padding around the edges of trampoline.
The frame can be folded up for travel or quick storage.
Recommended for children age 3 to 6.

No products found.

. From 284 ratings 74% of buyers gave this 5/5 stars.
---
Best Indoor Trampoline With Safety Enclosure
JJ JUJIN 4ft Trampoline for Kids
Discount - Save £11.88
A small kids trampoline with surrounding handrail and safety enclosure.
There is a zipper to keep enclosure closed.
Ideal for that extra security. Kids can play safely.
4 FT/1.2M
92 x 38 x 19 cm.
Weight Limit: 220lbs
Excellent reviews. From 28 ratings 86% of buyers gave this 4-5 stars.
---
LBLA 55" Kids Trampoline with Safety Enclosure Net and Frame Cover
No products found.
55″ trampoline with safety net.
With entrance for children to enter and exit and zip up enclosure for safety.
Skirt of the frame cover prevents children from entering and leaving under the frame.
Available in blue and green.
Weight limit 100lb
Age recommendation: 3 – 6

No products found.

. From 310 ratings 84% of buyers gave this 4-5 stars.
---
Best Indoor Trampoline For Adults & Teenagers
Happy Jump Fitness Trampoline with Handle
Adult trampoline with bungee technology for a smooth and advanced bounce.
It has arched trampoline legs that prevent tilting, so it's more stable than conventional trampolines.
Allows larger movements.
Can be used indoors or outdoors and is resistant to weather conditions including UV light.
Available in Tiger orange and Jet black.
Height adjustable T-bar so this trampoline can be used by adults and teenagers.
Excellent reviews. From 320 ratings 71% of buyers gave this 5/5 stars.
---
Best Indoor Trampoline With Stability Bar
CLORIS 40″ Foldable Fitness Trampoline
High quality 40″ trampoline for adult exercise.
Daily 10 minutes of jumping would efficiently burn calories, strengthen blood circulation and equals 1-hour of jogging, 30 minutes cycling or 20 minutes swimming.
With 5-level heights adjustable foam handle.
Folded size is smaller than 1/4 of original.
Get a pair of knee pads free with trampoline
Available in black and green.
Excellent reviews. From 169 ratings 81% of buyers gave this 4-5 stars.
---
Best Indoor Rebounder
MXL MaXimus FIT BOUNCE PRO II Bungee Rebounder
Discount - Save £30.00
A top of the range half folding professional rebounder.
Comes ready assembled.
Made of high-grade steel, non-slip mat, spring loaded legs & has twice as many mat-to-bungee-connectors than other models.
Comes with strong canvas zip bag for easy portability.
Max user weight 150kg.
Excellent reviews. From 360 ratings 85% of buyers gave this 5/5 stars.
---
Today's Top Deals & Bestsellers
---
FAQ's Indoor Trampolines
Is an indoor trampoline good for exercise?
Trampoline provide a fun and convenient way to boost cardiovascular health, improve endurance and relieve stress. They can also help you develop better coordination, balance and motor skills.
What is the difference between a rebounder and mini trampoline?
A rebounder tends to be smaller than a trampoline. Rebounders are typically used for aerobic exercise and trampolines are used for more acrobatic exercises such as flips.
Are small indoor trampolines safe?
There is always some risk when it comes to bouncing on a trampoline. Always make sure there is a clear space surrounding the trampoline and no sharp objects nearby. Only use an age appropriate trampoline. Refer to manufacturers guidance.
FAQ's Toddler Trampolines
Are trampolines safe for toddlers?
If your child is under the age of six, we recommend not using garden trampolines over 6ft.

Safety guidelines issued by ROSPA (Royal Society for the Prevention of Accidents) state that trampolining is unsafe for children under six as they can't control their bouncing.

However, there are trampolines on the market designed especially for toddlers which have been made with safety in mind and are suitable for younger children.
What are the best trampolines for toddlers?
Always choose a trampoline with padded safety pads that cover the elastics or springs, hooks and frames.

Only buy a trampoline which is suitable for the age range of your child.

Opt for smaller trampolines which are low to the ground and have a handle bar for extra safety.

Always refer to manufacturers safety manual.
For more information on trampoline safety see NIDirect Government Services and ROSPA.
---
I hope this list of the best indoor trampolines was helpful.
If you think I have left any out that should be included or have a suggestion for a future article, let me know in the comments below.
Nicola
Buyer's Guides & Best Buys