For this post, I have put together a collection of the of the best kids walkie talkies currently available.
Our Top Picks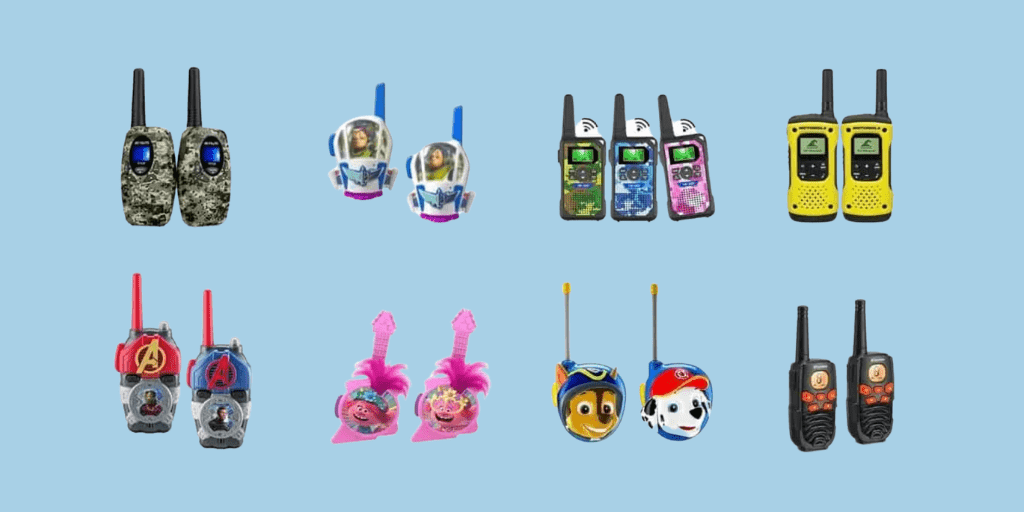 Do you want to give your child a sense of adventure and exploration?
Walkie talkies are a great way to fire their imagination.
How We Selected
In this comprehensive buyer's guide I review some of the best walkie talkies built just for kids.
From chatting with their friend across the road or keeping in touch with you from the garden, walkie talkies provide plenty of fun for kids.
With plenty of great features from built in torches to VOX function, we've searched the internet to find the best walkie talkies for kids, to save you the time.
All of our all selected products have excellent 4-5* ratings and reviews.
Also check out these kids karaoke machines, kids Fitbits and Science Kits For Kids.
So here is my list of the the best walkie talkies for kids.
EKids Avengers Walkie Talkies
Best for features and the superhero obsessed.
Excellent Avengers themed character graphics.
In-built speed and sound effects make them feel like their favourite superhero.
You can send and receive character phrases and sound defects with your voice.
They also light up during speech – light also shows how much power is left.
Easy to use and offers decent connectivity over a wide distance.
Pros: Built-in speech and sound effects, light up during speech.
Cons: Look and feel quite plastic.
Consumer Score: These walkie talkies are popular with 71% of buyers giving them 5 stars out of 5.
Disney Toy Story 4 Walkie Talkies
Fan of Buzz Lightyear? These will be a firm favourite.
As well as looking the part they offer static free conversations at up to 250 metres.
A key plus is how incredibly easy they are to use and solidly made.
Very positive reviews from buyers.
Pros: Good price, nice quality, easy to use.
Cons: Will probably only appeal to Toy Story fans.
Consumer Score: Buyers like these walkie talkies with 71% giving them 4-5 stars out of 5.
Upgrow Kids Walkie Talkies
Easy to use excellent value walkie talkies with great features.
Light and compact design makes them a doddle to use with a straight forward push-to-talk button.
Available in various bright and vibrant colours.
A built-in torch LED makes for fun hide and seek games.
Come with a handy belt clip when your little ones are exploring.
10 different call tones and VOX hands-free communication. Includes a low battery alert.
Pros: Come in a variety of colours, games and LED light, suitable for older kids.
Cons: 8 AAA Batteries required, so will need to stock up.
Consumer Score: Buyers really like these walkie talkies with 75% of buyers giving them 4-5 stars out of 5.
Trolls World Tour Walkie Talkies
Super fun and bright design that will please any Trolls fan.
They are small, light and very simple to operate with a big push to talk button.
Range of up to 500ft static free under ideal conditions.
Pros: Cheap, easy to use.
Cons: Only available in pink.
Consumer Score: These walkie talkies are popular with 83% of buyers giving them 4-5 stars out of 5.
Motorola Waterproof Walkie Talkies
Discount - Save £16.00
If you're looking for the hardiest of walkie talkies this waterproof set could be the answer.
They also have a bunch of safety features that could be useful.
Waterproof wise they will survive in 1m of water for up to 30 minutes.
Should protect them from any super wet camping trips.
And if you're out on the water kayaking or paddle boarding could be very useful for older children.
They float and includes a handy water activated torch.
The radios say they'll work from up to 10km if you should require.
Still simple enough and light for kids.
Pros: Waterproof, long distance, safety features.
Cons: Expensive.
Consumer Score: These walkie talkies are popular with 71% of buyers giving them 5 stars out of 5.
Anna and Elsa Frozen Walkie Talkies
THE option for any Frozen fans.
Decent long range at approximately 500 ft but what really appeals is the sound effects.
Your little Anna and Elsa can send and receive character speech with a simple push-t0-talk feature.
The characters on the front also light up.
A useful light-up power indicator will tell you when you're low on juice.
Pros: Light up, indicator to show when batteries need replacing.
Cons: Only appealing to Frozen fans.
Consumer Score: These walkie talkies are popular with 80% of buyers giving them 4-5 stars out of 5.
Cobra AM245 PMR 2-Way Radios
Professional looking twin walking talkies that are easy to use with big clear buttons.
Work over a range of up to 5km so are best suited for outdoor activities like camping, skiing or keeping in touch at theme parks.
Handy charging options with a micro-USB cable or rechargeable batteries.
Headset jack for keeping conversations private (and quiet!) and there is a low battery warning system.
Pros: Suitable for older kids, 5km range, headset jack.
Cons: Pricey.
Consumer Score: Buyers like these walkie talkies with 63% of buyers giving them 5 stars out of 5.
Wishouse 2-Pack Rechargeable Walkie Talkies
Discount - Save £7.00
Very popular and well reviewed set from the Wishouse brand.
Easy to use even for children as young as 3 and up.
Provide clear and crisp sound connectivity across a large distance – as much as 3km or 5km if on clear ground.
Kids love the bright colours to choose from and they come with a handy lanyard in matching tones.
Small, light and compact body that is well designed for use by the little ones.
You'll also get a built-in flashlight, VOX (voice activated) and one to many transmission.
Pros: Flashlight, VOX, good range, three colours available, rechargeable battery included.
Cons: Some buyers mention the lanyard is a bit flimsy.
Consumer Score: These walkie talkies are really popular with 73% of buyers giving them 5 stars out of 5.
Upgrow 2-Pack Walkie Talkies
Discount - Save £4.00
Great price and really excellent reviews from hundreds of happy buyers.
Feedback is fantastic sound quality across huge ranges and they are advertised to work at up to 5km.
Lots of added features that can be a bit overwhelming but if you just want straight communications, there is a simple button-to-talk function.
Durable material from ultra-strong ABS so they should stand up to plenty of hard wearing kids.
Bright flashlights make night time adventures that much more fun!
Belt clips included.
Available in a wider range of bright colours including camouflage, blue, pink, orange, red and yellow.
Pros: Good colour selection, flashlight, durable.
Cons: 8 AAA batteries required so you will need to stock up.
Consumer Score: Buyers love these walkie talkies with 84% giving them 4-5 stars out of 5.
Nestling 3-Pack Walkie Talkies
Discount - Save £1.00
Fantastic themed camouflage set that includes three walkie talkies.
Shock-resistant casing protects it if the kids drop it from up to 1.2 metres.
Child friendly design includes simple push-to-talk button, compact design and is easy to grip.
Includes a built-in flashlight and 10 call tones. Excellent value for money.
Pros: CTCSS & VOX functions, long range of up to 3 miles, camo design, three pack.
Cons: 12 batteries required for all three.
Consumer Score: These walkie talkies are popular with 72% of buyers giving them 5 stars out of 5.
HmiL-U 2-Pack Kids Walkie Talkies
Love the design and colours on this great Set from Hmil-U.
Reviewers found the quality of the sound excellent across a very large signal range.
They are small in size so they'll fit in their hands or pockets perfectly.
Features include an in-built flashlight for night time escapades.
Pros: Durable, flashlight, easy to use, long range, three pack.
Cons: 12 batteries required for all three.
Consumer Score: Buyers like these walkie talkies with 84% giving them 4-5 stars out of 5.
4 Ideas on Where and When to Use Them
Hide and Seek
This will significantly raise your hide and seek game. Use 'hot' or 'cold' to help determine the location.
You may want to look at walkie talkies that have a headphone jack so the hider can not give away their position.
Pretend
Let their imagination run wild with any number of games of Pretend. Are they a crack team of Avenger superheroes?
Are they on a space mission to Mars? Are you in the cockpit of a Formula One racing driver?
Bedtime Fun
Okay it might not be the best settling move but a little game of goodnight under the covers will bring a smile to their face.
Stakeout in nature
Scatter yourselves around the garden or a local park. Then report back David Attenborough style what animals they can see and describe.
Fun Walkie Talkie Lingo to teach the Kids
We may well be familiar to these terms but teach them the kids and they will feel super official and important. Will help fire the imagination.
"10-4" or "Copy" are used to show that you've understood what the other person has said.
"Over" is used to say that you're done saying what you needed to say and the other person can respond.
"Out" is said when you're done talking and turning off your walkie talkie. Hollywood incorrectly use "Over and out" which actually means "You can talk now if you want, but I'm not going to be listening."
How To Choose The Right Walkie Talkie (Buyer's Guide)
To help you decide I've compiled a list of the most important criteria. Have a read of this before you make a purchase decision.
How many do you need?
How many kids do you have? Will you want to be able to join in on the fun with them? Will you want one or more to use with their friends?
Or are you happy to get a set that you can add more to at a later date? This will help narrow down the type of set to get.
Weight and Size
If you've got young children then they're going to be more likely to use the walkie talkies if they are light, compact and easy to grip.
Some of the more fun ones with children's characters may not be as strong from a design perspective. You also want to balance this with a set that is durable and do not break easily.
Design and Build
If the children plan to use outside a lot then look out for a built quality that can be dropped and still work.
For younger children they may well be attracted to designs like Frozen, Avengers, Paw Patrol and many others.
Range and Sound Quality
Are you going to be using them predominantly around the house? Or do you plan to use them on camping adventures or even at places like theme parks?
This will depend largely on the age of the children but do try and get something that will be something that will still have the features as they get older. Seeing how the reviews are with increasing distance and its effect on sound quality is important buying decision.
Power
Are you looking to remortgage to keep you in fresh batteries each month? If so, perhaps it's best to invest in lithium-ion rechargeable batteries. Or would you prefer to go for ones that have AC adapters for charging?
Or a combination of both. Some you can charge via a micro USB slot. Keep an eye out for how good the battery life is with models.
Ease of Use
Some walkie talkies offer a huge array of features, and along with that, lots of buttons. These may be overcomplicate things for them and could put them off from using them.
Many do have lock feature so they can only do the talking which may help. Most of them have a simple press-to-talk large button.
Channels
Walkie Talkies work by operating on the same frequency to be able to communicate between them. Each set will come with a number of channels you can use.
Some of them let you lock the channel which could be helpful if they are on the move – this means they can't change the channel which will stop the communication.
Depending on how much you want to protect them, you can consider if you need private channels.
Display
Many of the walkie talkies coming with an LCD or LED display. This will help hugely in dark conditions. Some do also come with an inbuilt torch which can add to the fun on their evening adventures in or out of the house.
Price
As you'd expect there is a huge variation in price – from £20 to £80. You get what you pay for in terms of features, durability, signal quality and distance. You may also save money getting a set of 3 now than 2 and adding 1 later.
Additional Features
There are lots of features that aren't key to using your basic 1 to 1 chat. These can include things like how waterproof, battery charge, flashlights, lanyards, belt clips, ringtones, SOS alarms of hands free VOX functionality.
FAQ's Kids Walkie Talkies
What does PTT and VOX mean?
PTT is short for push-to-talk. VOX is a voice-activated sensor which means that instead of pushing a button to speak the user can start talking and the sensor will pick up on the sound and send message, a bit like a baby monitor.
Are batteries included with walkie talkies?
Usually batteries are sold separately, unless they have a rechargeable battery included.
Are walkie talkies safe for children?
Walkie talkies are a good way for kids to communicate with each other without having to use a mobile phone.
Can my child use headphones with walkie talkies?
Some walkie talkies include a headphone jack on them so your kids can communicate with their friends a little more quietly.
Cheap Kids Walkie Talkies & Today's Bestsellers
Final Thought
If you are looking for the best overall buy the Retevis RT628 set are excellent value for money with a feature set and design similar to more expensive adult products. I recommend these because they are small/lightweight, come in four colours, the speakers are loud/clear and the range and clarity is fantastic for the price tag.
For a super hardy pair that are waterproof I recommend this Motorola set. They are perfect for camping trips or out on the kayak/water. They float and have a water activated torch and work up to 10km. Could be a good option for older kids.
I hope this guide on kids walkie talkies was helpful.
If you think I left any out that should be included or have a suggestion for a future article, let me know in the comments below.
Nicola
Last Updated: January 2022
Added Top Picks.
Added 'How We Selected.'
Added Pros/Cons on all products.
Added Consumer scores.
Added FAQ's.
Added Alternative Retailers.
Added Final Thought.
Bobela 3-Pack Kids Walkie Talkies With Charger Battery (Currently unavailable)
No products found.
Another excellent option if you're after a set of three.
Reviewers positively comment on the clear sound clarity, long distance, battery life and short charging time.
Quite a few settings but includes a keylock function so you can let the kids focus purely on chat.
Available in lots of colours so each member of the family can choose their favourite.
Each come with a handy belt clip or lanyard. Headphone jack for private spy chat!
Paw Patrol Walkie Talkies (Currently unavailable)
Discount - Save £0.53
Paw Patrol to the rescue with these fun sculpted design so you can take Chase and Marshall wherever you go!
Not a particularly great range of 250m so be aware these will be more suited to smaller spaces indoors.
Simple to use – straightforward push-to-talk button and easy to turn on and off.
Binatone Latitude 250 Walkie Talkies (Currently unavailable)
No products found.
Another set that offers long range connectivity at up to 5km.
Compact and light with a moulded grip are easy to hold onto.
Supplied with a handy belt clip for when the little ones are out exploring.
Battery level system lets you run when you're running low.
A great choice for staying safely in touch during outdoor activities.
Retevis RT628 (Currently unavailable)
Best overall buy. Walkie Talkie set for kids that has features and design of far more expensive adult products.
Small and lightweight – perfect size for children and with textured ribbing for easy grip.
Available in four colours: Camouflage, Silver, Black and Red.
Six easy to use buttons.
Handy switch to lock the menu – very useful if you have a trigger happy little one.
Speakers are clear and loud – features a useful earpiece jack so they can plug in a headset for quiet conversations – they're like this covert spy like addition.
VOX function so you can use as a baby monitor.
Range and clarity fantastic for the price.