Are you thinking about getting your child a smart watch?
In this article I'll show you the best kids fitbits that will provide safety and longevity. To keep the kids happy I've run through how the Fitbits compare for design, coolness and available apps.
Show Today's Top Deals
These are today's top deals and bestsellers for camping cutlery sets.

Discount - Save £5.72
1
Discount - Save £1.04
2

Whatever your budget, style and needs there's a kids fitness tracker that's perfect for your little one.
Let's go through the options!
Fitbit Ace 2 (Best Overall)
This is my pick for the best Fitbit tracker for kids as it has been specifically designed with children in mind.
Version 2 of this tracker helps kids aged six and over learn healthy habits and makes activities more fun and enjoyable for children
It tracks steps and active minutes and kids will receive virtual rewards and celebratory messages.
The Ace 2 has a swim-proof design (water resistant to 50m) with a bumper to protect the screen.
Battery power lasts for up to five days.
It's available in a selection of three fun and bold colours: watermelon and teal, monochrome grape and night sky and neon yellow.
Your child can further customise the clockface and avatar for the app.
Fitbit Inspire HR (Best Young Ladies)
At a similar price point as the Fitbit Ace 2, the Inspire is more suitable for older children.
It does not share the same designed aimed at kids and sports a slimmer and more basic look.
It's not a fully fledged smart watch but does the fitness tracker functions very well.
This includes steps tracking, food logging, sleep tracking and calories burned.
It is fully water resistant so a very good option for any budding swimmers.
Features excellent female health-tracking options that lets young teenagers track their periods.
It is available to buy in different colours, plus the band is removable so your child can pick a colour to compliment their style.
Your teenager can pair it with their smartphone and receive alerts along with text and calendar functionality.
Fitbit Versa Lite (Best Teens)
A trimmed down version of the fully fledged Fitbit Versa and missing a few features such as Wi-Fi, altimter, Fitbit Pay and the ability to store music.
For many children (or adults!) the lack of these features is not a problem and it does have some benefits over it's Versa sister model.
It costs less and lasts up to five days on single charge.
There are numerous strap accessories so your child can customise it according to their preferences.
You'll still get loads of activity tracker functions with this Fitbit, including distance, steps, calories burned and active minutes.
Comparison between Fitbit Versa Lite and Fitbit Versa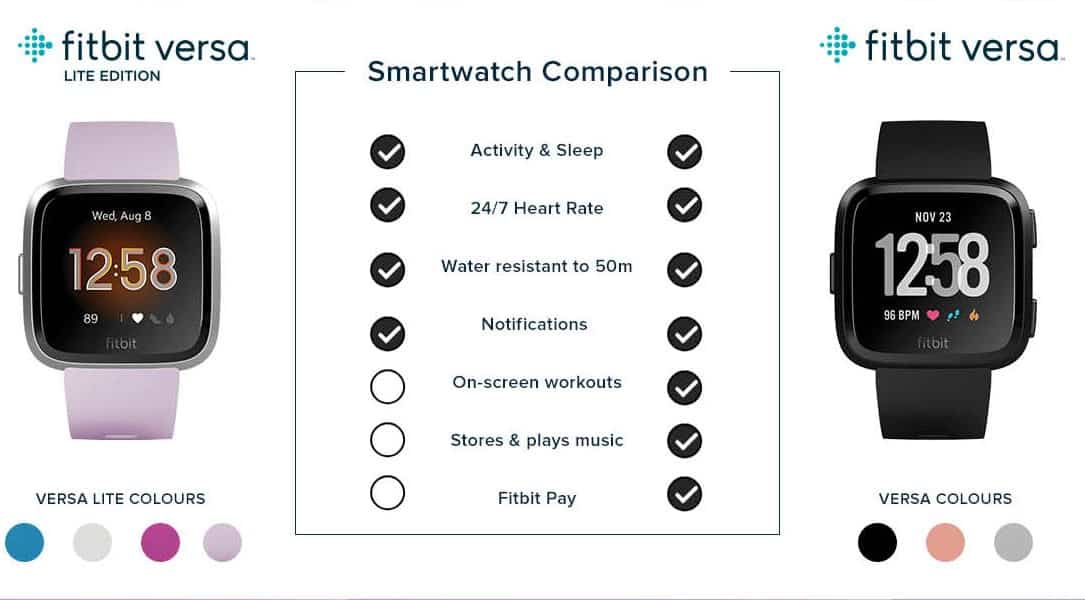 Fitbit Versa 2 (Best Features)
The latest in line from the Versa range from Fitbit and given the comprehensive feature is a good choice for the teenager in your family.
In terms of look and feel it's more closer to the Samsung Galaxy and Apple Watch.
Compared to the Versa 1 is has less bezel, no ugly Fitbit logo and a brighter display with sharper colours.
The main feature updates in this model include sleep scoring, sleep mode along with Alexa and Spotify integration.
If you have a music mad teenager you can also store 300 songs on your wrist from Spotify or Deezer playlists.
Benefits of a Fitbit for your Child
With the increasing rate of obesity and mental health issues surrounding the use of digital media it's clear devices can help combat these.
For example, kids will be sent a reminder every hour to take more steps and the gamification encourages this through rewarding them with badges and further challenges.
Studies have shown that tracking activity with the help of wearables smart devices can help some people change their behavior, including children.
Many of the trackers reviewed in this article are created with behavioral change in mind, so they allow children to view simple information about how much (or little!) they've moved through the day, count their steps, take part in challenges, receive badges and rewards and more features designed to promote positive behavior and habits.
The downside is we don't want this to go far – you don't children obsessively looking at stats in relation to their body weight, fitness and image.
Or obsessing over activity so much that it seems to become more of a chore than a natural activity.
What To Consider When Buying a Kids Fitbit
Screen Display
Battery Life
It's really important you check what sort of battery life your Fitbit will offer.
The last thing you want is the activity tracker spending most of its time in the charging station.
If your child is interacting with it a lot, and on particularly power intensive activities like constantly viewing their avatar, this can really drain the battery so you want one that will last as long as possible.
Design
Your child is likely to put more emphasis on the look and feel.
Does it look cool?
If they don't wear it because they don't like the colour etc then it doesn't really matter how comprehensive the other features are.
If a preferred Fitbit doesn't have a colour they like do check if it's possible to source third party straps that have more options to customise the look and feel.
Features
This is a matter that is of personal preference on how your child will use their Fitbit.
For example, if they are really into their music then getting one with strong support for their favourite streaming service is important.
Or letting them store a number of songs on the Fitbit itself.
There are also the huge array of fitness tracking features that will vary from model to model.
These include step tracking, heart rate monitoring , sleep tracking, active minute tracking and pedometer.
Ease Of Use
You want your child to be able to use their Fitbit with limited assistance from their parents.
Depending on the age of your child you should factor in the size of the screen and button size on how easy the Fitbit will be to use.
Water-Resistance
The water resistance varies greatly across the different Fitbit models.
If they are keen swimmers then look for depth of resistance.
However, even for non swimmers, kids splash and spill very often even just washing their hands.
Parental Controls
Fitbit provide a varying degree of parental controls across heir model line.
Some have an app that allows for parental view.
This is useful to access their activity and also to check and approve any connection requests.
Children under the age of 12 will need your consent in order to set up an account.
Fitbit also provide family account s that you can link multiple children accounts to.
Durability
Certain Fitbits are designed to be more durable for certain ages.
For example, younger children may benefit from the Ace 2 that has a bumper to protect the screen.
This gives you piece of mind – and also saves your child from having to worry about knocking it and scratching their device.
Also look out for models that have more strap options, as well as picking certain colours you can select straps that can be a better fit and more durable.
Alerts
If you child has a smartphone, which most tend to these days, then most Fitbit models means they will receive an alert when you call them.
Kids Fitbits Deals & Today's Bestsellers
Family Fun Buyer's Guides