For this post, I have put together a collection of the best kids karaoke machines currently available.
Our Top Picks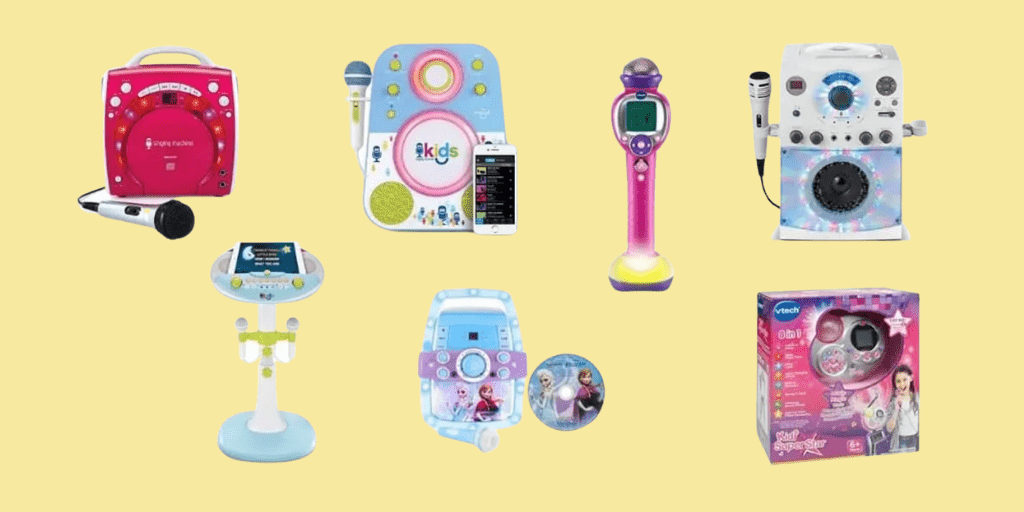 Looking to kick start your child's love of music with a karaoke machine but not sure where to start?
Don't worry – I've reviewed all the best karaoke machines for kids, and what to consider, to help you pick the perfect model for your family.
How We Selected
I've scoured the internet checking reviews and finding out which kids karaoke machines pass the test. I've saved you the time by bullet pointing the key features and giving you the pros and cons on each.
I've only recommended karaoke machines which have excellent customer reviews and mostly 4-5/5 star ratings.
For more kids entertainment also see our guides to the best kids walkie talkies, kids fitbits and kids electric scooters.
See how singing can benefit children over at the CBBC website.
So here is my list of the the best karaoke machines for kids.
RockJam 10-Watt Karaoke Machine
A karaoke machine which attaches to any smart device via Bluetooth.
With an inbuilt rechargeable battery and 10 watt speaker which gives you hours of singing time.
With two microphones and voice effects like alien and chipmunk. Allows two kids to sing together.
LED lights move in time to the music.
Can connect to smart TV to create a traditional karaoke party.
Pros: The rechargeable battery means you can use it indoors and out for about three hours before it needs recharging.
Cons: The speaker will only play the words on a screen if you've connected it to a TV via Bluetooth and you use a karaoke website.
Consumer Score: Buyers love this kids karaoke machine with 70% of buyers giving it 5 stars out of 5.
X Factor Kids Karaoke Machine
Discount - Save £6.35
Kids who love the X Factor will enjoy using this Bluetooth karaoke machine.
With portable speaker and rechargeable battery.
2 microphones included so you can sing along with a friend.
Features echo function.
With built in music controls and LED disco ball.
Pros: The multi-coloured disco ball and long battery life of up to 5 hours.
Cons: It's quite bulky.
Consumer Score: A well received kids karaoke machine giving it 4-5 stars out of 5.
Singing Machine CDG Karaoke Player
This is a standout portable player with a slick great looking design.
Disco light effect and sound controls for balance, echo and auto voice.
Lots of playing features through the the top loaded CDG player but can also be linked up to any Bluetooth enabled phones, MP3 players and tablets.
Pros: Small and compact, it's portable and has disco lights so great for kids.
Cons: Expensive.
The Singing Machine Disco Light Karaoke System
These brightly coloured LED lights flash to the rhythm of the music.
Each microphone jack as separate voice controls – handy for duets where you want one lead singer and a backing singer.
Includes a fun record and replay feature so the little ones can see how close they sound to their music heroes!
Lots of connectivity options – connect to the your TV to show lyrics and video effects.
Simple to attach to smartphones or tablets to widen your choice of music.
Pros: It includes a top-loading CD player and a Bluetooth connection, it also includes 54 LED lights on a dimmer setting to set the ambiance.
Cons: Expensive.
Consumer Score: A popular kids karaoke machine giving it 4-5 stars out of 5.
Singing Machine Kid's Pedestal Kids Karaoke System
The flexibility of the stand's height is great for accommodation children of all ages.
The pedestal can also be removed if you want to take it easily to friend's houses. Both battery or mains operated.
There are six-voice changing effects that will entertain the kids ranging from robot to chipmunk.
Surprisingly loud volume from the inbuilt 4 speakers. Excellent record and playback feature.
Two microphones are supplied so no arguing who over uses it!
Pros: The duet stand so two can sing at once, six voice changing options and a recording feature so you can play yourself back.
Cons: Quite pricey.
VTech Kidi Super Star
Lots of versatility with this VTech karaoke machine.
This includes eight built-in songs and lots of karaoke games including dancing, tongue twisters and virtual instruments.
You can even record yourself and play it back with different sound effects.
If you plan to use through the mains you'll need to purchase a separate AC adapter.
No CD player so you will need to use the 3.5mm jack to connect to a smartphone or MP3 player.
Pros: Comes with a stand which is easy to put together, you can play external music.
Cons: Expensive, would be more appealing for boys in different colour-ways.
Consumer Score: Buyers really like this kids karaoke machine giving it 5 stars out of 5.
Disney Frozen 2 Karaoke Set
With a Frozen design and flashing lights along the front when you switch it on.
Connects to TV to view the lyrics play CDG discs.
Audio video controls adjusts background music and vocals while you sing
Real Working Microphone included
Pros: Wirelessly streams music from any Bluetooth device, connects to TV for a realistic karaoke experience.
Cons: The sound isn't that loud.
Consumer Score: Buyers love this kids karaoke machine giving it 5 stars out of 5.
Kids Karaoke Machine Sale & Today's Bestsellers
What To Consider Before Buying
This will vary according to personal preference, how many children you have that will be using it, what age they are and the type of music they are into.
Mains or Battery or Both
Are you going to be taking it on holiday and away from the family home? Ensure you get one that will run on batteries.
Thankfully, most karaoke machines are both battery powered but also run off an AC adapter.
External Music Source
To save having to buy karaoke CDs ensure your karaoke machine has a 3.5mm jack.
This will allow you to connect the karaoke machine up to an MP3 player or phone – and as a result you'll have access to an unlimited number of songs. Another option is to go for a machine that has Bluetooth connectivity.
Portability
Taking a karaoke machine to a sleepover is loads of fun so you'll need to make sure you choose a machine best suited to taking to a friend's house. The most important factors are:
Rechargeable Batteries – make sure the machines takes batteries and save a fortune getting rechargeable ones.
Lightweight – check the weight of your preferred machines
Compactness – many of the karaoke machines have been designed with this in mind.
Sounds Settings
Let's face it, your child may not have the voice of an angel. I know all mine don't!
Some machines will have functionality to enhance the sound of their voice. This lends itself to a better overall experience, your child's confidence will be improved and they will likely then use the machine more.
The controls include the Echo (sound depth), Bass (give them lower tones) and Tempo (speed of the song).
Screen Size
If you have a young child and they are not the best reader yet, getting a machine with a large screen can make a big difference.
You can also opt for a product that has no screen but rather connects to a good quality TV screen.
Production Options
Audio Recording – many machines will allow your child to record their tracks.
Video Recording – some will record a video with a built in camera. Giving your child the opportunity to see themselves performing can be great fun and encourage them to use the karaoke machine even more.
Editing – Many machines let you connect up to a computer so you can edit the recording and then share it for more laughs to their extended family or friends.
Functionality
Sometimes a lot of functionality is not the best idea. If there are lots of buttons involved to access your child's song then it may deter them from using the machine.
This is more likely if you have a young child so a no frills type machine may be preferred. Another thought is volume – if you're children are older then having a louder machine would be more preferable than for a younger child.
Connectivity
There are multiple ways to connect the karaoke machine to a TV. Some include Bluetooth, USB or RCA cable.
If it has Bluetooth connectivity you should be able to link it to your tablet, smartphone or computer.
Number of microphones
This depends on how many children you have. Even if you have just the one looking at two microphones might still be a good idea.
This means your child can invite a friend to join on the fun during a sleepover or birthday party. Or you may simply want to join your child in a duet!
Check the karaoke machine for number of microphone jacks.
How Does Singing Benefit Your Child?
Physical Benefits
Singing an help improve your child's cardiovascular system and increased the oxygenation of the blood. It also helps control their breathing better.
Both of these improvements can reduce the chance of illness and improve their alertness.
Social Benefits
Singing can boost your child's self esteem by giving them confidence in groups of people – be it family or friends. It can also them bond with their social network.
It's a fantastic way for them to express themselves and feel happier through the release of hormones related to feeling good e.g. dopamine and endorphins.
Lingual Benefits
Singing is a form of natural therapy and when a child sings, their auditory network is stimulated.
This allows your child to process sounds which then enables to replicate them later. Singing regularly can help improve a child's memory and concentration.
Final Thought
For the best overall I recommend the Singing Machine Kid's SMK1010 Pedestal Karaoke Machine because it comes with a stand (that can be adjusted for all ages, or removed if taking to friends), it's powered by mains or battery, has six voice changing effects and has excellent sound quality. There's also two microphones so no arguing who is using it!
I hope this list of the best kids karaoke machines was helpful.
If you think I left any out that should be included or have a suggestion for a future article, let me know in the comments below.
Nicola
Last Updated: January 2022
Moved unavailable products to end of article.
Updated image.
Updated top picks.
Added two new products to the selection;-
Added Pros/Cons for all.
Added consumer score for all.
Added final thought.
Family Fun Buyer's Guides
Singing Machine SMK250BG Bluetooth Sing Along Karaoke Machine (Currently unavailable)
Fantastic choice of karaoke machine if the children like to do duets.
Has good sound features including echo and tone control to adjust their voices.
You will need to buy the second microphone.
Top feature are the mood lights that automatically change depending on the music being played.
Powered completely through Bluetooth so you can connect to any device like a smartphone or tablet.
Can use both AC outlet or batteries.
VTech Kidi Star Music Magic Microphone (Currently unavailable)
All in one with microphone and built-in speaker.
Handy 'Music Magic' mode lets you reduce the vocal track from songs.
Kids will enjoy the numerous voice changing effects, sound effects and more than 50 tunes and songs.