For this post, I have put together a collection of the best electric scooters for kids currently available. See my top picks for kids bikes and accessories.
Our Top Pick
Best Budget Scooter For Kids: Razor E90 Power Core
Best Electric Scooter For Teenagers:

No products found.

Best Overall Scooter For Kids 8 and Up: Razor E100
Best Scooter For Kids 4 to 8: Bug Q5
Show Today's Top Deals
These are today's top deals and bestsellers for kids electric scooters.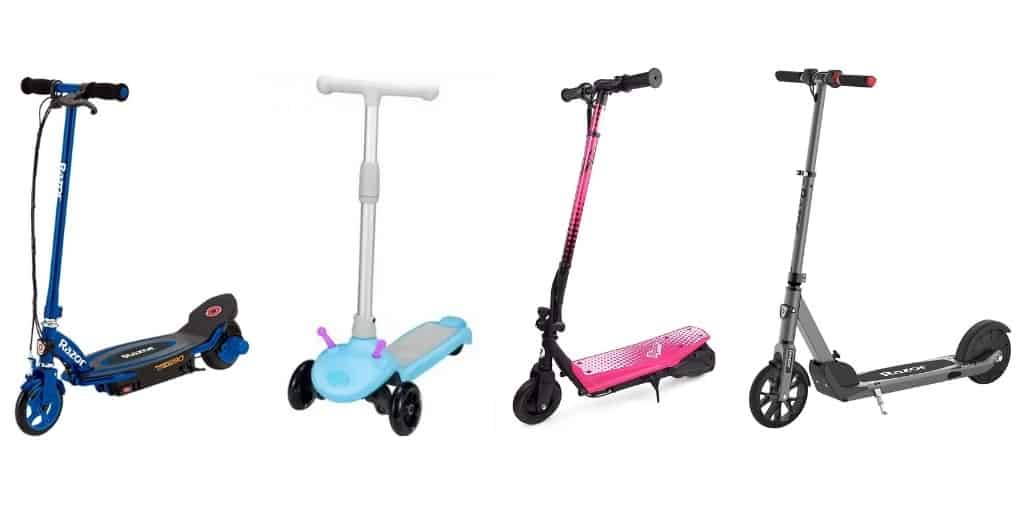 ---
Electric scooters are fantastic fun for children of all ages.
Unlike bikes there's very little effort to ride and the models available for kids are less powerful and speedy. This also has the benefit of being more affordable than many scooters aimed at adults.
There's so many to choose from on the market and the aim of this article is to give you a number of options that have excellent buyer feedback. I'll run you through the best scooters for younger children and up to teens and to suit any budget.
You'll also be able to browse my buyer's guide on the main considerations when choosing an electric scooter for your child.
Is there any better way to end a day at the beach than gathering around the warmth and glow of a camp fire? Even if you're if not camping many of these recommended fire pits are ideal for the beach, garden or picnic.
Got a young child looking for their first bike? See my top picks for the best balance bike. Or if you're looking to enjoy biking together then see my recommendations for tag along bikes and bike trailers for kids.
So here is my list of the the best electric scooters for kids.
Razor E90 Electric Scooter Power Core
Best Budget Scooter For Kids
Features include push button acceleration, hand-operated front brake and a handy retractable kickstand.
Age Range: 8 and up
Max Speed: 15 mph
Range: 5 miles
Weight: 22 pounds
Max rider weight: 120 pounds.
Colours available: Blue, black and green.
Up to 80 minutes of continuous use.
Fantastic reviews. From 1,220 reviews, 72% of buyers gave this 5 stars.
Razor E Prime Air Electric Scooter
Best Electric Scooter For Teenagers
No products found.
Excellent, stylish scooter perfect the growing older teen.
Features include adjustable handlebar height, easy to activate thumb controls for accelerator and brakes, handy battery level indicator.
Folds down to a good portable size.
Age Range: 14 and up
Max Speed: 15 mph
Range: 7.5 miles
Weight: 24.2 pounds
Max rider weight: 176 pounds.

No products found.

. From 191 reviews, 83% of buyers gave this 4 or 5 stars.
Razor E100 Electric Scooter
Best Overall Scooter For Kids 8 and Up
Discount - Save £25.59
Excellent kids electric scooter that gets the right balance between price, features and performance.
Available in a range of colours.
Features include hand-operated front brake, twist-grip acceleration controls, safety feature stops the motor from engaging until the rider is ready.
Love the wide deck on this scooter.
A whole range of available colours that at least one will appeal to your child.
Age Range: 8 and up
Max Speed: 10 mph
Range: 10 miles
Weight: 22 pounds
Max rider weight: 120 pounds.
Really Good reviews. From 269 ratings this scores an average of 4.6 out of 5.
77% of buyers give it 5 stars.
Ripsar 24v Kids Electric Scooter
Features include 3 position adjustable handlebar height, Twist grip acceleration control, Hand operated rear brake.
Available in a range of bright colours.
Age Range: 8 and up
Max Speed: 10mph.
Weight: 13 kg.
Max rider weight: 54 kg.
Fab reviews. From 183 ratings, 73% give this 5 stars.
Bug Q5 Electric Kids
Best Scooter For Kids 4 to 8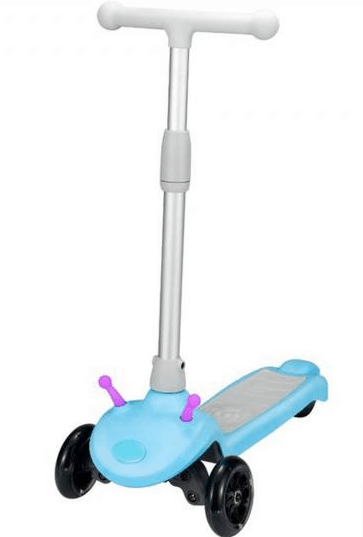 Perfect first electric scooter with easy controls and gentle top speed.
Push button for acceleration, three adjustable height levels, folds down to a compact size.
Safety ensured through low speed, rear foot brake and three wheels.
Age Range: 4 and up
Max Speed: 3.7 mph.
Weight: 3.9 kg.
Max rider weight: 50 kg.
Available in blue and yellow.
Excellent reviews. 4 stars out of 5.
Today's Top Deals & Bestsellers
How To Choose The Perfect Electric Scooter For Your Child.
Firstly I've suggested three important questions to consider when helping to narrow your choice down. I've then listed the numerous scooter elements and features that vary from scooter to scooter.
How old is your child?
I've included ones on this page from 4 years and up.
What does your child weigh?
Bear in mind also the load they will be carrying i.e. books to school.
Electric scooters will have a weight limit.
How long will be they going?
If they are going to use for commuting to school then you'll want something that will have enough charge to get there and back.
Important Safety Tips for Kids Electric Scooters
Always Wear A Helmet
No matter what speed your child is going ensuring they wear a helmet is an absolute must.
Getting younger or even older children to wear a helmet is not always easy. To ensure they find something that is comfortable to wear (and also looks good, which can encourage them to wear one) then see my guide to the best kids bike helmets.
Elbow and Knee Pads
I recommend for extra protection invest in a good pair of elbow and knee pads for your child. Preferably ones with wrist guard.
If they are likely to be out in low light then getting reflective gear is also an excellent idea.
Bells, Lights & Horns
Many electric scooters do not come with important accessories likes bells and horns. I recommend picking up a set that can improve their scooter safety – plus children are usually very keen to mod up their scooter (or bike) so it's a win win!
No backies or buddying up
It's very tempting for a child to jump on and join their friend on a scooter.
Remind them this is not a good idea. Even if the combined weight is below the recommended maximum weight limit then adding a secondary weight makes the scooter far harder to steer and stay balanced.
Avoid Extra Weight
Related to the above is that children may often carry some extra weight. This could be in the form of a sweater draped over the handlebars, or a backpack if they use the scooter to get to school. Either of these can make steering and safe balancing harder.
I don't want to sound over cautious but it's really important to build their awareness of potential issues like this as early as possible in their scooter (or bike) career!
One option is to look out for a small basket for carrying light cargo.
Make Sure There Are No Defects
Certain electric scooters require some form of assembly.
For example, this could be attaching a handle to the scooter base.
After you have done any assembly at all, run a simple visual check to see that everything is in place.
You should try the throttle and brakes yourself and try them hard!
Any potential defect check immediately with the supplier.
Teach Them Slowly But Properly
Before they head out on their own take them to a quiet area with no potential traffic or pedestrians.
Teach them electric scooters are not so forgiving on bumps compared to their bikes because their wheels are smaller.
Same goes for potholes – we have a growing number here in the UK!
Go through safely setting off, accelerating and decelerating, hitting the brakes and all the different skills needed.
Keep the safety instructions supplied at hand that you can refer to.
Zero Distractions
Make sure your child has their mobile phone securely in their pocket or backpack when going out on a ride.
And ensure they do not use headphones or even one earbud in! Any covering of the ears will reduce any sound of approaching vehicles or pedestrians.
Not Toys
Lastly but most importantly children should know electric scooters aren't toys. Although they may not be possible of high speed or even have very much power, ultimately they are still motorised, albeit small, vehicles.
Avoid Traffic
Unless your child is going to be riding solely on private property then you need to teach them road rules.
I hope this list of the best electric scooters for kids was helpful.
If you think I left any out that should be included or have a suggestion for a future article, let me know in the comments below.
Dominic
Kids Bikes & Accessories Buying Guide