For this post, I have put together a collection of the best trikes currently available. Or, check out our top picks and buying guides for the best in kids bikes.
Our Top Picks
Show Today's Top Deals
These are today's top deals and bestsellers for trikes.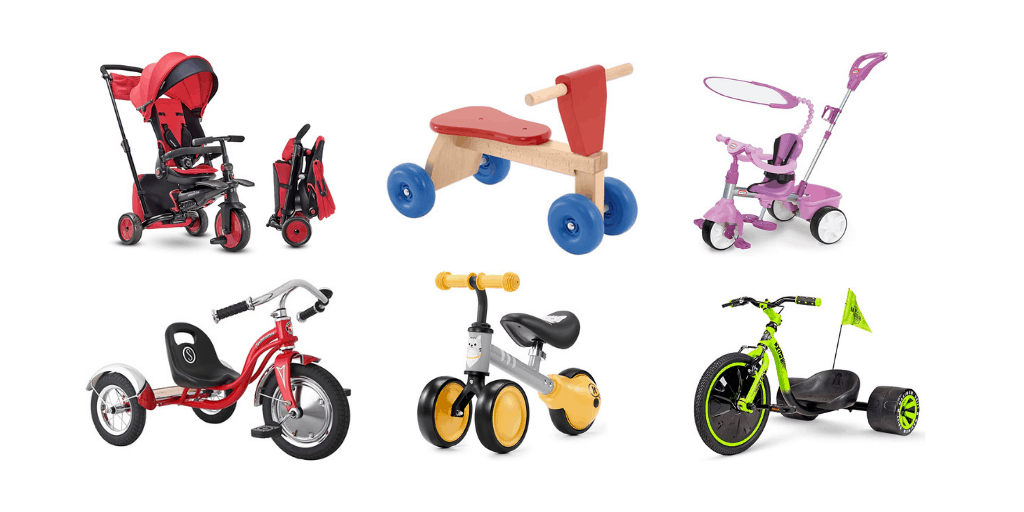 ---
A trike can be a great introduction to cycling for little ones as they get used to using pedals and the three wheels give more balance than a traditional bike.
Trikes come in many styles suitable for different age ranges. First tricycles are push-along versions for babies and there are also options which toddlers and older kids will love.
We've put together our top picks of the best trikes for babies, toddlers and kids.
All of our recommendations have 4-5 star ratings and excellent customer reviews.
Also see our guides to the best kids helmets and balance bikes.
So here is my list of the the best trikes.
Best Baby Trike
smarTrike 7J Folding Baby Tricycle, Red
8 in 1 trike! The high-back seat reclines for nap times and it converts from a baby trike into a training tricycle for 1 year old toddlers and a tricycle for 2 year old kids.
Lightweight and portable which makes it a perfect travel toddler tricycle that fits in any car and grows with your baby until they are ready to pedal and steer independently.
Folds up small so can fit in the car boot or be pulled along like a trolley when little one has had enough.
Parent controlled advanced back wheel brake system.
Suitable from 6 months – 3 years.
Customers recommend this trike – 74% of 167 buyers gave it 4/5 stars or more..
---
Smoby Push Along Toddler Trike with Headrest
A canopy protects your child from the sun.
The headrest, adjustable seats, and retractable footrests can all be altered so it fits your child for maximum comfort.
Your child will be held safely and protected by a well-designed safety harness and roll-bar.
There is a handy, removable bag which stores essentials on your travels.
At the back there's a little storage tub for their bits and bobs.
Comes with a parental control handle for pushing/steering, that can easily be detached as you child's confidence grows.
Suitable for children from 10 months to 5 years. 
This trike has excellent reviews – 85% of 713 buyers gave it 4/5 stars or more..
---
Best Toddler Trike
Scuttlebug Beetle
Discount - Save £11.00
A cute foot-to-floor ride-on which has 3 wheels and front-wheel.
Assembly-free and foldable, this trike is lightweight and can even fit in a pushchair basket.
Easy for your child to manoeuvre.
With no pedals, it's ideal for helping them to pick up the essentials of balancing and steering.
Wheels suitable for indoor and outdoor use.
Comes in cute Beetle/ Bumblebee/ Grasshopper/ Butterfly designs.
Suitable from 12 months – 3 years.
Customers rate this trike – 96% of 5,142 buyers gave it 4/5 stars or more..
---
Little Tikes 4-in-1 Trike
This trike easily adapts in four stages as kids become more confident to ride independently.
There's a 5-point seat belt as well as a safety bare for extra protection.
With a sun canopy to protect from UV/UVA rays.
Suitable from 9 months – 3 years.
Available in various colours including Red & White/ Pink & White/ Blue and more.
Customers love this trike – 89% of 2,317 buyers gave it 4/5 stars or more..
---
Galt Toys, Tiny Trike, Wooden Baby Trike
Traditional classic designed trike in high quality hardwood.
This trike will build balance, muscle tone and coordination in children.
It's strong and durable and will last for years.
It's easy to assemble.
For ages 12 months and older.
This trike has excellent reviews – 84% of 221 buyers gave it 4/5 stars or more..
---
Peppa Pig Tricycle
Ideal first tricycle for little Peppa Pig fans.
Comes with parent pole for easy steering and push along when your little ones legs get tired of pedalling.
Includes a handy storage bucket at the rear, perfect for carrying little ones favourite toys.
For ages 24 months – 4 years.
Customers really like this trike – 85% of 181 buyers gave it 4/5 stars or more..
---
kk Kinderkraft Balance Bike CUTIE
This is actually a balance trike without pedals, which will help your little one develop a sense of balance.
Its lightweight structure means your child will be able to take the bike literally anywhere!
Adjustable saddle height.
Suitable from 1 year old.
Available in Honey/ Pink/ Turquoise.
This trike has great feedback – 96% of 55 buyers gave it 4/5 stars or more..
---
Best Kids Trike
Schwinn Unisex-Youth Roadster Trike
American retro style trike for older kids.
Made from steel with air filled rubber tires for a great ride.
With a handcrafted wooden standing deck at the back.
Also has moustache-style cruiser bars and a classic bike bell.
The low centre of gravity means it's really stable, while the seat can be adjusted to 5 different positions.
Suitable from 3-5 years.
Customers recommend this trike – 92% of 114 buyers gave it 4/5 stars or more..
---
Xootz Tricycle for Kids
Discount - Save £5.72
Easy clip assembly trike which is ideal for storage and transportation. Take it anywhere.
With puncture proof EVA tyres.
Adjustable seat as your little one grows.
With soft grip handles.
Available in two eye-catching options – purple and lime green.
Suitable for ages 3+.
Customers love this trike – 90% of 353 buyers gave it 4/5 stars or more..
---
MGP Action Sports – DRIFT TRIKE
This sports drift trike is ideal for older kids!
With durable blow moulded fat tread rear wheels you can slide and drift and even doing 360's with ease.
The adjustable bucket seat allows the trike to be customised to any sized rider allowing them to reach the pedals.
With a low to the ground durable steel frame for stability.
Ideal for riders between 3'5" and 4'7". (Or suitable for kids over 5 years of age.)
Customers rate this trike – 86% of 48 buyers gave it 4/5 stars or more..
---
Today's Top Deals & Bestsellers
---
What are the benefits of using a trike?
Some can be used from a young age.
They are great for toddlers who have started walking as they can help to develop balance and motor skills.
They can teach kids how to pedal.
There are push-along options for adults with babies/ toddlers.
They can be a fun alternative to using pushchairs.
They are a good first stage cycle for children before using a bicycle.
They support independence.
They encourage exercise in children.
---
I hope this list of the best trikes was helpful.
If you think I have left any out that should be included or have a suggestion for a future article, let me know in the comments below.
Nicola
Kids Bikes & Accessories Buying Guide