For this post, I have put together a collection of the best balance bikes currently available. See my top picks for kids bike accessories.
Top Picks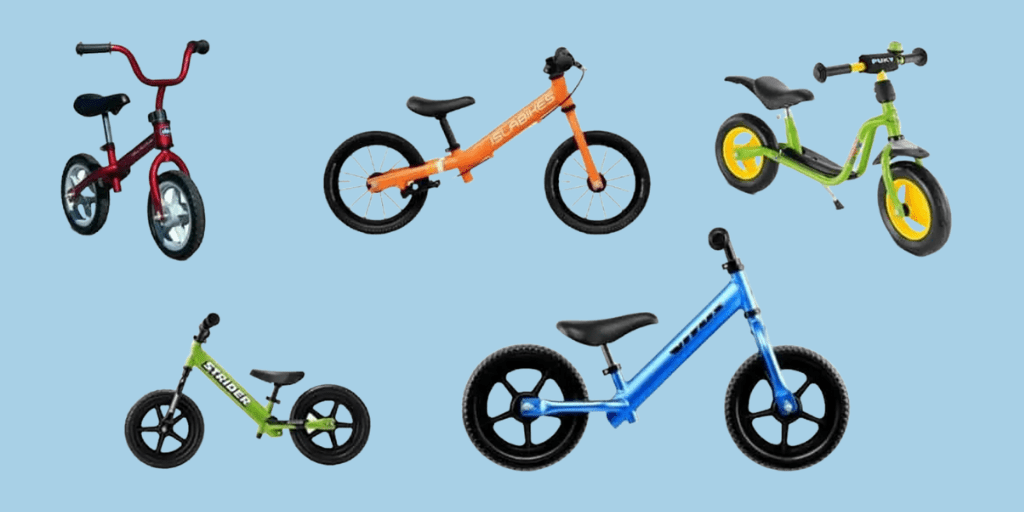 Balance bikes are a fantastic way to introduce your child to the joys of cycling.
They can help them progress with confidence to pedal bikes and help them look forward to a lifelong love of cycling.
How We Selected
But choosing one can seem quite bewildering with so many options. Choosing the wrong one may result it never being used and not help positively encourage their cyclking.
In this article I'll explain how to choose the best balance bike for your child and highlight some of the best buys on the market.
See my buyers guides to the best tag along bikes, trikes and kids bike helmets.
Check out advice to help teach your child how to ride their bike at NHS.
Let's get going!
Chico Bullet Balance Bike
The best selling balance bike on Amazon with thousands of excellent reviews.
Part of is due to the excellent low price for this bike.
It is excellent value for what you get.
Pros: It is highly praised because of its light weight and simple to put together. If budget is tight then this could be an excellent option.
Cons: Wheels are plastic not rubber.
As your child might not be on a balance bike for long, it means you can put more money towards a pedal bike.
It is suitable for children aged 2-5 years and is available in red and pink.
Consumer Score: Great reviews with 82% of buyers giving it 5 stars out of 5.
Islabikes Rothan Balance Bike
Very popular, very well made balance bike from UK-based bicycle brand with a corresponding high price tag.
Extremely lightweight, weighing in at only 3.2kg.
A strong feature is the scooped saddle which provides improved stability.
Pros: Unlike many balance bikes, this one does include a micro reach brake lever.
Cons: Pricey.
Comes in three colours – orange, purple and teal.
A nice addition is the spare inner tube in case you get a puncture on one of the tyres.
Consumer Score: Fantastic 5/5 star reviews.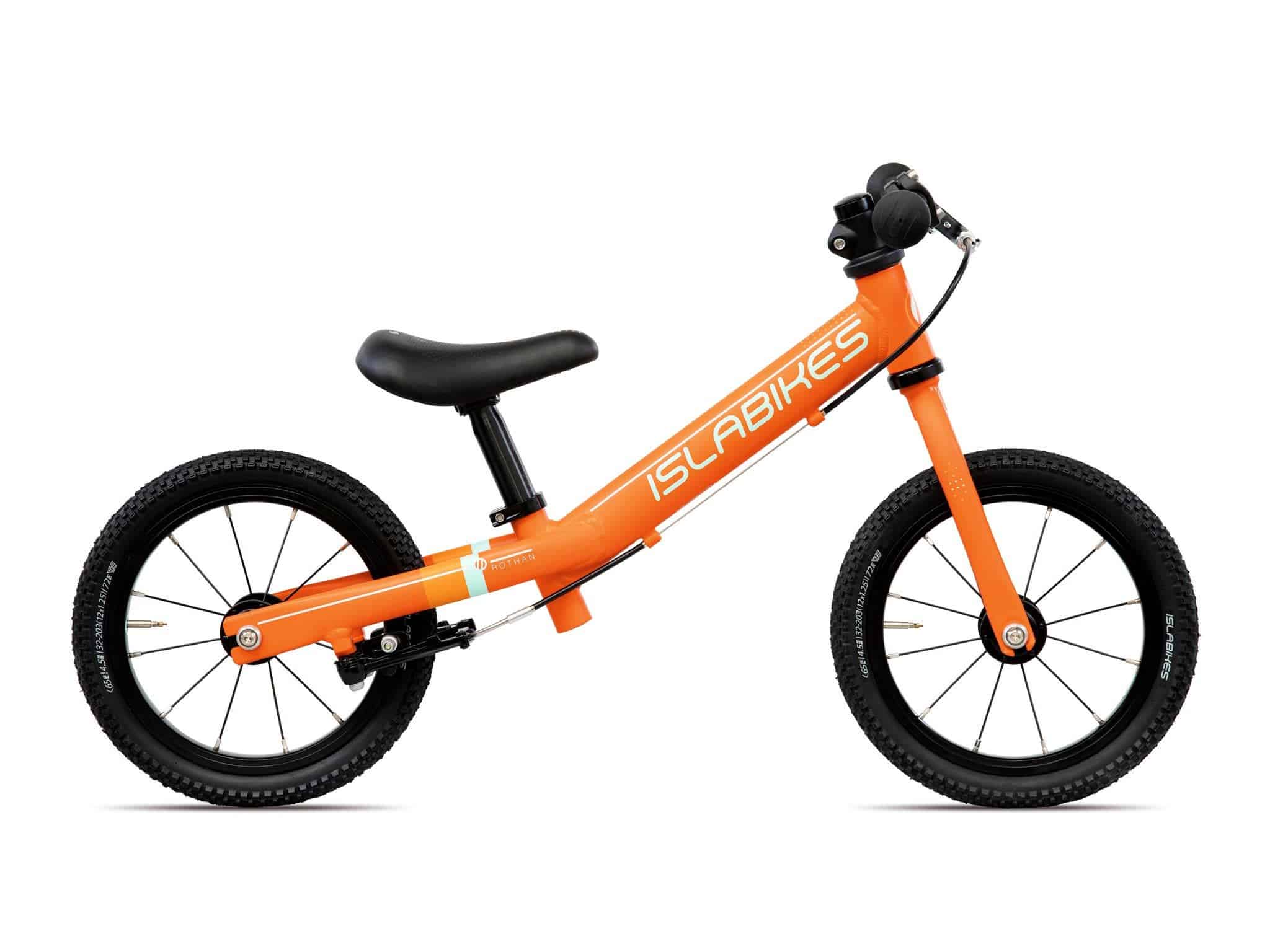 You can find many 2nd hand Rothan bikes on eBay.
Strider 12 Inch Balance Bike
Strider make a whole host of balance bikes but this is the bestselling model.
The 12 inch wheels will fit children up to 5 years old.
You can choose from seven different colours.
Pros: It's one of the lightest models weighing only 3kg.
There's also a built in footrest which means they can work even further on their cycling skills.
Using the quick release clamps means it's a doddle to adjust the seat and handlebars and there is a large range of sizes so it's great for getting the very young involved.
The tyres are made from a poymer so this means there is no air.
As a result they're light and no need for punctures!
Cons: On the downside the lack of rubber means less traction.
Consumer Score: Fantastic reviews with 85% of buyers giving it 5 stars out of 5.
Vitus Nippy Superlight Balance Bike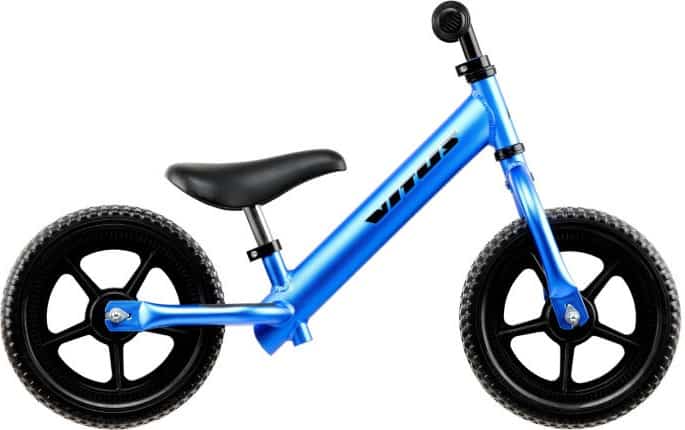 As you can probably guess from the name, this bike is exceptionally light, at only 1.9kg.
It's perfect for the younger children who don't have the strength yet to control a heavier bike.
Pros: There is 7cm worth of saddle height range so it's one to grow into.
Cons: The plastic tyres are puncture proof but you won't get quite the same traction nor give you'd get from air tyres.
The Vitus name is the in house brand for popular Bike brand, Wiggle.
Consumer Score: Great average score of 4.7/5.
What To Consider When Buying A Balance Bike
A balance bike is a bike with no pedals or chainset.
Your child will push the bike along with their feet.
After they build confidence you can then encourage them to life their legs up and glide along, using the momentum they have gained from pushing.
This enables a two stage learning process to balance and steering, before progressing to bikes with pedals.
You will need to consider the age of your child, durability of the bike and quality of the frame.
FAQ's Balance Bikes
What Age are Balance Bikes for?
Balance bikes are aimed at children from 18 months up to 7 years old.

If your child can walk then they should be ready to try a balance bike.

There is no upper limit and you can buy balance bikes for adults.

In the majority of cases, children upgrade to a pedal bike at around four years of age.
Do Balance Bikes Work?
The main aim of a balance bike is to introduce young children to the independence of bikes and build their confidence at a much younger age.

Their simple nature means they are much more intuitive to use.

Another plus is they are lighter so young children feel more confident handling them.

Without any pedals involved your child can focus on their balance.

Are Balance Bikes Better Than Stabilisers?
As most of us can probably remember, Stabilisers have been around for decades and it's likely the way you first learnt to ride a bike.

They do have their disadvantages and are not a great to way to learn how to ride.
A bike steers by leaning.

If you lean to the left, the handlebars lean the same way, to the left.

Stabilisers hold the bike upright in a rigid position, with the two small outrigger/training wheels usually set a little higher than the main wheels.

As the child reaches a corner, their weight is supported by the outside stabiliser – this means the bike leans away from the corner and the child will learn to lean the wrong way.

A balance bike allows the child to lean the bike towards the inside of the corner, the right way.
Do Balance Bikes have Brakes?
This is a personal choice. Some balance bikes have no brakes, only rear hand brakes or both front and rear hand brakes.

With no brakes you can't go too fast as all the braking is done by the child dragging their feet along the ground.
Balance Bikes are also called…
Toddler Bikes
Glider Bikes
Run Bikes
Runner Bikes
Pedal less Bikes
Strider Bikes (Brand name that makes balance bikes)
You may see a number of different names that are used to describe balance bikes.
Final Thoughts
My overall top pick is the Chico Bullet Balance Bike which has been well reviewed by thousands of parents.
If you would like to see more of articles like this, please comment below.
Thanks,
Nicola
Last Updated
Added 'How We Selected.'
Added Top Picks.
Added Pros/Cons on all products.
Added Consumer Scores.
Added 'Things To Consider'.
Updated FAQ's.
Added Alternative Retailer.
Added Final Thought.
Updated links.
Moved OOS.
Balance Bike Deals & Today's Bestsellers
Kids Bikes & Accessories Buying Guide
Puky Balance Bike (currently unavailable)
No products found.
Puky is a German brand that started making balance bikes in 2003.
They are extremely robust and have exceptional reviews from both their UK and German audiences.
The designs haven't changed much but I think they still look very good.
Unlike many other balance bikes this Puky model has a footrest which can be more comfortable than holding your legs in the air.
Other great features include: shaped bike saddle, carry handle on saddle, handlebar grips and adjustable handlebar and saddle allowing for 7cm of growth.
The coating is very tough and scratch resistant.
The cost of the Puky Balance bike is mid range.
You can find many 2nd hand Puky bikes on eBay.