For this post, I have put together a collection of the best travel mugs currently available.
Our Top Picks
Show Today's Top Deals
These are today's top deals and bestsellers for travel mugs.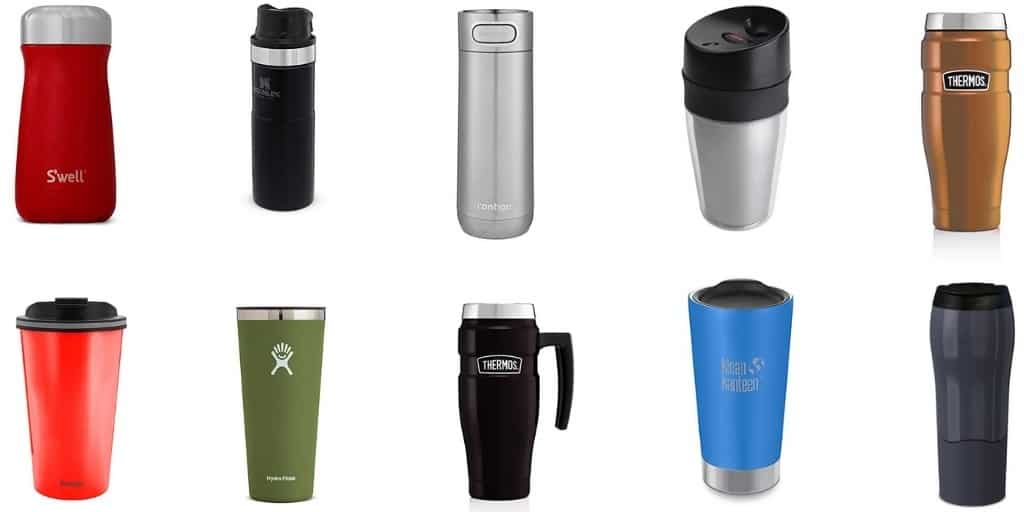 Do you enjoy sipping your favourite brew on the go but want to make sure it stays hot (or cold) and doesn't leak?
In this article I review 10 of the best travel mugs. I'll show you what to look out for when choosing the perfect re-usable mug for you.
Let's get started!
S'well Vacuum Insulated Travel Mug
Available in a huge number of colours, sizes and finishes.
The 340ml is a travel friendly size.
Triple-layered insulation also provides for zero condensation on the outside keeping your hands dry.
Ergonomic shape allows for easy grip and wide mouth so it's more like drinking from a mug and also perfect for adding ice or sliced fruit.
Reviews say you get up to five hours of heat and 24 hours of cold.
Perfect for: travelling light
Stanley Classic Trigger Action Travel Mug
Sturdy, leakproof and stylish – what more would you want from a travel mug?
The stainless steel design means it will keep your drinks hot and cold for a long time – 7 hours hot and 10 hours cold.
Features a push button trigger action lid – lets you drink easily, on the go without threat of spillage.
Release the button and it instantly closes.
Available in the following colours: Hammertone Green, Matte Black, Polar White, Nightfall and Wine.
Perfect for: Best all rounder
Contigo Luxe Autoseal
Like the Stanley above this also features a button on the side of the lid that you drink through.
If you're looking for a travel mug that you can reach down and operate with one hand, this is the one for you.
Available in the following colours: Biscay Blue, Licorice, Merlot, Monaco and Spiced Wine.
Stainless Steel double wall insulation does a good job at thermoregulation – keeping drinks hot for up to 5 hours and cold for 12 hours.
Perfect for: Easy, safe use during road trips.
OXO Good Grips Single Serve LiquiSeal Travel Mug
If you're looking to keep the costs down and are happy with not keeping your drink piping hot for hours then this is a good option.
The Oxo is a robust mug and easy to carry with this super non-slip grip.
Keeps the heat for a maximum of four hours.
It sports three silicon seals so the mug is completely leak proof when you're on the move.
Perfect for: Money saving and short commutes.
Thermos Stainless King Travel Tumbler, 470 ML
Discount - Save £2.24
Available in lots of colours including copper, midnight blue, raspberry, royal blue, gun metal, cranberry red and and matt black.
High insulation performer keeping drinks hot for 7+ hours and cold drink cool for 18+ hours.
Very solidly made from stainless steel.
Excellent leak proof protection with this lid mechanism.
If you're a tea drinker you'll be pleased to know it comes fitted with a tea hook for holding those precious tea bags or loose-leaf infusers.
Perfect for: Strong and durable
Smidge Travel Cup
Traditional cup that is leak-proof and keeps contents warm.
Good value option.
Stainless steel and vacuum insulation keeps drinks 6 hours hot and 12 hours cold.
Available in a number of colours including some bright ones: Coral aqua. citrus, steel and storm.
Perfect for: Coffee cup style with travel mug features
Hydro Flask Tumbler
If you like to drink a lot of fluid this one includes a model that holds 950ml and is still narrow enough to fit most cupholders.
Rubberised texture on the outside is easy to hold and grip.
Really like the wide selection of bold colours in a matte finish.
There's a spillproof pop-on lid that is guaranteed to keep hot drinks warm for up to six hours and cold drinks for up to 24 hours.
Perfect for: big drinkers
MIGHTY MUG GO – THE TRAVEL MUG
Key selling feature is its anti-knock system which works extremely well so it's ideal for use around hyperactive children and long car journeys, or both!
Holds up to 470 ml so it's got a large capacity.
On the downside it's not the best performer when it comes to keeping your drinks warm or cold for a long period of time.
Perfect for: Unspillable
Klean Kanteen Stainless Steel Tumbler
Simple clean design that does an all round good job at being a travel mug.
Supplied with a black press-on lid and is vacuum-insulated stainless steel keeping contents hot for 4 hours or drinks ice cool for up to 24 hours.
Chip resistant exterior means you can drop it on the car floor or deep into your bag and it will come up scratch free.
Available in brushed stainless, pacific sky, sea crest or shale black.
Thermos Stainless Steel Travel Mug
One of the few travel mugs to include a handle.
Vacuum insulation keeps hot for seven hours and cold for 18 hours.
Includes a built-in tea hook for tea bags and most loose tea infusers.
Due to its stainless steel, insulation layers and handle doesn't make it a lightweight option.
Available in several colours including Cranberry Red, Copper, Midnight Blue, Raspberry, Gun Metal and Matt Black.
Perfect for: Handle lovers
How to find the right travel mug for you
Before you decide on bagging your trusty travel mug it's worth considering a few key things:
Insulation
This is the key to maintaining the all important temperature of your favourite drink.
Whether the mug material is glass, bamboo, glass or stainless steel, you'r mug should have an insulation layer to keep its content hot or cold.
Washability
Always check if the travel mug is dishwasher safe.
Most should be fine in the top shelf but make sure.
If the outside of the cup has decorative elements on it be aware that these are likely to fade or wash off over time.
See my tips below for how to keep your travel mug clean, odour-free and safe from any dirt or mould.
Lid
Most travel mugs will be spill-proof to a degree.
The extent of this will depend on how good a travel mug's locking feature is.
Bear in mind though the best locking and spill proof lid will involve a little more time opening it – not something you may wish to go through if you're after quick sips on the go.
Capacity
Depending on your personal preference make sure you get a travel mug that holds enough liquid for you.
Travel mugs tend to start at around 350 ml but there are plenty of large options from 470 ml and bigger
What is the difference between a reusable coffee cup and a travel mug?
Travel mugs are designed to be more leak-proof than reusable cups – much more preferable if you're travelling further or want a hands-free commute.
They work with a leak or spill-proof seal to ensure no liquid escapes whilst on the move.
A reusable cup is literally a reusable version of a disposable takeaway cup.
They are usually made from recycled plastic or bamboo with a silicone lid.
Some do have a closeable drinking spout but aren't likely to be fully spill-proof – intended more for transporting drinks only a short distance.
Travel mugs are also engineered to keep your the contents hot – or cold – by using double insulate linings.
Prices for a reusable cup range from £1 to around £30. The more expensive models tend to use insulated stainless steel.
Their capacity tends to be around 350ml, approximately the size of a regular sized takeaway coffee.
Travel mugs range from £5 – £35 and are usually available in 350 ml capacity or a larger 470 ml option.
Are travel mugs dishwasher safe?
This will depend on which one you have.
Most reusable coffee cups and travel mugs are safe on the top shelf of a dishwasher.
These include ones made from glass, plastic or bamboo.
If you are thinking of buying one with more decorative exteriors or thermos linings then bear in mind these are not recommended for dishwasher use as the finish will come off with time or it may get inside the thermos linings.
How to clean your travel mug
Whilst most travel mugs are perfectly fine to go in the top shelf of a dishwasher we do still recommend washing by hand.
Always check the packaging that came with your cup to see their in-depth instructions.
In general these are the key things to bear in mind to give your travel mug a good clean and improve it's longevity.
Dry with the lid off
Your trusted travel mug is most likely leakproof – but the downside is if you leave it to dry with the lid on the cup will trap humidity and keep nasty odours inside.
Make sure the lid is off when you leave it to dry and always give it a wipe with a clean dry cloth to remove excess moisture.
Rinse the inside of the mug after each use
Keep nasty stains and odours at bay by rinsing your travel mug in water after each use.
Use vinegar and baking soda
You don't need any fancy cleaning products.
Simply add a bit of vinegar and baking soda to the inside of your mug.
Let it fizz away as the acid and alkaline react – you can then use a cloth to effectively clean the inside of the mug.
Prevent any build up in or near a lock
Does your travel mug have a lock on it to prevent spills?
If so, try and get in and around the mechanism with your cleaning.
These detailed areas can be a great location for dirt (or eventually mould) to build up.
Travel Mug Deals & Today's Bestsellers
Travel Accessories – Buyer's Guides